No Qur'anic Verses from Ma'ruf
Jokowi went on the offense in the presidential debate, with the help of his old team.
Edition : 22 January 2019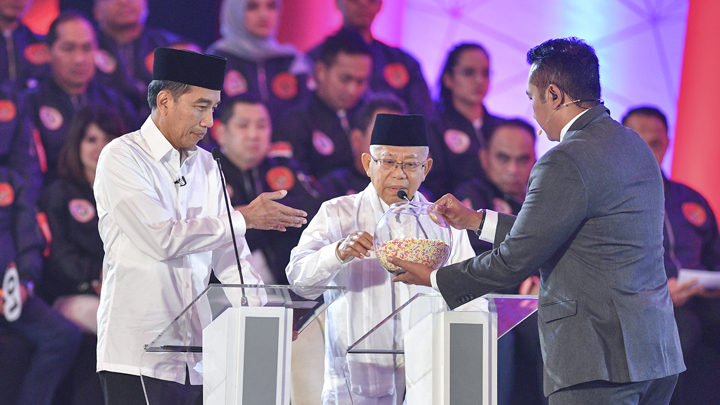 JOKO Widodo's response during last Thursday's debate at the Bidakara Hotel surprised Irfan Wahid. When Prabowo Subianto challenged him about the country's unfair laws, Jokowi asked him to not make hasty accusations. Jokowi then reminded Prabowo of the legal affair surrounding Ratna Sarumpaet, former campaigner for Prabowo-Sandiaga Uno's team.
In early October, Prabowo-Sandiaga's campaign team criticized the alleged violence against Ratna, which had caused injuries to her face. Later on, it was exposed that the bruises on her face was due to a plastic surgery. Irfan acknowledges that Jokowi's response, mentioning the Ratna affair, had been prepared prior to the debate. "But it came out too quickly, in the early stages of the debate," said the Jokowi-Ma'ruf Amin debate team's stage manager, laughing.
That night, in the first presidential debate on the topics of law, human rights, corruption, and terrorism, Jokowi attacked Prabowo-Sandiaga several times. The incumbent questioned Prabowo-Sandiaga's support for women before proceeding to point out the small number of women in Gerindra Party's management. After that, Jokowi cited Indonesia Corruption Watch data, which show that the Gerindra Party supports the most number of former corruptors as legislative candidates.
According to Irfan, Jokowi-Ma'ruf's national campaign team had, in fact, prepared a number of offenses against Prabowo-Sandiaga. "But not all ammunition was launched," Irfan said. As an example, he said the team had prepared a question on the kidnapping of 1998 activists, of which Prabowo is believed to be involved. The former general commander of the Army's Special Forces (Kopassus) was dishonorably discharged for his alleged involvement.
There was also a question about a corruption case implicating Duta Graha Indah, now called Nusa Konstruksi Enjiniring, which was found guilty early this month. The company was sanctioned with a Rp700-million fine and was ordered to pay Rp85 billion in compensation for benefiting from corruption in eight government projects. In 2013, the Corruption Eradication Commission (KPK) questioned Sandiaga, a commissioner at the company.
Three officials of the Jokowi-Ma'ruf team say it was Jokowi himself who wanted to be on the offensive. According to one of the three officials, there was an idea that grew among the team that Jokowi, as the incumbent, should not only stay on the defense but should instead be more proactive in launching attacks. Irfan confirmed. "[The plan] has been around for some time. That's why 'sontoloyo' (imbecile) and 'genderuwo' (ghost in Javanese mythology) emerged," he said.
---
In fact, Ma'ruf had been prepared to provide the perspective of Islamic law in the debate. Ma'ruf's questions and answers would be supported by verses from the Qur'an. For example, when speaking about human rights, Ma'ruf was to reference Surah Al-Hujurat 13, which talks about diversity. Ma'ruf himself prepared the Qur'anic verses to cite.
---
In his statement, Jokowi also implicitly criticized Prabowo-Sandiaga's campaign. When conveying his vision and mission, Jokowi said he and Ma'ruf promote optimism. At the end of the debate, while making his closing statement, Jokowi said he and Ma'ruf do not have a track record of human rights violations, violence and corruption. Jokowi also claimed not to have the quality of a dictator or an authoritarian.
Usman Kansong, politics communications director for the Jokowi-Ma'rufs campaign team, said these statements were made to show the difference between their campaigning style and Prabowo-Sandiaga's. "Our opponent is always spreading fear and pessimism," said Usman, who then mentioned Prabowo's statement in a speech which suggested that Indonesia may end by 2030.
Besides launching attacks, Jokowi also mentioned achievements during his leadership several times. In response to a question about the protection of the disabled group, the former Jakarta governor said he has already given equal treatment to the disabled. As an example, he said the government gave equal bonuses for athletes who won medals in the recent Asian Para Games and Asian Games.
On the topic of achievements, Jokowi received input from leaders of his supporting parties during a meeting at the Seribu Rasa Restaurant in Menteng, Central Jakarta, the night before the debate. During the meeting, which was unattended by Ma'ruf Amin, United Development Party (PPP) General Chairman Muhammad Romahurmuziy reminded Jokowi to talk about what he has done and is doing during his tenure and what he will do should he be re-elected.
In the debate, Ma'ruf Amin did not say too many words. Speaking after Jokowi, Ma'ruf statement was cut short due to the time constraint. Romahurmuziy said Ma'ruf spoke long-windedly, which was why his statement was cut before end. "We will make an evaluation," said Romahurmuziy. Ma'ruf said he had given enough support for Jokowi's explanations and that Jokowi would be the more appropriate person to respond to criticisms against his leadership. "To avoid looking like we were competing to speak," said Ma'ruf.
Ma'ruf rehearsed in several debate simulations. On Tuesday two weeks ago, at the headquarters of the Jokowi-Ma'ruf campaign team on the fifth floor of the HighEnd Building in Central Jakarta, the former leader of the Nahdlatul Ulama rehearsed for around two hours with the help of a digital timer. Last Tuesday, Ma'ruf again participated in a simulation at the Grand Sahid Hotel, Jakarta. Tina Talisa, member of Jokowi-Ma'ruf's debate preparation team, said Jokowi and Ma'ruf had five simulations in total, four of which were done separately.
Chairman of the campaign team, Erick Thohir, said the simulations were held to prepare Ma'ruf—who was more accustomed to delivering sermons—for speaking with a time constraint. "When he's delivering a sermon during a prayer group or Friday prayers, no one would tell him he has run out of time," said Erick during his visit to Tempo's office last Friday.
In fact, Ma'ruf had been prepared to provide the perspective of Islamic law in the debate. Ma'ruf's questions and answers would be supported by verses from the Qur'an. For example, when speaking about human rights, Ma'ruf was to reference Surah Al-Hujurat 13, which talks about diversity. Ma'ruf himself prepared the Qur'anic verses to cite.
Deputy chairman of the campaign team, Abdul Kadir Karding, said these verses were to be quoted, among others, to demonstrate Ma'ruf's deep understanding of fatwa (edicts). But for some reason fatwa was not mentioned in the debate. "He was set to appear as an ulama (cleric). There were several verses [from the] Qur'an and hadith that were not brought up," said Romahurmuziy.
To prepare for the debate, Jokowi and Ma'ruf were assisted by several teams in charge of preparing the material. The candidate pair's stage manager, Irfan Wahid, said the debate's content was prepared particularly by the Team of 11, who also supported Jokowi and his running mate Jusuf Kalla during the 2014 presidential election. Members of the team, among others, are former Cabinet Secretary Andi Widjajanto; Special Staff for Political and Government Affairs Ari Dwipayana; Presidential Staff Office Deputy of Politics, Law, Security, and Human Rights Jaleswari Pramodhawardani; military observer from the Padjadjaran University, Muradi; and international relations observer, Makmur Keliat.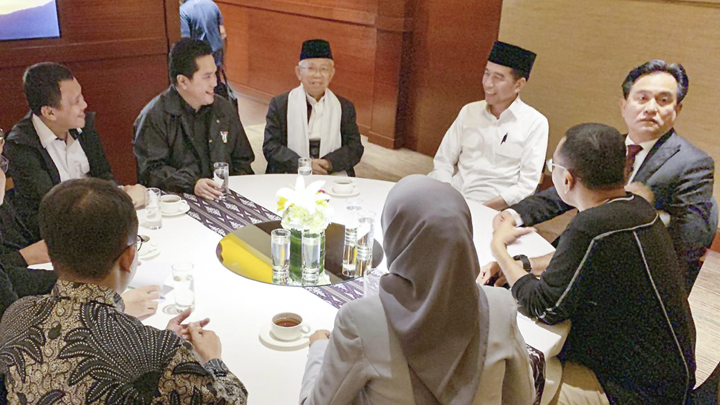 Joko Widodo and Ma'ruf Amin with their campaign team, one day before the debate. Irfan Wahid doc.
Two officials in the national campaign team say the team does not only provide Jokowi with input. They were also actively engaged in discussions with a number of experts to plan answers to questions given by the General Elections Commission to the candidates prior to the debate as well as to draft questions to ask the opponent.
In the past two weeks, said the two sources, several Team of 11 members performed closed discussions more intensively in a number of locations, among others, at the Jokowi-Ma'ruf campaign team headquarters in the HighEnd Building, Kebon Sirih, and at a restaurant in Jalan Teuku Umar, not far from the residence of the Indonesian Democratic Party of Struggle (PDI-P) General Chairperson Megawati Soekarnoputri.
Andi Widjajanto and Jaleswari did not respond to Tempo's interview request. A Jaleswari staff member at the presidential staff office, Ifdhal Kasim, said his institution only provided data on the government's progress in the areas of law, corruption, human rights, and terrorism, in line with the topics of the presidential debate. Meanwhile, Muradi confirmed information that the Team of 11 also assisted in developing content for the debate. "According to [my] capacity, I provided input on terrorism. But we were only one of several teams," he said.
One day before the debate last Wednesday, Jokowi and Ma'ruf also met with Yusril Ihza Mahendra. The former justice and human rights minister said the meeting was held to finalize the content of the debate, including to anticipate questions potentially asked by the opponent, such as the attack on KPK investigator Novel Baswedan. Ma'ruf was to address the issue of terrorism. "Because terrorism is often tied with Islam," said Yusril, Jokowi-Ma'ruf's attorney.
On the debate stage, Jokowi also had a team led by Irfan Wahid. According to Irfan, his team prepared and evaluated the pair's performance. During recess in the debate, Irfan and Cabinet Secretary Pramono Agung was seen speaking to Jokowi several times. "I gave input that Pak Jokowi appeared tense in the beginning. Another input was that it was necessary to split answers with Abah (Ma'ruf)," said Irfan.
To calm Jokowi's nerves, political communications deputy director of the Jokowi-Ma'ruf campaign team placed a photograph of his first grandchild, Jan Ethes, on the podium. Meanwhile, Irfan said his team placed a smiley face sticker on Ma'ruf's podium. "So that [he] wouldn't forget to smile."
STEFANUS PRAMONO, HUSSEIN ABRI DONGORAN, BUDIARTI UTAMI PUTRI, FIKRI ARIGI