The Question That was Never Asked
PRABOWO Subianto invited Sudirman Said to his parents' home in Jalan Kertanegara, Kebayoran Baru, Jakarta, last Tuesday, to discuss the May 1998 incident and the kidnapping of activists prior to the Reformasi.
Edition : 22 January 2019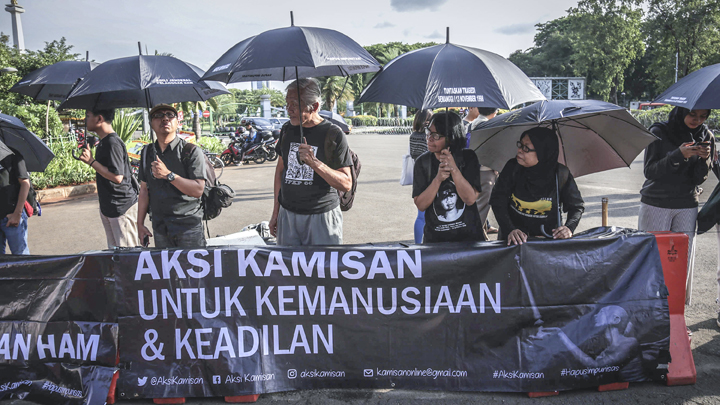 Prabowo asked why he is always mentioned in connection to the human rights violations—a hot topic before every election.
"Pak Prabowo said he was on commander's call at the time. He is ready to take responsibility and has never escaped from Indonesia," said Sudirman, debate content director for Prabowo-Sandiaga Uno's debate team, last Friday.
Prabowo, then leutenant general, was commander of the Army Strategic Reserves Command when the May 1998 riots broke out. Two months earlier, he was commander of the Army's Special Forces (Kopassus). While leading the red berets, a number of Reformasi activists were kidnapped by his men.
Deputy chairman of Prabowo's campaign team, Mardani Ali Sera, said Prabowo invited several experts to specifically prepare responses to accusations of human rights violations. Three of these experts are former members of the National Commission on Human Rights (Komnas HAM), namely Natalius Pigai, Hafidz Abbas, and Siane Indriani. The campaign team predicted that the Joko Widodo-Ma'ruf Amin pair would ask about the kidnapping of activists and the 1998 tragedy.
Natalius Pigai said he told Prabowo that the Gerindra general chairman was merely a witness to the 1998 tragedy. Pigai suggested that Prabowo reveal the name of his superior as the person most responsible. "The 1998 incident was a national-scale turbulence. Leaders of security and national defense are the ones who should claim responsibility," he said.
Prabowo has attempted to clear his name for a long time, including by recruiting two former victims of kidnappings by Kopassus's Rose Team, Pius Lustrilanang and Desmond Junaidi Mahesa, into Gerindra to show that he was on good terms with 1998 activists.
Pius Lustrilanang said the 1998 incident is an issue that emerges every five years, whenever Prabowo steps forward as a presidential candidate. Meanwhile, another kidnapping victim, Desmond Junaidi Mahesa, feels that Prabowo would be able to easily respond to questions about the May 1998 incident. "I was rescued by Prabowo, not kidnapped," he said.
During an interview with Tempo in 2013, Prabowo implicitly admitted that he indeed involved in the kidnapping of a number of activists and returned them back alive. "Sometimes, as a government servant we must execute a mission that is deemed right. (However) as the government changes, the new government considered it was wrong. I was only an officer at the time," said Prabowo.
Although the Prabowo-Sandiaga team has already prepared an answer, the question long awaited was never asked by Jokowi-Ma'ruf last Thursday night. "Prabowo had been waiting for it," said Sudirman Said. In the first presidential debate, Jokowi only said that he did not have any burden of the past—alluding to his contender. "It feels better to work and give orders," he said.
Muhammad Romahurmuziy, member of the Jokowi-Ma'ruf campaign team's steering committee, said Jokowi did not ask about the kidnapping of activists and the 1998 tragedy because Prabowo did not provoke him by asking about human rights violations under his leadership. Jokowi did not wish to deliver the first question about the topic because of his position as incumbent. "Although we had already prepared the question," said Romahurmuziy.
HUSSEIN ABRI DONGORAN, RAYMUNDUS RIKANG