Party Traces at the Batam Bay
The appointment of Batam's Mayor as ex-officio head of the Batam Free Trade Zone and Free Port Authority (BP Batam) has rattled many sides. Was he put there to smooth the way for an ongoing mega project?
Edition : Monday, February 4, 2019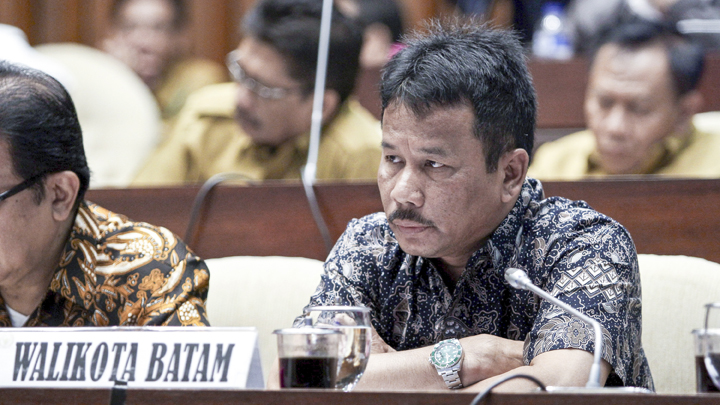 Yells the like of 'choose 01', 'elect again', and 'long live Jokowi' were heard amidst the short speech made by Batam Mayor Muhammad Rudi at a hotel in Batam in the Riau Islands on Friday two weeks ago. Rudi, also Riau Islands' board secretary of National Democrat (NasDem) Party stood on a podium, with a large photo of NasDem Chairman Surya Paloh in the background.
Surya himself was in the audience, together with other party supporters. "Batam's mayor will become BP Batam's ex-officio head," Rudi said in a video clip widely spread in that town. "This is your right, people, and hopefully this commitment will be kept." Rudi then promised land rental and handover fee exemptions for the land owned by the Batam Free Trade Zone and Free Port Authority (BP Batam).
In the event titled Friendly Meeting with Restoration Figure Mr. H. Surya Paloh, Rudi invited the audience to thank Surya Paloh. Surya is said to have played a big role in the government's decision to appoint Rudi as BP Batam's ex-officio head. Rudi also asked those present to thank President Joko Widodo. "Jokowi has strived for us. We have to make sure that he will continue to lead our beloved republic," he said.
The mood, however, was very different at the Batam and Riau Islands Province's chamber of commerce and industry (Kadin) offices. On Tuesday last week, dozens of Batam and Riau Islands' Kadin officials went to see House of Representatives (DPR) Speaker Bambang Soesatyo. Riau Islands Kadin Chairman Ahmad Ma'ruf Maulana and Batam Kadin Chief Jadi Rajagukguk led the delegation. They came to complain about Rudi's appointment as BP Batam's ex-officio head, saying it was a conflict of interest.
Bambang said that the government has made a wrong decision. The government is planning to confirm the ex officio status by revising Government Regulation No. 46/2007 regarding the Batam Free Trade Zone and Free Port Authority. "That government regulation cannot annul the law," Bambang said in a written statement released on Tuesday last week. He further said that the concept of ex officio contradicts three laws: laws on state finances, state treasury and regional administration.
W251bGwsIjIwMjEtMDQtMjEgMjA6NDM6MDMiXQ
The decision to appoint Batam's mayor as BP Batam's ex officio head was made in a limited cabinet meeting at the Presidential Palace in December. The government said that decision was made to end the dual leadership in Batam, a city that was initially constructed to become an economic hub through its free trade and free port zone. To assure that the ex officio status is carried out without hitches, the government had prepared regulations which would made the dual leadership appointment legal.
Besides from the DPR, disapproval also came from Jokowi's main party, the Indonesian Democratic Party of Struggle (PDI-P). PDI-P Secretary-General Hasto Kristiyanto immediately relayed his opinion to the President after the decision, through Jokowi's cabinet secretary Pramono Anung. "I sent WhatsApp message to Mas Pram," Hasto said on Thursday last week.
Hasto further said that as a strategic border area, Batam must remain directly under the central government. "We are using all our channels. However, as soon as the President makes a decision, we have to support him."
LONG before the government decided to appoint Batam's mayor as ex officio head of BP Batam, a number of business people in Batam were already suspicious that Muhammad Rudi was tangled in conflict of interests. This suspicion arose after rumors spread that Rudi had given development rights of Batam Marina Bay to a company owned by an official of the NasDem Party, Rudi's party for the past three years.
The mega project of Batam Marina Bay will be constructed at the Teluk Tering Batam Centre. This is Batam's premium bay, located in the subdistricts of Batam City, Nongsa and Bengkong. Some Batam entrepreneurs said that Rudi gave the rights to develop this area to a company owned by Maxi Gunawan family. Maxi is the deputy chair of NasDem's advisory board.
Tempo obtained a copy of a Batam City administration document, giving its recommendation and approval for Maxi's company to develop the Teluk Tering Batam Centre. This letter was signed by Batam City Secretary Jefridin on behalf of Rudi on March 9, 2018.
That recommendation started when Kencana Investindo Nugraha, a company apparently owned by Maxi, wrote a letter to the Batam City administration on January 12, 2018. The company expressed its interest for the development and reclamation of the bay. The company proceeded to give their pitch on February 28.
The company's deed said that Kencana Investindo Nugraha was set up in October 2016. It is 51 percent owned by Andri Boenjamin, the son of Karli Boenjamin, a palm oil businessman who is also a member of NasDem's advisory council. The remaining 49 percent is in the hands of Tathya Sarasmi Astungkara, Maxi's daughter. On the company's board of commissioners is M.J. Tata Susila Gunawan, also a member of NasDem's advisory council.
At the Bay, Kencana is set to develop an integrated business center. The city administration said that Kencana's proposal matched the Batam Marina Bay development plans. The City's future plans involves the inclusion of housing, services and integrated port activities at the Batam Marina Bay.
NEWS that the city administration gave the nod to Batam Marina Bay's development to Kencana Investindo also reached the Batam Free Trade Zone Authority chief at the time, Lukita Dinarsyah Tuwo. Lukita, according to a knowledgeable source, was taken by surprise. Actually, BP Batam had planned for the bay to become a business and financial zone to compete with Singapore and Malaysia. Thus, residential areas would only be developed to support businesses, and in the form of high-rise apartments.
---
Hasto further said that as a strategic border area, Batam must remain directly under the central government.
---
Lukita already designed the bay as a new business center and included that in Batam's long-term planning for the next 15-20 years. This bay reclamation mega project is dubbed 'Water City', and is part of seven BP Batam strategic projects, on an area of some 1,400 hectares. BP Batam would also involve private sector in developing the area, but through open tenders, not direct appointments as done by the Batam City administration at Marina Bay. BP Batam estimated that investment in the Water City could reach US$15.5 billion.
A number of entrepreneurs said that the development of Batam Marina Bay, now in the hands of Maxi and Karli, was one of the motives to place the Batam mayor as BP Batam's ex officio head. This effort started on April 20, 2018, when Riau Islands Governor Nurdin Basirun sent a letter to President Joko Widodo. Nurdin, who is also the regional chief of NasDem in Riau Islands, suggested that Rudi become the ex officio head of BP Batam. Nurdin's letter was widely circulated in Batam in the middle of last year.
On June 29, Rudi sent a letter to Vice President Jusuf Kalla. In the letter, Rudi complained that he was not able to properly execute his duties as city administrator because of the duality of Batam as a city and BP Batam as a free trade and free port zone. Rudi asked Kalla, as chairman of the Regional Autonomy Council, to resolve this dual leadership in Batam.
Rudi also complained in person when he took part in a meeting between the Indonesian Association of Islands and Coasts' Regional Administrations at the Vice President's office in early November. When asked about this meeting in December, Rudi neither denied nor confirmed that fact. He simply said: "Amen."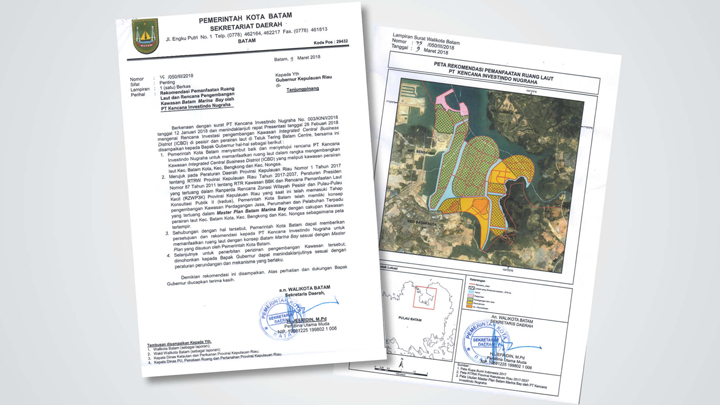 Letters of recommendation of the Batam Bay development by Kencana Investindo Nugraha from the Batam city administration.
Tempo has sent a list of questions to Rudi regarding his approval for Kencana Investindo to develop Batam Marina Bay. By telephone, Rudi questioned the source of the information regarding Kencana Investindo's involvement in the mega project. "Who is the source, and what is the urgency?" Rudi said on Friday last week. "What businessman? Send me his photo, and the source must be clear."
Maxi, in turn, chose to say little. When contacted on Thursday last week, Maxi questioned the relationship between Kencana Investindo and the ex officio position. "What's the connection?" At the time, Maxi said he was in Tokyo and would only return to Indonesia this week. Tempo then sent him a list of question about his connection with Kencana Investindo. Maxi did not pick up his telephone when called numerous times throughout Friday last week.
Karli gave a similar response: when contacted by telephone, he said he did not have any ties with Kencana Investindo. "I am still in a meeting, and for Batam you need to speak with Maxi Gunawan," Karli said, last Friday.
Confirmation that Maxi and Karli are involved in the Batam Marina Bay mega project actually came from BP Batam new head, Edy Putra Irawady. "I have met with Maxi 10 days ago," Edy said at the coordinating ministry for the economy in Jakarta on Tuesday last week.
Edy said he only knew about Kencana Investindo when he was inaugurated as BP Batam head. He further said that Batam Marina Bay or Water City was a topic of debate between BP Batam and the city administration. For BP Batam, Edy continued, the region is BP Batam's zone, and also a national strategic zone. Thus, all permits are in the hands of the central government. "Regarding this Water City, let the gods decide what happens next," he said.
'The gods' referred to by Edy is the BP Batam Zone Council, headed by Coordinating Minister for Economic Affairs Darmin Nasution. "I am barred from making strategic decisions."

Competition in Industrial Zones
KHAIRUL ANAM, RETNO SULISTIYOWATI