First Travel's Blank Receipt
Victims of First Travel scam refuse the confiscation or transfer of ownership of the company's assets. They are fighting back by filing request for pre-trial.
Edition : 4 February 2019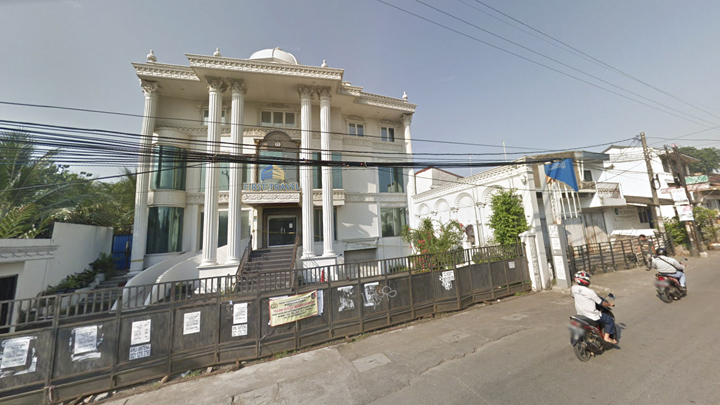 Zuherial came all the way from Palembang to the South Jakarta District Court to file a request for pre-trial, last Friday. The retired police officer intends to contest the seizure of assets belonging to First Anugrah Karya Wisata, otherwise known as First Travel
He holds objection against the fact that half of assets previously belonging to the umrah (minor pilgrimage) and haj travel agency has changed ownership, while the rest would be confiscated by the state, without leaving any for victims of the company's fraud. "I have prepared documents for the pre-trial filing, along with the evidences," said Zuherial, himself a would-be-pilgrim who was scammed by First Travel.
As written in his documents, Zuherial plans to sue National Police Chief General Tito Karnavian and Attorney General Muhammad Prasetyo. He deems both men are responsible for the Police Criminal Investigation Department (Bareskrim) and prosecutors handling First Travel's case, who were considered as being not transparent regarding confiscated company assets. This, in turn, allegedly led to transfer of ownership of some assets.
Zuherial also suspects that the actual amount of First Travel's assets seized by the police is different from the fact stated in the case files. "We have proof," he said. However, Zuhari had to postpone the filing of his pre-trial request because other First Travel victims could not come along to the court. "Due to technical reasons, we are postponing until next week," said Rizky Rahmadiansyah, the attorney for First Travel victims.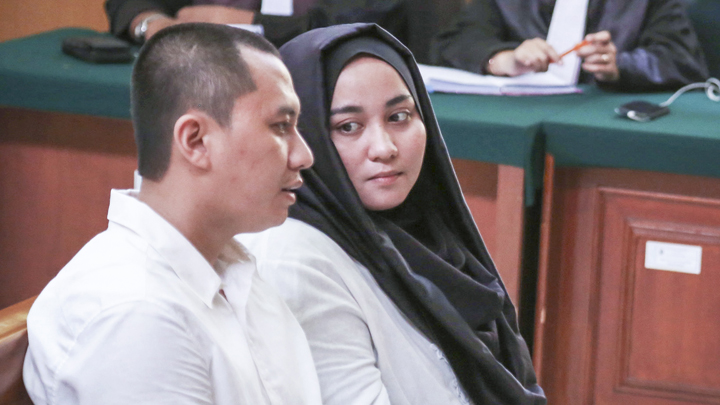 Andika Surachman and Anniesa Desvitasari Hasibuan at the Depok District Court, West Java, 2018./TEMPO/STR/M. Taufan Rengganis
The fraud of First Travel was first unveiled two years ago. Bareskrim's General Crime Directorate named three suspects: the company CEO Andika Surachman, Andika's wife Anniesa Desvitasari Hasibuan, and First Travel Finance Director Siti Nuraidah Hasibuan. In May last year, Depok District Court sentenced Andika to 20 years in prison while Anniesa received 18 years. Siti Nuraidah was given a lighter prison sentence of 15 years. Three months later, the district court's verdict was upheld by the West Java High Court.
The three convicted persons were proven guilty of embezzling umrah funds belonging to 63,310 would-be-pilgrims; laundering their money through purchase of houses, cars, and lands; as well as using it for a vacation trip to Europe. The ruling also mentioned what became of First Travel's assets which previously had been confiscated by investigators. It was then revealed that some assets had changed ownership.
These include five luxury cars under Andika and Anniesa's names. The five consist of a Toyota Vellfire, a Mitsubishi Pajero Sport, a Volkswagen Caravelle, a Toyota Fortuner, and a H2 62 SUV AT Hummer. The court stated that these cars were handed over to Umar Abd Azis, Director of Kanomas Arci Wisata, the haj and umrah travel agency which provided tickets and visas for First Travel's customers.
Three lots of land owned by First Travel were also given to Umar. These are the land and house at Jalan Radar Auri 1, Cisalak, Depok; the land and house at Jalan Venesia Selatan 99, Sentul City, Babakan Madang, Bogor; and the land and building at Jalan Kompleks Rumah Tahanan Militer Raya A3, Cimanggis, Depok. Another First Travel asset stated as given to Umar is a luxurious ring weighing 22,26 grams and adorned with 195 diamonds.
Zuherial and other First Travel victims see the court ruling as very odd and disadvantageous for them. He suspects a foul play had caused some First Travel assets to change ownership when the trial was still ongoing. "Confiscated assets should not be sold or given to other people," said Rizky Rahmadiansyah.
Through a letter sent by his lawyer, Andika Surachman confirmed to Tempo that some of his company's assets had indeed changed ownership. He wrote that, when First Travel and Kanomas established their cooperation for the provision of tickets and visas, First Travel granted some of its assets as collateral.
These assets are the lands at Sentul City, Bogor, and Jalan Radar Auri, Depok. Both assets, however, had changed ownership from Andika to Haild Umra, who is Umar's son. The assets were then submitted as collateral to the bank. "The purpose of using their name was to speed up disbursement of fund and additional 5,000 tickets," he said last week.
As for the five luxury cars, Andika said that they remain under his and his wife's names. He also explained the chronological order of events that led these assets into Umar's possession. In September 2017, a month after he was detained in Jakarta Metro Police Detainment Center, Andika was visited by Umar who gave him a blank receipt to be signed. The receipt would be used as proof of sales of Andika's cars to Umar. "The signing of the blank receipts for the cars was done while in police detainment," said the 31-year-old man.
When requested for confirmation, Kanomas representative Mirfad Najib Shabibie suggested Tempo to contact Kanomas lawyer Husni Farid Abdat instead. Husni said he would only answer our request this Tuesday. "It is not possible today, I am not in office," he said.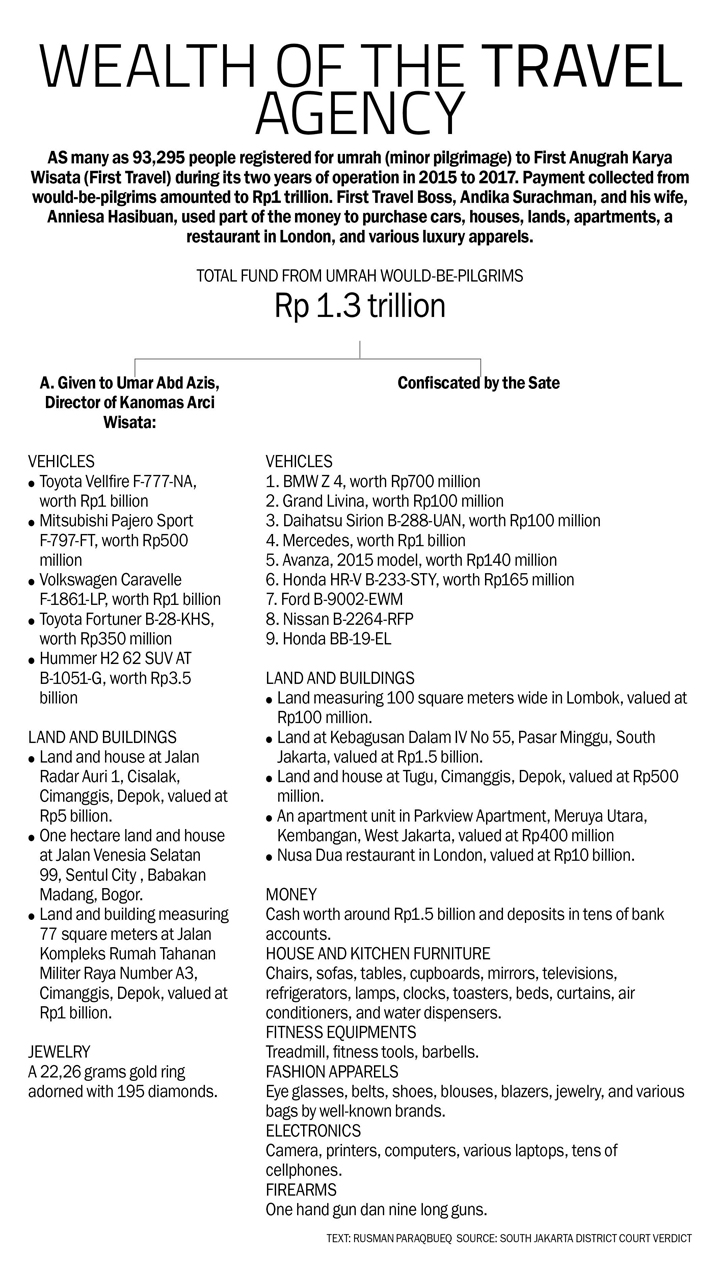 Wealth of the Travel Agency
In court, Umar explained the matters of First Travel's assets. Umar said that both he and Andika have signed the sales receipt for five cars from First Travel. "The vehicles' ownership has not been transferred, but there is already a sales receipt between Andika Surachman and the witness," he said. Umar did not mention when exactly the purchase occurred.
About the First Travel houses at Jalan Radar Auri and Sentul City, Umar said that their ownership has been transferred to his son. He also told in chronological order of how these assets became his possession. Kanomas, he explained, provided umrah tickets for First Travel customers from November 2016 to June 2017.
First Travel ordered a total of 11,690 tickets from Kanomas in three occasions during the seven months. The first order was for 3,850 tickets worth Rp50 billion, the second order for 5,300 tickets valued at Rp69 billion, while the third order for 2,540 tickets worth Rp33 billion.
For the first order, First Travel paid Rp24 billion. The rest of the payment was to came in installments using land certificates for the properties at Jalan Radar Auri and Sentul City. Then, for the second order, First Travel paid only Rp12.8 billion, leaving a debt of Rp56 billion. This debt, said Umar, was also to be paid in installments using First Travel's cars and other properties as collaterals, namely a lot of land at Jalan Rumah Tahanan Militer, Cimanggis, and an apartment unit in The Aspen Peak Residence Fatmawati, South Jakarta.
Then, for the third order, First Travel only paid Rp29 billion, leaving a debt of Rp3.8 billion. By his calculation, Umar said that First Travel's total debt to Kanomas amounts to Rp90 billon. Part of the debt was subsequently covered using First Travel's assets, which include the cars and properties, worth Rp41 billion in all. "The remaining unpaid debt is around Rp 49 billion," said Umar.
This issue was once mentioned by the Chief of Depok Prosecutor's Office Sufari in July last year. He said that the five cars were confiscated as evidence. However, during transfer of the case from police to the attorney, the cars were lend-used to Kanomas. "Why were the cars lend-used because they were confiscated from the claimant?" asked Sufari. He also stated that the five cars had changed ownership before Andika Surachman was named as suspect.
Another one of Andika's assets that changed ownership is the Nusa Dua restaurant in London. According to the court ruling, management rights of the restaurant, which Andika purchased for around Rp10 billion, had been transferred to Dwi Irianto and Heri Jerman. Dwi was the chief of the Bareskrim investigation team handling First Travel's case while Heri was the coordinator of public prosecutors in that case.
Andika bought the restaurant from Usya Soemantri Soerharjono in 2014. Its management was then entrusted to Usya. Seizure warrant for the restaurant was only requested after the case had proceeded to court. Andika confirmed Nusa Dua restaurant's change of management rights. The story began during transfer of the case files and suspects from police to the attorney in December 2017. Heri delivered two letters to Andika.
The letters consisted of statement that Nusa Dua management rights, including its profits and financial reports, were to be handed over to Heri and Dwi. "Prosecutor Heri Jerman gave the two letters, which I must sign," said Andika. Heri refused to comment. "Sorry, I have been transferred to different assignment. Please contact Depok Prosecutors Office," he said. Meanwhile, Dwi did not respond at all toward Tempo's request for confirmation.
It is this court ruling, which accommodates transfer of ownership of First Travel's assets, that upsets the victims. They remain unable to go on their pilgrimage. Moreover, only low-value assets of First Travel are confiscated by the state. "The value of remaining assets is not enough to fund pilgrimage for all victims," said Zuherial.
Together with seven of his family members, Zuherial is contesting the assets' change of ownership and hoping that the Supreme Court would change the previous ruling.
RUSMAN PARAQBUEQ, IRSYAN HASYIM