Tweet Ends A Prison Sentence
THE South Jakarta District Court sentenced Ahmad Dhani Prasetyo to one year and six months in prison after finding the musician guilty of hate speech on Monday last week.
Edition : Monday, February 4, 2019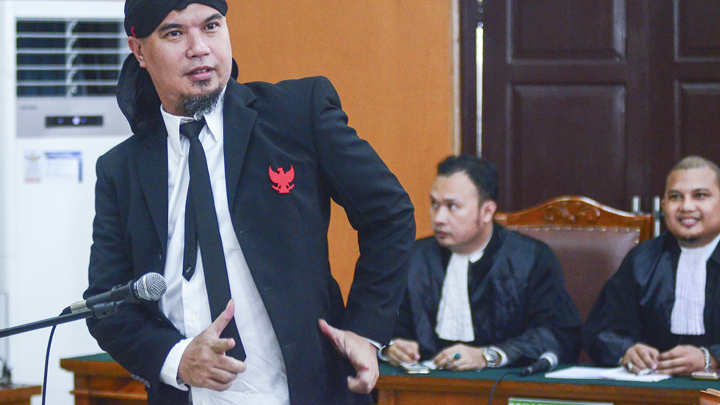 The panel of judges found that he was proven to have deliberately spread information to incite hatred towards a certain group. "One and a half years of imprisonment and evidence from the public prosecutor will be seized to be destroyed," said judge Ratmoho, reading the verdict.
Dhani's troubles began when, through his Twitter account, he criticized then-Jakarta Governor Basuki Tjahaja Purnama's alleged religious blasphemy. "The first principle in Pancasila is 'Belief in the One and Only God,' a blasphemer is made a governor. Are you guys sane? ADP," said the tweet, which was posted during the campaign period for the 2017 Jakarta gubernatorial election.
Because the tweet is seen as containing hate speech, Jack Lapian, supporter of Basuki Tjahaja Purnama in the Jakarta gubernatorial election, reported Dhani to the police. Dhani was accused of violating the Law on Information and Electronic Transactions. The legislative candidate from the Gerindra Party is now held at the Cipinang Penitentiary in East Jakarta.
Ahmad Dhani's legal defense team made a request for an appeal to the South Jakarta District Court last Thursday. "There is nothing we fear. We are certain [that we are] right," said Ihsan Tambunan, Dhani's attorney.
Support has poured in for Ahmad Dhani. Vice-presidential candidate Sandiaga Uno has visited Dhani in prison. Coordinator for the Prabowo Subianto-Sandiaga Uno campaign team's spokespeople, Dahnil Anzar, said the verdict is a threat to freedom of expression. "It's a serious threat to Indonesia's democracy."
W251bGwsIjIwMjEtMDQtMjEgMjE6MzM6MDkiXQ
House of Representatives Deputy Speaker Fadli Zon feels that Ahmad Dhani's guilty verdict shows the caprice of the law during President Joko Widodo's tenure. But deputy chairman of the Jokowi-Ma'ruf Amin campaign team, Abdul Kadir Karding, said Dhani has been made a victim of his own statement. "The President has never intervened in affairs of the law," said Karding.
---
Karen Charged of Causing Rp586 Billion in State Losses
Former Pertamina CEO, Karen Agustiawan, was charged causing the Rp568 billion in state losses through Pertamina's investment in the Basker Manta Gummy (BMG) Block, Australia, in 2009. "(She) has inflicted financial or economic losses to the state as much as Rp568 billion," said public prosecutor T.M. Pakpahan at the Central Jakarta Disctrict Court last Thursday.
The Attorney General's Office named Karen a suspect on March 22, 2018. Karen was accused of acquiring some of Roc Oil Company Ltd's assets at the BMG oil and gas fields, with a total value of Rp568.06 billion, without first performing a risk analysis. The BMG oil fields, hoped to contribute to the country's oil reserves, failed to yield as expected.
Karen said the acquisition was purely a corporate action. "I hope that the government protects and supports the corporate action because this is a continued development," said Karen.
---
Former Corruptor Legislative Candidates
THE General Elections Commission (KPU) has released the names of 49 legislative candidates who are former corruption convicts. KPU Chairman Arief Budiman said these former corruption convicts have registered in the Regional Representative Council (DPD) as well as the Regional Legislative Council (DPRD). "Nine are DPD candidates and 40 registered [to run for] provincial and regency/city DPRDs," said Arief.
The Golkar Party is the party that has nominated the most former corruption convicts, as many as eight people. Gerindra comes second with six candidates and Hanura with five.
Former corruption convict and deputy speaker of the Jakarta Council, Muhammad Taufik, feels that the KPU's announcement is unreasonable. "The KPU is lebay (slang for overreacting)," said Taufik, a candidate for Jakarta council from Gerindra. He was sent to prison for 18 months for involvement in corruption during the procurement process for the 2004 elections and was proven to have caused Rp488 million in state losses.