Voting Is A Right, Not A Responsibility
Abhan: Chairman of Election Monitoring Agency
Edition : 4 February 2019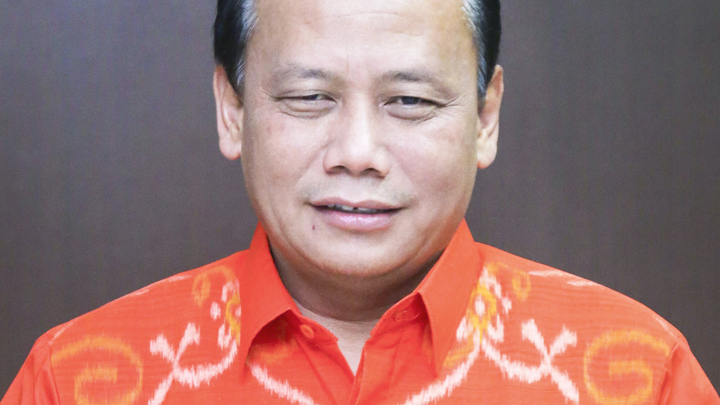 AS the 2019 presidential and legislative elections draw near, Election Monitoring Agency (Bawaslu) Chair Abhan is snowed under with the work that often keeps him in his office well into dawn. Since the announcement of Joko Widodo-Ma'ruf Amin and Prabowo Subianto-Sandiaga Salahuddin Uno as presidential and vice-presidential candidates, Abhan, 50, hardly arrives home before 11pm.
After the interview with Tempo reporters Reza Maulana dan Angelina Anjar last Friday at his Central Jakarta office, for example, Abhan joined his colleagues in coordination and plenary meetings with regional Bawaslu that went on till midnight. Abhan said his work schedule became increasingly hectic in this campaign period as his office was inundated with reports of alleged campaign violations. "We received reports from team No. 01 in the morning and team No. 02 in the evening," he said with a laugh.
One of the reports being handled by Bawaslu is the Indonesia Barokah tabloid. To some, the tabloid, which first appeared last December in West and Central Java including Yogyakarta, seems to be singing the praises of President Jokowi while discrediting Prabowo but Bawaslu says it has not violated any campaign regulations. In another and the latest incident, Communication and Information Minister Rudiantara was reported by Advokat Cinta Tanah Air for his 'Who Pays Your Salary' video.
Abhan said his agency was more concerned with smear campaigns on social media and group chats. Bawaslu is working together with the communication and information ministry as well as social media platforms such as Facebook and Twitter to stem hate speeches and hoaxes. "There should be a balancing force that provides objective information presenting facts," he added.
In an hour-long interview, Abhan also spoke about his opinion regarding President Jokowi's grandson's presence in the campaigns, Bawaslu's ruling in favor of Oesman Sapta Odang in his dispute with the General Elections Commission (KPU) as well as his view towards non-voters.
The number of non-voters is expected to rise. What's wrong?
There are two factors. The first is election contenders. How political parties elect their legislative candidates. If they came up with the same candidates with poor track records, that will influence (voters') participation. The next factor is election organizer. How well the election commission raises awareness and drives the public's participation.
Which factor influences the public more so they choose to skip the presidential elections?
When people go to the polls, they will be given five ballot papers. My assumption is that they will punch all. However, since we have only two presidential candidates this time and given the 20 percent presidential threshold, polarization will be inevitable. If only the threshold were set lower when it was reviewed and there would be more options. That will also influence voter participation.
Doesn't abstention violate the law?
Non-voters are not guilty of anything under the law.
Presidential Instruction No. 7/2018 on the national defense action plan for 2018-2019 states that abstention is a threat...
The law says that voting is a right, not a responsibility. While we must fulfil our responsibility, we free to use our rights.
To what extent is a call for abstention tolerated?
The elections law does not strictly stipulate criminal charges against abstention.
How about the article 515?
That article is applicable to those who promise, or offer money or other material gains to voters at the time of voting to sway the latter to not use their voting rights, or to choose certain candidates, or to vote in a given way that can render their votes invalid. You can see that the punishable act is perpetrated at the time of voting. For example, on the polling day, someone calls on voters at the polling station not to vote.
So, it cannot be criminalized if it's done before the polling day?
I haven't seen any regulation to that effect.
If the call for abstention is voiced at the polling booth without any incentive, can it still be punished?
It can be, in my opinion. In principle, the essence of the article 515 is the phrase 'at the time of voting'. With or without incentives, urging people not to vote on the day violates the law.
What about the satirical account of Nurhadi-Aldo that has been alleged as promoting abstention because it steers the public to choose fictitious candidates?
I can't say whether or not they are advocating abstention. In my opinion, it's just someone's expression regarding the current election phenomenon. Bawaslu hasn't discussed it yet.
Why did Bawaslu say that the publication of Indonesia Barokah tabloid did not violate the election regulations?
Because to this day, we actually haven't found any criminal violation by the tabloid. First, we haven't found the subject (operator). We came to the editor's address which turned out to be fake. It doesn't have any editorial board either. There is no violation either in terms of content, for example, slanders against candidates or SARA (race, religion, ethnicity and inter-group) slurs. Actually, some of the tabloid's content was already published in the mainstream media. It is in fact a compilation of materials from other publications which is used to benefit one of the candidates. But then, such media framing is not foreign to even the mainstream media.
So what action did Bawaslu's take?
If it is classified as a common crime, we leave it to the police to take actions. Those who feel disadvantaged by the tabloid should report to the police. We had the Obor Rakyat tabloid case back in 2014. It was prosecuted under the defamation and libel articles 310 and 311 of the Criminal Codes. However, since this is a pure complaint case, there must be a complainant. We tried to stop the distribution but only via advice to Pos Indonesia.
If there is no problem with the content, why should it be stopped?
It is forbidden to campaign in certain arenas such as mosques, education and government facilities. In substance, it is not a campaign tabloid but we try to maintain a conducive climate for peaceful campaigns.
How far has its circulation reached?
A lot outside Java till East Nusa Tenggara and West Papua.
How many copies?
We're still counting the numbers in each province. There are 13,000 copies in West Java alone. Perhaps it may be around 100,000 in all provinces.
It must have a huge capital…
Yes. We will investigate if we find fund flow from any of the campaign teams. If it's part of campaign activities it has to be recorded in the campaign fund report.
Compared to tabloids which have limited circulation, the number of hoaxes making the rounds on social media and group chats is much more massive. How does Bawaslu tackle that?
We work together with the communication and information ministry (Kemenkominfo). We also did the same with Kemenkominfo as well as nine social media platforms such as Facebook and Twitter during the 2018 regional heads elections. We can ask these platforms to shut down accounts that are found to be spreading hoaxes or hate speech. If any of them is uncooperative, Kemenkominfo will take actions.
Is it already in operation?
Yes, but I can't say how many accounts that we shut down because, they again show up later. Just like when we regulated campaign props. The prop that we removed at 11pm popped up again at 2am in the morning (laughs).
Is there any hoax-spreading account which has been proven to be part of any of the campaign teams?
Those we found so far don't belong to campaign teams. The campaign law limits the teams to have only 10 accounts in each platform and there is only positive content in their accounts registered with the KPU.
How far do you think fake news influence voters?
We can't gauge its effects but messages via social media reach so far and wide with such a speed. Therefore, public literacy is critical to enable them to filter hoaxes. There should be a balancing force among users who can provide objective information using facts.
Although they also eventually end up in discords...
Hopefully, only in cyberspace where people can easily open fake accounts using other people's names. For example, using my photo and my name and then say nasty things.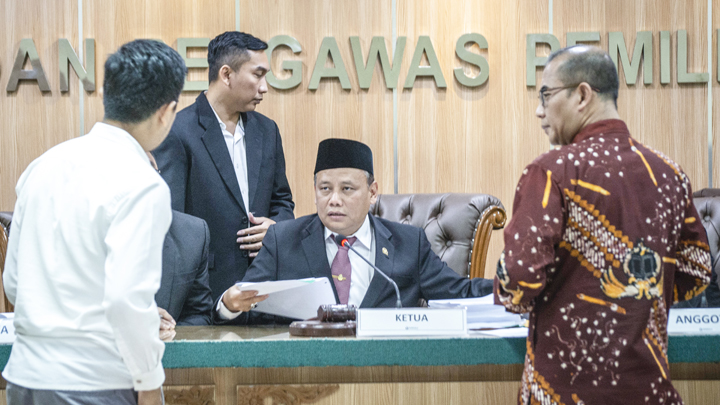 Abhan (center) leading a meeting at Bawaslu office, Jakarta, January 2. ANTARA FOTO/Aprillio Akbar
Have you been a victim?
Sometime ago, someone used my name and photo to ask for money via WhatsApp. Fortunately, one of my friends checked with me first. That's why I'm not active on the social media.
Some politicians contend that President Jokowi has involved his grandson Jan Ethes in his campaign. What is your opinion?
The article 280 of the elections law indeed forbids election campaigners to include someone who does not have a voting right in their campaigns but it refers to active participation. For instance, exploiting underage children on the campaign stage. However, a child brought by the mother to campaign activities because there is no one else to look after him is not a campaign participant. We haven't received any report about the president and his grandson. We've observed and found nothing else but grandfather-grandson interactions.
People feel that the President's grandson garners public sympathy during the campaign…
Sure, but the campaign has its method, such as closed or face-to-face meetings.
His frequent appearances on TV are neither considered as part of the campaign?
Is it in the capacity as the presidential candidate or as the running mate of a candidate? We will look further into it if there are evidences pointing to that direction.
What is Bawaslu's rationale behind its order that KPU include Hanura Party's Chairman Oesman Sapta Odang (OSO) in the fixed candidate list (DCT) for Regional Representatives Council (DPD) in the 2019 elections?
It's a long story. Last September, when his name did not get into the DCT issued by the KPU, Pak OSO filed a complaint with us. We dismissed it because we considered KPU's ruling as appropriate.
On what basis?
The constitutional court ruled that party executives must resign from their posts before they nominate themselves to be DPD members. Pak OSO rejected and filed a complaint with the state administrative court (PTUN). The PTUN declared KPU's DCT decree as legally flawed and ordered the latter to issue a new decree approving OSO's nomination. Then there was also the supreme court's verdict that ruled in favor of OSO stating that KPU's regulations on the nomination of individual DPD members will only come into effect in the 2024 elections. In our opinion, PTUN's decision is the one that has executorial value because it is final, individual and concrete whereas the constitutional court's ruling is a general level ruling.
Although the constitutional court's ruling is higher as it is an interpretation of the law?
In the state system, there is no ruling higher or lower than another. Well, since the KPU did not want to issue a new decree, Bawaslu had to step in and issued one to avoid problems later on. If there is no new decree for the DCT nomination in lieu of the one revoked, candidates who reject poll results can challenge the validity of the DCT.
Bawaslu's decree to order Oesman Sapta to resign from the party leadership if he is elected as a DPD member has been called absurd...
Our decree offers a solution. We used the substance of the constitutional court's decree that DPD members should not come from party executive boards to avoid conflict of interest. When does this conflict happen? After they are elected. Therefore, we ordered the KPU to include Pak OSO's name in the DCT but if he is elected, Pak OSO must resign from party leadership one day before he is formally confirmed as a winner.
What if he still insists on keeping his party post?
Then don't install him as a DPD member-elect.
Can KPU cancel it (the election result)?
This is our ruling which also has the final executorial power. If he refuses to resign, then disqualify him. We still respect the Constitutional Court's decision.
Why did Bawaslu list Yogyakarta, West Papua and West Sumatra as vulnerable regions in the election vulnerability index?
There are several parameters that we used in preparing the index namely socio-political context, contestation, execution and participation. The index is prepared based on in-depth research—not just surveys—conducted in each region. Yogyakarta has vulnerability in terms of contestation as seen from the siege at the United Development Party (PPP) office during KPU's factual verification process last February. Last week, another friction broke out between supporters of presidential candidates. Meanwhile, West Papua is weak in execution which is often fraught with problems. Then, West Sumatra has problems with final voter lists.
Ballot papers are being printed now. How will Bawaslu make sure that they are free of tampering?
First, keeping a close watch on the printing companies. We also check the quantity, the size and the spelling of candidates' names. Distribution is also critical. We should never allow mix-ups of ballot papers among electoral regions. It occurred in 2009 when ballot papers destined for the Banyumas regency were missent to a North Sumatra electoral district and vice-versa. So, the Banyumas had legislative candidates with names such as Situmorang or Siregar, but not Ahmad or Sugiyo (laughs)...
How did you resolve it?
Since a follow-up was not possible, votes were counted as party's votes. Then, there was a polling station supervisor on the polling day. He would also receive form C-1 or the vote recapitulation form for checks and balances in case there are changes in the vote counts later.
---
ABHAN
Place and date of birth: Pekalongan, November 12, 1968
Education: Aliyah Salafiyah Islamic School, Pekalongan (graduated in 1987), Bachelors of Law, Pekalongan University (1991), Master of Law, Sultan Agung Islamic University, Semarang (2017)
Career: Lawyer (1992-2008, 2009-2012), Chairman, Central Java Election Monitoring Committee, (2008-2009), Chairman, Central Java Election Monitoring Agency (2012-2017), Chairman, Bawaslu (2017-2022)
Organization, among others: Central Java Corruption, Collusion and Nepotism Investigation and Eradication Committee; Semarang Legal Aid Institute; Consumer Education and Protection Agency; Semarang Lawyer Club; Board of Indonesian Advocates Association