Yellow Light From The Abstaining Group
A group of people will not be exercising their right to vote in the 2019 general elections. There has been a rising trend of active abstention throughout the campaign period, causing both candidate pairs to be on the alert. The abstaining group expresses disappointment in candidates and campaigning methods that they feel are lacking in quality.
Edition : 4 February 2019
SOCIAL media noise over President Joko Widodo's frequent appearances with his grandson, Jan Ethes Srinarendra, has convinced Iqbal Damanik, 30, to not exercise his right to vote in the 2019 presidential election. Iqbal feels troubled by both presidential candidate camps' tendency to attend to trivial matters rather than promoting their ideas.
Jokowi's 'public' bond with Jan Ethes was criticized for the first time by deputy chairman of Justice and Prosperity Party (PKS) advisory council, Hidayat Nur Wahid, two Fridays ago. On Twitter, Hidayat asked if the airing of the grandfather-grandson relationship can be viewed as enlisting children in a campaign.
A battle of wits began spread beyond cyberworld. Chairman of the Joko Widodo-Ma'aruf Amin West Java campaign team, Dedy Mulyadi, for example, responded by saying that Hidayat's statement was a sign of the Prabowo Subianto-Sandiaga Salahuddin Uno camp's jealousy because Prabowo does not yet have a grandchild.
According to Iqbal, since the campaign period began at the end of September 2018, both candidate pairs have barely spoken about their vision and goals. Instead, Jokowi and Prabowo busied themselves with mocking each other, among others, over the "tempeh as thin as an ATM [card]" and "genderuwo (fearsome supernatural creature) politicians" comments. "The statements made by both camps lack quality," said Iqbal, a researcher at a conservation institution, last Friday.
Ahmad Sajali, 25, is equally disappointed. Sajali feels that both camps prefer to respond to their opponent's blunders to promoting their own candidates' superiorities. He says millennials such as he are waiting for both candidate pairs to talk about issues like education and access to employment. "Young people don't like small talk. We want to hear about programs that are certain," said Sajali, staff member at Youth Proactive, a non-governmental organization focused on issues faced by the younger generation.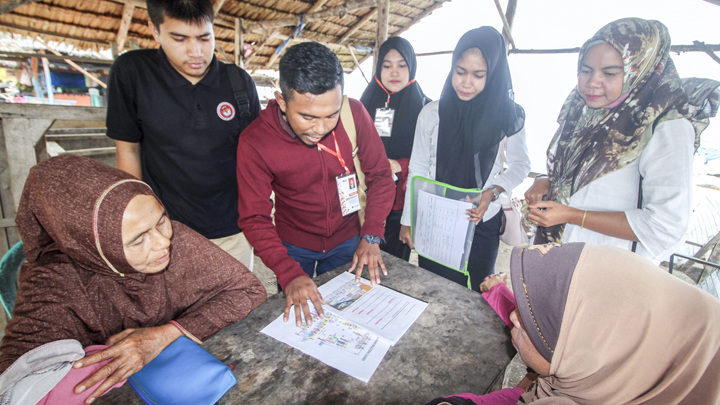 Volunteers from the Independent Election Commission disseminating general election to residents in Lhokseumawe, Aceh, January 28. ANTARA/Rahmad
On social media, topics about golput (white group) or the non-voting group continue to echo. Twitter users who share Iqbal and Sajali's view have voiced their disappointments in the two candidate pairs. A tweet by Sudjiwo Tedjo—who has 1.66 million followers—posted two Saturdays ago on the two camps' "classless over petty matters" was retweeted by thousands of users. This caused abstention to again become a hot topic of conversation after the same topic flooded social media the previous week.
During the buzz surrounding abstention, there was news that the government was planning to release terrorism convict Abu Bakar Ba'asyir. The plan was first announced by Crescent Star Party (PBB) General Chairman Yusril Ihza Mahendra. PoliticaWave, a social media monitoring institution, recorded as many as 2,326 conversations about abstaining from voting one day after Yusril visited Ba'asyir at the Gunung Sindur Penitentiary in Bogor. Two days later, when Coordinating Minister for Politics, Legal and Security Affairs Wiranto explained that Ba'asyir's release required further study, the number of conversations about abstention spiked to 5,551.
According to PoliticaWave, posts about abstention were posted mostly by Jokowi's supporters, who were expressing their ire over the plan to release Ba'asyir. There were also posts about abstention made by Jokowi's buzzers urging their peers to exercise their right to vote. The conversation grew after a number of Prabowo's supporters joined.
That same week at the Jakarta Legal Aid Institute, a group of activists declared that abstention is simply a political expression and cannot be criminalized. They also expressed their disappointment in presidential and vice-presidential candidates running in this year's election. This event kept the number of posts on the topic of abstention over 3,000—the week with the most conversations about abstention during the campaign period.
Lini Zurlia, an activist with the ASEAN SOGIE Caucus, an organization focused on minority rights, who was present at the declaration held at the Legal Aid Institute, openly spoke about her plan to abstain from voting. She is disappointed that Jokowi, whom she voted for five years ago, has not yet resolved human rights violations as promised in his campaign. She also criticized the Jokowi administration's insistence in promoting a presidential threshold of 20 percent.
According to Lini, the requirement does not only make it difficult for political parties to promote presidential candidates, it also robs the people of alternative candidates. Although disappointed in Jokowi, she does not wish to support Prabowo, whom she feels has a certain track record. "We don't have alternatives," she said.
---
PoliticaWave, a social media monitoring institution, recorded as many as 2,326 conversations about abstaining from voting one day after Yusril visited Ba'asyir at the Gunung Sindur Penitentiary in Bogor.
---
The potential for 'ideological' abstention in the 2019 general elections has been detected by survey institutions, including Indikator Politik Indonesia. Indikator Executive Director Burhanuddin Muhtadi says the abstention trend rose from 0.9 percent in September 2018 to 1.1 percent in January.
According to Burhanuddin, the number may experience a spike on election day because survey respondents tend to answer 'uncomfortable' questions dishonestly, such as questions about abstaining. Among others, this is due to a New Order propaganda labeling those who abstained from voting as bad citizens. "There is a social desirability bias," he explained.
But not all who refuse to cast their vote make the decision out of ideological consideration. "Some are abstaining [because of] administrative reasons," said Burhanuddin. This group will not be present at voting booths because, for example, they did not receive a C-6 form or an invitation to vote. Burhanuddin also predicts that many potential voters will instead go on a holiday on election day on April 17, which falls close to Good Friday on April 19 and the Saturday-Sunday weekend.
Based on Indikator's survey results, besides the 1.1 percent of respondents that openly state their plan to abstain, 9.2 percent have not yet made the decision on who to vote for, and around 25 percent are swing voters. Meanwhile, the difference in popularity between Jokowi and Prabowo was at 20 percent in January. "If swing and undecided voters start to veer towards Prabowo, Jokowi must be on the alert," said Burhanuddin. Especially if some of Jokowi's supporters decide to abstain.
In fact, Jokowi is not the only one who should be wary of losing supporters. PoliticaWave Executive Director Yose Rizal says supporters of both camps have expressed the wish to abstain.
Among Jokowi's supporters, abstention was much discussed when Ma'ruf Amin was chosen to run alongside Jokowi, when the plan to release Abu Bakar Ba'asyir was a hot topic, and during the commotion over remission for the killer of a journalist in Bali. Meanwhile, golput was a hot topic among Prabowo's supporters when a video of Prabowo dancing at a family Christmas celebration went into circulation and when a rumor was spread that the former commander of the Army's Special Forces never performs Friday prayer.
Indikator Politik Indonesia survey results on support for presidential-vice-presidential candidates on social media, in Jakarta, January 8. ANTARA
In fact, Prabowo's supporters have talked about abstaining since December 2018, although still in small numbers. The number grew when the video of Prabowo dancing at a Christmas party went viral. On December 26, abstention was talked about on Twitter as many as 641 times. The next day, the number went down to 611 times—a smaller number than conversations about the same topic among Jokowi's supporters. "The conversations, among others, tied the video to Prabowo's background as a presidential candidate recommended by the Ijtimak Ulama (Ulema Conference)," said Yose.
The great potential for abstention, particularly among supporters of candidate pair with ballot number 01, has encouraged Jokowi to give it special attention. Upon returning from a visit to tsunami victims in Lampung in early January, Jokowi convened members of his campaign team near the Halim Perdanakusuma Airport in East Jakarta. Some in attendance were secretary-generals of Jokowi's supporting parties.
Deputy chairman of the Jokowi-Ma'ruf campaign team and concurrently secretary-general of the Perindo Party, Ahmad Rofiq, said Jokowi asked his campaign team to help boost voter turnout. "Pak Jokowi wants turnout to exceed 70 percent," said Rofiq. United Development Party (PPP) Secretary-General Arsul Sani confirmed that the meeting took place as well as what was discussed. "At a place in East Jakarta," said Arsul.
According to Arsul, after meeting with Jokowi during the day, the parties' secretary-generals continued the meeting with member of the campaign team's steering committee, Pramono Agung. "To identify swing and undecided groups of voters with the potential to abstain."
The discussion on abstention continued during the campaign team's routine meetings. Two weeks ago, the team identified several groups with the potential to abstain, among others, activists, the middle-high income group, and those with high levels of education. At the end of the meetings, the campaign team was asked to diligently work on these groups.
---
...several groups with the potential to abstain, among others, activists, the middle-high income group, and those with high levels of education.
---
The popularity of Nurhadi-Aldo—a made-up candidate pair also seen as having triggered the abstention movement—has sparked the campaign team's attention. Head of Cakra 19, Andi Widjajanto, urged Jokowi-Ma'ruf's supporters under his organization to not contribute to popularizing Nurhadi-Aldo. Despite its satirical nature, contents uploaded by Nurhadi-Aldo on social media have the potential to diminish votes for Jokowi-Ma'ruf. "If [Nurhadi-Aldo] grows big, we're the ones that will likely get hit," said Andi to hundreds of Jokowi's supporters two Fridays ago.
Nurhadi said Nurhadi-Aldo's 'campaign' on social media is not meant to encourage abstention. "That's an unwarranted belief," said Nurhadi, a massage therapist in Kudus, Central Java. He believes that the personality's social media posts are meant as jokes and not to support certain political interests.
Like Jokowi's campaign team, Prabowo-Sandiaga's campaign team is on the alert for voters that may switch gears because of the video of Prabowo dancing at a Christmas celebration and the rumor that he never performs Friday prayer. Prabowo's campaign team continues their attempt to clarify to his supporters.
According to Prabowo's campaigner as well as member of the House of Representatives from Gerindra, Muhammad Syafi'i, Prabowo did not participate in the Christmas service and simply joined in the celebration with his family. "As to Friday prayer, Prabowo always asks me to be the imam (leader) because he feels that I have greater knowledge of the religion (Islam)," said Syafi'i.
RAYMUNDUS RIKANG, BUDIARTI UTAMI PUTRI, HUSSEIN ABRI, DEVY ERNIS