Giving Voice to Women Farmers
In the past, most women farmers in Southwest Sumba were busy with nothing but house chores and field work. Wilhelmina Mali Dappa persuaded them to study and get involved in organisations, and encouraged them to stand up for their rights.
Edition : 12 February 2019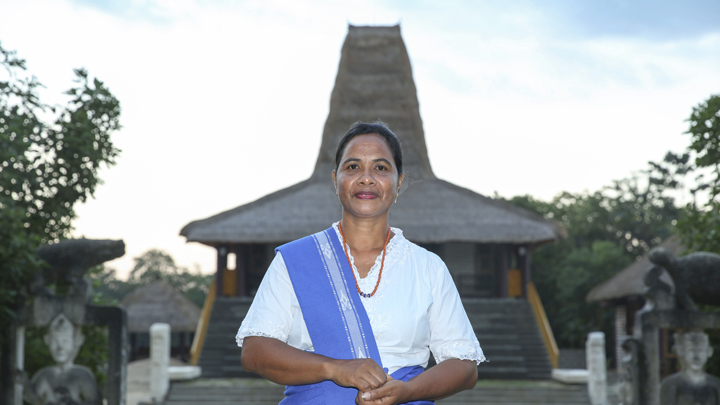 WIHELMINA Mali Dappa (44) was busy. Her home in Wee Kokora village, Southwest Sumba, East Nusa Tenggara, hosted a training to make organic fertilizers from spices, herbs, and leaves. The women farmers who participated listened to the trainers explanation and they also instructed to practice making the fertilizers. "I don't give these ladies lessons using a whiteboard, telling them to take notes. I make them practice it immediately," Wilhelmina told Tempo some time ago.
Wilhelmina, also called Mama Mina or Mama Sani, loves to share knowledge. Everything she had learned are always passed on to her colleagues at the groups she leads. And Mama Mina heads many groups. From the Ole Dewa Farmers Group and Cooperatives, the Ora et Labora Joint Farmers Group, to the Southwest Sumba Branch of the Indonesian Women's Coalition (KPI).
"She teaches us how to grow vegetables, make organic fertilizers, kill pests, and how to engage in co-operative," Ole Dewa farmers group member Cornelia Gadirara said.
Mama Mina has always been attentive towards women farmers in her neighbourhood. In 2007, she began by persuading the women in her village to form the Ole Dewa farmers group. Then, she mobilised the establishment of the cooperatives and the Ora Et Labora joint farmers group.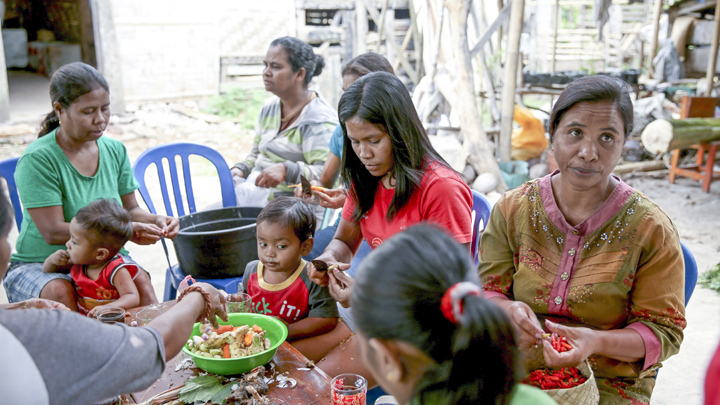 Wilhelmina Mali Dappa (right) teaches Ole Dewa group members how to make organic fertilizer, in Southwest Sumba, East Nusa Tenggara, September 2018. TEMPO/Charisma Adristy
In 2013, Mama Mina began encouraging the women to pay more attention to and fight for their rights, within the family and public spectrum. Their movement was given a forum: the KPI.
"Women should not be secondary citizens," said Mama Mina, who is the secretary of the Southwest Sumba Branch of the KPI.
Because of her efforts and dedication, she was recognized by the government as a development pioneer. In late 2015, the Women's Empowerment and Child Protection Minister Yohana Yembise gave Mama Mina the award.
Before she became active in organisations, Mama Mina was not much different from most of the women in her village. She spent her time at home, the vegetable field, and in the market to sell her crops. "Women only knew about the bedroom, the kitchen, and the well," she said.
Dian Kartikasari, secretary-general of the KPI, told similar statement to Mama Mina's. In Southwest Sumba and around, she said, male domination is strong, which made it difficult for the organization to develop at the beginning. "Women were left out, they didn't get to participate in the public arena."
The practice of dowry, known in the local language as belis reinforces the patriarchy. The groom's family's tradition to give cattles to the bride's is often treated as justification for the husband and his family to view the wife as property.
In September 2012, the Women's Coalition held a dissemination event that Mama Mina participated in. There, she was enlightened. She realised that women has rights, within their family and as member of the public, and that they must fight for those rights.
The first thing she did was invited members of the Ole Dewa farmers group to join the KPI. Mama Mina believes that becoming a member empowers women farmers. Some 30 members of Ola Dewa agreed to join. "We immediately held a basic training for leadership," she said.
But the training program, held at a house next to Mama Mina's, was faced with adversaries. On the very first training on December 31, 2012, the Central Wewewa subdistrict's public order police came and demanded the event canceled. Mama Mina and Sari, a community organiser from the KPI, was asked to see the subdistrict chief.
"I explained to him that we had a permit and what we were doing is legal. In the end, the subdistrict chief allowed us to continue with the training," Sari said.
The five-day training was able to continue. Then, the women established the Wee Kokora Women's Hall (Balai Perempuan)—the first of its kind in Southwest Sumba. A women's hall is the smallest unit of the Indonesian Women's Coalition, located in villages or kelurahan with at least 30 members.
"I wanted to grow, so I could educate my children and share my experiences with other mothers," Maria Pondeta said when asked why she decided to join the Wee Kokora Women's Hall.
Mama Mina was elected as chairwoman. Since then, she actively takes part in village meetings, delivering her aspirations. She is not only vocal about women's issues, but also on matters of public interest, such as street lights and road building programs in villages.
Wilhelmina Mali Dappa and the eggplant crops on her field in Southwest Sumba, September 2018. Planting vegetables is part of Mama Mina's daily activities, aside from attending her shop. TEMPO/Charisma Adristy
More and more women are eager to join. And so, six more women's halls were formed. In May 2013, they held a conference for the Southwest Sumba branch of KPI, and Mama Mina was elected as branch secretary—the highest position in the regency.
Since becoming branch secretary, Mama Mina's movements have become more widespread. "I often provide counseling in other villages." Currently, there are 13 Women's Halls in Southwest Sumba. "Previously, there were only 210 members, now there are 450," Mama Mina said.
The coalition held more trainings, including those on eco-friendly farming, leadership, as well as disseminations on legal and government issues.
Under Mama Mina's leadership, the coalition, also encourages members to actively voice their aspirations in various government meetings. "Women must be able to act when they see cases of abuse," Mama Mina said. The KPI also encourages women to work and occupy important positions in village or regional governments.
The coalition also act upon cases of violence against women, including domestic abuse. If it cannot be resolved using adat or customary laws, Mama Mina and her colleagues will accompany the victims to the police.
One of the cases Mama Mina never forgets was the rape of teenage girl by her own biological father. The girl, who was in her last year of junior high school, got pregnant. Mama Mina helped brought the case to the police and made sure that the girl was allowed to take her final school exam. "She has been taken in by the church, and is now attending high school," she said.
Mama Mina and her peers are also there to help their neighbours who work overseas, mostly in Malaysia. They are always ready to provide assistance when there are cases of abuse and mistreatment. "Women must know how to demand for and obtain their rights," Mama Mina remarked.
RINA WIDIASTUTI