Essence of Journalism
Entering 2019, we had many pleasant surprises.
Edition : Tuesday, February 19, 2019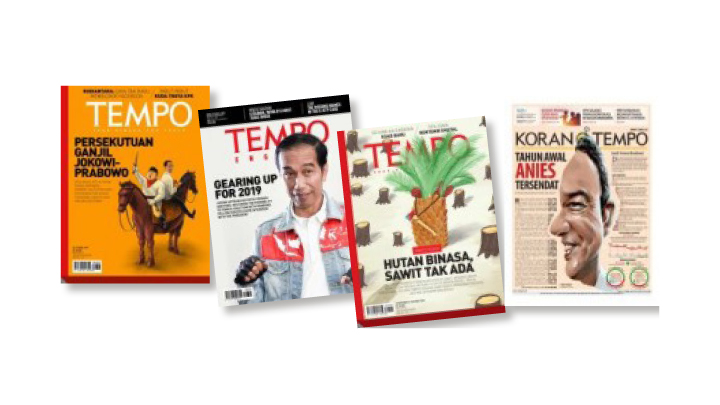 The Alliance of Independent Journalists presented Udin Award 2018 for our stance in refusing to submit to the persecution of a group of people who were offended by the cartoon in the February 26, 2018 edition. Udin, or Fuad Muhammad Syafruddin, was a Yogyakarta journalist who was killed for his determination to carry out investigative journalism.
The European Union Commission picked us as a media that voiced human rights for people with disability. The Press Company Union appreciates the covers of Tempo, Tempo English and Koran Tempo in the Indonesia Print Media Award. Finally, the Global Initiative selected the article on the game played in the issuance of oil palm plantation permits that destroyed the forests and biodiversity of Boven Digoel in Papua as the best coverage.
These awards further strengthen our belief that the essence of journalism is to provide an alternative voice in the discourse that develops in society. Our refusal to apologize for the loading of the cartoon is not a form of professional arrogance, but a small effort to uphold the values ​​that we believe in since the magazine was founded in 1971, which supports freedom of speech and opinion.
Freedom of expression is one of the pillars of democracy. Democracy is a system that allows different voices to be accommodated in an egalitarian manner. We need this ecosystem to realize the ideals held by the founders of the Republic when they fought to establish Indonesia and break away from the various forms of colonialism during the revolution. Silencing is a colonial method that leads us to fall into the dark times of authoritarianism.
In line with that, giving a place to people with different ability is a form of our efforts to give a place to minorities. Democracy will run properly if there is no tyranny by the majority because the minority vote gets the same place and is recognized in equal degree. Equality is another pillar in a democratic system.
We are aware that these efforts do not please everyone. In communities as diverse as Indonesia, there are always other voices that disagree with different voices. For us, those differences are worthy of thanks. The differences and openly discussing them will make this country more mature so that it can solve complicated problems in the future with responsible maturity.
Famous English writer, George Orwell, says news is information that someone does not want to print. By looking at the opposite, we believe there are always other people who want information to be printed and circulated. As emphasized in the magazine's credo when it first appeared, our journalism is journalism that is servant to public interests, not those of one person or one party.
To realize these beliefs and values, we believe, the mainstay is an independent attitude. Because of that, we look after it to prevent it from being tarnished by other interests that can stain it. We create newsrooms that are egalitarian and separate them as far as possible from business interests. Because, independence is the foundation of the freedom of every media organization in carrying out the spirit and essence of the press, namely investigative journalism.
Only with in-depth and investigative coverage, the media will be loyal to its straight line as a "guard dog" of power that tends to be corrupt. The press is present in the modern world to be a counterweight to all powers that are present in various forms in public spaces. Without that balance, the public will not get the right and credible information to have a share in decisions concerning the public.
If there is an institution or other party that respects all these efforts, we actually do it for and because of you, the readership.
W251bGwsIjIwMjEtMDQtMjIgMDU6NDA6MzAiXQ