The TNI Indeed Misbehaves
Diah Susilowati, Chief of East Java Office of Environment
Edition : 19 February 2019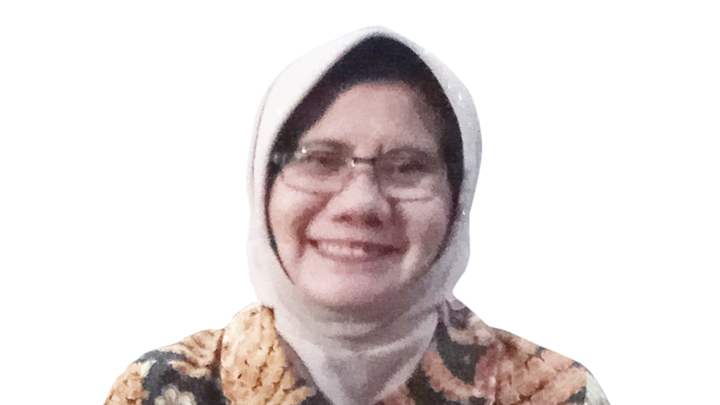 HER name is implicated in the unauthorized hazardous and toxic (B3) waste containment at eight army bases in East Java. It was her son's consulting firm that assisted with processing licenses for B3 waste transport and utilizer companies, as well as landfilling, at the East Java environment office, which she herself leads. Diah Susilowati did not deny her son's role in the licenses issued for transporting and discarding dangerous waste. "But we [acted] professionally," she said at her office on November 23, 2018.
Do these army bases have permits for landfilling with B3 waste?
We admit that since 2014 the TNI (Indonesian Military) has utilized B3 waste for building roads and foundations for primary weaponry defense systems. At first there were no permits, for example, for the Eastern Naval Base in Surabaya and Bhumi Marinir Karangpilang. They worked on licensing after we gave them a reprimand.
Karangpilang's permit for utilizing waste expired in 2016, but landfilling activities continued until the end of 2018.
We haven't fully monitored in the field because of human resource limitations here, which is why, with this Tempo report, we will go and monitor.
Do other bases have permits?
Not the Surabaya National Air Defense Center for Education and Training. We wanted to remind [them], but the building was already made. We will issue a warning to discontinue [waste disposal activities].
What about the Raci Air Force Base in Pasuruan?
Like in Karangpilang, we issued a provincial-level B3 waste utilization permit. They are working with Berkat Rahmat Jaya.
(According to the document, the Raci AURI Base has a license for waste collection, not utilization).
Landfilling permit?
I thought they were lending the site for B3 waste containment, in line with the environmental processing and environmental monitoring documents. After that, [the waste] would be transported to a waste utilization company.
Who were the permits issued for, besides the two military bases?
The Surabaya Naval Base. We have issued an environmental permit, but the environment ministry did not give them a permit. Operations should not have taken place.
Does this mean you have not been monitoring prior to this interview?
What's important is that [these waste-related activites] are in line with procedures and regulations. The TNI courteously asked for assistance. If there are business elements in the field, I understand because they don't have the budget. Waste businesses are allowed as long as they follow regulations. They asked for a waste containment permit. If in practice they have committed violations, we will sanction them.
What types of violations?
The TNI indeed misbehaves. They asked for a permit to utilize waste in the a-b-c-d construction. The public works ministry gave permission as long as the type of waste is allowed. We admit that this was not monitored. We will check if they have indeed been dumping waste. Now we are pushing so that the TNI will have permits.
Is it true that the army bases' licensing process was assisted by Geo-Enviro, your son's company?
The TNI came for help. We helped. We advised the TNI to hire experts for drafting a request letter for B3 waste containment and utilization. I offered to [have the license processed] through Yeva (Asyieva Makruf, a former Berkat Jaya employee), the son of an army member. They then used my son's company. Did I make a mistake? I stressed that there would be monitoring. My son is a professional. We issue a license when the requirements are met.
Did the environment office perform field checks?
Not yet. We verified when they requested a license. We will in the future, so that there is a deterrent effect. I am certain they will comply. It's the military. Why would they act carelessly?
What is the sanction for a waste disposal violation?
There are stages to the sanctioning procedure. Direct monitoring, checking documents—whether field conditions match the license. If there are findings in the field, these findings are written down, including which articles are violated. Then we give them a first administrative sanction for the violation, a second sanction, third sanction, then a criminal sanction.
What about the plan to build a B3 waste processing facility in Mojokerto?
Still processing the environmental impact analysis (amdal) at the central office. We have prepared a five-hectare land in the Dawar Blandong hamlet, Cendoro village, Mojokerto. We have a 50-hectare land. Because the forest is a production forest, the licensing process is not yet finished.