We Must Be Alert but Not Paranoid
Minister of communication and informatics, Rudiantara:
Edition : 26 February 2019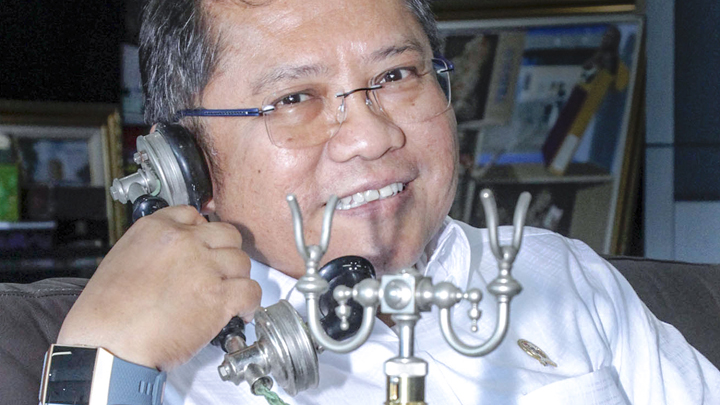 UNICORNS were all last week's hot topic. The designation, meant for startups with a value of above US$1 billion, was mentioned in the presidential debate last Sunday. During the debate, Joko Widodo said he wanted Indonesia to have more unicorns than today's four. To make fulfill this hope, he said, the government is now preparing 1,000 new startups.
In the debate, presidential candidate Prabowo Subianto expressed his concern that technological advances would accelerate the flow of funds outside the country. Fadli Zon, general chairman of Gerindra—Prabowo's primary supporting party—said the concern emerged because multitudes have been shopping for imported products online.
Communications and Informatics Minister Rudiantara dismissed their view, reasoning that most online marketplaces such as Tokopedia and Bukalapak are made up of micro, small, and medium enterprises (SMEs) with a maximum annual income of Rp4.8 billion. "How can they import?" he said in a special interview with us at his office in Jakarta last Wednesday. Even if the items sold by these merchants are imported products, he explained, they are purchased in the country. Those who purchase goods overseas are major importers and distributors.
Rudiantara, 59, addressed the concerns of various groups who say that Indonesia's unicorns are labeled as 'local' despite having foreign financers. According to the minister, the startup business model differs from conventional companies. "So, even with a small share, a startup company's founder has veto power," he said.
Rudiantara also answered our journalists Reza Maulana and Angelina Anjar's question about his "Who is paying your salary" comment. He was accused of harshly chiding an employee at his ministry for planning to vote for Prabowo Subianto-Sandiaga Uno, presidential/vice-presidential candidate pair with ballot number 02. Through the hashtag #YangGajiKamuSiapa (who is paying your salary), the video turned viral at the start of this month. He was then reported to the General Election Supervisory Committee (Bawaslu) for an alleged elections-related violation. Last Friday, Bawaslu discontinued processing the report as it was felt to not meet requirements of elections-related criminal conduct.
How are unicorns important to the economy?
Our economy is evolving towards the digital economy. Well, the digital economy can reduce disparity as it creates new, digital-based jobs. For example, SMEs. There are four million merchants on Bukalapak and five million on Tokopedia. Around 70 percent of Tokopedia's 5 million merchants had not owned a business before. The digital economy business model is also sound, (namely) collaborative or shared economy. Go-Jek has few assets. It's its partners, the drivers, who have assets. But they then received billions of US dollars to motor the app and its operations. Furthermore, the digital economy, through financial technology, will improve financial inclusion.
Is this why the government is so enthusiastic about digital economy?
In order to advance, we must open as much room as possible for those who wish to be players, namely startups. Don't make it difficult. If they are good, there will be unicorns.
Why is our economic growth stagnant at five percent even with the four existing unicorns?
Economic growth is also influenced by exports and investments. What about our exports? There are some who say, "Don't allow foreign countries to enter."
Is it because our digital economy to economic growth ratio is still small?
Yes. But at the end of 2020 the value of our digital economy will reach US$135 billion, or around 11 percent of our GDP (gross domestic product). Now it's still at US$70-80 billion.
E-commerce is seen as having the potential to become a place for money to flow overseas because most products on online markets are imported.
Which e-commerce? Bukalapak and Tokopedia merchants are SMEs. SME earns a maximum of Rp4.8 billion per year or Rp400 million per month. How would they be able to import? The products may be imported, but they are purchasing them in the country. The ones who make purchases overseas are major importers. There may be e-commerce with a business-to-consumer business model that imports. But if the model is consumer-to-consumer such as Bukalapak and Tokopedia, it's impossible to import.
After Go-Jek, Traveloka, Tokopedia, and Bukalapak, you're targeting one more unicorn from Indonesia this year. What type of company?
First, in the education sector. Education spending in the State Budget has reached 20 percent. The value reaches close to Rp500 trillion this year. Why shouldn't they also benefit? Second, the health sector. Health spending in our State Budget has reached five percent. Third, lifestyle. Many startups are working in these three sectors. The bonus is there will be one decacorn (a startup with a value of over US$10 billion).
How sure are you about the decacorn?
In 2015, when we announced that there will be five unicorns, we were laughed at. Now there are four and there will be one addition. There will be at least one decacorn this year.
How will consumers benefit after a unicorn has evolved into a decacorn?
Growth will cause [businesses] to gain economies of scale, making them more efficient.
Many feel that local unicorns are only 'local' in label because the majority of their shares are owned by foreign entities.
That's not the case. The startup business model differs vastly from that of convential companies. In the case of conventional companies, an entity with the most money in a company becomes the greatest shareholder of the company and [has biggest say in its] management. In startups, someone with the largest share will at the most become a commissioner because they are financial investors who will gain profit when their shares are released as they company goes public. Meanwhile, shareholders in conventional companies usually receive dividends.
Is this business model also applied in other countries?
Yes. Jack Ma has not more than an eight-percent share in Alibaba. Alibaba's greatest shareholder is Softbank from Japan, followed by Yahoo! from the United States. But Jack Ma has veto power. Likewise in Indonesia. Startup founders have a kind of veto power, called preferential rights. Consolidations, mergers, or acquisitions cannot be performed without the approval of the founder.
But if they are traded at the stock exchange, the money will be returned to the foreign entities?
Yes. Or it goes overseas if 90 percent of its market is abroad. But what's happening in Indonesia is that Grab has entered from Malaysia, Shopee from Singapore. There is a certain stage when they are burning through capital. It's Indonesians who get to enjoy it. When a startup enters the stock exchange, although the old shareholders leave, there will be new shareholders who will provide fresh capital. So the capital will stay within the company.
Currently, of Indonesia's four unicorns, none have performed initial public offering (IPO).
Not yet. They may want to first work on the value [of their company]. But once they have become decacorns, there is minor potential that they will perform IPO in Indonesia.
Why is that?
A decacorn must be valued at a minimum of US$10 billion. If they sell 30 percent of their shares, US$3 billion or around Rp45 trillion, who would buy? So once they have become decacorns, most likely they will invest overseas, the market is there. There can also be dual listing so that Indonesia's retail investors can make a purchase. At this time, several Indonesian companies have [purchased shares in startups], such as Astra and Djarum with Go-Jek.
How has the Palapa Ring developed as a digital economy infrastructure?
The western and central Palapa Rings are at 100 percent. The eastern Palapa Ring is at 91 percent. We need a large spinal network such as the Palapa Ring because all applications use up bandwidth. Furthermore, operators only wish to build networks in large cities, which is why the government is building the Palapa Ring. The principle in regard to rights to connectivity is 'no one left behind'.
When is the eastern Palapa Ring scheduled for completion?
The target is the eastern Palapa Ring will be at 100 percent in the second quarter of this year. So, mid-this year, all three will be integrated and merged with the operators'. But as of now, the western and central Palapa Rings are already in operation. Operators may rent them. I'm giving a discount so that eventually the price can be equal throughout Indonesia.
How big is the discount?
Cheaper than using other operators.
Is the discount given because only few operators wish to use the Palapa Ring?
No. The fewer operators make use of it, the greater the discount. So I'm actually providing an incentive.
Only Telkom, Smartfren, and Moratelindo are using the western Palapa Ring, and Telkom and Lintasarta are using the central Palapa Ring.
The central Palapa Ring was only finished in January.
The western Palapa Ring was already completed in March 2018. Is it because the rent is too expensive?
No. Only because they have just been completed. It's not easy to connect networks.
Can the Palapa Ring be used for a 5G connection?
Not 'can', but even more so. The Palapa Ring was not meant for 5G. Palapa Ring is meant for all types of data. But for 5G, it's even more beneficial. Palapa Ring is like a toll road. If the access is on a 5G network, the toll road must also be wide. If not, there will be traffic jams.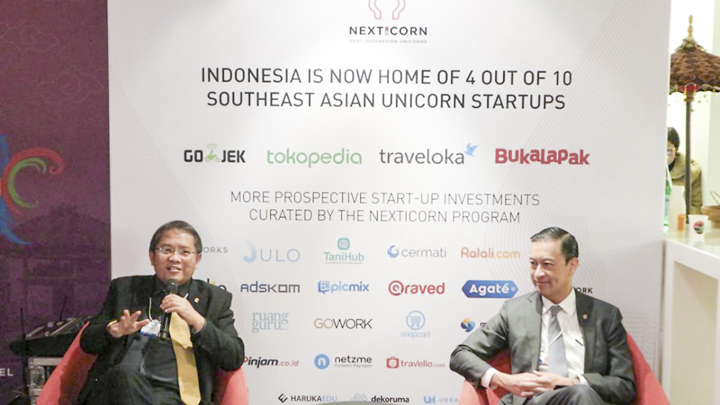 Communication and Informatics Minister Rudiantara (left) during the Media Dinner event in the Indonesia Pavilion at the World Economic Forum 2019 in Davos, Switzerland, last January. kominfo.go
Apart from speed, how is the 5G network superior to the previous generations?
4G is an evolution from 3G. In the case of 5G, the system used is very different. What is most usable are the towers. Apart from that, 5G is dozens of times faster than 4G. Neither is there latency or delays. As of now, there is not yet a 5G business model for consumers, only for companies. Let's say it's 50 times faster than 4G. Would people be willing to pay 10 times the price of 4G?
In the road map for 5G application, the network is targeted to enter Indonesia in 2022.
I never said targeted, but the greatest potential is for companies. For them, a high production cost is no issue. What's important is a high revenue. So the approach is efficiency. In 2020, Japan will indeed launch 5G, but because it is hosting the Olympics. South Korea is also focused on companies, not consumers.
Is not the target included in the roadmap of 5G's implementation?
No. We will only determine the frequency this year.
Several operators have performed 5G trials. Which technology is used?
Some are using Chinese [technology], Huawei. Some are using Korean, Samsung. Some are using Swedish, Ericcson.
The United States has suspicions that Huawei is developing its 5G technology as an intelligence tool for China. Does the government share a similar suspicion?
We must be alert, but this doesn't mean we have to be paranoid. Don't be paranoid. There may be security issues when it comes to technologies, which is why I consulted Pak Wiranto (coordinating minister for political, legal, and security affairs). I also consulted Bu Retno (Foreign Minister Retno Marsudi). This has to do with international politics. What is, in fact, happening? Is it really a security issue, or is it political and economic?
Is the government less concerned than the United States due to Indonesia's close relationship with China?
Not necessarily. We have over 300,000 base transceiver stations. If there is concern, why not stop them, when foreign countries could have been spying through these [stations]?
Several ministers have joined Joko Widodo's campaign team. Why have you not joined?
No [intention].
Have you been offered?
No.
Has Jokowi given special instructions to his ministers for the presidential campaign period?
When I visit the regions, it's the same as before the campaign began. Meeting with the people, well, talking about the Palapa Ring.
There are many who see such visits as campaigning.
I say that the Palapa Ring's development is already at a certain percent, the people can benefit—is this campaigning related to the presidential election? No. This is my job. I'm accountable to the public in regard to what I have done, am doing, and will do. If I say the development will only be done under Pak Jokowi as President, that would be campaigning.
Your statement "Who is paying your salary" is seen as directing civil servants to vote for Jokowi. How do you argue against this?
I only realized when I was summoned by the Bawaslu that I made the statement "This has nothing to do with the presidential election" nine times.
What was the chronology?
It was an annual event, a meet with employees. During the event, I was asked to choose a design for the communication and information ministry's sticker. I said, not me because it would be the people, or at least the employees, who would see [the sticker], let the employees choose. So I asked the employees to make a selection. There were two designs, number 1 and 2. Not 01 and 02, mind you. I then asked those who planned to choose number 1 and 2. When I asked those planning to choose number 2, she said, "I'm certain with the goals and vision..."
Did the employee misunderstand?
I don't know what she was thinking. She said, "My conviction, Pak, about the goals and vision..." I was shocked.
Why did you make the "Who is paying your salary" comment?
It was a comment, in fact, made while joking.
The comment is seen as an assertion.
Actually, it stressed the need for us to be neutral. This is why, after I asked the question, I still talked about how the communication and informatics ministry becomes a unifier for everyone. The problem is, the video was edited, twisted. People may have the perception that I was campaigning. This can't be prevented.
Which design was chosen in the end?
Number 2. The result is now in front of the communication and informatics ministry building (Jalan Merdeka Barat, Central Jakarta).
When you saw the video, did you suspect it would turn viral?
No. No matter what, whether I like it or not, Pak Jokowi was the target. This was just a way to attack me to get to Pak Jokowi. Like playing carambole.
---
RUDIANTARA
Place and date of birth: Bogor, May 3, 1959
Education: Bachelor of Statistics from the Padjadjaran University, Bandung (1984), Master of Business Administration from the PPM School of Management (1988)
Career: Minister of Communication and Informatics (2014-present), Indosat Independent Commissioner (2011-2012), Rajawali Asia Resources Chief Executive Officer (2010-2014), Perusahaan Listrik Negara Vice President Director (2008-2009), Semen Indonesia Vice President Director (2006-2008), Excelcomindo Pratama Sales and Marketing Director (1997-2006)