Pak Djon's Witnessing
A book titled Witnessing Affandi: Thirty years assisting Indonesia's master painter—by Suhardjono as told to Jeremy Allan—is now on the market. The cover price is steep: Rp5.5 million. The book contains reproductions of the works of Affandi, gathered together by an art collector. Each painting has been given a commentary by Suhardjono—usually known as Pak Djon—Affandi's former private driver, deemed to be in the know of the origins of every painting. Pak Djon's commentaries it would seem provide legitimization that all the Affandis presented in the book are authentic. Yet, when compared with the book Affandi, written by the late Raka Sumichan—a famous collector of Affandi's works—and the late Umar Kayam published in 1987, when Affandi was still alive, some of the works in the new book are suspect. Observer of the arts, Bambang Bujono, has written his point of view about the book. Self Portrait Affandi painting, 1976, in the book Witnessing Affandi.
Edition : 26 February 2019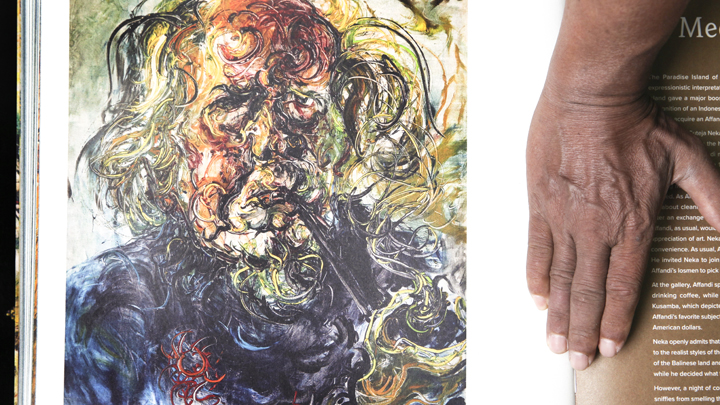 THE driver thought his relationship with the master artist was done once the painter had passed away in May 1990. Suhardjono, now 85, the driver, got ready to open up a little business with capital from his savings after being Affandi's personal driver for almost 30 years. But it did not turn out that way. Djon—as he is known—indeed was no longer in contact with the master himself, but this was not the case with the master's paintings.
In the days to come, when the price of an Affandi skyrocketed because the works obviously had become limited while demand continued to escalate, 'Affandi' paintings began to surface created by goodness-knows-whom. In the end, Djon's front door was more often than not knocked upon by buyers of Affandi paintings, who wanted to know whether what they had purchased was an authentic Affandi, or the work of somebody else pretending to be him.
It was inevitable people turned to Djon to query the authenticity of an Affandi. Since 1961 till the day Affandi died, Djon was no ordinary driver. In all those years, there were no Affandi works created without Djon witnessing directly. And he was not merely a witness. It was he who got the canvases ready, and prepared all the oils and pigments. He would consistently be at the ready to fetch a particular tube of paint whenever the maestro needed it. As time went on, the graduate of the Taman Siswa Middle School, Yogyakarta, class of 1953, felt he could identify any Affandi work complete with their background stories.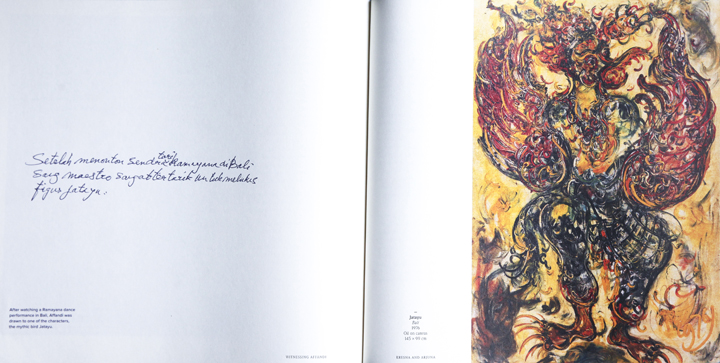 Jatayu, 1976.
During Affandi's sojourns throughout Indonesia and abroad, Djon was never far from his side. He felt happy when Affandi was happy. He would go hungry whenever Affandi ran out of money. Djon would be the one to contact the models for a painting, and often times, he could also have a 'taste' of the model when Affandi had had his way with them. A few years back, Djon wrote: "I was like…Affandi's second soul. Some people even called me Djon Affandi." (See Hendro Wiyanto and Hari Budiono, dia datang, dia lapar, dia pergi (He Came, He Was Hungry, He Left), published by Agung Tobing, 2014).
Witnessing Affandi was published with an aim to record all the experiences of this 'second soul' with the 'first soul'. The man behind the idea, who then went on to garner the funds needed for its publication, is a collector whose name is not mentioend in the book: Erik Tan. He is the businessman that brought Pocari Sweat to Indonesia. Erik told Tempo: "A good friend of mine suggested, since Pak Djon is still alive, we'd better do a book on him. The man is great, he knows in detail every work by Affandi, as in, this is (a painting of) Kiaracondong, and this one is (a painting of) Nggremeng village."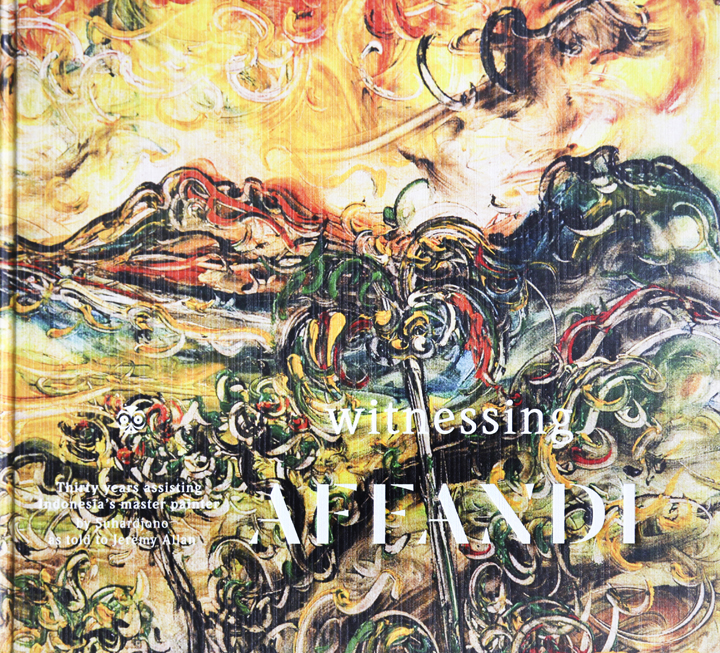 Witnessing Affandi: Thirty years assisting Indonesia's master painter, by Suhardjono as told to Jeremy Allan.
The book came out last year, in English. Pak Djon's stories about Affandi were written down by Canadian writer Jeremy Allan, who has published several books, including Jakarta Jive, Bali Blues (2013). Allan claimed to have long been in awe of Affandi.
In connection with Suhardjono, this is not the first book to relate how Affandi always worked in the presence of his personal driver, who kept him company (and helped him with absolutely anything the painter needed), and went with him anywhere the master went. Some four years back, as already mentioned, the book, dia datang, dia lapar, dia pergi, written by Hendro Wiyanto and Hari Budiono, came on the market. The main differences are, Hendro and Hari's book is in Indonesian, and Suhardjono is presented here in the first person. (This magazine published several excerpts from the book). In general, the two books are similar, as related by Pak Djon. Indeed, both books even begin with the same story: Affandi, accompanied by a young man, arriving at Pak Djon's house riding a becak (pedicab) requesting him to drive Affandi's car.
Both books, alongside the text, depict a number of documentary photographs and reproductions of Affandi's art. The design of dia datang, dia lapar, dia pergi, shows a book of text with repros of certain paintings selected to illustrate what is related in the text, including two reproductions of paintings by Suhardjono himself. One of the paintings, more a sketch using a felt tip marker or a single pigment, seems to depict Affandi hard at work on a painting.
***
Witnessing Affandi is carefully done and is beautifully designed. It is more a coffeetable book, with many repros of Affandi paintings, and photographs of Suhardjono then and now. Yet it is these very reproductions in Witnessing Affandi that begs discussion.
According to Erik Tan, all the reproductions of Affandi's works were selected by Djon. The repros were made of paintings owned by several private collectors and Suhardjono named each and everyone of these collectors. Selection was carried out sifting through photographs, and only when Djon fell in doubt did he view the original painting. The paintings selected were then given commentary by Djon in Indonesian, and written in fine handscript, though peppered with periods and commas and capital letters that defy the rules of proper grammar and punctuation. For instance, one commentary to a self-portrait on page 86 is written thus: "this painting was painted at the Ubud Market Bali. At the time Affandi was in Ubud Bali to paint in preparation for his birthday exhibition at Taman Ismail Marjuki jakarta".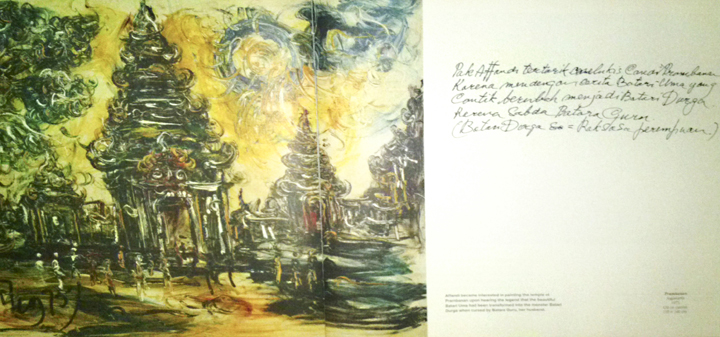 Pramba­nan, 1975.
An impression arises, as if Suhardjono's handscripted texts verify the paintings selected for reproduction are indeed authentic Affandis. All the paintings owned by private art collectors are given commentary. Those owned by museums, e.g. the Neka Museum and the Rudana Museum, are reproduced without commentary. Does not this very act create suspicion that the commentaries are a form of something usually called certificates in the art world, to verify the authenticity of a work of art? And so, how goes it with the collections from the two museums? I suspect Neka and Rudana have no need for commentary from Djon because they had purchased the works of art directly from Affandi himself.
It could be the commentaries are only a coincidence, yet they are coincidences that could be cause for forfeiture. I think what happened was, Erik Tan at the very least put his full trust concerning authenticity in Djon. "To me, he is an outstanding figure. Sometimes he misses, sometimes he forgets. But his learnedness of 30 years together cannot be beaten by any curator," said Erik in an interview with Tempo.
***
TO my knowledge, Djon kept no diary the entire time he assisted Affandi. It could very well be his memory is outstanding, and he could remember everything about Affandi and all of his paintings. Yet, reading the transcript of Tempo's interview with Suhardjono, makes this student of the Sepuh Pesantren (Islamic boarding school) in Payaman, Magelang, Central Java, come across as burdened by huge feelings of humility. For instance, concerning Affandi's painting themed Prambanan, Djon said, "I had cautioned Pak Erik to not put the Prambanan work in (the book) because it does not do full justice to the original work...I am now old, and afraid I will betray Affandi." Yet he also stated that, "all the paintings (reproduced) in the book are good. I detect they are originals. Pak Erik borrowed the paintings from private collectors."
Wrote Jeremy Allan in the text, Affandi and Djon once went on an impromptu trip to Prambanan in dissapointment. Affandi had originally wanted to paint the Prambanan animal market, but that day the market was closed. The two sat around chatting at a roadside stall and Djon told the master a story of the Prambanan temple, about a statue depicting the sexy Batari Durga, who for laughing at the Batara Siwa for failing to chase after the Goddess Widowati was cursed by Sang Hyang Wenang and turned into a female giant. Affandi had Djon prepare his painting tools and off he went to Prambanan Temple. There was no further story, whether Affandi indeed painted the Prambanan, nor which part he had made a painting of.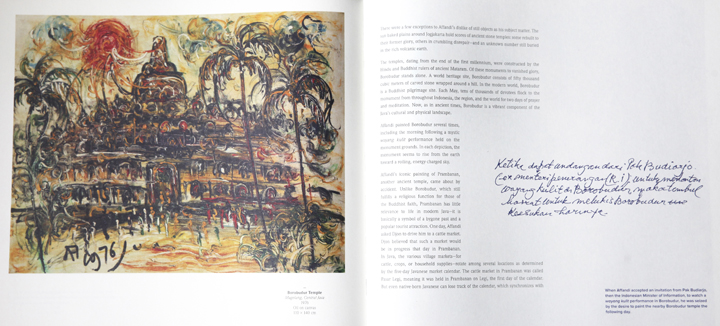 Candi Borobudur, 1976.
The same Djon told the same story but with a different slant in the book aku datang, aku lapar, aku pergi. Here, Djon's story about Durga was told after they had reached Prambanan, because Affandi asked whose statue was this, while pointing to the one of Durga. Affandi eventually made a painting of the statue on a 100 x 170 centimeter canvas. In the book, Djon said: "To my knowledge, the painting of that scary, unsavoury statue fell into the hands of famous art collector Alex Papadimitriou..." There is no story of Affandi making a painting of the temple proper, only of that statue.
I did not only observe the work titled Prambanan. I also tried to look very carefully at all the reproductions in the Witnessing Affandi book. My reference was Affandi by Raka Sumichan and Umar Kayam, which came out in 1987. This I surmise to be a trustworthy book on Affandi's art, because it was published when the master was still alive. Raka was an art lover who purchased his collection directly from Affandi, while Umar Kayam was a scholar of culture and an intellectual of impeccable integrity. True, even in his lifetime, Affandi knew that paintings abounded using his style which were signed with a signature similar to his own. And he just let it go. According to Djon, "Wong ya butuh urip, ya wis ben (People need to live, well, let's just leave it be)." But it is implausible that Affandi would allow a reproduction of a painting that he never painted also get into a book about him.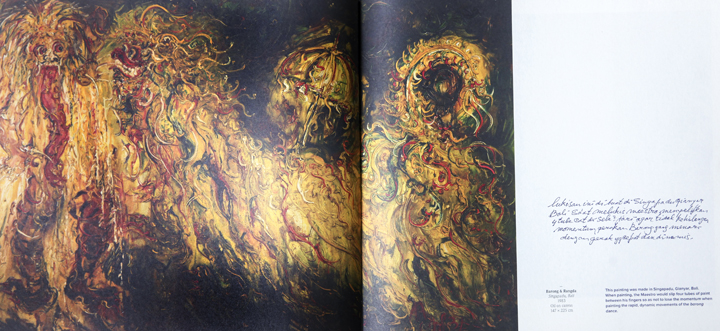 Barong dan Rangda, 1983.
Using the Affandi book as reference, I have to cast doubt on many of the reproductions in the Witnessing book. The inauthentic Affandis are for the most part self-portraits and ones of the barong (Balinese masked figure, usually representing an unidentified creature called keket). In Affandi, a number of self-potraits depict a voluminous head. In the doubtful works, the volume is flat, almost undetectable. Concerning the theme of the barong, Allan wrote about this very clearly—presumably translating Djon's words. He wrote: "One tell tale indication of an imitation might be a carefully crafted minor detail. Affandi would finish even a large canvas in less than two hours; he could spend little time on individual details. Such was his talent that one squeeze of the tube, and perhaps a touch-up with his palm or finger, would be sufficient to achieve the effect he wanted. If not, the artist would simply erase the canvas and start over." In other words, if there are details in certain parts of an object being painted, say in the head of the barong or the body of a Kusamba prau, please look carefully before you make the purchase.
As a result, Witnessing Affandi, which packaging and graphic design is exemplary provides at the very least two things. One, only depending on sight, even by someone deemed to know all the ins and outs of the works of a given artist, is not enough to ascertain the authenticity of a painting. In the case of Wolfgang Beltracchi in Germany, who made a piece similar to a Max Ernst painting then had it signed by Max Ernst, is an authentic example. The case involved the former director of the Pompidou Museum of Modern Art, Paris, Werner Spies, who was an expert in the works of Max Ernst. Spies was the compiler of the catalogue of all Max Ernst works already verified and authenticated. He also wrote several books about Ernst. Yet, even he failed because of the adeptness of the forgerer of Ernst and his cunning in creating the story of the orgins of the work.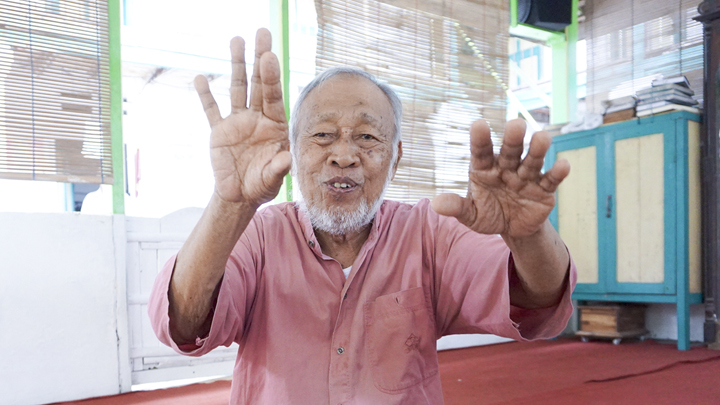 Suhardjo­no alias Pak Djon. TEMPO/Shinta Maharani
The second lesson, this book proves that the business of forgery, in this case the works of Affandi, is alive and well. Obviously it is not yet fully proven the paintings included in this book are inauthentic (despite having the Suhardjono commentaries). But, by comparing them with the reproductions found in the Affandi book (1987), also using the criteria of Suhardjono himself, the authenticity of a major portion of the reproductions in Witnessing Affandi are in doubt. Witnessing Affandi serves a warning to lovers of art to practice extra cautioun before ever making a purchase.
BAMBANG BUJONO, ART CRITIC