Fuel From Trash
Solid waste from garbage dumps is being processed into environmentally-friendly fuel. Cement factories are purchasing it to partially replace coal.
Edition : Tuesday, February 26, 2019
CONSTRUCTION of the Lulut-Nambo (Luna) Regional Waste Management and Processing Site (TPPAS) project on 55 hectares of land in Lulut and Nambo villages, Bogor Regency, West Java, which had been in limbo for 16 years, has resumed. West Java Governor Ridwan Kamil marked the official start of construction work with a groundbreaking ceremony on December 21.
"Hopefully this will become a waste processing model which is more sophisticated and environmentally-friendly, and can be replicated all over Indonesia," said Ridwan at the project location.
Construction of the Luna Regional TPPAS required an investment of Rp650 billion. It uses sophisticated technology to turn solid waste into compost and fuel known as refuse-derived fuel (RDF). This environmentally-friendly fuel is being purchased by Indocement Tunggal Prakarsa to partially replace coal use at its cement factory.
The Luna TPPAS project is being build and managed by Jabar Bersih Lestari (JBL), a joint venture between Jasa Sarana—a business enterprise owned by the West Java Provincial Government—and an investor from South Korea. According to JBL CEO Doyun Yu, their side has reached an agreement with Indocement to purchase RDF. "We plan to buy RDF for US$22.2 per ton. However, the price is still being negotiated," said Doyun Yu, who is founder and CEO of Environmental Management and Sustainability Solutions Co. Ltd., headquartered in Yongin, Gyeonggi, South Korea.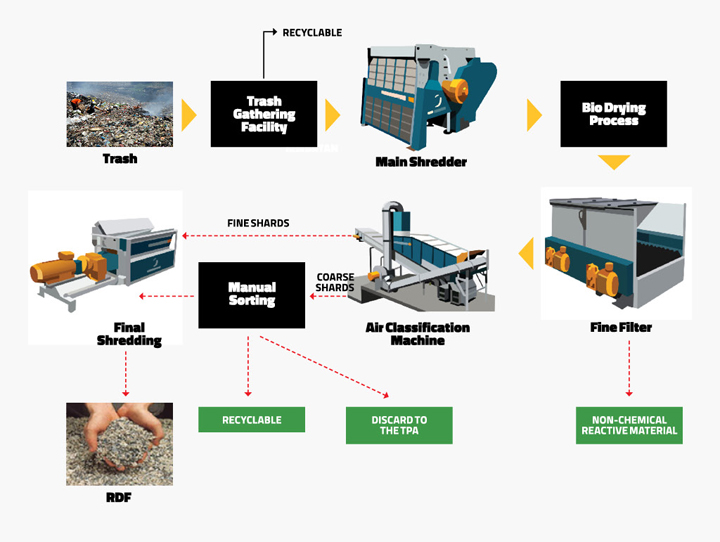 W251bGwsIjIwMjEtMDUtMTEgMTY6NDc6NDQiXQ
Doyun said that RDF differs from biomass, which in general utilizes waste from the farming industry, such as empty oil palm fruit bunches from palm oil factories. "This RDF comes from household waste," he said.
Two main techniques are used to turn waste into RDF, Doyun continued, namely by using a mechanical waste-sorter from Korea and a bio-drying waste processor adopted from Germany.
Ridwan Kamil said that the technology at the Luna TPPAS can process 1,800 tons of trash per day. This waste comes from four regions, namely the Bogor Regency, the City of Bogor, the City of Depok in West Java, and the City of South Tangerang in Banten. "Its technological capacity is limited to 1,800 tons per day. If other regions are asked to join, more machinery will be required," said this man who also goes by the nickname Emil.
According to data from the West Java province office for the environment, the Bogor Regency, which has a population of 5.72 million, produces about 2,650 tons of trash daily. The Galuga Integrated Waste Disposal Site in the Cibungbulang subdistrict can only accept 500 tons of trash per day. The addition of the Luna TPPAS will greatly help to overcome trash management problems in the Bogor Regency.
The Luna TPPAS is located in the Lulut and Nambo villages. Forty hectares of the facility is in Lulut on underproductive forested land owned by Perhutani's West Java and Banten Division. The other 15 hectares are in Nambo, on a land owned by the Bogor Regency Government.
The Luna TPPAS will go into operation after at least another 18 months, when construction is planned to finish in July 2020. It is hoped that this TPPAS will be able to yield 650 tons of RDF due to its processing capacity of 1,650 tons of waste per day. The process to turn waste in RDF takes 21 days. Bio-drying is the most time-consuming part of the process, by which the waste's moisture content is reduced to 20 percent over 20 days.
For cement factories, RDF is an alternative source of environmentally-friendly fuel. According to a study conducted by the ministry of industry, the use of RDF in cement factories can reduce carbon dioxide (CO2) emissions. It has been reported that the use of RDF reduces 1.61 kilograms of CO2 per kilogram of RDF. If 1,200 tons of waste are processed into RDF per day, carbon emissions will be reduced by the equivalent of 244,000 tons of CO2eq annually.
Indocement CEO Christian Kartawijaya said that their company has long waited for the completion of the Luna TPPAS facility. "We hope that this project can become a model for other regions," he said in Bandung in early September 2018. "This (Model TPPAS) will answer the trash problems in those regions with cement factories."
In Cilacap, Central Java, Solusi Bangun Indonesia cement factory is working with a regency-owned company to process waste at the waste disposal site (TPA) in Tritih Lor village, Jeruklegi subdistrict. The waste processing facility on a 1.2-hectare land located next to the Tritih Lor TPA, which is slated to begin operations this year, can turn 120 tons of trash into 40 tons of RDF each day.
DODY HIDAYAT, AHMAD FIKRI (BANDUNG),

ADE RIDWAN YANDWIPUTRA (CIBINONG)
---
How the Luna Regional TPPAS Will Work
The Lulut-Nambo Regional Waste Management and Processing Site uses a two-stage mechanical-biological treatment to turn waste into refuse-derived fuel (RDF). The RDF from 1,660 tons of daily waste will be used by Indocement Tunggal Prakarsa in Citeureup to partially replace their coal use.
1. Household Waste
- Bogor Regency
- City of Bogor
- City of Depok
- City of South Tangerang
Supply: 1,660 tons per day
Moisture content: 59.46 percent
Gross caloric value: 1,678 kilocalories per kilogram (kcal/kg)
2. Lulut-Nambo Regional TPPAS
Location area: 55 hectares
Processing capacity: 1,800 tons per day
3. Initial Waste Processing
- Solid and liquid waste is separated
- Leachate is sent to a storage area
4. Conveyor
5. Pretreatment System
- Manual sorting of waste: trash which cannot be incinerated is separated
- About 5.31 percent of the total waste contains metals, glass, and plastic it is sent to another area for recycling
- About 94.69 percent of the total waste can be incinerated
6. Shredding
- The waste is sent through a shredder
7. Bio-Drying Process
- Waste is piled up and coved with a special membrane, and air is blown in
- The waste is flipped over four times
- The waste is sprayed with leachate to speed up fermentation which produces heat for the drying process. Leftover leachate is sent to a liquid waste processing installation
- The total weight of the waste is reduced to 40 percent
- The moisture level of the waste is reduced to about 25 percent
8. Post-treatment System
- Waste is sorted mechanically and manually by 80 workers
- Organic waste is separated to be processed into compost
- Waste which cannot be processed further becomes residue
9. RDF Production System
- Dry waste is shredded to an average diameter of 150 millimeters (coarse RDF) or 50 millimeters (fine RDF) - The total RDF produced is about 35 percent of the total waste undergoing the process
- About a ton of compost is produced
- Residue (dirt, sand, pebbles) accounts for about 10 percent and is sent to waste disposal sites

10