Women's Voices from Yogyakarta's Markets
Load carriers in Yogyakarta unite for their welfare. Lead by Rubiyah, they stand against sexual harassment and fight for better treatments.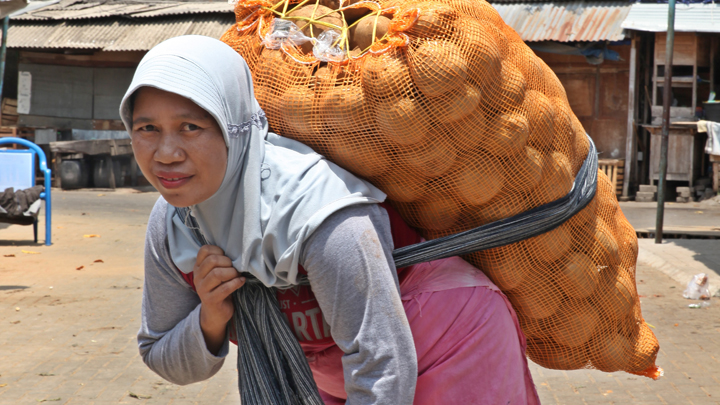 WHEN end of fasting month Idul Fitri celebration arrived last year, Bandiyah (56) let out a sigh of relief. She was able to withdraw Rp5 million out of her savings at Paguyuban Sayuk Rukun lending cooperatives. That is the money she saved over a year of carrying loads at the Giwangan Market in Yogyakarta. "I use this to make chicken opor (cooked with spices and coconut cream) and give money to my grandchildren and the neighbours' kids," she said.
Bandiyah has been working as a load carrier for almost two decades. She said that over the past five years, life has been better. She gets more respect, and her fellow workers are now more confident to demand for their rights. Additionally, load carriers have more skills that can be used to improve their families' economy, thanks to the Paguyuban Sayuk Rukun. "We were only paid Rp3,000. But since we get trainings, have access to lending cooperatives, and join many activities, we are now smarter," she said.
Paguyuban Sayuk Rukun is a workers union for load carriers of Yogyakarta's traditional markets. It was founded in 2014 with the goal of improving the female load-carriers' economy and provide a platform for their voices to be heard and for them to have more skills. Rubiyah (50) has been the leader of the Paguyuban since the time of its formation. The Annisa Swasti Foundation, which is engaged in the empowerment of working women, was the one that encouraged the female workers to form a union.
Paguyuban Sayuk Rukun does not exist solely for the load carriers at Giwangan Market, but also other big marketplaces in Yogyakarta including Beringharjo and Gamping. More than 500 women aged 30 to 70 have enjoyed the benefits or becoming members of the union.
Rubiyah did not exactly grow up wanting to become a load carrier. The job, she said, is very tough. In one day, a load carrier can lift up to 800 kilograms of loads over their shoulders. The pay is only Rp3,000 to Rp4,000 for every hauling trip, which equals to carrying a load of up to 50 kilograms. On average, they make about Rp50,000.
In the past, each hauling trip with a 50-kilogram load only earned them a mere Rp1,000.
Not only the hard labour, the work situation is not comfortable most of the time. When a worker is injured due to the heavy load, no one dared to speak out. "The employer should have had some sort of accountability, for example, helping with medical expenses," Rubiyah said.
But the mother of three was forced to do this work. In 2006, she was three months late to pay for the school fees of her first-born. The income of her husband, who works as a pedicab driver, was not enough. To get that money, she had to resort to becoming a load carrier.
Every day, Rubiyah and her friends carry a variety of items such as potatoes, cassava, cabbage, and fruits that have just arrived from various districts. Sometimes, they also bring groceries or wholesale items from stalls to the buyer's car. "It depends on the demand," Rubiyah said.
This very heavy work was initially dominated by men. Women only arrived at the load-carrying scene in the 1990s. At that time, the women were exposed to visible discrimination. The men were paid Rp3,000 to transport up to 50 kilograms, women workers were only paid Rp1,000.
Not only that, the women faced hardships, among them sexual harassment. Often, Rubiyah's breasts were 'brushed' by the male unloaders at the Giwangan Market. "I was reduced to tears," he said.
These experiences urged Rubiyah to do something. Incidentally, at that time the Annisa Swasti Foundation were approaching load carriers at the Giwangan Market.
Rubiah at the Giwangan Market, October 2018. TEMPO/Bintari Rahmanita
Nadlroh As Sariroh, the coordinator of the workers' advocacy program at Annisa Swasti Foundation, said they started to hold a variety of trainings, such as leadership, paralegal, and public speaking trainings, including reading and writing classes since many of the women were illiterate.
Rubiyah immediately took part in the various trainings, even though only a few workers joined the activities. She enjoyed the result immediately. "Because of the trainings, I learned to stand up to bullies and people who harassed me. I told them that their actions are against the law," she said. "Thank God, they eventually stop. No one is being harassed anymore."
Rubiyah became more actively involved with Annisa Swasti. Later, Annisa Swasti encouraged the female workers to establish their own platform and formulate their own path of struggle. "Even though they have low education, they have to know their rights as workers," Sariroh said.
In 2007, Rubiyah and her fellow load carriers at the Giwangan Market agreed to form a community. But they then did not stop at Giwangan. They joined hands with load carriers in other big marketplaces in Yogyakarta, including Beringharjo and Gamping, to gather forces and fight for their welfare together. In 2014, the Paguyuban Sayuk Rukun was formed, named after the Javanese word of sayuk rukun, which means "to work together."
They began to feel the changes. One of them is better wages. One of Rubiyah's initial programs as leader of Paguyuban Sayuk Rukun was to invite female load carriers in many marketplaces to stand up and negotiate for better wages. "Today, we are paid Rp3,000-4,000 per hauling trip," she said.
In addition, the Paguyuban also lobbied market managers to give them a special room for resting and changing clothes. They also demanded free use of toilet facilities. Those were not easy.
At the beginning, no one listened to them, as they were a few. But Rubiyah did not give up. She sought to let their voices be heard by adding members. She also made personal approaches, such as visiting sick workers on behalf of the Paguyuban. With the help of the Annisa Swasti Foundation, the Paguyuban held free health checks. These efforts paid off, and more female load-carriers joined the union.
And then the Paguyuban's voice became louder, and more powerful. After several years of struggle, they finally have their own rest area and were allowed to use the toilet for free.
As time passes, their activities grew and became more varied. The Paguyuban formed a savings and loan cooperative with low interest.
Rubiyah and her friends' efforts reached the State Palace. On the anniversary of Human Rights Day three years ago, Rubiyah was invited to the Palace. But she did not stop there. Although she was happy to be able to meet and take a photo with President Joko Widodo, she wanted the aspirations of women load carriers fulfilled.
According to Sariroh, the position of load carriers remains weak legally, as the occupation is not protected by Law No. 13/2013 a.k.a. the Labour Act. The rule only covers workers in the formal sector. Nevertheless, "Protection for them should be able to be formulated through regional regulations," she said.
Rubiyah continues to carry her torch of struggle. Now, she and her friends are fighting for the control of parking areas in the Giwangan Market. "So that the motorbikes do not disturb the line of workers carrying a heavy load," Rubiyah said.
INDRI MAULIDAR
(This article is part of Proyek Perempuan Tempo—Tempo's Women Project—made possible with the support from the European Journalism Center. Full project: https://investigasi.tempo.co/perempuan-berdaya)