NU Members In a Political Whirlpool
After visits to Nahdlatul Ulama's old guards, Abdul Somad Batubara and Abdullah Gymnastiar are considered to have left Prabowo's camp. A number of NU leaders have veered towards the incumbent although the organization has not declared its official support. The Prabowo camp seems unconcerned.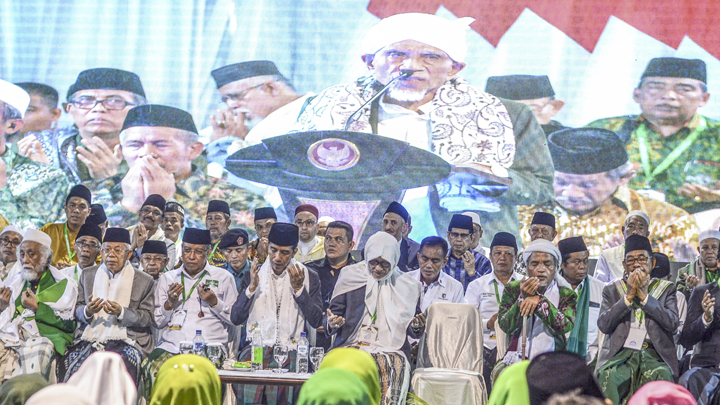 ABDUL Somad Batubara sat cross-legged in reverence as Muhammad Luthfi bin Yahya, aka Habib Lufti, guided him through the qodliriyah wa naqsyabandiyah tariqa recitation. His hand gripped the host's hand while his left hand steadily gripped a red map with four pages containing his ancestors' 'tariqa' lineage. "Ustad (preacher) Somad has one line of lineage added by Habib Luthfi," said Fadlolan Musyaffa Mufti, a lecturer at the Walisongo Islamic State University in Semarang, who witnessed the ceremony. Tuesday last week, he told us how the event unfolded.
Somad, who wanted to 'synchronize' his knowledge of Islam, visited Luthfi's residence in Pekalongan, Central Java, in the second week of February. At the end of the meeting, Luthfi, leader of Jamiyyah Ahlith Thariqah Al-Mu'tabarah An-Nahdliyyah—one of Nahdlatul Ulama's (NU—the biggest Islamic organization in Indonesia) autonomous bodies, officially appointed him, calling him 'sheikh'. According to Fadlolan, who is also part of the Central Java NU leadership, Luthfi gave Somad advice on how to advance NU.
That week, Somad also visited other NU elders. From Pekalongan, he went straight to Central Java Deputy Governor Taj Yasin Maimoen in Semarang. He met with Taj Yasin's father, Maimoen Zubair, who is also an advisor to NU Central Leadership (PBNU). Somad had planned to visit another NU advisor, Mustofa Bisri, or known as Gus Mus, in Rembang. But the plan was canceled as Mustofa had left on a minor pilgrimage.
Somad's series of visits came to a conclusion at the home of Salahuddin Wahid, the caretaker of the Tebuireng Islamic Boarding School in Jombang, East Java. Salahuddin is the grandson of Hasyim Asy'ari, NU's founder. "Somad listened more than he spoke while meeting with Kyai (cleric) Maimoen and Gus Sholah," said Afifudin Dimyati, an NU member and Somad's closest friend. Afifudin accompanied Somad during the latter's visit to the kyais in Central and East Java.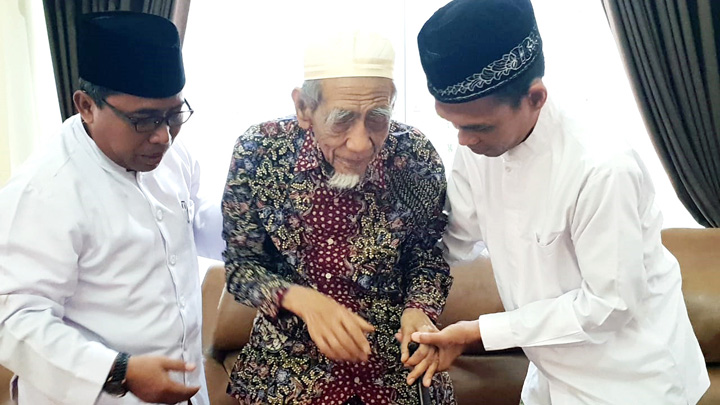 Abdul Somad (right) with Maimoen Zubair in Semarang, Central Java. Special Photo
According to Afifudin, Somad's visits to NU's old guards had been planned since the end of 2017. At the time, Somad contacted Afifudin—a fellow boarder during his years as a student at the Al-Azhar University, Egypt—after he was frequently accused of being a supporter of Hizbut Tahrir Indonesia, a pro-caliphate organization. At the end of 2017, Somad also received a visit from the mass organization Laskar Bali at the Aston Hotel, Denpasar, who prohibited the 41-year-old preacher from delivering a sermon felt to potentially cause unrest.
Afifudin said Somad wanted to explain his stance in regard to Hizbut Tahrir to NU's kyais, including to explain that he, in fact, had an NU background. "Rather than making continuous denials, it was better for Somad to go ahead and visit the kyais," said Afifudin.
With millions of social media followers and over 60 million views on his YouTube videos, Somad has his own multitude of followers. A 2018 survey by the Lingkaran Survei Indonesia (LSI) placed Somad as the country's most influential ulemas. In July 2018, Prabowo Subianto's supporters organized an ulemas' conference at the Menara Peninsula Hotel in Jakarta. The conference recommended Somad as Prabowo's running mate. Somad refused, saying that he wanted to focus on his sermons.
Despite never having declared his support for Prabowo, Somad is seen as in opposition to Joko Widodo, among others, because he once said he was waiting for Islam Defenders Front leader Rizieq Syihab's official stance in the presidential race before making his own statement of support. As Rizieq aligns himself more with Prabowo, the presidential candidate's supporters felt that Somad was on their side.
But Somad never gave his support, although Rizieq has asked his followers to help bring Prabowo Subianto-Sandiaga Uno to victory. Lately, he has instead been seen cozying up to a number of NU kyais. Meanwhile, although NU has not made its stance public, most of the organization's followers tend to support Joko Widodo-Ma'ruf Amin ticket.
Before meeting with the kyais, Somad met with NU cader instructor, Adnan Anwar. United Development Party (PPP) General Chairman Romahurmuziy received information that Somad and Adnan had a three-hour discussion on Somad's religious organization affiliations after he was no longer secretary of NU's Bahtsul Masail in Riau. "Their discussion concerned the position of Somad, who is trying to be independent as an ustad," said Romy, short for Romahurmuziy.
Adnan refused to reveal the substance of his discussion with Somad. According to the former PBNU deputy secretary-general, he and Somad discussed substantial topics. "We agreed to not reveal the topics of the discussion," said Adnan. "Essentially, we are taking care of each other."
Romahurmuziy—member of the Jokowi-Ma'ruf campaign team's advisory council—who understands that Somad has his own followers, specifically assigned Rusli Effendi, a PPP cader from Riau, to lobby Somad. "We are trying to bring Somad to the 'center'," said Romahurmuziy.
According to Rusli, he and Somad grew close because both were active in the Al-Washliyah organization in Riau. When he met with Somad, Rusli asked him to evaluate the government from a more neutral angle. Rusli said, as a preacher, Somad must not take one side, especially while delivering sermons. "No need to show support for 01 or 02," said Rusli, referring to the ballot number of Jokowi and Prabowo, respectively. To the Jokowi camp, it is enough for Somad to have such a position.
As mentioned in a short video that turned viral on social media, Somad said he would not be delivering a sermon at an event where presidential and vice-presidential candidates are invited. "To maintain neutrality," said Somad in the less than one-minute footage.
Somad did not answer our question, sent via text message to his personal number. Through his good friend Hendri Rahman, who often accompanies him during sermons, Somad said he was reluctant to answer questions about politics. "If the questions are about religion, he would answer," said Hendri.
Romahurmuziy also invited Abdullah Gymnastiar, known as Aa Gym, to the 'center'. Last year, he met with Gymnastiar, who was once recommended by ulemas in support of Prabowo as a vice-presidential candidate, and asked his views on the Jokowi administration. Recently, said Romahurmuziy, "I saw that Aa Gym's posts are no longer about the 01 or 02 candidate pairs."
After a photograph of Somad's visit to NU's kyais went viral, a photo of Gymnastiar kissing the hand of Kyai Anwar Manshur—the caretaker of the Lirboyo Islamic Boarding School in Kediri and PBNU advisor—also went viral. Gymnastiar said he met with Anwar at the invitation of Abdul Wahab, member of the Sharia Council of Daarut Tauhid, an Islamic boarding school under the care of Gymnastiar, who also teaches at the Lirboyo Islamic Boarding School. "I wanted to visit and seek knowledge," he said. "There was no political discussion, let alone about the presidential election, so that who I'm voting for is still a secret."
Aa Gym's attitude has impacted the decisions of his students at Daarut Tauhid. Abdul Aziz, a student from Tasikmalaya, said he has not made a decision. "Still considering," said Aziz, who claimed to have voted for Prabowo in 2014. Agus Rahman, another student from Riau, was also reluctant to reveal who he will be voting for on April 17. "Still a secret."
The Jokowi-Ma'ruf campaign team's lobbying to Islamic boarding schools is seen as having successfully garnered the support of ulemas who voted for Prabowo in 2014. Romahurmuziy spoke of his visit to the Banyuanyar Islamic Boarding School in Pamekasan, East Java, under the care of Muhammad Syamsul Arifin, on the second week of December 2018. "The Islamic boarding school is a PPP base that must be taken back," said Romahurmuziy.
To Pamekasan kyais and students, Romahurmuziy talked about his experience interacting with Prabowo while developing the 2014 coalition. "I told them of Prabowo's habit while fasting and the kyais immediately said their istighfar (asked for forgiveness from God)," said Romahurmuziy. "I told them facts, not hoaxes." According to Romahurmuziy, their votes have been diverted towards his camp.
Ma'ruf Amin also left his post to regain the support of ulemas. The former PBNU Rais Am (supreme leader) visited the Sidogiri Islamic Boarding School in Pasuruan, East Java, led by Nawawi Abdul Jalil, who supported Prabowo five years ago. According to Ma'ruf, he used the ethnicity angle to garner the ulemas' support. "I do have some Madurese lineage," said Ma'ruf in a special interview with us last December.
Before Ma'ruf returned home from Sidogiri, Nawawi gave a testimony to urge his students to support Ma'ruf. "[I urge] all students, Sidogiri alumni, particularly the NU community, to unite and vote for Kyai Ma'ruf as vice president," said Nawawi in a video recording that has been uploaded to YouTube.
Usman Kansong, communication director for the Jokowi-Ma'ruf campaign team, said his team indeed maneuvered to approach famous Muslim preachers and ulemas. Quoting a study by the LSI, Usman said the advice of religious leaders is most heard, compared to public figures from other areas. "Ulemas have great influence in boosting electability," said Usman.
He also mentioned that several teams have lobbied ulemas who are still seen as in opposition to Jokowi-Ma'ruf, including Abdul Somad. "Some volunteered, others were assigned," he said, although he was reluctant to give further explanation.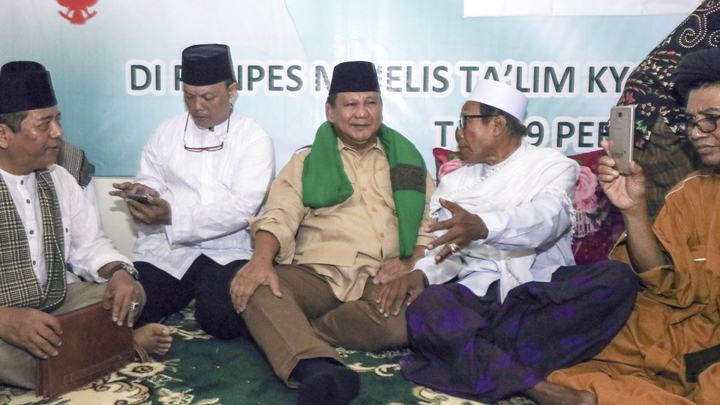 Presidential candidate Prabowo Subianto at the Majelis Ta'lim Kyai Tambak Deres, Surabaya, East Java, February 19. ANTARA/Didik Suhartono
Spokesperson for the Prabowo-Sandiaga campaign team, Andre Rosiade, is not worried by their competition's maneuvers. According to the Gerindra politician, his team sees indication that ulemas are still supporting Prabowo-Sandiaga. For example, he said, when Somad gave a sermon at the Gelora Bandung Lautan Api Stadium in January, the majority of attendees gave the two-fingers sign, with the thumb and index finger forming an 'L'. "We are certain that the ulemas still abide by the results of the ulemas conference," said Andre.
Jokowi, who is again competing against Prabowo in the 2019 presidential election, has the support of PBNU's important officials. Although NU has not given its official support, PBNU General Chairman Said Aqil Siroj openly prayed for Jokowi's victory when he opened the National Ulemas Conference and NU Conference in Banjar, West Java, last week. "Hopefully Pak Jokowi will again have the trust of God and the Indonesian people," said Said.
In a special interview with us, Said explained that he helped alleviate the anti-Islam rumors that plague Jokowi. For example, by saying that the former Jakarta governor is the first president to establish October 22 as an Islamic Scholars Day. On another occasion, he explained that Jokowi had already performed his haj pilgrimage before he became Solo mayor. Said also often mentions Jokowi's mother's activsm in her village's religious study sessions. "How much more Muslim can Pak Jokowi be?" said Said.
Like Said, other NU leaders promote Jokowi-Ma'ruf on various occasions. While attending a meet between Ma'ruf and old guard ulemas at the JW Marriott Hotel in Surabaya, East Java, on January 24, NU leader Miftahul Akhyar asked kyais and students to fight for Ma'ruf Amin. "Show [the people] that he is NU's best cadre. Interpret this yourself," said Miftahul.
The invitation was greeted by a number of Islamic students. Barisan Gus and Santri Bersatu groups—abbreviated as Baguss—in Pamekasan and Sumenep, East Java, announced their support on February 20. East Java Baguss Chairman Yusuf Hidayat said his group's tasks include traveling around the Madura Island to fend off slanderous accusations leveled against Jokowi, such as the anti-Islam and communist sympathizer rumors. In Madura five years ago, Jokowi suffered a 20:80 loss. "We're mobilizing to help NU bring Jokowi-Ma'ruf to victory," said Yusuf.
RAYMUNDUS RIKANG, DEVY ERNIS, STEFANUS PRAMONO, IQBAL LAZUARDI (BANJAR), AMINUDDIN (BANDUNG)