Leaving a Narrow Cage
Nahdlatul Ulama has a long history of taking an active role in politics. Its cadres have never been absent in presidential elections post-reformasi.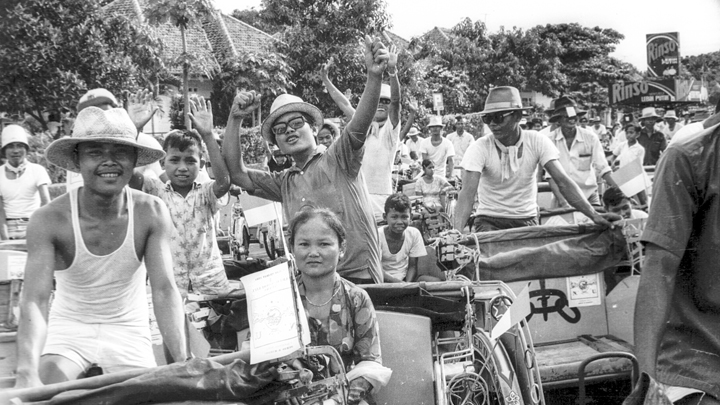 BANNERS promoting Joko Widodo-Ma'ruf Amin were dispersed throughout the Langensari subdistrict in Banjar City, West Java, last Wednesday. In Jalan Pesantren in the Citangkolo hamlet, Kujangsari village, a row of banners advertising the presidential and vice-presidential candidates are placed alongside banners of the Ulama National Congress and the Nahdlatul Ulama Conference. Jokowi-Ma'ruf banners only disappeared from sight at the last bend in the road leading towards the Miftahul Huda al-Azhar Islamic Boarding School, where the conferences were held.
On that day, Nahdlatul Ulama (NU) Central Leadership (PBNU) General Chairman Said Aqil Siroj, as well as Jokowi, opened the event. In his welcoming speech, Said expressed his desire for Jokowi's victory. "Over 20,000 are in attendance, praying that hopefully Pak Jokowi will have the trust of God and the people," said Said. "Praying, not campaigning," he then added.
In a special interview with us one day after the opening ceremony, Said dismissed the belief that his institution supports Jokowi-Ma'ruf. Said said he was unaware of the banners advertising the presidential/vice-presidential candidate pair with ballot number 01. According to Said, the banners were installed before the conferences. The conferences' committee only installed NU's banners.
Those in PBNU whom we met said the banners did not signify the organization's support for Jokowi. "We don't enter practical politics," said PBNU Chairman Hanief Saha Ghofur. According to him, NU had already agreed to return to its khitah (guidelines) of 1926—the year the organization was founded in Surabaya—namely to return NU to its place as an organization that works in the areas of religion, education, social activism, as well as economy, and away from practical politics.
The movement to return to the 1926 guidelines was agreed upon in an NU congress in Situbondo, East Java, in 1984. At the same time, NU announced that it would be separating from the United Development Party (PPP). The results of the 1982 elections were one of the reasons. According to Rumadi Ahmad, head of the PBNU Institute for Human Resources Development Research, at the time, many NU cadres and members of the leadership were disappointed because NU members were only given 45 House of Representatives seats in the 1982 elections. Five years prior, NU received 56 seats. "Many in the management also felt that NU cadres were too engrossed in politics, causing NU to trail behind Muhammadiyah when it came to developments in education and health," said Rumadi.
NU's track record in politics, said Rumadi Ahmad, in fact began when the organization was founded, namely as a form of resistance against the Wahabbi movement—which had spread from Saudi Arabia—meant to return Islamic teachings to their puritanical forms. This magazine also records that NU came into being as a response by the traditional group against Muhammadiyah's movement to modernize Islam.
During the independence preparations period, NU participated in the drafting of the constitution. Abdul Wahid Hasyim, son of NU founder Hasyim Asy'ari, became a member of the Investigative Body for Preparation Efforts for the Indonesian Independence as well as a member of the Indonesian Independence Preparation Committee. Wahid also became Indonesia's first religious affairs minister, although he only stayed in office for less than two months. He then held the same position from the end of 1949 to 1952.
NU's participation in general elections began in 1955. Three years prior, NU left the Masyumi Party, which was founded in 1945, and became its own party. In the 1955 elections, NU occupied third place, under the Indonesian National Party (PNI) and Masyumi. With almost 7 million votes, NU received 45 House seats. In 1971, NU again participated in the elections and occupied second place, after Golkar, managing to place 58 of its cadres in the parliament.
NU was no longer a political party after the government passed Law No. 3/1975 on Political Parties and Golkar. NU merged with the PPP along with three other religious parties, namely Partai Syarikat Islam Indonesia (the Indonesian Islamic Union Party), Persatuan Tarbiyah Islamiyah (Islamic Educators Party), and Partai Muslimin Indonesia (Indonesian Muslims Party). At last, NU separated itself from PPP in 1984. The effect was significant. "PPP's votes slumped in the 1987 elections," said PPP General Chairman Muhammad Romahurmuziy.
PPP lost at least seven million votes because many NU cadres voted for Golkar or the Indonesian Democratic Party (PDI). In response to PPP's decline in popularity, then-PBNU Chairman Abdurrahman Wahid said in a special interview with us that NU cadres were free to vote for any party. "Muslims are free to be placed anywhere, no longer in a narrow cage," said Abdurrahman, known to many as Gus Dur.
After the 1998 reformasi, NU re-emerged on the political stage. According to Rumadi Ahmad, there was some push for NU to again become a political party. Some also asked PBNU to found new parties. In July that year, after several studies, five NU leaders, namely Gus Dur, Mustofa Bisri, Munasir Ali, Ilyas Ruchiyat, and Muchith Muzadi, declared the National Awakening Party (PKB). "The analogy is, PKB is NU's legitimate child," said Rumadi.
The National Ulemas Conference and NU Conference in Banjar, West Java, February 27. TEMPO/M Taufan Rengganis
One year later, the PKB participated in the elections and came third, after the PDI and Golkar. Two other parties affiliated with NU also participated in the 1999 elections, namely the Nahdlatul Ummat Party, who received five House seats, and the Ummah Awakening Party, with one seat. That year, the People's Consultative Assembly (MPR) selected Gus Dur as president. But in 2001 the grandson of NU founder Hasyim Asy'ari was removed from office.
Since the reformasi, NU cadres have never been absent in presidential elections. In the 2004 direct elections, five NU cadres registered as candidates. Gus Dur paired with Marwah Daud Ibrahim, but the pair did not pass the General Elections Commission's verification stage. Another candidate was PBNU General Chairman Hasyim Muzadi, who was paired with Megawati Soekarnoputri, as well as Salahuddin Wahid, Gus Dur's brother, who was paired with former Indonesian Armed Forces commander, Wiranto. There was also PPP General Chairman Hamzah Haz, who was paired with Agum Gumelar. They lost to Susilo Bambang Yudhoyono and Jusuf Kalla, yet another NU cadre.
Five years later, Kalla competed against Megawati and Yudhoyono. Yudhoyono won in the first round. In 2014, Kalla again ran as vice-presidential candidate alongside Jokowi. Both won against Prabowo Subianto-Hatta Rajasa. For this year's presidential election, former PBNU supreme leader Ma'ruf Amin was selected as Jokowi's running mate. Ma'ruf won against former Constitutional Court chairman, Mohammad Mahfud Mahmodin—another NU cadre.
Salahuddin Wahid and Rumadi Ahmad said NU figures have been approached by political parties because of the massive NU mass. The exact number of NU's members is unclear, but the Alvara Research Center predicted that 79.04 million of the country's citizens were affiliated with NU in 2016. The same survey mentioned that 57.33 million individuals were NU members despite not owning membership cards. "Because NU is traditional in nature, its membership is not rigid," said Rumadi.
Pramono, Devy Ernis (Jakarta), Ahmad Faiz, Raymundus Rikang (Banjaran)