An American Football Star from Papua
A Papuan student has become one of the best American football players in the D Class in the US. Sekton Wandikbo only needed 16 months to be an acclaimed athlete.
Edition : Tuesday, March 5, 2019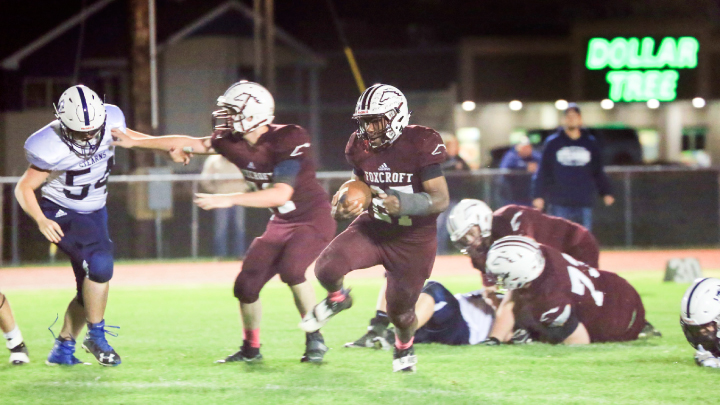 Born and raised in Papua, Sekton Wandikbo had never heard about American football. Since he was little, he played soccer and basketball, two sports very popular among youngsters in Papua. But the 18-year-old's name has soared because of American football, a game he only started to play after stepping foot in the United States, where he went to study in 2016.
Sekton won the accolade of best linebacker for high school students in the 2018 competition season. He helped his school, Foxcroft Academy in Dover-Foxcroft, Maine, win in the Class D North Championship after grabbing 10 wins and only one loss. Sekton became the first Asian to win this award.
Sekton said, his friends had a great influence on him to play football. They told countless stories and encouraged him to try the game. "In the beginning it was very tough, but my friends told me to just relax," Sekton told Jubi Tabloid on the phone at end of last month.
In 16 months, Sekton transformed from a know-nothing about football to a star on the green. Sekton even beat his competitors in Foxcroft who had payed the game since they were tiny tots. "I had to convince the coach that I had it in me to play this very hard game," said Sekton, who wore the number 27 jersey.
His prowess on the gridiron got Sekton selected for the All-Little Ten Conference list. In the champion's team, Sekton scored 42 tackles, 30 of them all by himself. He also scored three touchdowns.
W251bGwsIjIwMjEtMDUtMTIgMDg6Mjk6NDAiXQ
Foxcroft's coach, Danny White, is satisfied as the other coaches in the league have also acknowledged Sekton's capabilities as one of the best linebackers, even though he is a newcomer to the game. "He plays wonderfully well, so I think it was an appropriate decision," he said as cited in the Piscataquis Observer.
Getting introduced to American football made Sekton want to play for his school. But he had no experience. White's assistant who also teaches at Foxcroft Academy, Ryan Dankert, was the one who put up Sekton's name to be tested for the team's tryout. Though surprised, White finally relented.
Said White, it turned out Sekton very quickly learned the game, even though he had only watched how it was played on television. The coach, who has had 10 years coaching student football, said Sekton was a fine athlete and was willing to learn hard to make up for lost time. "His physical abilities have enabled him to learn faster than his peers," said White, as reported in the South China Morning Post. "He is one of the finest players we have ever had."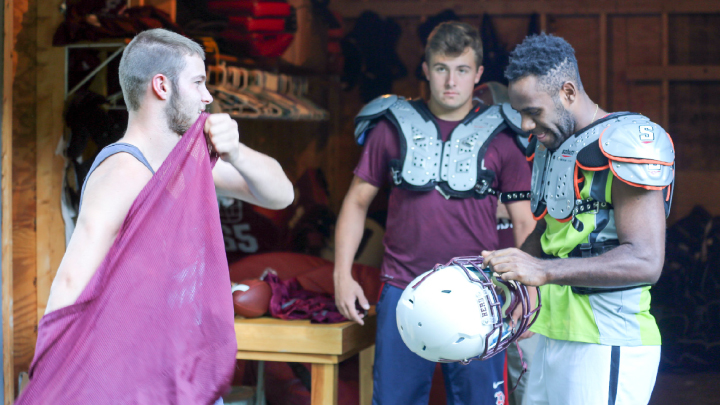 Sekton Wandikbo (right) during a training session in Maine, USA, August 2018./The Foxcroft Academy Football
Sekton spent his childhood in the village of Ilugwa, Mamberamo Tengah subdistrict. From primary school to middle school, Sekton stayed at the Inisiasi Boarding House run by the Injili Church in Indonesia in Wamena, Jayawijaya Regency. The Inisiasi Boarding House is reserved for kids from Mamberamo Tengah. The teachers were provided with the assistance of physics teaching expert, Yohanes Surya. "We indeed wanted him to learn to be an independent boy," said Sekton's dad, Dorman Wandikbo.
Sekton's physical prowess had been honed since he was very small, while still living in Ilugwa, a village of cool climate located some 2,000 meters above sea level. Sekton loved to play soccer and basketball. Often, with his school friends, they would race each other up and down the hills of Wamena much like he used to do in Ilugwa. Sekton also loved to swim in the Baliem River to catch shrimps, which honed his physique further. "He had been tall and big since a very young age," said Dorman.
Sekton continued his middle school in Sentani, Jayapura, after his father, who was also a pastor, became President of the Injili Church in Indonesia (GIDI). Sekton's passion for indoor soccer and basketball every afternoon into evening worried his mother, Marthasilla Wandik, who was anxious it would impair his studies. But Sekton managed to quell her fears. "He wanted to be an athlete playing either soccer or basketball," said Marthasilla.
Sekton also proved he was brilliant at school. He obtained a scholarship from GIDI and continued his high school in Palau, in the Pacific Islands. With a scholarship from the Papuan Provincial Government's Human Resources Development Body, at the end of 2015, Sekton obtained a scholarship to the USA. In November 2016, he was accepted at the Foxcroft Academy. "I will graduate this year," he said.
Marthasilla originally was reluctant to let Sekton go to the USA because he had no one there. Moreover, he was just 16 years old. But Sekton's determination to study abroad conquered her resistance. "Sekton left all by himself," said Dorman. "His mother couldn't eat for three days because she had no communication with Sekton."
For Sekton, his life changed at Foxtrot because of football. His friends always told him stories about America's favorite game. Sekton, who did not understand a thing about the game, had to be coaxed by his friends to give the game a try. "I had no idea how the rules worked before joining the team here," he said.
Sekton adapted very quickly in 16 months playing with The Ponies—the Foxcroft Academy's team. He sent his parents pictures and videoclips of himself playing in competition. They did not talk about it too enthusiastically because the game is hardly known by most Indonesians.
When he went back to Ilugwa during school holidays mid last year, neither did Sekton talk much about American football. Though he showed the oval ball he used to his family, he found it difficult to explain the game to them. "They didn't understand, maybe because they had never seen it played directly," said Sekton.
Yet on home turf during his holiday, Sekton continued to practice. Each day at 4am, the young boy who was 179 centimeters tall ran seven kilometers up and down the hills and valleys of Ilugwa. He refrained from eating fats, the usual fare of most Ilugwans. "We got a headache because of his diet, but he was compelled to keep himself in shape," said Marthasilla.
Marthasilla again became anxious for having a son bent on becoming a football athlete. Also, because she had only come across the game after her son sent her links of the game on Internet. "The game is very rough," said the woman who hailed from the Tengah Mountain range. But in the end, she made peace with her son's decision.
Dorman and Marthasilla got the shock of their lives when a speaker in a spiritual seminar they attended in the village of Wolo, Wamena, on December 30 last year quoted their son as an acclaimed athlete in the USA. Dorman and Marthasilla had lost track of information while they spent a month in Wolo. "There's no Internet there," said Dorman.
Sekton's name is once again in the football team list this year. Again, he has been plotted as a linebacker. As in the last season, again he has been allotted the number 27. Though achieving acclaim in American football, Sekton is still pursuing his studies diligently and wishes to become a pastor. In fact, he had pondered giving up football so that he could focus on his studies. But his acclaim in the sport also opened opportunity for him to get a further scholarship. "If I can continue playing while doing my undergraduate studies, then I will go on playing," he said.
GABRIEL WAHYU TITIYOGA, YANCE WENDA

(jubi TABLOID, JAYAPURA)