Low Prices to Fly Asia's Skies
AirAsia Indonesia has seen an increase in passengers because it continues to offer low-price tickets. They are expanding their reach so that everyone can fly.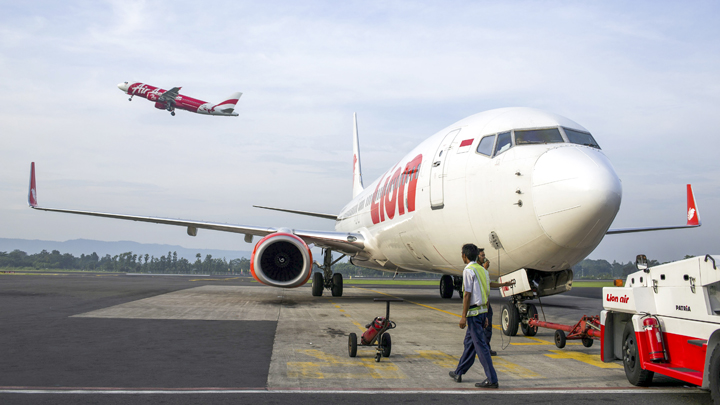 AirAsia Indonesia's management was busy dealing with social media users starting on Thursday three weeks ago. On Valentine's Day, this subsidiary of the AirAsia Group—the fourth largest airlines in Asia—was being asked a lot of questions about the disappearance of AirAsia from the list of airlines whose tickets were being sold by online travel agents Traveloka and Tiket.com. For a full day, AirAsia tickets for all routes were unavailable at those two ticket agents. "We had heard about this from here and there, but nothing had confirmed it," said AirAsia Indonesia CEO Dendy Kurniawan to Tempo, on Friday last week.
Company directors had heard rumors of the disappearance of AirAsia tickets from the applications of those travel agents two days earlier. At that time, middle management had held a meeting to ensure AirAsia's position among the favorite airlines at travel agents. It was at that time several routes did not appear on the list of flights at Traveloka and Tiket.com.
That same day, AirAsia was announcing a planned general shareholders meeting in the newspapers. Meanwhile, outside the company, rumors of plans to lower ticket prices were growing stronger. Because of this, on February 13, President Joko Widodo summoned his cabinet ministers to discuss rising airfares and the price of aviation fuel burdening the airlines.
Amid this debate over ticket prices, AirAsia began receiving complaints from its customers via Twitter because they could not find AirAsia listed with those two travel agents. Flights were clearly still available at the official AirAsia.com website and on their mobile application. According to Dendy, Traveloka said that this had happened due to a technical problem which resulted in AirAsia's slot disappearing. "That is a big question mark. We did not immediately believe it," he said.
A government official who also oversees the airline industry said that Traveloka and Tiket.com said that they had been threatened by Garuda Indonesia and the Lion Air Group. "They said, 'If you only want to sell that one, then you don't have to sell ours.' The agents didn't have the nerve to oppose them," they said.
AirAsia directors detected the same thing. However AirAsia Indonesia Business Director Rifai Taberi said that the closure of those sales distribution channels will not reduce competition, even if it is done by forbidding agents to sell competing products. "It's a pity for those agents who are only being taken advantage of," said Rifai, on his Facebook account, on Sunday two weeks ago.
Rifai suspects that travel agents are covering this up by giving unclear explanations to AirAsia's customers and company directors. Up until now, the directors are still waiting for a clear official explanation.
Speaking to its customers, Traveloka explained that AirAsia is carrying out system maintenance, and as a result has not shown up on their flight search results. "We suggest checking periodically and if it's acceptable to go ahead and use other available airlines," wrote Traveloka, on February 16.
However, on AirAsia's Twitter account, this internal system maintenance was only conducted on February 17-18. There was no problem before or after that. When asked for confirmation, Traveloka Public Relations Manager Busyra Oryza was reluctant to explain what caused the occurrence. "We cannot yet talk about that topic," he said.
Garuda Indonesia Vice President Corporate Secretary Ikhsan Rosan denied the news that company directors intervened with ticket sales at online travel agents. "How could we intervene in that? They have their own management," he said. Directors at the Lion Air Group did not want to comment. "I cannot give any information yet," said Lion Air Group spokesman Danang Mandala Prihantoro.
Rifai called this measure a dirty tactic, as AirAsia is still keeping ticket prices low for customers. AirAsia has cut some costs through technological innovation and the elimination of unnecessary costs. In that way, this airlines from a neighboring country has been able to offer lower ticket prices, which has resulted in increased sales volume. "Is this concept out of line according to our competitors, to the point that we are continually being put under strong pressure?" he said.
Kodrat Wibowo, Commissioner at the Business Competition Supervisors Commission (KPPU), said that his team included consumer reports about the disappearance of AirAsia tickets in its investigation into suspect cartel-like practices in the flight industry. This issue of a semi-cartel is related to the increase in ticket prices from December 2018 to early February. "We are looking to see if it is true that there is market dominance and exploitation by forcing what tickets are sold," said Kodrat.
Ombudsman member Alvin Lie feels that unhealthy competition exists among airlines due to the inability of companies to create internal efficiency. This is because the airlines need time to adjust to changes in the price of fuel, fleet size, cabin crew, airport capacity, and so on. "When market demand is low, they cannot operate flights. This can become a financial burden," he said.
Last year was difficult for some airlines, including AirAsia. Dendy Kurniawan said that the rise in the price of aviation fuel by 53 percent to an average price of US$85 per barrel, the weakening of the rupiah's exchange rate over the year, and a series of natural disasters in Bali, Lombok, and Palu resulted in higher operation costs at the company. The cost per available seat per kilometer, including the cost of aviation fuel, increased 15 percent to Rp625, while without aviation fuel it rose 5 percent to Rp414. In their 2018 financial report, the company reported pre-tax losses of Rp998 billion.
Dendy said that while other airlines directly pass on operation costs to passengers, AirAsia has maintained affordable ticket prices. AirAsia does not charge for baggage weighing less than 15 kilograms. For every 20 kilograms of additional baggage there is a charge of about Rp90,000. "Because others are becoming less affordable, while we are still low-price, we have seen an abundance of passengers," he said.
From October-December 2018, AirAsia has seen a 56 percent increase in the number of passengers compared to the same quarter in 2017. For 2018, passengers increased 13 percent to 5.24 million. Capacity declined to 82 percent due to the addition of airplane capacity. The company added one airplane and received eight airplanes from the parent company. AirAsia Indonesia currently has a domestic fleet of 24 airplanes.
With unaudited revenue of Rp4.2 trillion in 2018, AirAsia Indonesia is not afraid to face the challenge of other airline groups consolidating. AirAsia had total assets of Rp3.09 trillion in 2017. As a part of AirAsia Group Berhad, whose flight routes encompass India, Japan, Malaysia, Thailand, and the Philippines, AirAsia Indonesia offers international flight packages, such as Jakarta-Kuala Lumpur-Japan.
Dendy said that rather than carry out massive expansion, AirAsia selectively considers new choices which have the potential to become popular tourist destinations. After successfully pioneering the Kuala Lumpur-Bandung route, AirAsia is currently testing the Kuala Lumpur-Silangit route. "If it is interesting for tourism, we will fly there," he said.
He said that even though at present the capacity of that route has fallen, management will continue to provide stimulus to create a market there. "If continues to have poor results it will be discontinued. There is no problem with that." AirAsia has opened a fourth hub in Lombok, which connected direct flights, after the hubs in Jakarta, Bali, Medan, and Surabaya. With this new hub and plans to add more domestic routes, AirAsia will be flying more passengers.
PUTRI ADITYOWATI, RETNO SULISTYOWATI