Advocate for Minorities
In his fiery battle for pluralism, Zuhairi Misrawi entered the race as a legislative candidate. The polemic surrounding Basuki Tjahaja Purnama caused him to be assigned to a new electoral region.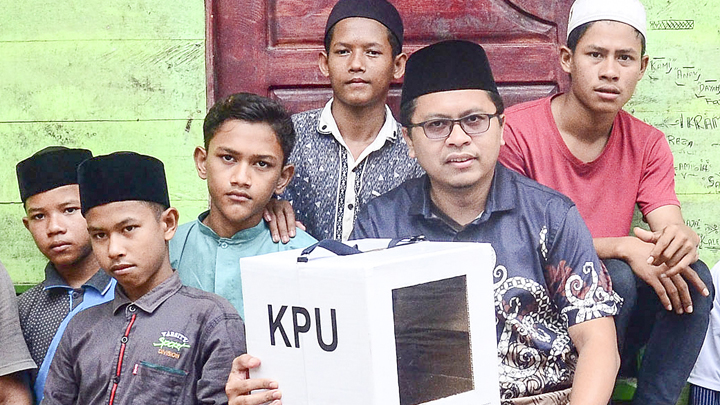 Zuhairi Misrawi
Deden Sudjana immediately contacted his friends living in Central and South Jakarta after the General Elections Commission (KPU) announced the final list of legislative candidates at the end of September 2018. A familiar name was on the list: Zuhairi bin Misrawi. The man often helped Deden and his fellow Ahmadi friends. "I said, help Zuhairi get his DPR seat," he said last Friday.
Zuhairi has stepped forward as a House of Representatives (DPR) candidate through the Indonesian Democratic Party of Struggle (PDI-P). The 42-year-old man received ballot number 2 for the Jakarta II electoral region, which includes Central and South Jakarta, as well as overseas. Zuhairi is competing with 105 other legislative candidates for the 7 available seats.
According to Deden, he was moved to help because Zuhairi has frequently assisted Ahmadis since 2005, when Ahmadi mosques and educational institutions in various regions were shut down. Rejection of the religious group went rampant after the Indonesian Ulema Council issued a decree, calling the Ahmadiyya belief a heresy.
Zuhairi also lent a hand when Deden was arrested in 2011, on the accusation of incitement to hatred and assault after leading a group of young Ahamdis to Cikeusik in Pandeglang, Banten, to fight against the persecution of Mirza Ghulam Ahmad's followers there. "Zuhairi, along with the Nationalist Alliance for the Freedom of Faith and Religion, defended me and gathered support," said Deden. The incident landed the Indonesian Ahmadi Congregation national head of security six months in prison.
Apart from garnering support from Ahmadis, Deden is also campaigning by making Zuhairi known, distributing posters and creating banners. The transportation businessman is also making use of his alumni network as well as his former neighbors in Menteng, Central Jakarta, and in Jalan Antasari, South Jakarta. "In 2014, when Zuhairi represented East Java electoral region, I couldn't do anything. Now is the time for me to help him," he said.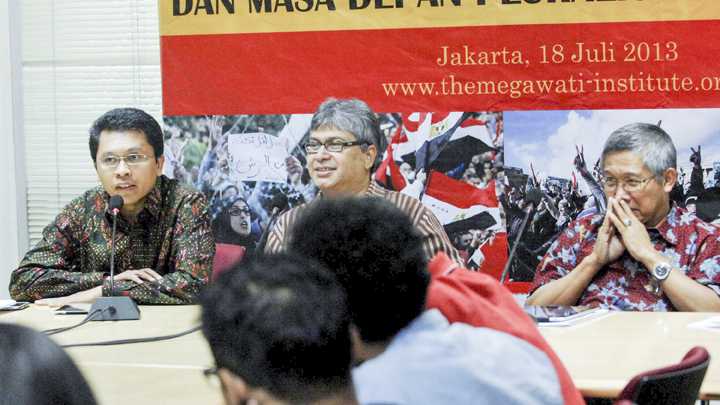 Zuhairi Misrawi (left) as a speaker in a discussion on pluralism in Jakarta, July 2013./TEMPO doc./Dasril Roszandi
Another Amadi is also helping Zuhairi to win a chair. Kandali Achmad Lubis, the leader of Ahmadi community in South Jakarta is routinely introducing Zuhairi to his network in Central Jakarta and his neighborhood in Cilandak, South Jakarta. "As an organization, Ahmadiyya does not get involved in politics. I support Zuhairi in a personal capacity," he said. Deden Sudjana claims that 90 percent of Ahmadis in South Jakarta, or around 800 individuals, will be voting for Zuhairi.
Before joining the PDI-P and running as a legislative candidate, Zuhairi was already known as an activist for pluralism. In 1999, before he graduated from the Ushuluddin Faculty at the Al-Azhar University, Egypt, he founded the Moderate Muslim Society, a community that promotes a peaceful Islam and encourages mutual respect between the adherents of different religions.
According to Zuhairi, although he studied in Egypt, his pluralist thought was sparked by people he saw as a great teacher in Indonesia. It was the ideas of former Nahdlatul Ulama (NU) chairman and fourth Indonesian president, Abdurrahman Wahid, known as Gus Dur, as well as intellectuals Nurcholis Madjid, or Cak Nur, and Jalaludin Rakhmat, that influenced his views. Zuhairi had been absorbing their ideas since he was a student at the Al-Amien Islamic Boarding School in Sumenep, Madura, in 1990-1995. "I read their writings in newspapers and books," he said.
After he graduated from university in 2000, Zuhairi returned to Indonesia and joined NU's Research and Human Resources Institute (Lakspedam), where he was a research and studies coordinator. He was also active in the Islamic Boarding School and Community Development Association, an organization meant to strengthen the role of Islamic Boarding Schools, founded by, among others, Gus Dur and Dawan Rahardjo.
NU Lapeksdam Chairman Rumadi Ahmad said he and Zuhairi had been active in the organization since 2000. At the time, Rumadi explained, Zuhairi already had a close relationship with minority groups, such as Shias. "He also shared his ideas about pluralism," he said last Wednesday.
In 2005, when adherents of Ahmadiyya were met with rejection in numerous regions, Zuhairi was vocal in defending them. Shortly after, he was called by Gus Dur to his office at the NU headquarters in Jalan Kramat Raya, Central Jakarta. According to Zuhairi, Gus Dur asked him to continue fighting for the rights of minority groups. For Zuhairi, the meeting was an unforgettable one because the very person who influenced his own thinking asked for his assistance.
Around one year later, Zuhairi met with PDI-P secretary-general at the time, Pramono Anung, and Taufiq Kiemas, the party's most influential person. They asked Zuhairi to join the party. Coincidentally, the PDI-P was preparing a party wing, Baitul Muslimin Indonesia (Bamusi).
Zuhairi refused the offer as he was not interested in entering politics. Several months later, he agreed to join because both Taufiq Kiemas and Pramono Agung said people like Zuhairi were needed to safeguard the state ideology Pancasila. Pramono Agung, now cabinet secretary, confirmed to us that he indeed invited Zuhairi to join the PDI-P. "His view of Islam is broad and moderate, and his nationalism is strong," he said last Thursday.
Zuhairi was initially Bamusi's chairman of inter-religious affairs in the PDI-P. After that, he became a member of PDI-P Faction's expert staff for DPR's Commission VIII (religion and social affairs). In 2010-2013, he was trusted by Taufiq Kiemas—People's Consultative Assembly (MPR) speaker at the time—to join his expert staff. Taufiq asked Zuhairi to prepare the "Four Pillars of the Nation" concept pioneered by Taufiq, Megawati Soekarnoputri's husband.
In 2014, Zuhairi became a legislative candidate for the East Java XI electoral region, encompassing Bangkalan, Sampang, Pamekasan, and Sumenep. According to Bamusi Chairman Hamka Haq, Zuhari was assigned the electoral region because it is his hometown. After spending Rp300 million from his savings for the campaign, Zuhairi did not make it to Senayan.
This year, Zuhairi is again competing as a legislative candidate. At first, said Hamka, Zuhairi was to again be assigned the East Java XI electoral region, but because the effects of the Jakarta gubernatorial election in 2017 are still felt, he was reassigned to Jakarta II. The PDI-P took a blow because of its support for Basuki Tjahaja Purnama, who was accused of religious blasphemy—which is why, said Hamka, to show that the PDI-P is welcoming towards Islam, General Chairperson Megawati Soekarnoputri asked her cadres with an Islamic school background to be placed in Jakarta's electoral regions.
According to Zuhairi, he is now more prepared for the general election and has allocated Rp500 million for the campaign. He does not make far-fetched promises to get elected, but rather wishes to continue his fight to preserve plurality by sitting in the religion and social affairs commission. "I want to show that the PDI-P is a party that accommodates the voice of Muslims," he said.
Zuhairi bin Misrawi
Place and Date of Birth: Sumenep, February 5, 1977
Education: Aqidah and Philosophy, Al-Azhar University, Egypt (2000)
Career:
• Director of Moderate Muslim Society
• Chairman of Baitul Muslimin Indonesia
Party: Indonesian Democratic Party of Struggle
Electoral Region: DKI Jakarta II
Ballot Number: 2