Delegates of Hope
Amid public pesimism toward politics and the election, these six individuals are stepping forward as legislative candidates. Their track records in fighting for public interests are tried and tested. They—labor and environmental activists, as well as an advocate for the disabled and marginalized groups, among others—are worthy of the people's votes.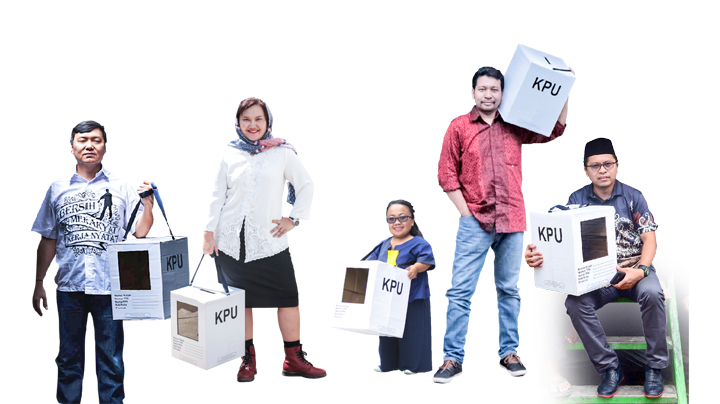 ALMOST 8,000 legislative candidates will be competing for House of Representatives (DPR) seats in the 2019 General Elections. These individuals come from 20 parties and will be competing in 80 electoral regions for 575 parliament seats. The number is augmented when one takes into account the Regional Legislative Council (DPRD) and Regional Representatives Council (DPD).
These candidates for office appear on stickers, banners and billboards placed in street corners, on fences, walls, utility poles, and public tranportation vehicles. Wearing their party jackets or eye-catching costumes, all appear with their best smiles, hoping that their names and ballot numbers will be remembered by would-be voters. Like five years ago, legislative candidates familiar promises, usually accompanied by slogans such as "with the people" or "for the people."
It seems that the "non-voting group" or "abstention group" may continue to grow, and legislative candidates must contend with the public's diminishing trust in the legislative body. A survey by Transparency International Indonesia showed that in 2017, 54 percent of 1,000 respondents saw the DPR as the most corrupt institution, followed by bureaucratic institutions (50 percent) and the DPRD (47 percent). This belief is supported by the data on DPR members implicated in corruption cases. Based on Corruption Eradication Commission (KPK) records, as many as 18 DPR members in the 2014-2019 period have been arrested for corruption.
A glimmer of hope emerged when the KPK made a breakthrough in prohibiting former corruption inmates to join the list of legislative candidates. Unfortunately, in September 2018 the Supreme Court vetoed the progressive regulation. As of the end of February, 81 legislative candidates were recorded as having been involved in corruption.
Banners and posters of legislative candidates in Ampenan, Mataram, West Nusa Tenggara. ANTARA/Ahmad Subaidi
Dear Reader, in the midst of public pessimism toward the country's political climate and institutions, we decided to again issue a special report on our selection of legislative candidates. In 2014, we also published a special edition featuring 11 legislative candidates, two of whom made it to Senayan, namely Maman Imanul Haq from the National Awakening Party (PKB) and Sofyan Tan from the Indonesian Democratic Party of Struggle (PDI-P). One other candidate, I Gusti Agung Putri Astrid Kartika, did not immediately win a seat. But in May 2018, she was inaugurated as a DPR member during the transition period.
We are certain that among the 8,000 candidates, there are those with great capacity and are worthy of representing the people, those who truly care about public issues, those with a strong will to improve the country. It is possible that their voices are drowned out by the loud, spiteful clamor surrounding the presidential election.
It is for this reason that we began our search in early February. We came up with a number of criteria for a candidate to enter the verification process. First, they have never been a DPR member. This criterion is important as we wished to promote fresh candidates not yet "polluted" by dishonest practices in the parliament. Second, they had to have concrete and consistent track records that benefited the people, track records that had to do with various issues, such as tolerance and marginalized groups, including women and the disabled. Finally, they had to be free from corruption.
We held discussions with representatives from various institutions to filter potential legislative candidates. These representatives were Jariungu Research and Development Coordinator Teuku Radja Sjahnan, Association for Elections and Democracy Executive Director Titi Anggraini, Indonesia Corruption Watch Corruption Division Coordinator Donal Fariz, Migrant Care Executive Director Wahyu Susilo, and Indonesian Women Coalition Secretary-General Dian Kartikasari. We also communicated with a number of environmental activisits in our search for candidates who met our criteria.
Through our networks in the regions, we tracked these potential candidates. We felt that those in our networks knew better about candidates running for office in their electoral regions. Lastly, we also met with political party officials. It was they who created a list of legislative candidates by considering the capacities of candidates to be registered with the General Elections Commission (KPU). This was also an opportunity for political parties to bring forward their best candidates to be voted for by the public.
From these individuals we received over 20 names, both from Joko Widodo-Amin Ma'ruf's coalition as well as from the Prabowo Subianto-Sandiaga Uno camp. We then investigated all of the candidates' digital footprints to observe their track records. These names were discussed in internal meetings, which often involved lengthy debates. Several candidates were eliminated in this stage. For example, there was a candidate whom we did not believe to be free of corruption due to said person's close relationship with a party general chairman, who is now in the Sukamiskin Penitentiary, West Java.
---
We are certain that among the 8,000 candidates, there are those with great capacity and are worthy of representing the people, those who truly care about public issues, those with a strong will to improve the country. It is possible that their voices are drowned out by the loud, spiteful clamor surrounding the presidential election.
---
After some discussion and exploration, we came up with nine names. We verified these individuals' track records by interviewing several sources, testing several claims of achievements, and directly investigating in their electoral regions. In this stage, three names were eliminated, one of whom we felt was not "clean."
In the final stage, we ended up with six names that we felt were worthy of inclusion in our selection of legislative candidates. We then interviewed them to verify the various information we had received. For example, we asked Surya Tjandra from the Indonesian Solidarity Party (PSI) if it was true that he received campaign donations from several businesspeople. Surya confirmed the information. His transparency was one of the deciding factors in including Surya in our list.
Through the Jariungu site, which carries the track records of legislative candidates, we scrutinized their willingness to publicize a profile, which of course also has to do with transparency. How can a DPR member be transparent if even in the campaigning period all kinds of information is already kept hidden? Our exploration of the Jariungu site showed that two candidates did not have a profile—not because they refused but rather because their profles were not published for some unknown reason. But these two candidates have shown openness on social media.
Dear Reader, we believe that the six people we have chosen are examples of legislative candidates worthy of your vote on April 17. Their track records and consistency in fighting for human rights and environmental issues speak louder than words.
Despite this fact, it is possible that there are certain stains in their past that we have missed. Because of the limited time, it may be that our investigation was not perfect. Neither is there any guarantee that they—should they be elected—will always put the interests of the public above their parties' instructions and will never be involved in corruption.
We also acknowledge the possibility that there may be other worthy legislative candidates not caught on our radar. We hope that these individuals will make it to the parliament, so that Senayan can be populated by good men and women.
---
Tempo's Legislative Candidates 2019 Special Report Team
Team Leader: Anton Septian
Project Head: Stefanus Pramono
Writers: Devy Ernis, Erwan Hermawan, Hussein Abri Yusuf, Mahardika Satria Hadi, Raymundus Rikang, Shinta Maharani, Stefanus Pramono
Contributors: Aseanty Pahlevi (Pontianak), Eko Widianto (Malang), Mustafa Silalahi (Jakarta), Shinta Maharani (Yogyakarta), Yohanes Seo (Kupang)
Editors: Anton Septian, Bagja Hidayat, Kurniawan, Stefanus Pramono
Photo Researcher: Ratih Purnama (Coordinator), Ijar Karim, Jati Mahatmaji
English Editor: Luke Edward
Design: Eko Punto Pambudi, Djunaedi, Ahmad Fatoni