The 'Little Person' Among Giants
After years of bullying, she became an ardent advocate for the rights of women and the disabled. In her door-to-door campaign, done on a limited budget, she promises to fight for the rights of the marginalized.
LAST Wednesday afternoon, under the pouring rain, Anggiasari Puji Aryatie entered a village neighborhood on the edge of Kali Code, Yogyakarta City. The 38-year-old woman appeared short of breath as she climbed a narrow and slippery set of stairs.
Anggi—short for Anggiasari—has achondroplasia, a rare condition that only appears in 1 out of 20,000-30,000 births. Achondroplasia is a genetic anomaly that inhibits the growth of bones. Anggi is now only 105 centimeters tall. "It's difficult to be a short person. My knees hurt easily," said Anggi, laughing.
Despite her exhaustion, the legislative candidate from the National Democrat (NasDem) Party seemed eager to reach the Terban administrative village. Carrying a tiny umbrella, she distributed calendars and business cards with her face on them to local residents. In the end, Anggi and her two friends-slash-supporters arrived at the home of Tri Hartono, a Terban resident. It was there that Anggi sat down with over a dozen women.
She encouraged the women to actively take part in their administrative village development planning discussions, so that Kali Code and its surrounding neighborhoods may advance. She said streets in the area—for example the numerous steps—are not yet convenient for the use of the disabled, the elderly, pregnant women. The Yogyakarta legislative candidate with ballot number six also remembered to encourage the women to vote for her. "Cilik-cilik, wangun dipilih (small but worthy of your vote)," she said in the local language.
Anggi is one among three legislative candidates with a disability in the Yogyakarta Province. Two others are competing for a seat in the regional Representatives council (DPD). In her campaign, Anggi always brings up gender equality and disability issues. "Anggi has been actively helping the disabled for a long time," said Suryatiningsih Budi Lestari, an activist for the disabled and Yogyakarta councilor from the Indonesian Solidarity Party (PSI).
For example, said Suryatiningsih, Anggi actively provides input in the drafting of the Yogyakarta City Regional Regulation on Disability. Along with other members of the disabled community, Suryatiningsih explained, Anggi frequented the Yogyakarta Legislative Council (DPRD) building since 2014 to push for the regulation to be passed, which finally happened in December 2018.
With the regulation, the Yogyakarta City government is obliged to provide a special health insurance for the disabled. Furthermore, all schools in the Yogyakarta City are made to be inclusive and those with disability may register at public schools. The city government also provides home care services such as a pick-up assistance for those with limited mobility.
Anggi's advocacy has not been limited to disability issues. In 2016, one year after she participated in a training program on gender and poverty in Geneva, Switzerland, Anggi joined the international organization Humanity and Inclusion—previously called Handicap International. She advised on the topic of gender empowerment and disability. Anggi travelled around Timor-Leste, the Philippines, and Vietnam to provide training on gender, disability, and disaster risk mitigation.
Humanity and Inclusion partnered with the Yogyakarta government to transform the city into an inclusive city, referring to the standards of the World Health Organization (WHO). Anggi and Humanity and Inclusion Project Manager Singgih Purnomo drafted a guide book for vulnerable groups such as the disabled, the elderly, and low-income groups. The guide book was used as a reference in development planning sessions at the administrative village and subdistrict levels throughout Yogyakarta. "Anggi plays a great role in advocating for the interests of vulnerable groups," said Singgih.
Anggi has also diligently pushed for the city budget to be allocated for the empowerment of vulnerable groups. As a result, the Yogyakarta City government has allocated Rp20 million per month for each administrative village for the benefit of such groups. Of the amount, Rp5 million is meant for the disabled, the same amount for the elderly, and Rp10 million for the poor. The disabled living in the administrative village of Kadipaten, Kraton subdistrict, for example, are using the budget to fund their small snacks enterprise.
The Yogyakarta government acknowledges Anggi's hard work. "Anggi has often provided input for the planning of a gender and disability affirmation program," said Suprantini, secretary for the Yogyakarta City Development Planning Agency.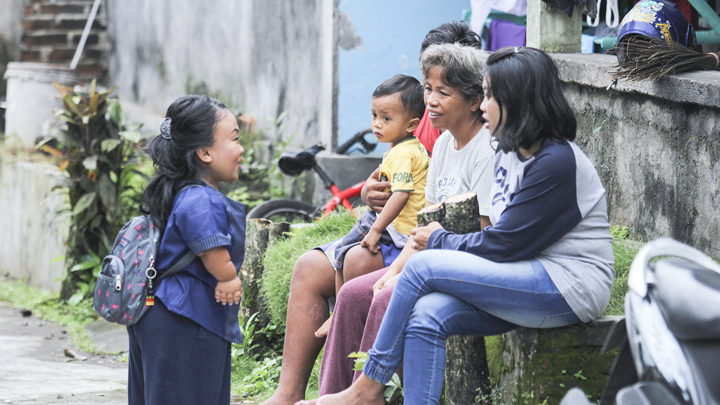 Anggiasari Puji Aryatie (left) greets Yogyakarta residents, last Wednesday. TEMPO/Hilman Fathurrahman W
Anggiasari was born into humble beginnings. Her father, Airifin Hidayat, worked at an electronics warehouse, and her mother, Dwi Priyatie, was a housewife. Anggi's physical condition made her the victim of bullying by schoolmates. "They made fun of me as if I was a kid. A bent arm like a frog," said Anggi. A group of students even threatened her to give them money. The harassment continued on until she was in high school.
Anggi became severely depressed. But gradually, she came to accept her physical condition with the continual support of her mother. She believes that physical limitations do not prevent a person from advancing. In 2002, Anggi received a three-year diploma in French from the Gadjah Mada University. After that, she completed her English literature studies at the LIA language institute. She enrolled in a master's program in theological philosophy at the Duta Wacana Christian University in Yogyakarta, but she never finished her thesis. "The world of activism was more interesting," she said.
In 2005, Anggi joined the Bunga Bakung Foundation and helped street kids in Jakarta learn English. According to the foundation's deputy director, Ritha Sepmiati Pini, Anggi also visited a number of penitentiaries in Jakarta, Sukabumi, and Bandung to accompany inmates as they performed religious activities. Additionally, she provided company to former inmates who were rejected by their families and given shelter by the foundation located in Tanjung Priok, North Jakarta. "Anggi provided counseling and restored their confidence to integrate into the community," said Ritha.
Anggi had never thought of entering politics, especially as a legislator. She believed that the parliament was full of politicians with appalling track records. In mid-November 2017, she was invited to the Yogyakarta NasDem headquarters. Chairman of Yogyakarta NasDem, Subardi, said Anggi had long been under his party's radar. "Not looking for sensation, but because she indeed has the capacity," he said.
Anggi was divided at first. After giving it serious thought, she agreed to run as a legislative candidate. "The disabled must be represented, to see government policies through," she said.
In the Yogyakarta electoral region, Anggi will be competing against 104 other candidates for eight House of Representatives (DPR) seats. Several big names are also in competition, among others, eight incumbents, such as Amien Rais' son Hanafi Rais; former Bantul regent for two periods, Idham Samawi; and Democrat politician, Roy Suryo. There are other big names, such as the daughter of Indonesia's second president, Suharto: Siti Hediati, known as Titiek Suharto; and musician Katon Bagaskara. "I'm a little person, but I'm prepared to go up against the big people," said Anggi.
---
Anggiasari Puji Aryatie
Place and date of birth:
Jakarta, August 6, 1980
Education:
• Diploma in French, Gadjah Mada University (2002)
• Bachelor of English Literature, LIA Foreign Language Institute (2007)
Career: Gender and Disability Coordinator with Humanity and Inclusion (2016-2018)
Party: NasDem Party
Electoral Region: Special Region of Yogyakarta
Ballot Number: 6