Shaken by the May 1998 Atrocities
After years of activism, Firliana Purwanti is entering politics. She hopes to improve the lives of domestic workers.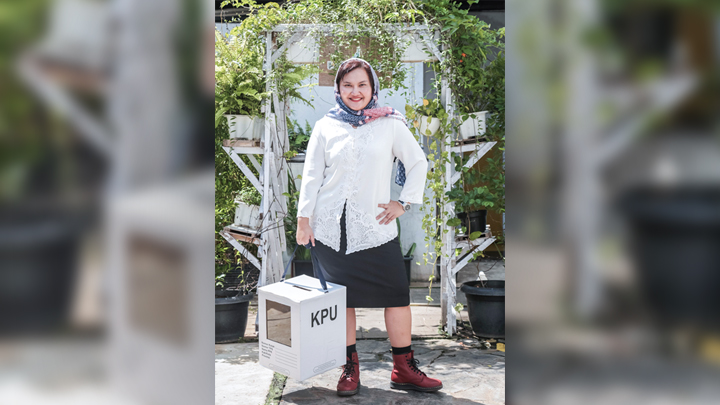 IT took Firliana Purwanti one year to be convinced to run for parliament. Her one-decade experience of being a Democrat Party cadre was apparently not enough to encourage her to run for a seat in the House of Representatives (DPR) in Senayan.
Firliana would feel sure one minute and lose her conviction the next minute. "At first I decided not to run," she said in Jakarta last Wednesday. But when a problem with the bill on domestic workers' protection (RUU PRT) emerged, she reconsidered her decision. The bill, meant to protect millions of domestic workers, had entered a stalemate after it was proposed 15 years ago.
Firliana's primary target as a women's rights activist is seeing the bill through. "RUU PRT is my biggest passion," she said. According to the bespectacled woman, women will never be free from poverty as long as the government is not fully present in protecting domestic workers, the vast majority of whom are women. "Any informal type of work does not have a social security net. If you can pass the bill, poverty will be alleviated in an instant."
The desire to push for the law is what encouraged Firliana to enter practical politics—her efforts to advocate for the bill since her days as an activist as well as her involvement in the Democrat Party were apparently not enough. The draft has not yet been entered in the national legislation program to be immediately discussed by the parliament. "It seems like I have to join (the DPR) myself," she said, laughing.
Women's issues have long been Firliana's concern. The woman born in Jakarta 42 years ago had been involved in women's activism long before she joined the Democrat Party. After she graduated from the University of Indonesia's law school in 2001, she worked as a researcher for the university's Women and Gender Research Center.
Firliana has analyzed the problems that often plague women at length, including the connection between drug trade and the trafficking of women. According to her, as of today, her research is still being used as a reference by the National Narcotics Agency. The legal aid institute also frequently refers to her research in providing legal defense for women couriers entraped by drug dealers. Firliana has also written a book on women's sexuality, titled The 'O' Project.
Additionally, she was involved in an advocacy movement with other women activists in 2003-2004. They went to the parliament to support the law against domestic violence. She has also taken to the streets to protest the planned ban against short skirts in the parliament complex and against polygamy.
The youngest of three siblings studied in depth about women's issues during her graduate studies on human rights at Universiteit Utrecht, Netherlands, in 2004, for which she received a scholarship. Upon her return, she joined Hivos Southeast Asia. It was during her time with the aid organization that she became involved in various women's empowerment programs.
Perempuan Mahardhika national secretary, Mutiara Ika Pratiwi, said Firliana was among the founders of the Feminist School for the Young. "We founded the Feminist School, which then received Hivos's support," said Ika. Since 2009, the course on gender equality and women's empowerment has been held in Yogyakarta, Makassar in South Sulawesi, and Ternate in North Maluku. The program has hundreds of alumni, from university students to those involved in organizations.
Firliana Purwanti (second from left) during a discussion on human rights in Jakarta, April 2011.TEMPO/M Taufan Rengganis
Kapal Perempuan Executive Director Misiyah said her organization also interacted with Firliana while studying the issue of women's trafficking in the drug trade. "A donor and funding relationship," said Misiyah. It was through Hivos that Firliana had the opportunity to continue channeling her concern for women's issues. "At the time I had some authority to decide which organization to support," she said.
While working for Hivos, Firliana also worked with Rumpun Tjoet Njak Dien, an organization working in education and advocacy for Yogyakarta's domestic workers. "They were quite successful in their advocacy, so that there was a regional regulation protecting domestic workers," said Firliana. She continued to maintain this relationship until she joined the Democrat Party in 2010 and withdrew from Hivos one year later.
During her time as a Democrat Party cadre, Firliana managed to bridge Rumpun Tjoet Njak Dien with her party at the parliament. At the time, Rumpun had created the National Advocacy Network for Domestic Workers to support the domestic workers' protection bill. The Democrat Party endorsed the bill. "If you want to eradicate poverty, you have to deal with women's poverty, among others by taking care of domestic workers," she said.
Firliana became interested in human rights during the New Order era. She was still a high school student at the Valley High School in New Mexico, United States, in 1995, when she read a book that piqued her attention: Night, a book that describes the holocaust, by Nobel Peace Prize winner Elie Wiesel.
Firliana, who was participating in an exchange program with Jakarta State High School 68, was shocked to learn about Nazi's cruelty and the slaughter of millions of Jews as told by Wiesel, a survivor of the tragedy. "As a high school student, being exposed to the story of torture and the elimination of a specific race was extraordinary and influential," said Firliana.
Three years later she startled once more, this time by the mass rapes at the end of the New Order era during the reformasi movement. Firlina learnt about the human rights violations occurred in that tragedy from a report written by the Commission for Missing Persons and Victims of Violence. "I was really shocked for the fact that my country had done the same cruelty to the story of torture I read in high school," she said.
The 1998 rapes tragedy has been an eye-opener to Firlina. Then a conversation with human right activist Nursyahbani Katjasungkana about the case changed her mind entirely. "The mass rapes was my turning point. I never turned away from women issues since then."
But involvement in practical politics does not come easy to Firliana. She even has to sell her apartment located in Kemang, South of Jakarta, to pay for her campaign. Despite the difficulties, she receives the full support of her colleague and mentor from the Democrat Party, Erma Suryani Ranik. "I said, not too much theory. Fighting for the people as a legislator can bring about change," said Erma.
Erma recommended Firliana to compete in the West Kalimantan II electoral region, a new electoral region in this year's election. Erma's support is well prepared as the 43-year-old woman, who currently the deputy chairman of DPR's Legal Affairs Commission, is an incumbent from the West Kalimantan electoral region. She has invited Firliana to join her in meeting with constituents since last year, so that Firliana could learn about issues in the field.
According to Erma, Firliana's electoral region is quite unique. Three of the five regencies in the region—Kapuas Hulu, Sanggau, and Sintang—are border regions and are still underdeveloped. "Health, education as well as numerous other issues are closely related to women's issues. Firli has an opening here," she said.
Firliana is faced with a difficult task, especially because she is the only cadre of the four Democrat cadres in the electoral region who has been 'imported' from Jakarta. "I saw the billboard. It says she's a women's activist. But I'm not familiar," said Arsinah, director of Anak Bangsa, an NGO based in the Entikong subdistrict, Sanggau.
But Firliana refuses to retreat, especially because the woman who has worked for the New Zealand Embassy since 2011 is tasked with overseeing a capacity building program for her party's women cadres. "I have to try practical politics so that I have the authority to say what a real woman politician is like," said Firliana.
---
Firliana Purwanti
Place and date of birth: Jakarta, July 3, 1977
Education:
• Master's degree, Law School, Universiteit Utrecht, the Netherlands
• Bachelor's degree, Law School, Universitas Indonesia
Career:
• Senior Development Program Coordinator, New Zealand Embassy (2011-present)
• Acting Director Hivos Southeast Asia (2004-2011)
• Researcher at Universitas Indonesia's Women and Gender Research Center (2001-2003)
Party: Democrat Party
Electoral Region:
West Kalimantan II
Ballot Number: 2