A Rare Character From Serpong
Azmi Abubakar, with a Gayo lineage, founded the Chinese-Indonesian Library Museum. He has been criticized during his campaign.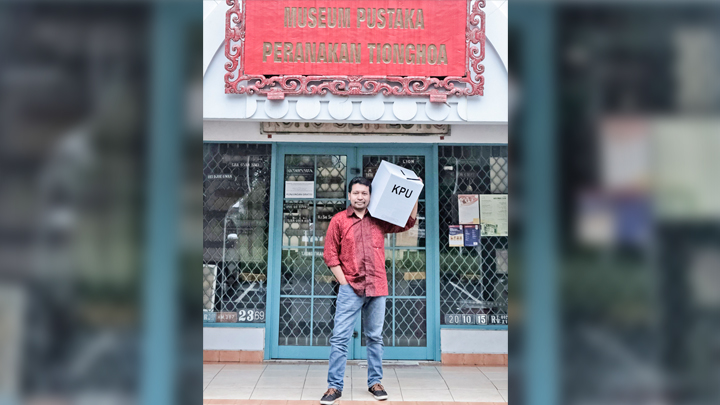 THE white building with green curtains does not have the appearance of a museum. The only clue that the building—which stands among a row of shops in the Golden Road complex, Bumi Serpong Damai (BSD), Banten—stores a collection of items from the past is the red plank in front of it, with the writing "Museum Pustaka Peranakan Tionghoa" (Chinese-Indonesian Library Museum) written in golden ink.
When we entered the 10x10-meter shophouse, we were surrounded by thousands of old books in shelves placed on the four sides of the room. At the center of the room was a glass display containing a Chinese manuscript and a number of literary texts. Several Chinese ornaments and framed portraits are placed on spaces on the wall that were not yet filled with shelves.
Cisan, a resident of the Victoria River Park residential complex in BSD, visited the museum last Wednesday afternoon after he heard stories from a friend. What made him curious was that the museum was not built by an Indonesian of Chinese descent, but rather a man from Gayo, Azmi Abubakar. "I asked my family to come here to explore the history of Chinese-Indonesians," said the Indonesian man of Chinese descent.
Azmi built the museum in 2011 but he began collecting books, newspapers, magazines and other literature on the history of Chinese-Indonesians in 1998. What motivated him was the May 1998 tragedy in Jakarta and surrounding areas, which resulted in numerous fatalities, among others Chinese-Indonesians whose stores were looted. Azmi questioned why Chinese-Indonesians were targeted in the riot.
Because of this restlessness, Azmi attempted to find out everything he could about Chinese Indonesians by reading every literary source he could find. From a book, the man born in Jakarta 47 years ago, found out that Chinese-Indonesians helped fight against the Dutch hundreds of years ago. In the Geger Pecinan (Chinatown Massacre) incident in 1740, for example, thousands of people of Chinese descent were killed by Dutch soldiers. "Meaning they contributed to the Indonesia that exists today," said Azmi.
W251bGwsIjIwMjEtMDEtMjMgMjE6MzE6MDQiXQ
Unfortunately, historical events such as Geger Pecinan are not known to many. He is surprised that the event is not mentioned in school textbooks. If he is chosen to sit in parliament, the legislative candidate from the Indonesian Solidarity Party (PSI) wishes to join Commission X, which is focused on education. He wants the hidden parts of history, such as Geger Pecinan, to be taught in school.
After continuing to collect literature, his museum now has 30,000 books. Most of the items in his collection were obtained using his own money while the rest were donated.
In the eight years since the museum was built, Azmi has refused offers of financial assistance. During the museum's early years, Fajrieni, Azmi's wife, said their assets were drained so they could rent a space to display his entire collection. In 2011, they rented a shophouse not far from the museum's current location. Despite the expensive rent, they never took money from visitors. "At first the expense was crazy. But we committed to not taking money (from visitors)," said Fajrieni.
To cover the museum's operational cost, Azmi allocates some of the profit he makes from his property business. He also has some income from his used bookstore, at a mall in Bekasi, West Java. After one year of renting the space, the husband and wife summoned the courage to buy a shophouse in installments—the shophouse in Golden Road, the museum's current location. Their reason for opening the museum in the BSD region was simple, because they lived in Serpong, not far from the museum.
According to Azmi, several of his Chinese-Indonesian colleagues would often offer a donation, but he has always refused out of worry that the museum would be reliant on donors. "Besides, my desire is to help, not to receive help," said the father of four.
Rudi Gunawijaya, chairman of the Tangerang Chinese-Indonesian Association, said a number of people in Tangerang, himself included, have offered financial assistance. "But we were refused. He doesn't want money. But help in the form of books is acceptable," he said.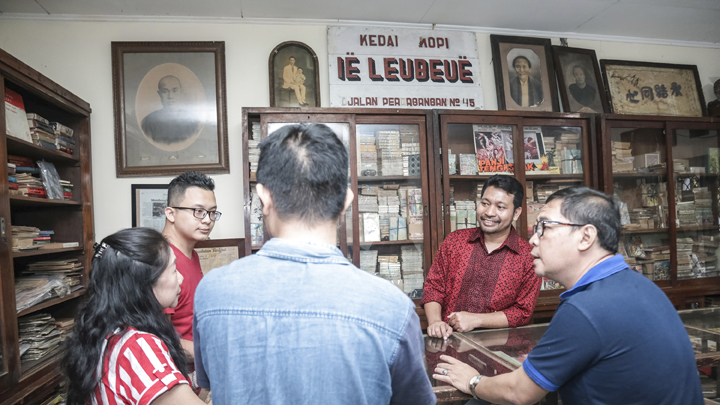 Azmi at the Chinese-Indonesian Library Museum in South Tangerang, Banten, last Wednesday. TEMPO/M Taufan Rengganis
Rudi, concurrently vice chairman II of the Tangerang Regency Interfaith Tolerance Forum, praised Azmi's eagerness to campaign for tolerance. "He is a rare character," he said. According to Rudi, Azmi also helped clarify slanderous rumors spread across social media, among others that those of Chinese descent would again come to power should Joko Widodo be re-elected as president.
Thanks to the museum, Azmi has been invited to several events to promote diversity. Last November, for example, Azmi spoke at the Tarbiyah Islamic School in Tangerang. In front of hundreds of Muslim students, Azmi explained the role of Chinese-Indonesians during Dutch occupation. He hopes that his message would help erase negative sterotypes associated with the ethnic Chinese.
His knowledge of Chinese history has also brought Azmi to international events. Two years ago, Azmi was invited to speak at a seminar on the Chinese-Malay's interactions with the world on the Silk Road, held at the University of Malaya, Kuala Lumpur, Malaysia.
But his reputation as an advocate for Indonesians of Chinese descent has not always elicited positive response, particularly during the general elections campaign period. He has been repeatedly criticized, even rejected, as the PSI candidate tours his electoral region, Banten III, covering the Tangerang Regency, Tangerang City, and South Tangerang City. Not long ago in Tangerang, Azmi's banner was removed by locals. "The campaign, at first planned to take place in an open space, was in the end moved to a closed space," said Azmi.
Those who are resistant to Azmi question why he, a man with Gayo blood or Central Aceh roots, would bother with issues related to Chinese-Indonesians. His own family members have asked the same question. "But they usually understand once I've explained," said Azmi.
The rejection has not discouraged Azmi, who says he will continue to spread the spirit of tolerance. "Because differences are not an issue but a blessing."
---
Azmi Abubakar
Place and Date of Birth:
Jakarta, March 3, 1972
Education: Indonesian Institute of Tecnology (1997)
Career: Entrepreneur
Party: Indonesian Solidarity Party
Electoral Region: Banten III
Ballot Number: 8