A Woman at Andi's Arrest
The police arrested Democrat Party politician Andi Arief on the charge of using crystal methamphetamine in Room 1214 of Menara Peninsula Hotel, West Jakarta, on March 3. During the raid, Andi was with a woman whose last name is Mentari alias Lia.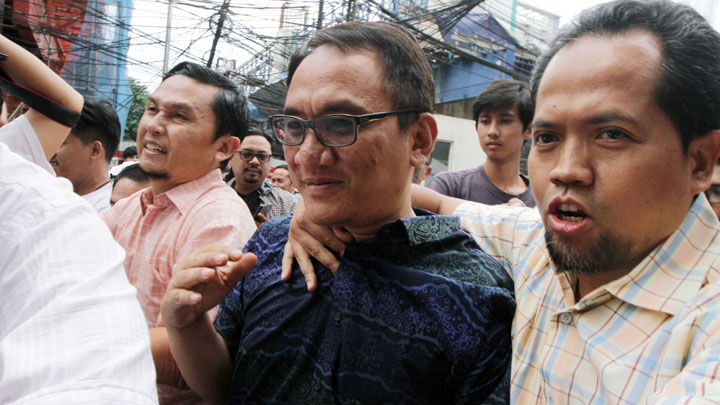 According to theadmission of this 1998 activist, thewoman is hisgoodfriend. Investigatorsfoundthewomanhiding in thebathroom, whereofficersalsofound a bong, which had beenthrownintothe toilet. Twodayslater, theNationalPolice'sCriminalInvestigation Unit turned Andi over to theNationalNarcoticsAgency (BNN) to undergo an outpatientdrugrehabilitation program.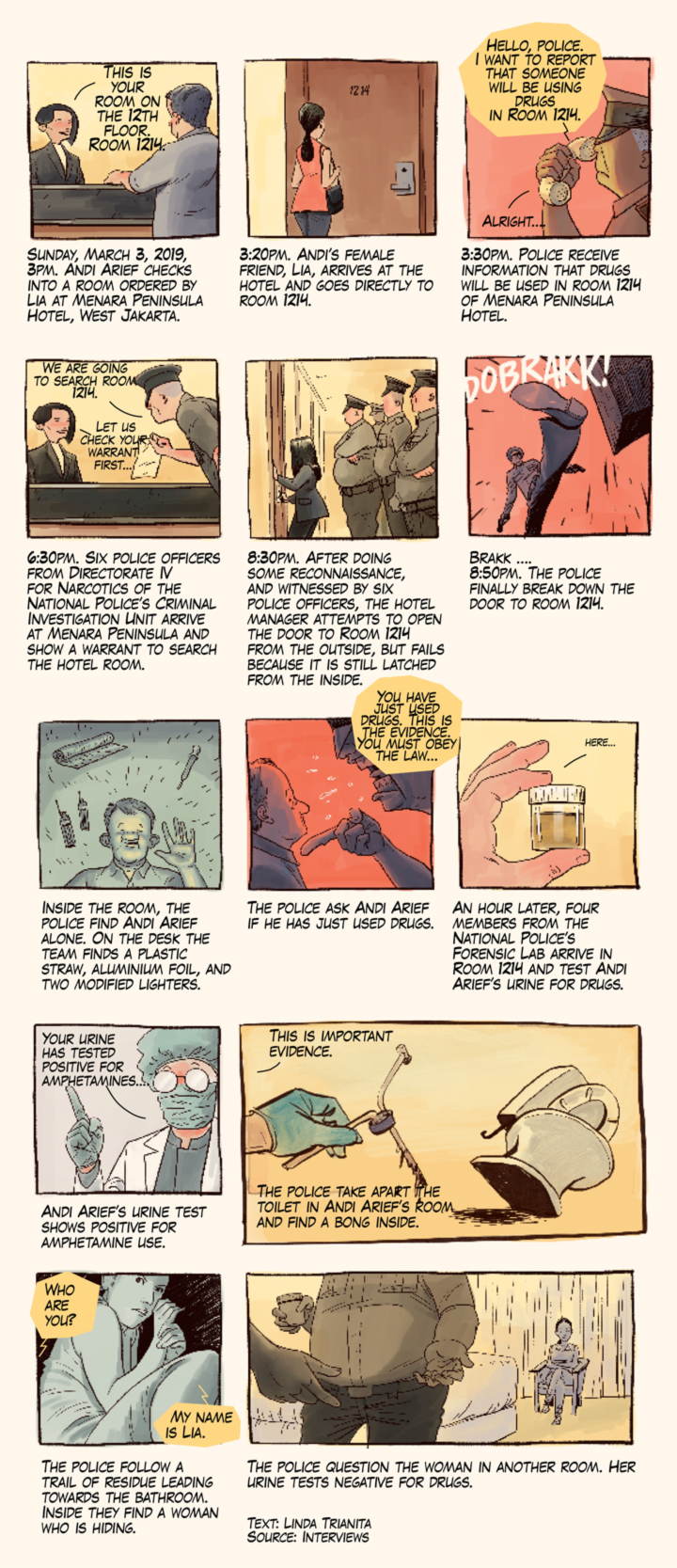 A Woman at Andi's Arrest
The door to Room 1214 at Menara Peninsula Hotel, Slipi, West Jakarta, was finally forced open. Six officers from the Narcotics Directorate at the National Police Headquarters entered that 12th floor room on Sunday last week. The hotel manager and security staff watched from outside.
Things soon became tense inside. The police broke down the door because the person in the room had locked the door from the inside. This was after they had already identified themselves as police. "The door was also latched," said Insp. Gen. Muhammad Iqbal, Chief of Police Public Relations at the National Police Headquarters to Tempo, on Thursday last week.
The person in Room 1214 was Andi Arief, 48, a former activist who is currently deputy secretary-general of the Democrat Party. The police had received a report that there was a person in the room using drugs. They immediately questioned him in the room.
They also tested Andi's urine for drugs. It tested positive for the amphetamines usually found in crystal methamphetamine. Andi's initial stubbornness displayed at the start of the raid gradually dissipated. "He initially refused to take a urine test, but eventually was cooperative," said Iqbal.
The room methodically searched when a team from police's Forensic Lab arrived. They searched for evidence, encountering amphetamine residue, which led them to the bathroom. They found a woman hiding there who was wearing blue jeans and a pink shirt. "The woman was moved to another room and questioned," said Brig.Gen. Eko Daniyanto, Director of Narcotics at the Criminal Investigation Unit at the National Police HQ.
During their search, investigators found packs of cigarettes of varying brands, plastic straws, and two modified cigarette lighters. It is suspected that the straw and lighters were used to take the drugs. They did not find any crystal meth. The bong used to take the drugs was found in the toilet. Assisted by hotel staff, investigators dismantled the toilet in order to find the bong. "It was suspected that he tried to get rid of the bong in the toilet," said Iqbal.
The police also tested the urine of the woman who was found with Andi, which tested negative for drug use. That same night, investigators took her for questioning to the office of the National Police's Narcotics Directorate in Cawang, East Jakarta. She was released the next day after investigators contacted her relatives. The police said that the woman was Andi's good friend. "The hotel room was reserved in that woman's name," said Iqbal.
Elizabeth Ratna Sari, Menara Peninsula Hotel's Public Relations Manager, did not want to say anything about the identity of the woman. She said that the police arrived at the hotel around 6:30pm with an assignment order listing the names of 10 investigators. Before allowing the police in Andi's room, the hotel management verified the document. "We only accompanied them until they finished the questioning in the early hours of the morning," said Elizabeth.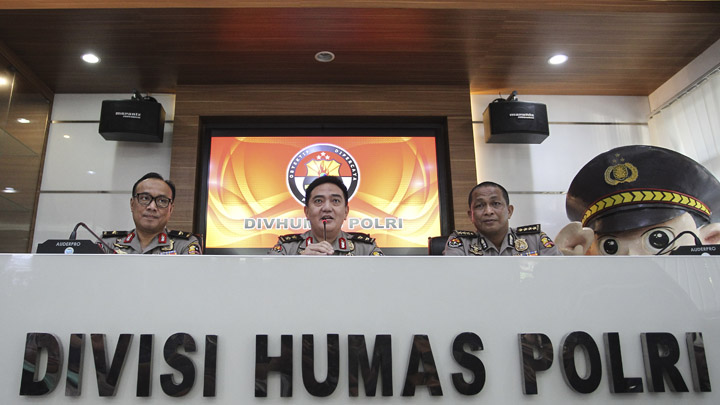 Police' press conference on the arrest of Democrat Party politician Andi Arief, at the National Police HQ, Jakarta, Monday last week./ ANTARA/Dhemas R
According to one investigator, the woman in the room goes by the name Lia. This 25-year-old woman's last name is Mentari. She lives in Way Kandis, Bandar Lampung. On her Facebook page, it says that she works at one domestic airlines. Some photographs on Facebook show Lia posing in a flight attendant's uniform. She is showing off a black Mercedes automobile with license plate B-1**9-N**, which she claimed to be hers on that Facebook page.
Andi Arief is not saying anything about Lia. "You can judge for yourself," he said, answering questions from reporters about the woman in the pink shirt, after he was questioned at the National Narcotics Agency (BNN), on Wednesday last week. He did not respond to any messages sent to his cellular phone about the arrest or Lia. A day earlier, Andi issued an apology on his Twitter account. He tweeted this while he was still being questioned. Investigators released Andi on Tuesday night last week.
Andi's lawyer, Dedi Yahya, did not want to comment about the identity of the woman. Dedi drew more attention to the matter of the evidence found during the police search. He denied there was a crystal meth bong in Andi's room. "That was just a straw," he said. However, he admitted Andi does have a mild drug addiction.
According to Insp. Gen. Muhammad Iqbal, investigators did not detain Andi very long because they did not have enough evidence to continue the investigation. This conclusion was reached after they held two case progress reviews. The team of investigators from the National Police's Narcotics Directorate held the first case review at 8:30am on Monday last week, a day after the arrest.
The second case review was held on the same day, at 7pm, by the Preliminary and Criminal Investigation Implementation Supervision Bureau at the National Police HQ. They reached the same conclusion. Even though Andi was a suspect, the police could not continue the investigation because they did not find him in possession of narcotics, whether on him or in the room. The assessment, said Iqbal, mentioned that Andi has been using crystal meth for about two years.
The bong found in the room, said Iqbal, only shows that Andi had recently used drugs. During questioning, investigators did not find any evidence that Andi was involved in a drug trafficking ring. He was treated as a victim of drug abuse, even though he resisted during the police search. Some of the evidence, including the bong, were seen in a photograph which was widely circulated.
Photos of Andi's arrest and the search of Room 1214 of Menara Peninsula Hotel were already circulating on Monday of last week. One photo shows a toilet was toppled over on its side. There is also a photo of Lia being questioned by investigators. Both Andi and Lia appear fatigued in those photos.
One photo shows an object resembling a condom still in its wrapper. There is also a photo of Andi behind bars. Iqbal was reluctant to comment on those photos. He does not know who spread them to the public. "We are conducting an internal investigation regarding the circulation of those photographs," he said.
Confusion regarding information about Andi's arrest was created on the day those photographs were first circulated. The police had initially denied a woman was present when arresting Andi. Iqbal later clarified the changes to that information. "That was just an investigation technique," he said.
Speculation about political motives colored Andi's arrest. He is known as a politician who actively criticizes Democrat Party's political opponents in social media. Early this year, this man from Lampung created a stir in the Twitterverse when he said there were seven containers in Tanjung Priok Port, North Jakarta, which were full of election ballots which had already had votes indicated on them. He has even called presidential candidate Prabowo Subianto a 'cardboard general'.
Iqbal said that the police have handled Andi's case in a professional manner. He said that investigators initially had information that someone was using drugs inside the hotel. This information, he said, was received on the same day that the search was conducted.
The Democrat Party was reluctant to speculate. "Andi's case is an individual matter, and is not connected to the party," said Democrat Party Deputy Secretary-General Rachland Nashidik. Andi told Rachland that he is resigning from the Democrat Party. Rachland said that his resignation will take time to process.
After being released on Tuesday night last week, Andi began a number of drug rehabilitation stages at the BNN. Andi's lawyer, Dedi Yahya, said that his client desperately needs rehab in order to overcome his drug addiction.
Andi was questioned at the Jakarta Drug Addiction Hospital in Cibubur, East Jakarta, on Friday last week. This is a part of the rehabilitation process. A urine test did not find any drugs in Andi's system. Senior Commissioner Sulistyo Pudjo Hartono, BNN's Chief of Public Relations, said that the result of this test will not influence the decision of the investigators. Drugs, he said, were in his urine for three days. "He still has to under rehabilitation," he said on Friday last week.
Tempo visited Andi's house in Kebayoran Lama, South Jakarta last Saturday morning. His neighbors said that Andi left the house since Friday night.
According to Dedi, his client said that he regrets his actions. Andi, he said, offered to stay at the drug rehab facility, and not be an outpatient during the healing process. "He asked to be healed," said Dedi.
MUSTAFA SILALAHI, LINDA TRIANITA, AJI NUGROHO