The Giant Bees
The world's largest bee species, previously thought as extinct, is apparently still found in Halmahera, North Maluku. The endangered species is hunted by collectors.
ARMED with the clues described in a paper by Adam Catton Messer, an entomologist from the University of Georgia, United States, Clay Bolt finally found what he had been searching for as he traversed the forests of North Maluku for several weeks in late January. The American photographer was the first to take pictures and videos of Wallace's giant bee previously thought to be extinct. "It was an extraordinary moment. But we're not yet certain that it was Wallace's giant bee," Bolt wrote in an email to us few weeks ago.
The bee is named Wallace's Giant Bee after the person who discovered the species in 1859: the British naturalist and explorer, Alfred Russel Wallace. Wallace found a female giant bee, four centimeters in length, on the Bacan Island. He described it as a large insect that resembled the wasp, black in color, with an extraordinarily immense jaw similar to that of the male stag beetle.
Wallace's eccentric bee specimen piqued the interest of Frederick Smith, an entomologist with the British Museum and a specialist of insects in the Hymenoptera order. In 1861, Smith identified the specimen and announced Wallace's giant bee as a new species under the name Megachile pluto. Since then, the bee has stayed outside the radar of the world's entomologists, causing the International Union for Conservation of Nature (IUCN) to place it on the 'red list' with a vulnerable status.
Adam Messer was among researchers who disagreed with the IUCN's decision. He managed to again find Wallace's giant bee while performing his research in Halmahera, Tidore, and Bacan in February 1981. In his article, published in the Journal of Kansas Entomological Society in 1984, Messer mentioned the location of his first discovered bee, along with the location's coordinates. But by the time Clay Bolt arrived, the site had been transformed into a plantation.
The search, said Bolt, was not easy. He and his colleague Ely Wyman from the American Museum of Natural History, New York, as well as local guide Iswan Maujud explored one forest after another for weeks. They observed each tree that potentially held a nest for the termite species Microcerotermes amboinensis because the bee and the termite share nests for protection. One nest was meticulously observed for 20-30 minutes. According to Bolt, they inspected around 30 termite nests before finally finding a nest resting on a tree, around 2.4 meters from the ground. It was inside this termite nest that Bolt witnessed a giant bee in its natural habitat.
W251bGwsIjIwMjEtMDMtMDUgMDg6NDM6MTAiXQ
To make sure that the bee was indeed Wallace's giant bee, Bolt had to look for a white band on its abdomen, one of the bee species's key traits. Because the bee did not leave its nest after a long wait, Bolt finally managed to fish it out with a blade of grass until the bee left the nest and entered a tube.
"This is how we knew that it was the bee. We kept it in a box for observation for several minutes before returning it to the nest. It was a moment that I will never forget," said Bolt, who said he learned about Wallace's giant bee 20 years ago, when reading about Wallace's Maluku expedition.
Bolt's finding was published by the Global Wildlife Conservation (GWC) on February 22. According to the GWC, Wallace's giant bee was the second species to be found among the 25 most wanted species in the Search for Lost Species program.
After the finding, Bolt's concern for the giant bee's survival only grew. He even asked Iswan Maujud to keep the nest's location secret so that it would be left undisturbed—especially due to rampant poaching and the transformation of several forest areas into plantation land. Because of the bee's size—four times the size of normal bees—its unique giant jaw, concentrated habitat, and scarcity, collectors are willing to buy them at a high price. Last March, a specimen of the bee was sold for US$9,000, or around Rp127 million, on ebay.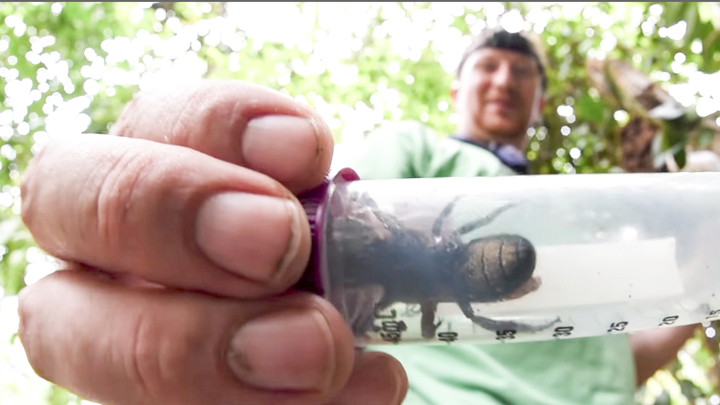 The rediscovery of Wallace's giant bee (Megachile pluto) in the North Maluku Islands. Youtube/Guardian
Indra Exploitasia, director for biodiversity conservation at the Directorate-General of Natural Resources and Ecosystems, acknowledged that Wallace's giant bee is not yet protected. "We have written a letter to the Indonesian Institute of Sciences to study [the bee's] status and grounds for protection," said Indra in a WhatsApp message to us.
As an effort to protect the bee species, said Indra, his department has asked the Maluku Natural Resources Conservation Center to monitor and supervise how the bee is exploited.
According to Rosichon Ubaidillah, zoology professor and entomologist at the Indonesian Institute of Sciences, the directorate-general has already responded, saying that the species must be protected. "Three things must be done, strictly monitoring poaching, preventing foreign researches [from performing research] without permit, and conducting joint expeditions to study the Megachile pluto's population and biology, which are not completely known," he said.
Rosichon added that scientific data from such expeditions are needed when providing a recommendation to the Convention on International Trade in Endangered Species (CITES) at the CoP18 in Colombo, Sri Lanka, May 23-June 3 this year. "We have to recommend for its status to be included in Appendix I," he said. Species under Appendix I are plants and animals that are banned from international trade, in any form.
Research on Indonesia's bees is close to non-existent, said Rosichon, especially for the purpose of taxonomy. This is apparent when one considers the great number of bee species that exist in Indonesia. Of the 1,390 species in the Megachile family known globally, the Zoologicum Bogoriense Museum only has 20-25 species, with 17 of them identified. "As an entomologist, I estimate there are 400-500 types of Megachile in Indonesia."
Rosichon said this fact is an important lesson for researches and universities with a biology major, to further develop the discipline of taxonomy to explore the breadth of undiscovered species.
Tidore Sultan Husain Sjah does not believe that the Wallace's giant bee, known to the people of Tidore as king ofu—king of bees—is a species believed to be extinct. He was surprised to learn that the bee had sold for Rp127 million. "There are indeed many types of bees in Tidore's forests, especially in the Oba region. From small to large, but I don't know much about this bee," said Sultan Husain last Sunday.
According to him, most of the Tidore people in Halmahera see forest bees as economically beneficial creatures, so that they are protected by many. "I ask the people of Halmahera not to disturb forest bees, including the king of bees. We must protect and conserve its population," said Sultan Husain.
DODY HIDAYAT | BUDHY NURGIANTO (HALMAHERA)
---
Wallace's Giant Bee
Megachile pluto
Length: 3.8 centimeters (females), 2.3 centimeters (males).
Wingspan: 6.35 centimeters
Group: Insect pollinator
Nest: shared with the termite species (Microcerotermes amboinensis)
Resin source: Anisoptera thurifera in the Dipterocarpaceae family
IUCN status: red list–vulnerable