A Love of Literature in Kensington
The number of copyright deals made on Indonesia books has been steadily increasing over the past seven years. The Creative Economy Agency has increased copyright sales through the 2019 London Book Fair. The role of literary agents and subsidized translations are still important for entering foreign markets, as Indonesia is still not well-known.
Edition : Tuesday, April 2, 2019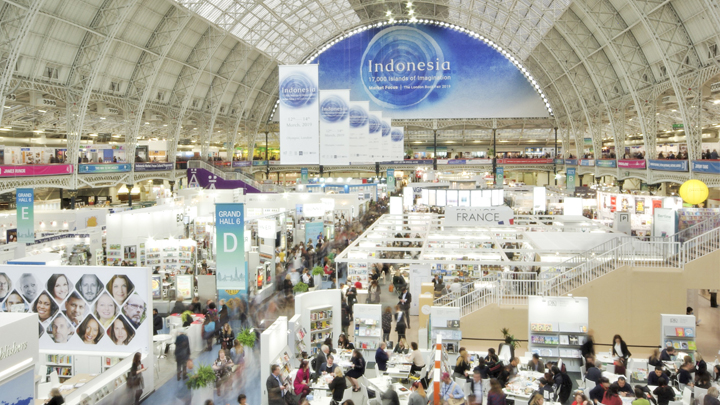 Joana Naves, foreign copyright manager for the Bertrand Editora publisher from Portugal, and Christina M. Udiani, Assistant Manager for Editing and Production at Gramedia Popular Kepustakaan (KPG), were all smiles when posing in front of the Indonesia Pavilion at the 2019 London Book Fair on Wednesday, March 13. They had just signed a copyright sales contract to translate the book Stories for Rainy Days into Portuguese.
That work of Naela Ali, a young writer and illustrator in Jakarta, consists of three volumes. It consists of watercolor illustrations combined with text about things she thought up during rainfalls. This is one of KPG's best sellers. A total of 19,000 copies of Stories for Rainy Days Volume I have been sold since it was first published in June 2016.
"This is a good contract. I see that Naela's book is very good. The text is very expressive. The illustrations have a sensitivity," said Naves. "Its contents have a similarity with Portugal, so we expect it will sell well in our country." For the first stage, Bertrand plans to publish 3,000 copies of the book in Portuguese.
Two Respresentatives of Asta Ilmu Publishing (left) sign a cooperation agreement with two representatives of a foreign publisher (right).
This year, Indonesia was given a special place at the London Book Fair, which was held from March 12-14. Indonesia was chosen as a Market Focus Country and was given a rather large space to introduce books and other creative products at this international book exhibition held at the Olympia Building in the Kensington District. The Executive Committee for Indonesia Market Focus Country Activities for the 2019 London Book Fair did not only bring Indonesian books, publishers and writers to Kensington. This committee, which was formed by the Creative Economy Agency (Bekraf) and was supported by the ministry of education and culture, also introduced fashion products, cuisine, games and films, all of which were united under the theme "17,000 Islands of Imagination".
W251bGwsIjIwMjEtMDQtMjEgMTQ6MTQ6NDgiXQ
Jacks Thomas, Director of the 2019 London Book Fair, feels that this book market is a chance for Indonesia. "Indonesia is a very interesting country which changes quickly," he said. However, "We do not know much (about Indonesia). So we need to frame this as an opportunity to introduce it."
During this book expo, Indonesia sold 23 copyrights to a number of foreign publishers. In addition to those KPG books, there were 12 titles published by Asta Ilmu Publishing which were bought up by Singapore Asia Publishing for distribution in Australia, Malaysia, Thailand, India, and South Africa. The Rumah Pensil Publisher sold copyrights to two Islamic children's books to Hijjaz Records Publishing from Malaysia through the Sapasar Literary Agency, which was founded by the Indonesian Publishers Association (Ikapi) of West Java.
Eight children's books with Islamic content published by Mizan were taken by Kube Publishing, England. "Five of them are from the Aku Anak Hebat book series," said Shera Diva Sihbudi, editor of foreign text acquisitions at Mizan.
Indonesian publishers at the Indonesian Pavilion./IFS-NOC Indonesia Market Country LBF 2019
Four foreign distributors also agreed to distribute English-version architecture books published by Imaji Books to the European Union and the United States. Three of them are: Thames & Hudson, one of the largest distributors in England; Gazelle, a distributor specializing in architectural books in the European Union, and Flavio Marcello from Italy. "This was surprising because for years Imaji Books had made offers to distributors to distribute books on those two continents, but there was never any response, the reason being there was too low of a demand for books about Indonesian architecture," said Thomas Nung Atasana, Head of Marketing for the Executive Committee.
Sales of book copyrights was below the committee's target of 50 titles. However, deals for 408 titles are still being negotiated. This is much higher than the figure for the same event last year, when deals were made for 14 books during the exhibition, with another 135 titles in the negotiation process.
Data from the National Book Committee shows that Indonesian book copyright sales have been increasing over the past seven years, from 114 titles in 2012 to 233 titles in 2018. The number of book titles negotiated are an average three times higher than the number of books for which deals can be made, with the highest number being 1,216 titles in 2018.
According to Nung, publishing translated books takes time because foreign publishers first need to read the books which are to be translated and then negotiate before a copyright purchase agreement is reached. Nung is also Director of the Borobudur Agency-Ikapi, an Ikapi business unit which deals with the sale of copyrights to foreign publishers.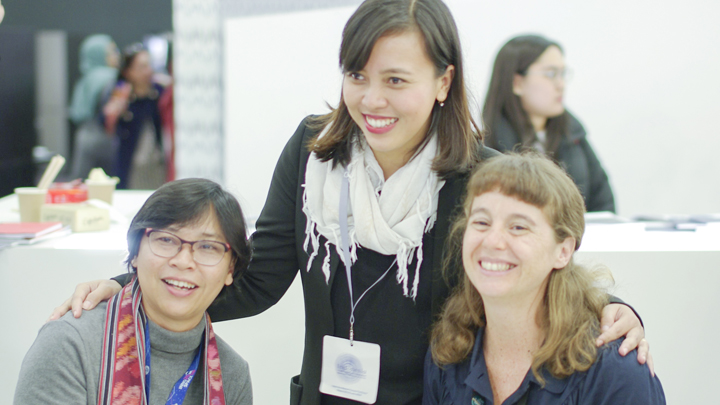 Joana Naves (right) and Christina M. Udiani (left), Assistant Manager for Editing and Production at Gramedia Popular Kepustakaan.
John H. McGlynn, Program Coordinator for the Executive Committee, estimated the process to read and evaluate a work takes at least a year. "It could be another six months for translation and six months for printing, it takes at least two years before a new title can be published," said this founder of the Lontar Foundation, a non-profit organization which routinely translates Indonesian literature into English.
According to McGlynn, the Translation Funding Program of the National Book Committee—funding assistance to translate books into foreign languages, which has been given since 2015—has increased foreign interest in Indonesian books. "There are still the problems of fund distribution and bureaucracy, but in general things are improving," he said.
To date, "The titles foreign publishers are interested in are not general works of fiction, but children's books with religious themes," said McGlynn. Data from the National Book Committee indicates that sales of copyrights for general and religious children's books accounted for 42.1 percent of total sales from 2014-2018. Fiction books come in second with a figure of 28.3 percent.
The fiction books which attract interest are generally not classic works of literature, but contemporary works. According to McGlynn, in terms of content Indonesian books are not lacking. However, this is not the issue in foreign markets. "As it turns out, if the translated work is from an author who is not well-known, it is difficult to find a market for it," he said.
McGlynn has met with many British publishers. From this experience he found that when attempting to publish translated books from Indonesia, publishers tend to choose one writer who they think has good market potential. If all Indonesian writers want their works to be published by them, McGlynn added, there will be competition between Indonesian authors.
Philip Tatham, founder of Monsoon Books, an independent publisher in England which focuses on introducing the works of Southeast Asian writers, said it is not easy to sell books translated from Indonesian. "There is a problem. Indonesia is not well-known in England. Not everyone knows about Indonesia or explores those books," said this graduate in Indonesian literature from Hull University, England. Events such as the London Book Fair, he said, are good opportunities for Indonesians to introduce themselves to the international publishing community.
Tatham also sees a great opportunity connected to tourists who want to visit Indonesia. They need books about Indonesia. "We need to target people who will travel to Indonesia for holiday or business," he said.
Monsoon has published, among other titles, Cigarette Girl, translated from the novel Gadis Kretek by Ratih Kumala; Not A Virgin, from the novel Bukan Perjaka by Nuril Basri; and Jakarta Undercover by Moammar Emka. According to Tatham, sales have been good. Cigarette Girl, for instance, sold 2,000 copies in 18 months. The best-selling title was Emka's book, which has sold 20,000 copies.
According to Nung Atasana, and recognized by Tatham and McGlynn as well, the role of literary agents is very important in copyright sales. These agents actively search for books which can be translated into other languages. "It is not common for copyrights to be sold among publishers. It is usually a literary agent who offers a work to a foreign publisher," said Nung.
Nung personally experienced this when selling copyrights for Indonesia books at the 2013 Frankfurt Book Fair as a literary agent for Borobudur Agency-Ikapi. At that time, he said, Kristine Kress, a senior editor at Ullstein Buchverlage GmbH—one of the largest publishers in Germany—met him and asked for recommendations for Indonesian novels to be translated into German, with the idea of publishing them before Indonesia's arrival as a State Guest in the 2015 Frankfurt Book Fair. "I immediately recommended the novel Amba by Laksmi Pamuntjak because it already had an English version, The Question of Red, which was personally written by the author," she said.
After the exhibition, Nung asked Gramedia Pustaka Utama, the book's publisher, to send a manuscript of The Question of Red to Ullstein. "In a week, Ullstein's editor informed us that they had approved publication of a German edition of that novel, with a good advance royalty offer for a first printing of 10,000 copies," he said.
Nung asked why Ullstein was publishing Amba. According to Ullstein's editor, Nung continued, Amba is a lofty love story which is well-crafted and written in an engaging style. On top of that, the Indonesian nuance in the novel is palpable.
Bekraf Chairman Triawan Munaf realizes that book fairs such as the London Book Fair require a lot of funding. However, the government needs to be involved in the early stages to help promote Indonesian books. "This should be lifted to the business-to-business stage. It does not need to be perpetually supported by the government," said Triawan. He cited how Thailand's display at the 2017 Salone del Mobile design expo in Milan, Italy, consisted of publishers without any government involvement. "We hope that one day (publishers) will be independent."
IWAN KURNIAWAN