Don't Demonize Corporations
Agrarian and Spatial Planning Minister/Head of National Land Agency Sofyan Djalil/Tempo/Ratih Purnama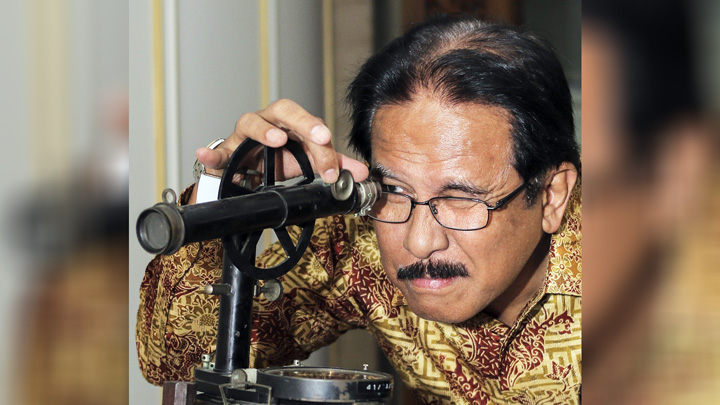 Right to cultivate (HGU) has been a source of controversy as of late. The debate began with President Joko Widodo's remark to Prabowo Subianto in a presidential debate in February. Jokowi said his competitor in the presidential race owned 220,000 hectares of land in East Kalimantan and 120,000 hectares in Central Aceh. In response, Prabowo said the HGU land belonged to the state and that he would be willing to return it.
The hot topic then entangled the agrarian and spatial planning ministry/national land agency. A cross-organization coalition comprising, among others, Forest Watch Indonesia, Greenpeace, and the Indonesian Legal Aid Institute, is demanding the government to make its HGU data public. The agrarian ministry's refusal was dashed by the Supreme Court's decision in March 2017, ordering the ministry to publicize its HGU records. But because the ministry has yet to make the data public, Agrarian Minister Sofyan Djalil was reported to the National Police Criminal Investigation Department (Bareskrim) on Tuesday, March 26.
Sofyan, 65, is persistent in his refusal to make the HGU data public. The former minister of communications, coordinating minister for economic affairs, and minister of national development planning chooses to cling to National Land Agency (BPN) Regulation No. 6/2013 on Public Information Services at the BPN, which states that land books, survey certificates and ownership information as information that is exempt from public eye.
He explained the low rate of land certificate ownership in Indonesia. Since the birth of the republic, he said, only 46 million certificates have been issued out of an estimated 126 million parcels of land. The government's goal is for all plots of land in Indonesia to be certified in 2025. "This should have been done by the government since 1960, in line with basic agrarian law," said Sofyan to Tempo reporters' Rezal Maulana and Angelina Anjar, at his office in Jalan Sisingamangaraja, South Jakarta, on Friday, March 29.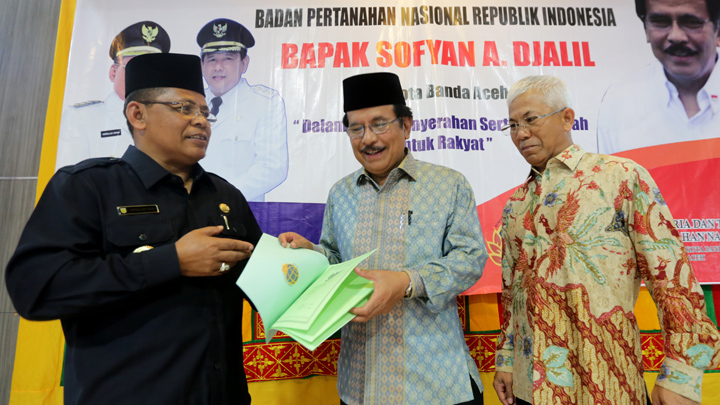 Sofyan Djalil at the land certificate hand over ceremony in Banda Aceh, March 13./ANTARA FOTO/Irwansyah Putra/pd
Why do you insist on refusing to make HGU records public?
In principle, the HGU is private property, like your home. So why do they want HGU data? Who are the organizations making this demand serving? What are their interests?
They say they are working on behalf of the people impacted by the oil palm industry.
Anyone can claim to be defending the people. Is the government not defending the people? The media are defending the people. Around 20 million Indonesians either directly or indirectly rely on oil palm.
The Supreme Court ruled two years ago that HGU records must be made public. Why haven't they been made public?
HGU data may be made public for certain interests. But on an individual basis. Please go ahead and come to obtain someone's land data. Pay Rp50,000 for one piece of information, in line with regulations. What's important is that the interest for seeking the information must be clear.
Did not the Information Commission order the BPN to make the data public?
Internally, we also have a ministerial regulation prohibiting opening HGU data because they are private property. If [they] wish, please go ahead and challenge the regulation.
By making HGU records public, the people can join in monitoring rights to cultivation, many of which will expire in 2023-2024.
If there are HGUs in neglect, we will seize [the land] and give it to the people. The problem is, if it is the people who are planting oil palm, the yield is only 2-3 tons per hectare. A company can yield as much as 7-8 tons per hectare. Which is more pressing for the interest of the public?
Without making HGU records public, would it not be difficult to provide assistance for people who are involved in land disputes with companies?
If there has been a violation, report it. We will take action. Today, how many have been sanctioned and sued for trillions of rupiah by the environment and forestry ministry? Does the government truly not care? It's the government's interest to safeguard.
Some believe that it is your close relationship with oil palm business people that is making you unwilling to publicize HGU records.
No. I'm protecting the interests of this nation and country.
Your persistence in not making HGU records public can be viewed as protecting businesses. What is your defense?
A HGU is issued for a period of 35 years and can be extended twice, each time for 25 years. Once the term is over, the land will again belong to the state. Then what will be done to it? If someone else requests a HGU for the same plot of land, we will provide it, as long as the land remains productive.
Isn't there a land reform program?
It's possible for us to give neglected HGU land to someone who does not own land, to diminish Indonesia's Gini index for land distribution, which is 0.6 (with 0 signifiying complete equality, and 1 complete inequality). Don't assume that it is always good to distribute land to the people. Not necessarily. If unproductive in the hands of the people, we would also seize the land. In fact, corporations are the fastest machines for creating wealth.
Why corporations?
They have professional management; quality human resources; access to capital; access to market, research and development; and cutting edge technology. Individuals don't have [these]. So it is companies that advance a country, like the chaebol (family-owned business conglomerate) in South Korea. Remember, they pay 28 percent taxes. Not to mention the corporate social responsibility funds that they spend. So don't demonize corporations.
The problem is, particularly in the oil palm sector, some businesses are greedy for more land, potentially causing conflict with the people or encroaching on forests.
Yes. That is human nature. But not all of them are evil. I have met with Anthony Salim (Indofood owner and the fifth richest person in Indonesia) several times in international flights. He sat in the economy class, I sat in business. I was embarrassed because it's people such as he who contribute significantly in taxes. Other businesspeople, such as T.P. Rachmat, distributed land to his workers. So the rich are actually not bad. Unfortunately, we are not rich (laughs).
HGU became a public discussion when President Joko Widodo mentioned Prabowo's land in the presidential debate in February. Did the data come from the BPN?
No, that's public information. Pak President stated facts and Pak Prabowo admitted to controlling land in East Kalimantan and Aceh. Pak President only made a description of someone in control of a great deal of land, when on the other hand there are people who don't own land or own land but have no legal certainty.
Is this why the government has been eagerly distributing land certificates?
There have been numerous land disputes so far. Some are between the people, and others are between people and companies, people and the government. Such things happen because many people have not registered their land. If their land is occupied, maybe there would not be a problem. But if the land is unoccupied and seized by someone else, it becomes a problem. In the end, it's taken to court. By registering land and owning certificates, they will have strong proof, so that their land will not be taken by others.
How much land has not been registered?
An estimated 126 millions parcels of land. This is the minimum number because one plot of land can be divided, for example, when parents leave their land to four children. Maybe in reality, it can reach 150 million parcels of land. Of this number, from the time the republic stood until 2015, there have only been 46 million certificates. So there are 80 million plots of land without proof of ownership. This is a potential for conflict, when it is the state's responsibility as described in the 1960 basic agrarian law.
Is there a low rate of certificate ownership because the state has not been proactive or because the people have been reluctant to register their land?
Both. Sometimes people run out of money but the certificate has not been issued. There are also many brokers in the process. President Suharto did not make this problem a priority because of the effects of the 1965 political crisis. There was a misunderstanding in the view that the basic agrarian law was a leftist law because of the land reform program to distribute land. People felt that the Indonesian Communist Party's (PKI) unilateral action in the early 1960s was due to the law. When I entered the BPN, President Jokowi was aiming at 5 million certificates in 2017. Before, only 500,000-800,000 certificates were issued each year.
This year, President Jokowi aims for 9 million certificates to be issued. Are you confident this will be achieved?
God willing we can reach 10-11 million certificates. In 2017, from a target of 5 million, we distributed 5.4 million certificates. In 2018, from a target of 7 million, we distributed 9.3 million certificates.
How were the great improvements made possible?
In 2017, we introduced the Comprehensive Systematic Land Registration Program (PTSL). We measured and registered all land in each village. Before, the approach was sporadic, per individual, causing a high potential for conflict. With the PTSL, all land plots can be identified so that there is no unregistered parcel of land. We were helped by the advance in technology. No more using conventional measuring tools. There is digital mapping, satellite imagery, and so on. Secondly, there are more land surveyors. We looked for private surveyors because there are only 2,200 government surveyors. Counting the private surveyors, we have around 8,000 surveyors.
Which areas are prioritized?
Big cities, both in Java and outside Java, because of their great potential for conflict.
When will all of Indonesia's land be certified?
If God permits and Jokowi is re-elected, we aim for 100 percent of land to be certified in 2025. For this year, only Jakarta and Bali will be 100-percent registered. This is actually late. Japan already completed their land certification 150 years ago, Korea 100 years ago, Taiwan in the 1950s. Indonesia should have done this since 1960, in line with basic agrarian law. But better late than never.
Have fewer land disputes taken place now that ownership certificate has improved?
In fact, there are not many land disputes, only around 8,000 cases. It's just that, once it has become a conflict, it's hard to resolve. [When someone has] won in the state administrative court, [the dispute is] brought to civil court. After winning in civil court, it's brought to the criminal court. The 'small' people will certainly lose. Because the republic has a vast area of land, once we have resolved one case, another one arrives.
Have you gone directly in the field to resolve a land dispute?
There was once a conflict between a company and the Anak Dalam Tribe (in Jambi). The Anak Dalam Tribe said the land in Jambi was their customary land, but the HGU had been given to the company. The solution was to give the Anak Dalam Tribe part of the land. To help them manage finances, a cooperative was created, which runs with the guidance of the company. I also handled a case in Karawang (West Java), [the people] once came to the palace and shackled themselves in the ground. The solution was, land was bought and houses were built for the people.
When the President inaugurated the toll road in Lampung in early March, a woman went on stage and asked for compensation money for her land. What, in fact, happened?
Actually, the land was already taken over since before the reformasi. The owner had a certificate. Coincidentally, when the toll road was built, the land was also involved. We then found out who the owner was. In the end, the owner was given compensation, not the woman, who was only living on the land without a certificate. The owner was happy because the land that was taken over was freed. But not the case with the woman, who felt unsatisfied. We asked her to file a suit, but she had no basis.
In resolving land disputes, what approach does the BPN usually take?
Depends on the situation. If possible, an amicable resolution. But if the parties in dispute disagree with peaceful mediation, then [the case] is taken to court.
Is there also a legal approach for land mafias?
We target land mafias, arrest them everywhere. They have numerous methods for seizing other people's land, among others, by claiming someone's land using a girik (letter of information of control over land; can be customary land). A girik does not mention the location nor coordinates. This is why anyone can use any girik to claim someone else's land. In Medan, people use the term 'Sultan's land'. When someone wishes to create documents, he would say his land was given by the sultan during colonial times. In Bekasi, there was a former municipal village chief and a former subdistrict head who were working as land mafias. When they were arrested, the police found a bag full of girik.
Does the PTSL also include converting girik into certificates?
Yes. The girik is taken and a certificate is given. A girik is indeed not proof of land ownership. Before, girik were used in land registry for taxation purposes in the Dutch era.
Besides for the sake of legal certainty, why is it important to go through the hassle of registering land?
An equally important function is to open financial access to all the people. So far, small entrepreneurs who own land and no certificates have not been able to borrow money from the bank. They go to loan sharks who give them interests that can reach 200 percent annually. At a bank, the interest for small businesses is only seven percent. This is why it is difficult for the economy of the low-income group to improve while the rich get richer.
---
SOFYAN DJALIL
Place and date of birth: East Aceh, September 23, 1953 | Education: Bachelor of Law, Law Faculty, University of Indonesia (1984); Master of Arts, The Graduate School of Arts and Sciences, Tufts University, United States (1989); Master of Arts in Law and Diplomacy, The Fletcher School of Law and Diplomacy, Tufts University (1991); Doctor of Philosophy, The Fletcher School of Law and Diplomacy, Tufts University (1993) | Career, among others: Agrarian and Spatial Planning Minister (2017-present), National Development Planning Minister (2015-2016), Coordinating Minister of Economic Affairs (2014-2015), Head of Strategic Studies, Office of Vice President (2010-2014), State-Owned Enterprises Minister (2007-2009), Communications and Informatics Minister (2004-2007).