Total of MRT Passengers Soaring
A week after the Jakarta mass rapid transit or MRT was inaugurated on March 24, the number of passengers of the fast train keeps increasing.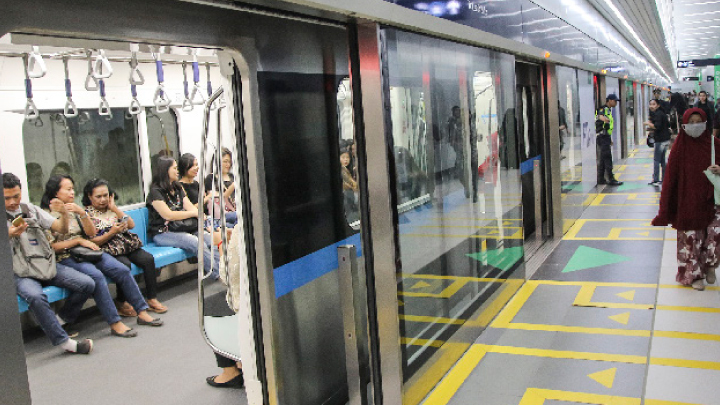 According to Mass Rapid Transit CEO William Sabandar, until Friday, March 29, the passengers totaled 332,184 people.
One day after the opening, the number of passengers of the train named Ratangga reached 44,407. On the next day the total rose sharply to 95,466. The daily average of around 90,000 passengers continued until Thursday, March 28, when the number recorded 99,600 people.
Bundaran Hotel Indonesia Station becomes the busiest terminal. The largest number of passengers getting on and off the train is at the station, constituting 25.5 percent of the total of MRT users. Lebak Bulus Station is the second busiest with a passenger distribution rate of 11.9 percent, followed by Dukuh Atas Station with a 10.7 percent distribution rate.
---
Villages Minister Violates Campaign Rule
THE General Elections Supervisory Agency (Bawaslu) has decided that Minister of Villages, Disadvantaged Regions and Transmigration Eko Putro Sandjojo violated the regulation on general elections. "The official reported possessed no permit to take a leave and joined a campaign for Jokowi-Ma'ruf," said a Bawaslu member, Ratna Dewi Pettalolo, in a session on administrative infringement allegations on Tuesday, March 26.
Eko attended the campaign for the Joko Widodo-Ma'ruf Amin in Kendari, Southeast Sulawesi, on February 22. Besides Eko, present in the program were National Campaign Team Chairman Erick Thohir and National Awakening Party (PKB) General Chairman Muhaimin Iskandar. In the campaign, the three were raising their forefingers, symbolizing number one, which is the serial number of Jokowi-Ma'ruf, 01.
Eko said he joined the campaign because of a friend's invitation. Realizing that he had not obtained a leave permit, according to Eko, on the campaign stage he made no oration and stood at the rearmost place. "I appreciate and accept Bawaslu's decision," he added.
---
Voting Without e-KTP Allowed
ELECTRONIC identity cards (e-KTP) are not the only requirement for casting votes in general elections. This is contained in the decision regarding a request for the judicial review of Law No. 7/2017 on General Elections filed by several institutions on March 5, 2019.
A member of the Constitutional Court's justice panel, Aswanto, said one of the considerations was the presence of many people not yet securing e-KTP. "The constitutional right should not be hampered or prevented by various provisions and administrative procedures that could cause difficulty to citizens in exercising their voting right," he said on Thursday, March 28.
Up to the present four million people are estimated to have the voting right but have not yet obtained e-KTP. The impact of this decision is that voters can use their previous (non-electronic) identity cards or certificates of e-KTP registration when they go to the polls on April 17.