Appeals for Peace from the Land of Mines
The women of North and South Korea, also internationals, keep campaigning for peace in the Korean Peninsula. The demilitarized zone area have been their arenas.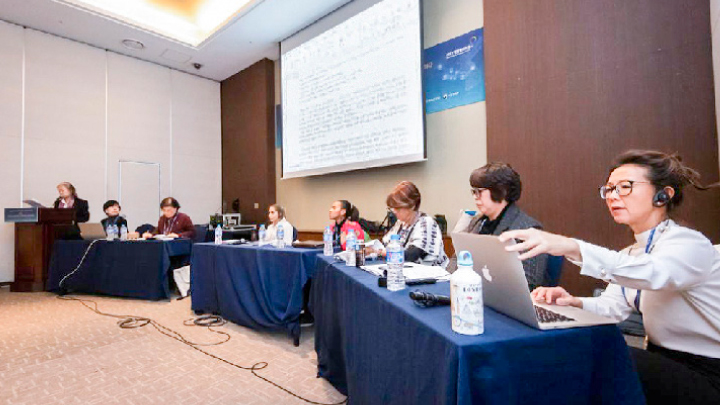 JEON Sang-won was standing upright in front of rows of seats arranged like those in a observatory room. His expression was straight. His hands held a long stick. Displayed on his side was a miniature of the demilitarized zone (DMZ), which becomes a giant partition between South Korea and North Korea.
Behind him was a glass wall of the Observation Post 717 building of Mount Kumgang in Gangwon, South Korea, allowing one to get a clear view for miles ahead. The DMZ area and the edge of North Korea's territory were clearly visible. A vast plain with a small lake combined with a mountain range and the eastern coast of Korea that was swathed in patchy snow and the calming sea. But everything was quiet. Moreover, it was winter time.
Every now and again, Jeon Sang-won warned his guests, participants of Pyeongchang Global Peace Forum 2019 organized there in early February. "No picture," said the 22-year-old soldier.
His peers were also busily stopping those who persistently photographing the military facility closed to civilians. After all the guests were seated, Jeon started talking while pointing his stick at the miniature. Another young soldier was directing a big camera toward the North Korean zone. On the monitor the zone or building targeted by the camera was clearly seen. "The direction of 14:00 o'clock, you see a security post building of North Korea…The direction of 10:00 o'clock..."
"What a waste," Gwyn Kirk, 73, said after visiting the Observation Post, a program that wound up the Pyeongchang Peace Forum. "It has been a waste of life, money and time. The young people have for over 70 years guarded the border," said the member of the Women Cross DMZ Executive Committee from the US.
W251bGwsIjIwMjEtMDMtMDUgMDc6MDc6MjMiXQ
Nearly all the soldiers we met were very young, including those checking the vehicles of groups of visitors at the military post around 10 minutes before reaching the observatory post. They perform their duty in silence in a deserted zone, while in fact this region offers scenery that can invite crowds of tourists.
The Korean Peninsula was divided in the wake of World War II when a war broke out between the North Korea and South Korea in 1950. Three years later the war ended, but only with a ceasefire agreement. Although the war only lasted for about three years, its impact was terrible. Around 4 million people died, 3 million evacuated and 10 million families were separated.
A barrier is thus 'soaring' with the determination of a demilitarized zone along 250 kilometers of both countries' border, which is 2 kilometers wide north and south of the border respectively. This zone has also become a 'deadly' area due to the spread of mines, turning it into a 'giant fence' that prevents people from both countries from knowing and greeting each other. Tension continues to haunt as sometimes provocations occur along the border.
Yet peace remains their dream. A lot of Korean people and international communities are joining hands to achieve peace between the two countries. Women are even coming to the forefront. "We know what the consequences of violence to women, children and communities," said Christine Ahn, coordinator of the International Women Cross DMZ who was born in South Korea and now lives in the US.
In May 2015, Ahn, Kirk and 28 peace seeking women from various countries—including Peace Nobel Prize laureates from Ireland and Liberia, Mairead Maguire andLeymah Gbowee—penetrated the 'giant fence' strewn with mines. "It coincided with the 70th commemoration of the Korean War," noted Kirk.
The action emerged as a big debut of the Women Cross DMZ movement. Its main objective was to end war with a treaty of peace and the involvement of women in the peace making process. "Studies have shown that if women are involved in the peace process, not only it leads to a peace agreement, it can also be far more lasting one,"said Ahn.
They cooperated with thousands of peace promoting women in North and South Korea. Originally, they held symposiums and peace marches together in Pyongyang and Kaesong, North Korea. "They told many things about the impact of the Korean War to women and children," said Kirk. "There are also sanctions that make the lives of women and children very difficult."
Thereafter, by bus, the party crossed the demilitarized zone and was promptly welcomed by thousands of South Korean women. But they were also welcomed by groups protesting their move. The protests arose because North Korea was seen as deserving a stern measure.
They later marched along the DMZ delineation line in SouthKorea. A symposium was also arranged in Seoul, South Korea. "We did not join the crossing because the South Korean law forbids us," said Ahn-Kim Jeong-ae from Women Making Peace in South Korea.
It is not easy to reach the point. Christine Ahn explained that she and her peers had to obtain permits from North Korea, South Korea and the US military assigned to the border under the United Nations Command flag. "The toughest challenge is making a deal with the government of North Korea," she said.
According to Kirk, communication with North Korean women could not be done directly but it had to go through the government. Still, they could finally make it and even kept it going. In 2016, the Women Cross DMZ again held a meeting with women of North and South Korea in Bali, Indonesia. "But the meeting was done separately,"said Christine Ahn.
At first, said Kirk, the North Korean delegation tried to convince their dialogue partners that their country was threatened and needed nuclear weapons. "But at last they agreed to put war to an end."
A meeting of a broader scope took place in Beijing, China, in early December. "We held a Northeast Asian women's meeting," said Ahn.
Nonetheless, the border zone remains the arena for women to voice their peace appeal. On every May 24, coinciding with the International Women's Day for Peace and Disarmament, they are marching for peace there. "We walk along the border instead of crossing," said Ahn-Kim Jeong-ae.
Even, Ahn-Kim continued, she is designing an Eco-Femi Farm program in the demilitarized zone of Panmunjom, the place of the historic meeting between South Korean President Moon Jae-in and North Korean Supreme Leader Kim Jong-un in May last year. It is intended to grow food crops instead of planting mines. "It is hard to get the permit," she said.
The Women Cross DMZ and friends, including Nobel Women's Initiatives, keep campaigning and lobbying policy makers on a global scale. Even when US President Donald Trump met with Kim Jong-un in Hanoi, Vietnam, in February, they also sent messages to delegations of the two countries. The women saw a bright spot of peace after various recent developments although the meeting between Kim and Trump in Vietnam produced no promising results.
Since he became President of South Korea in 2017, Moon Jae-in has several times met with Kim Jong-un. He revives the sunshine policy—the policy initiated by Kim Dae-jung in 2008 to adopt a lenient SouthKorean attitude toward North Korea for the promotion of peace and reconciliation.
Moon emphasizes economic cooperation and cultural exchange projects between both countries. The two Koreas also plan to build a railway route, arrange a reunion of separated families and organize sports competitions together.
"I am optimistic," Christine Ahn maintained. So are Ahn-Kim Jeong-ae and Gwyn Kirk. "Many people said it is impossible, they do not believe (that peace will come true), but I believe," added Kirk.
Purwani Diyah Prabandari (Gangwon)