Returns from the Mangrove Forest
The people of Lubuk Kertang were granted a community forest permit. Shrimp and crabs caught in the community's mangrove forest now yield hundreds of millions of rupiah.
Edition : Tuesday, April 2, 2019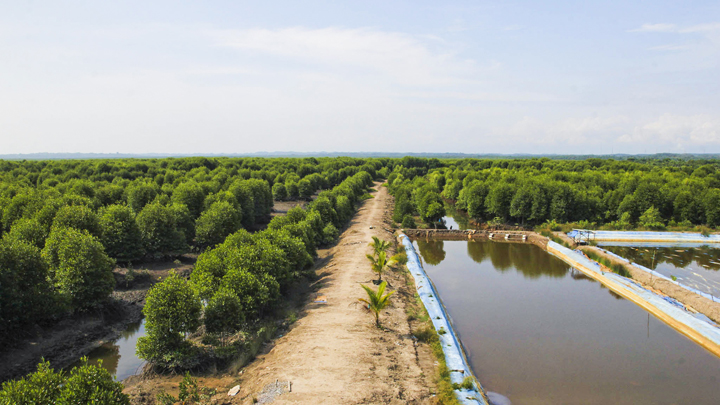 WITH a pair of scissors, 51-year-old Rohman skillfully cut tens of blue-spot mullets, each into three parts. The fish pieces were feed for his aquaculture crabs in the mangrove forest. Every two days, he feeds the crabs in a plotted area in the mangrove forest not far from his village.
Some Lubuk Kertang village residents, Rohman included, have been cultivating crabs and shrimp in the mangrove forest for one year, after the government granted them a community forest permit for a mangrove forest area 410 hectares in size, made up of 50 hectares of protected forest and 360 hectares of production forest.
The mangrove forest in Lubuk Kertang, located in the Brandan Barat subdistrict, Langkat Regency, North Sumatra, had been badly damaged when companies converted the forest area into oil palm plantations in 2006-2013. "Locals lost their livelihoods then," Rohman told us in November. Some villagers were forced to migrate to Medan, 106 kilometers away, to look for work as construction workers or restaurant servers. Rohman had to abandon fishing to work as a chauffeur.
But after the villagers won their lawsuit in 2013, they began replanting the mangrove forest. Conditions improved further when the government granted them a community forest permit last year. Through the Lestari Mangrove Farmer and Fisher Group, the people began cultivating shrimp and crabs. "The group has 16 squares of shrimp ponds and four squares of crab ponds," said Zul Insan, Lubuk Kertang village chief.
The people can now enjoy decent earnings. One square of shrimp aquaculture requires an average capital of Rp11 million, but each harvest yields Rp29 million. Crab, on the other hand, requires far greater capital at Rp95 million, but the people gain Rp200 million at harvest time once every three months.
W251bGwsIjIwMjEtMDUtMDggMTU6MTk6NTgiXQ
With the return of aquaculture, Rohman was able to pay for his child's three-year diploma at one of Medan's universities. Other villagers have also been able to send their children to school.
Besides aquaculture, Lubuk Kertang's fishers have also enjoyed increased earnings. According to Saharuddin, 45, his catch has gradually increased. Only by walking through the mangrove forest armed with traditional fishing equipment, he can enjoy a monthly income of Rp2.4 million from fish and crabs caught in the mangrove forest. His monthly income is higher than North Sumatra's monthly minimum wage of Rp2.132.118.
The women of Lubuk Kertang have also taken forward strides. They now process mangrove fruits and leaves into syrup and crackers. The women learned how to process mangrove plants during a study trip in the Serdang Bedagai Regency, North Sumatra. On average, one person earns Rp800,000 per month from making the syrup, while producing crackers can yield Rp1.75 million.
In August, the people began producing new mangrove forest products, including mangrove honey. Mangrove honey is a rare type of honey that is sold at higher prices than the regular ones. The people have placed boxes to house bees in the forest's corners. Although they have yet to make money from the venture, they managed to produce four bottles of honey last month. Now, the people are adding more boxes to draw in more bees and increase the amount of honey produced.
Chairman of North Sumatra's Indonesian Traditional Fisher Association (KNTI), Tadjruddin Hasibuan, 40, said as the people's mentor, he seeks the assistance of various groups to improve the people's capacity to cultivate mangrove areas, both through silvofishery (an aquacultural method that allows to rear both aquatic animals and mangrove trees in the same pond) and honey bees. "The plan is to create a research center for the restoration of community mangrove forests as well as a center for marine aquaculture ecotourism."
DIKO OKTARA
---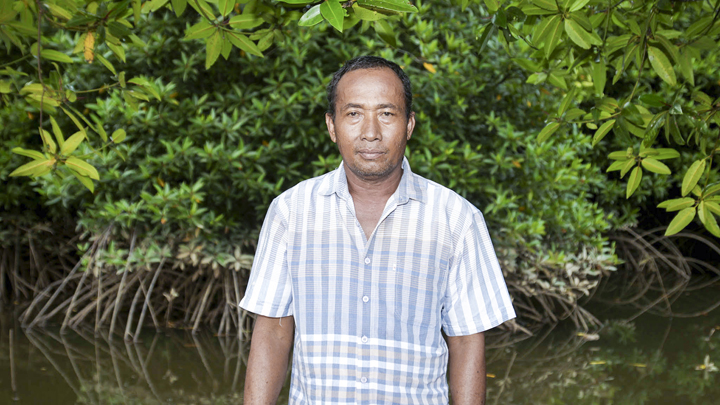 Rohman. TEMPO/Hilman Fathurrahman W
A Return to the Mangrove Forest
ROHMAN, 51, intently observed dozens of macaques playing on the branches of mangrove trees. He even allowed a macaque to seize his glass of freshly brewed tea. "They returned to the forest area around two years ago," he said, pointing at the mangrove forest in front of him.
In November, we visited the mangrove forest in Lubuk Kertang village, Langkat Regency, North Sumatra, around 106 kilometers away from Medan.
According to Rohman, macaques infested the village after Pelita Nusantara Sejahtera and Harapan Sawita transformed the village's mangrove forest into oil palm plantations in 2006. The macaques lost their habitat and began venturing inside residential areas to steal and damage the people's plants.
The forest's conversion into oil palm areas also destroyed the people's livelihoods. They could no longer catch crabs and fish there. In the end, many villagers were forced to go to Medan to work as construction workers.
In June 2008, the people began to fight back. Assisted by a number of organizations, such as the Indonesian Traditional Fisher Association (KNTI), Kiara, and Walhi, they launched several protests demanding oil palm plantation areas to be transformed back into mangrove forest. But the companies refused to budge. Rohman and other villagers were frequently subjected to intimidation. They were threatened by thugs and offered cars as bribery.
The situation improved when the Medan District Court approved the people's lawsuit against one of the companies, Harapan Sawita, on September16, 2013. The people then began rehabilitating 700 hectares of former mangrove area that had been planted with oil palm trees.
In 2014, the Langkat Regency government proposed a community forest permit for the villagers, for an area of 486 hectares. Environment and Forestry Minister Siti Nurbaya approved the request in March 2017. The ministry then granted the Lestari Mangrove Farmer and Fisher Group a business and community forestry permit for an area of 410 hectares. "We recovered our livelihoods here," said Rohman.
DIKO OKTARA