Liquid Gold from the Barren Land
Residents of Sukadana village in North Lombok turned to beekeeping to improve the local economy. Their village has become an educational tourism destination.
Haerudinin now able to send his children to college. The finances of this 48-year-old farmer have improved thanks to honey bee farming, which is a part of the Kampung Lebah (bee village) program initiated by the Technology Experts for Public Bee Activity Intermediation Group (abbreviated Kiat Apis) of Mataram University's Animal Husbandry Faculty and the North Lombok regency government.
For the past three years, Haerudin has raised stingless bees (Trigona sp) in the yard of his house in Sukadana village, North Lombok, East Nusa Tenggara. He has been able to raise colonies of these bees endemic to tropical countries in 40 bee boxes. He can collect 16 bottles of honey from those 20 x 20 centimeter bee boxes every harvest. "Five boxes can produce two bottles of honey. Harvesting is done every three to six months," said Haerudin, adding that he started with four bee boxes.
Haerudin even has his own customer base, even though most of the sales of locally-produced honey is still done centrally, as the Kiat Apis group from Mataram University which mentors them also markets their products. His customers are from Mataram and cities in Java, including Jakarta. In addition to customers coming directly to his production site, an acquaintance in Mataram also helps offer the honey to a wider market.
"My friend in Mataram markets it on the Internet. He takes the honey from here, then sells it online," he recently explained. It is sold for Rp100,000 per 250 milliliter bottle and Rp150,000-200,000 for a 500 milliliter bottle. He makes Rp2.5 million per month on average.
W251bGwsIjIwMjEtMDMtMDUgMDg6NDM6NTkiXQ
Haerudin had been a farmer working a plantation. There are several types of plants found on the approximately 3,000-5,000 square meters of land he works, including mango, cashew, coffee, banana trees and corn. "However, the harvests are not assured because the land is barren," he said.
The area he lives in is dry and barren. Farmers there have low incomes. However, when the Kampung Lebah program began the local economy began to improve. Today, Haerudin's neighborhood has more foliage because more trees are being planted as a source of food and shelter for bees.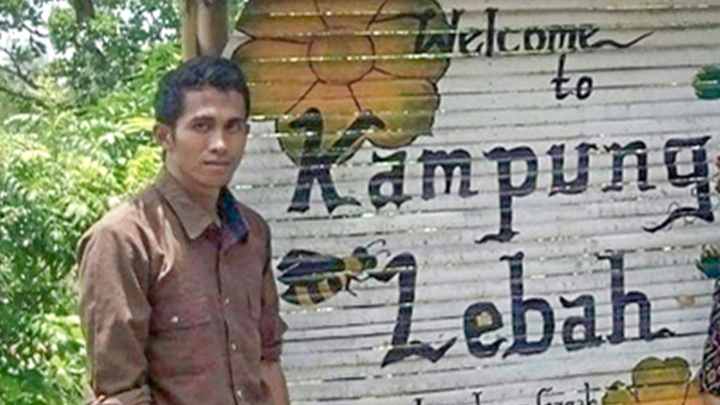 Liquid Gold from the Barren Land/TEMPO
Sukri, 30, came up with the idea for the Kampung Lebah program in Sukadana. According to this Kiat Apis technical staff, beekeeping was not new to the villagers. However, only a few were doing it. On top of that, "In the past, the people did not know how to raise bees using modern technology," he said.
The idea for honey bee farming came up in 2009. At that time, Sukri was still a student at the Faculty of Animal Husbandry at Mataram University. He and friends at Kiat Apis promoted bee farming and conducted a survey of villages in the North Lombok Regency. They introduced various techniques, such as how to hunt for bee colonies, planting trees as a food source for bees, and utilizing yards for planting trees at home.
In 2012, the North Lombok Regency government and Mataram University's Animal Husbandary Faculty cleared land for raising bees in Sukadana. This village was chosen because it met the conditions for an area to be turned into a bee farming location, such has having land in critical condition, a low-income population, and the presence of a farmers group.
Haerudin said bee farming is not difficult. After less than a week of training, the farmers could immediately begin putting their bee colony development knowledge into practice at their respective homes. "As long as they have flower-producing plants which can serve as a food source for the bees," he said.
Still, not many villagers were interested in the training at first. "At that time, the people were still unsure. Many asked what it was good for," said Sukri, recalling his team's initial efforts. Back then just 15 Sukadana residents took part in the training.
Even so, he and his associates were still excited about educating locals in order to improve the village economy, by turning barren land into a productive one. Slowly, more villagers became interested in raising bees. According to Badaruddin, Chief of the Lendang Gagak Hamlet in Sukadana, at present there are 190 villagers involved in beekeeping for producing honey. They belong to the Kami Sadar Mandiri group, formed when the Kampung Lebah program began in 2014.
Badaruddin said that many locals have financially benefited from this program. "Sales from homemade honey helps them pay for household needs," said the 43-year-old man. The honey, marketed under the brand name 'North Lombok Tropical Honey', is sold in several regions of Indonesia, including on the major islands of Java, Kalimantan, Sulawesi, and Sumatra.
However, Kampung Lebah has not only turned Sukadana into a honey-producing village. The Kiat Apis team and the North Lombok government has also developed the Kampung Lebah tourism program. In addition to offering a number of culinary dishes made with honey, Sukadana also gives visitors a chance to see how the Trigona tropical honey bees are raised. For this, they offer educational tourism. In addition to receiving tourists, there are also groups from other villages and regencies who go there wanting to learn how to raise bees.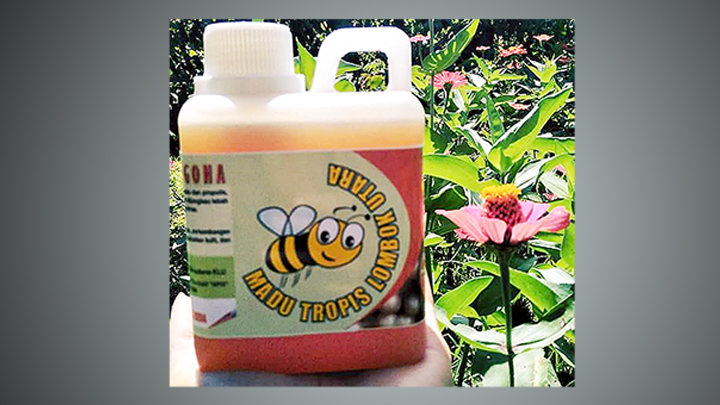 Liquid Gold from the Barren Land/ TEMPO/Laila Afifa
Despite its success, the Kampung Lebah program has not been without its problems. There have been a number of challenges. For instance, during the hot season the land dries up and honey production declines. "Because the plants are not flowering, and there is no source of food for the bees," said Badaruddin.
According to him, if there is adequate irrigation, this problem can be overcome. He hopes that the government can help the residents by drilling wells and providing seedlings and fertilizer for plants as a food source for the bees.
However, there is a separate issue during the rainy season. Residents cannot harvest honey because the bees prefer to stay in the hive when outdoor temperatures are low. "It is more difficult to take their honey if they do not leave the hive," said Haerudin.
There is also the problem of fewer bee colonies due to the increased interest in raising these stingless bees. "Now we have to hunt for new colonies in other villages," said Badaruddin. Their group is also trying to cultivate new colonies.
The demand for honey from the stingless bees continues to grow. According to Sukri, now many companies are offering to cooperate, and there have been orders for up to a ton of honey. "This is difficult because our production is not yet at such a massive level," he said.
Sukri hopes this year production can be increased by involving more farmers in beekeeping. He hopes there will be more than 400 beekeepers. The idea is that North Lombok will eventually become a major producer of honey and bee farming. He also hopes that Kampung Lebah will have its own honey production center with equipment which can extract bee glue (propolis) and bee pollen. "To have a greater variety of products," he said. Kampung Lebah also produces mineral water with a honey extract, which is sold in plastic bottles.
LAILA AFIFA