Sticking With the Team of Eleven
Jokowi is relying on old friends who helped him in 2014. Most of them work behind the scenes.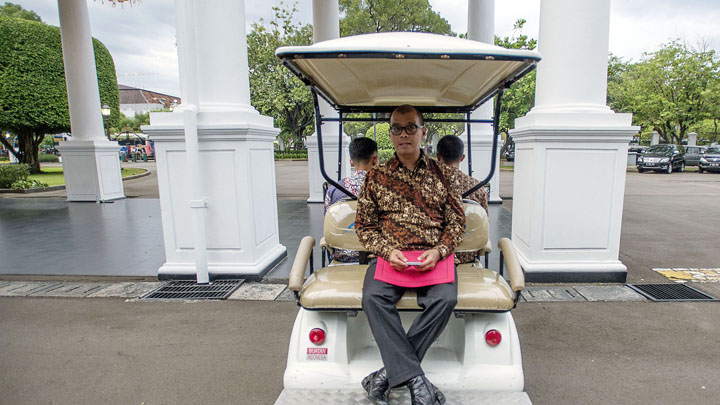 WRITTEN in blue ink, a letter signed by Joko Widodo calls on people to cast their votes in the presidential election this April 17. The letter also calls on voters to vote for the candidates dressed in white, the color of the clothes worn by the Jokowi-Ma'ruf Amin ticket on the printed ballots. "We will all go to the TPS (voting booths) in crowds dressed in white shirts," the letter read.
After a photograph of this letter went viral on Tuesday, March 26, the 'white and white' campaign began to resound. During a campaign even at the Kedopok Sports Hall in the City of Probolinggo, East Java, Jokowi again called on voters to wear white. "I ask you to wear white shirts because the ones to be voted for are wearing white shirts," he said. In the run-up to election day, Jokowi's camp held the United in White Concert at Bung Karno Stadium in Jakarta, on Saturday, April 13, asking supporters to come to the stadium wearing white shirts.
Three sources in the Presidential Palace and the Jokowi-Ma'ruf national campaign team said that the idea for a movement to wear white came from former Cabinet Secretary Andi Widjajanto. According to them, Andi suggested that Jokowi write a letter to his supporters to unite them in a singular movement. This hand-written letter was then sent to Andi through one of Jokowi's staff members. When asked about this, Andi declined to comment. "I cannot answer until things are done on April 17," he said via a WhatsApp message.
Although Andi became Cabinet Secretary in early November 2014, he held that position for less than a year. He was replaced by Pramono Anung, a politician from the Indonesian Democratic Party of Struggle (PDI-P), in early August 2015. However, Andi quietly continued to help Jokowi. According to those three sources, Andi was the one who gave input when the army chief of staff was being replaced, a position now held by General Andika Perkasa.
Andi is also playing a role in the preparations for Jokowi's re-election. According to those three sources, Andi helped draw up the list of potential vice-presidential running mates for Jokowi. During the preparations for the debates, he was the main figure working behind the scenes. For instance he chose sparring partners for Jokowi in simulated debates. Before the first debate, Andi asked Jokowi-Ma'ruf campaign team spokesman Arya Mahendra Sinulingga to debate against Jokowi, taking the role of Prabowo Subianto.
Arya is news director of Media Nusantara Citra. During the 2014 election, he was among the supporters of the Prabowo-Hatta Rajasa ticket. That Chairman of the Indonesian Unity Party (PPI) just laughed when asked for a response. In his opinion, many people took part in helping with that simulation. "However, Andi did play a large role," he said. Arya was reluctant to give details about his role.
According to a source in the Presidential Palace, Andi met Jokowi more frequently when the campaign was about to start. He could be called to the Bogor Presidential Palace more than three times a week, which is where the incumbent president resides. He was called there so often that he often stayed at Hotel Salak The Heritage, which is located about 400 meters from the Palace. A hotel employee confirmed that Andi was often there.
Before the presidential candidates were named, Andi formed a team headquartered in Jalan Garut in Jakarta, whose main duty was to make a list of potential vice-presidential running mates for Jokowi. The 'Garut Team' also carried out other clandestine duties, such as approaching Islamic boarding schools to mitigate the effect of the blasphemy case of the then Governor of Jakarta, Basuki Tjahaja Purnama. Jokowi, who had been Basuki's boss when he was Governor of Jakarta, was being affected by the fallout from this case.
Andi also actively sets up teams of volunteers. One of these is Cakra 19, an organization whose members are mostly recently retired military personnel. He also formed the 'Cloud Team', which monitors the situation in 'the cloud', meaning on the Internet. Iskandar Sitompul, a spokesman for Cakra 19, said that their team often receives input from the Cloud Team for raising support on the ground. One source familiar with Andi's activity said that Andi has formed dozens of other teams which are working for Jokowi's re-election. Andi declined to comment about these activities.
Andi became close to Jokowi before the 2014 presidential election. At that time, Andi was in the Team of 11, whose members included anti-corruption activist Teten Masduki, Indonesian Institute of Sciences (LIPI) military researcher Jaleswari Pramodhawardani, Padjadjaran University military observer Muradi, international relations observer Makmur Keliat, and Gadjah Mada University political observer Ari Dwipayana. "This team was formed by Megawati," said Andi to Tempo back then. Andi and Teten were assigned to work on Jokowi's election campaign.
Today, some Team of 11 personnel are still at the Palace. Jaleswari, for instance, is Deputy V of the Presidential Staff Office, handling political, defense and security matters as well as human rights issues. Ari Dwipayana is a special staff member for politics and governance. Teten Masduki is coordinator for presidential special staff. He was presidential chief of staff before being replaced by former Indonesian Military (TNI) Commander Moeldoko in mid-January 2018. Some members of the Garut Team led by Andi are also members on the Team of 11.
Teten Masduki. TEMPO/Subekti
Jokowi relies rather heavily on the Team of 11 in his campaign. Three sources on the national campaign team said that the Team of 11 actively holds private discussions to hear from experts. In the first presidential debate on justice, human rights and terrorism, Jaleswari helped prepare material for Jokowi and Ma'ruf. Jaleswari did not respond to questions sent by Tempo.
Muradi, a member of the Team of 11, verified the news that their team helped prepare material. "According to my capacity, I gave input about terrorism. However, I was only one of a number of team members," he said. This lecturer at Padjadjaran University is also working to win voter support in West Java, a province where Jokowi was decisively defeated by Prabowo in 2014.
Teten is also helping to raise support in that province, especially in its southern part. Teten, who is one of the founders of Indonesia Corruption Watch, is also a liaison between the Palace and activists. He declined to be interviewed by Tempo related to his role. "I have begun to get out of my element. I want to return to my habitat after the election," he said.
Aside from the Team of 11, there are some other people who are trusted by Jokowi, such as Cabinet Secretary Pramono Anung. This former PDI-P secretary-general is a liaison between the Palace and top officials of the political parties which support the government. For example, a meeting between the secretaries general of the coalition political parties last September was initiated by Pramono. This meeting included a discussion about candidates to lead the Jokowi-Ma'ruf election campaign team.
Pramono has accompanied Jokowi through seven months of public and private campaigning. Speaking to Tempo, he verified the news about his role. "Usually things related to the party general chairmen are handled directly by Jokowi. However, I have been asked to coordinate matters which are more operational," said Pramono.