Thanks to Religion and Fake News
Prabowo still managed to amass votes from his voter bases. It's likely that fake news helped the former military commander's case.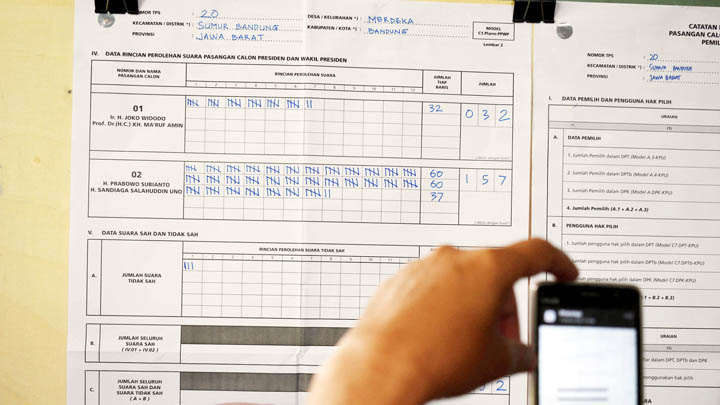 ON Wednesday, 17 April, Lilis Sartika arrived at voting station 11 on Jalan Pelabuhan 2, Sukabumi, West Java, at seven in the morning. Before casting her vote at the booth, Lilis prayed for Prabowo Subianto-Sandiaga Salahuddin Uno to win in the presidential election. After praying, the 51-year-old woman punctured a hole in Prabowo's cap.
Lilis refused to vote for Joko Widodo-Ma'ruf Amin because she felt Jokowi did not adequately represent Muslims. According to Lilis, the incumbent had support from numerous non-Muslims although his running mate, Ma'ruf Amin, harks from Nahdlatul Ulama. "Kyai Ma'ruf was maybe only a tactic. He should have been made an advisor because he's old. But instead he entered into politics," said Lilis two days after election day.
Like Lilis, Larsitha Prameswardani voted for Prabowo-Sandiaga. The resident of Jatikramat, Bekasi, WestJava, did not vote for Jokowi because he felt the incumbent smoothed Chinese investments and was close to the Indonesian Communist Party (PKI). The 28-year-old woman believes that Jokowi's supporting party, the Indonesian Democratic Party of Struggle (PDI-P), harbors PKI cadres.
Larsitha's sentiments grew after reading a book about a PDI-P cadre said to be the child or grandchlid of a PKI member. "Maybe Jokowi isn't, but PDI-P is 200 percent (pro-China and PKI)," she said. Larasitha also believes that there have been more Chinese nationals working in Indonesia.
Rumors of PKI's revival as well as the influx of Chinese workers in the millions flourished in West Java during the presidential campaign period. According to a 2018 study on intolerance in nine provinces by the Indonesian Institute of Sciences (LIPI), West Java was one of three regions with the highest penetration of fake news. "Respondents in Aceh, Banten, and West Java tend to believe circulating fake news," said Amin Mudzakkir, LIPI's political researcher. The study led Amin to believe that communities that strongly ascribe to political Islam—the desire to entrench Islam in an official capacity in public spaces—such as West Java are more susceptible to disinformation.
On December 16-26, 2018, the survey institution Indikator Politik Indonesia also showed that some in West Java had bought undue rumors against Jokowi. Based on the survey, 21 percent of West Java residents still believed in the PKI's revival, although the party was disbanded in 1966. Around 18 percent of respondents believed that the revival began during Jokowi's administration, while 9 percent believed that Jokowi was protecting PKI members.
As many as 23 percent of respondents said they had heard allegations of Jokowi's Chinese lineage. Of the 23 percent, 24 percent believed that Jokowi was of Chinese descent. The survey also showed that 20 percent of the public believed Jokowi's parents to be Christians. "In the region, Jokowi's image was made to be distant from the Muslim community," said Indikator researcher, Rizka Halida. Andre Rosiade, spokesperson for the Prabowo-Sandiaga campaign team, denied the accusation that his team exploited these issues in West Java. "We have always striven for a "cool" campaign," he said.
Jokowi attempted to deny the slander on various occasions. "In regard to the PKI rumor, my father is a Muslim, and my grandfather too. My parents are Boyolali natives," said Jokowi in Serpong, South Tangerang, on November 4, 2018. West Java Ridwan Kamil, a Jokowi supporter, even formed the Sapu Bersih Hoax (sweep fake news clean) team in early December 2018, to clarify hoaxes on social media. The team informs the public on fake news once a week.
But the effort did not manage to boost support for Jokowi-Ma'ruf. In West Java, Jokowi-Ma'ruf's results were not great. Based on a quick count by the survey institution Indo Barometer, votes for Jokowi declined by 1.22 percent from 40.22 percent in the 2014 presidential election. This time, Jokowi-Ma'ruf only received 39 percent, while votes for Prabowo rose to 61 percent from 59.78 percent.
Ridwan Kamil suspects that Jokowi's defeat in his province was caused by rampant fake news. "The hoaxes circulated are tremendous. According to reports submitted to Jabar Saber Hoax, 70 percent are about the election. This shows that that there is a high intensity of fake and aggravating news," said Ridwan the day after election.
In West Sumatra, also a base for Prabowo's supporters, the Gerindra general chairman received 84.12 percent of votes according to Indikator's quick count. Based on the survey institution's exit poll, 86 percent of ethnic Minangkabau voters indeed voted for Prabowo-Sandiaga.
Widiryani, Bukittinggi resident, voted for Prabowo in the last two presidential elections. He admitted to voting for the former commander of the Indonesian Army Special Forces because of religious factors. "Islam Nusantara is not allowed in West Sumatra. That was the agreement between West Sumatra's ulama," said the 51-year-old woman, referring to the Islam Nusantara school of thought, a concept of Islam that caters to local cultures, which has been promoted by the Nahdlatul Ulama, an Islamic organization that unofficially supports Jokowi.
Prabowo-Sandiaga received as many as 225 votes at Widiryani's voting station, compared to Jokowi-Ma'ruf's 22. The member of the local poll administrator (PPS) group said no witnesses from Jokowi's camp were present. "I called out several times, but there was no one for the presidential election. There were only witnesses for the legislative election," she explained.
As it turned out, there were no witnesses from Jokowi's camp because the region was not worked on by the team. Eko Wiratmoko, secretary-general of Cakra 19, a team that supports Jokowi, said based on the mapping, it would have been difficult to convert West Sumatra's voters from Prabowo. "So we let West Sumatra go," said the former commander of the Brawijaya Military Region V.
Similarly, no witnesses were present at Aceh's voting stations for the presidential election. Apart from the region's voters, who take religious considerations seriously, Prabowo-Sandiaga had the support of the Aceh Party, a local party with numerous supporters.
Indikator Politik Indonesia's quick count showed that votes for Prabowo in the province skyrocketed from 54.93 percent in 2014 to 84.99 percent in this year's election. Conversely, Jokowi had less support. Likewise, in Banten, Ma'ruf Amin's hometown, Prabowo's votes rose from 57.1 percent in 2014 to 62.78 percent.
Devy Ernis, Ahmad Fikri (Bandung),

Hussein Abri