Keeping the Deaf Ahead of the Game
In Malang, a group of youngsters are making the community pay attention to disability issues, particularly for the Deaf. They are the Aksi Arek Tuli group, and work to empower the diffabled.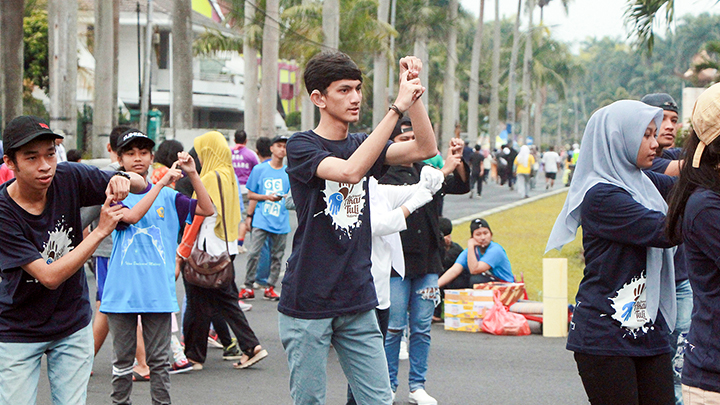 Last week, the vice chair of Malang's Aksi Arek Tuli, Maulana Aditya, PR officer Muhammad Afdhal and two volunteers, Yanda Maria Elsera Sinaga and Meilisa Arum, gathered at a simple food stall for a spirited afternoon discussion. Despite the enthusiasm, the group stayed very quiet; their eager conversation was in sign language.
Afdhal related how Indonesia has two sign languages, the Indonesian Signal System (SIBI) and the Indonesian Sign Language (Bisindo). BISI, adopted from an American system invented by the non-Deaf, is taught at Indonesia's schools for children with special needs (SLB).
Meanwhile, Bisindo was invented by the Deaf and has been passed on over several decades. Said Afdhal, Bisindo is an organic language that has absorbed elements from the country's local cultures. The sign language is easier to decipher, not only by the Deaf but also by the general public as it combines lip-reading, facial expressions and gestures.
"SIBI is the official system, but Bisindo is more popular among the Deaf community," said Afdhal in sign language, as interpreted by Yanda Maria. Like some of the country's closely related ethnic languages, Bisindo varies slightly between the regions, although the variants are still familiar to most of Indonesia's Deaf populace.
W251bGwsIjIwMjEtMDMtMDEgMTA6NDU6NDUiXQ
Afdhal, 20, is a student of visual communication design at the Brawijaya University in Malang. In his fourth semester, he is currently interning at Ahad Digital Creative, a production house. During his internship, Afdhal has been productive, creating various graphic designs and animated videos, among others for the General Election Commission's (KPU) video campaign, encouraging people to show up and vote in the election. Afdhal showed us some of his designs on his gadget.
Afdhal has been deaf since birth. As a boy he used a hearing aid. He only stopped using the device in middle school because it made him dizzy. Now he only uses his hearing aid when driving his motorbike. "So I know when someone honks," he said.
He came to learn about Akar Tuli in 2016, when he was doing a one-year diploma course at the Malang State University. He joined the community. A year later he was accepted at Brawijaya University's vocational training program through a special selection for students with disability.
Brawijaya University is an institution that shows great concern for disability issues. At the university, Afdhal and his colleagues with disability are assigned student assistants by the Brawijaya University Disability Studies and Services Center (PSLD). Nevertheless, Afdhal found he sometimes encountered difficulties completing assignments because of "mis-translations" by the assistants in the program. Despite the breakthrough initiative, communication is still an issue.
But Afdhal stressed, he has no problems with social life on campus. He and his colleagues can engage in discussions and work together on group assignments, communicating via text on their electronic gadgets. Afdhal is also adept at lip-reading.
Unlike when he was back home, where Afdhal felt he was misplaced, Malang has developed a supportive environment for people with disability. "It's very diffable-friendly," he said. "The people are very caring, and there are companies offering employment for the deaf. Depending on our capabilities, we can become teachers or find work in other sectors." This positive environment encouraged Afdhal to take an active role in the Akar Tuli community.
AKAR Tuli has 40 members, most of whom are students who are Deaf. They are assisted by some 20 volunteers. Vice chair Maulana Aditya related how Akar Tuli was founded by Fikri Muhandi, who now lives in Yogyakarta.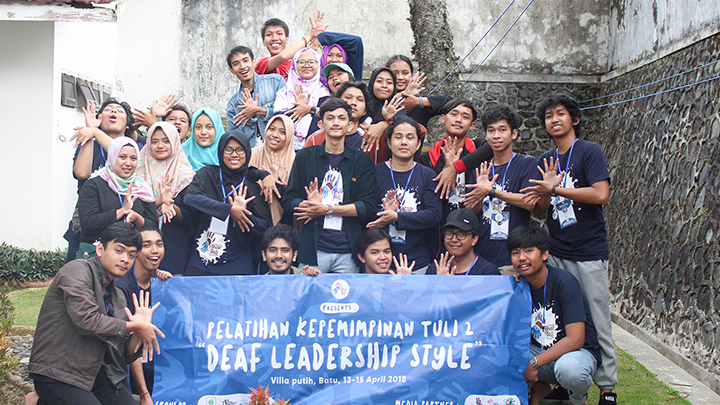 Keeping the Deaf Ahead of the Game/Humas Akar Tuli/Muhammad Afdhal
They began their first campaign one Car Free Day, touting posters encouraging people to stop discriminating against the Deaf. Many members of the general community showed interest in learning sign language. Akar Tuli opened applications for volunteers wishing to assist Deaf people whenever needed, particularly when they had to do class presentations at the university.
Nowadays, Akar Tuli's activists get invited by clubs and educational institutions to teach sign language. Some thirty-five university students are also volunteering at Akar Tuli. Maulana hopes when these people graduate, they will develop similar movements in their hometowns and other places.
Akar Tuli focuses on introducing Bisindo signing to people. "So that our deaf friends get greater access in the community, particularly for employment," said Adit, who is also deaf. Adit is please that companies are also inviting them to teach their employees sign language.
Adit, who is studying Agro-Ecotechnology, is in the process of completing his dissertation. After graduating, he hopes to open a business in his hometown, Pasuruan. He plans to use his degree to help farmers in his home region to process and market their rice produce.
Meanwhile, Yanda Maria finds volunteering at Akar Tuli very satisfying because it has allowed her to better understand the needs of the Deaf. "I've also learned to personally be more grateful," she said.
Yanda joined Akar Tuli a year ago. She began by assisting students with disability, including the Deaf, at Brawijaya University's PSLD program in 2016. She became close to the diffabled community and decided to join Akar Tuli.
In Akar Tuli's awareness-raising campaigns, Yanda most often assists with presentations and interpreting sign language. Akar Tuli has often been invited by the Malang city government to provide input on creating accessibility for the deaf, said Yanda, in conjunction with other organizations for the diffabled. Said Yanda, Akar Tuli voices the needs of Malang's Deaf. "We like urging the city to provide better access in public facilities by providing directions and text with information for the Deaf in terminals, train stations, and the City Square ," she said.
Akar Tuli feels their best support has come from Brawijaya University's attention to the needs of the disabled community. Slamet Tohari, a lecturer in Sociology from the university's Department of Social Studies and Political Sciences, who himself uses a walking aid, was among the professors who paved the way for Brawijaya University developing an inclusive environment.
In the past seven years, the university has re-designed its infrastructure to be diffable-friendly, supporting the mobility of people with physical disability and visual impairment. Professors receive special training to deliver academic and course materials accessible to the disabled. Further, the university also provides audio-visual facilities for a diffable-friendly learning environment.
Slamet believes universities should not ignore students with special needs because their potential equal that of other students. "We cannot allow discrimination to exist on campuses," he added.
EKO WIDIANTO (MALANG)