The Bus' Revival
The surging price of airfares is a blessing for autobus companies, prompting them to promote the premium class fleet.
If anyone is happy about the skyrocketing price of airplane tickets; they would be autobus business actors. One of them is Kurnia Lesani Adnan, the CEO of Siliwangi Antar Nusa (SAN). SAN is a Bengkulu-based company that runs these long-distance travel buses operating in Java and Sumatra. "Now the bus transportation business has resurrected," Kurnia Lesani, or Sani for short, said in his office in East Jakarta, Thursday, April 25.
Business started to go up again after the prices of domestic flight tickets soared by almost two times since last year's Christmas and New Year's holidays. Since then, airfares have shown no signs of going down. A number of bus companies, including SAN, began to see flocks of passengers who decided to take land transportation instead.
Since their business slowed down as an impact of low-cost carriers' operations, autobus companies decided to stop serving big-city routes and shifted to small town destinations such as regency capitals and even subdistricts. SAN for example, instead of taking the Bengkulu-Padang route, the bus operates the Bengkulu-Padang Pariaman route. Bus companies also maximize their point of advantage, which is the ability to take on passengers' heavy luggage at no additional cost.
In the era of low-cost airlines, flights between Jakarta and Yogyakarta during low seasons only cost around Rp300,000 or roughly the same as the cost to ride a night bus. "Autobus companies couldn't compete," said Deny Kusdiana, Head of Intercity Transportation Division at the Transportation Ministry's Land Transport Directorate-General.
It is only reasonable for Sani to end his company's Bengkulu-Padang route; one that is served by Wings Air, a subsidiary of Lion Air. At the time, the Wings Air flight only cost Rp450,000, while the Bengkulu-Padang Pariaman bus fare was Rp235,000. "Now the Wings Air ticket is Rp800,000 to Rp1 million. God willing, we can take back the market and sustain," Sani said.
Lorena, or Eka Sari Lorena Transport (IDX: LRNA), applies a different strategy. Director Dwi Ryanta Soerbakti said his company has long terminated a number of routes that could not compete with airlines. One of them is the Jakarta-Yogyakarta route. "We had no doubt to shut that route down because we couldn't continue to lose money," Ryanta said in Bogor, West Java, Tuesday, April 23.
Lorena is now revamping. As one of the oldest autobus companies in Indonesia, it wants to change its image from a mass public transportation provider to a boutique mass transportation company. Routes that intersect directly with aircraft and trains are closed. The company also increased the number of its double deckers. "Now we are taking over the Jakarta-Madura route with a double decker," he said. "We paid Rp3.5 billion for each bus, in cash!"
But taking routes that are not served by planes or trains did not immediately help the company's finances. The number of passengers still dropped. In 2018, SAN only carried 166,812 passengers, down from the 2017's 175,575.
Lorena also saw declining number of passengers. In 2015, Lorena was able to sell 491,098 seats from the 807,981 available. A year later, only 366,473 seats were sold. In 2017, they only sold 312,232 seats.
But in December 2018, the number of passengers climbed again. "Our Jakarta-Denpasar route is full now," Ryanta said. Lorena's seats begin selling out after the price of airfares between Jakarta and Denpasar jumped; the cheapest being Rp1 million. Before the price surge, Lorena was only able to record 60 percent occupancy rate at most, which is around the time when flight between Jakarta and Bali only cost Rp600,000 one way.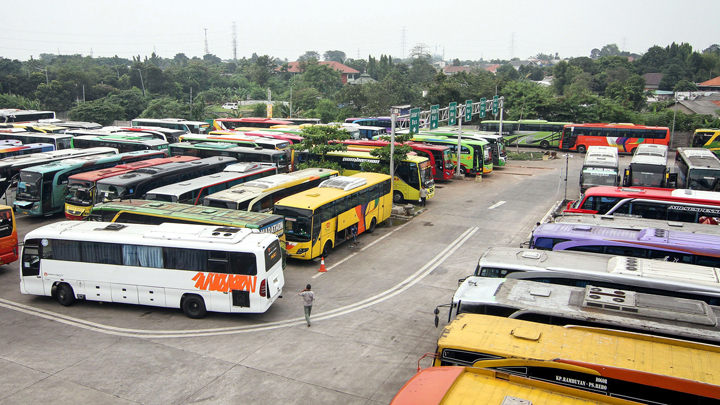 Pulogebang Bus Terminal in Cakung, East Jakarta, June 2017./TEMPO/STR/Dhemas Reviyanto Atmodjo
Budi Setiyadi, Director-General of Land Transportation, said that since airplane ticket prices risen, the number of bus passengers has jumped by 25 percent, as reported by autobus companies. Another reason for the increase, he said, is the opening of the new Trans Java toll road, which since December had reached Solo. "Practically, all plane passengers heading towards Solo Raya are down in numbers," Budi said in his office, Thursday, April 25.
One bus company that enjoys a rise in passengers for the Solo Raya area is Putera Mulya Sejahtera, which is based in Wonogiri, Central Java. In January 2016, Kurnia Lesani Adnan and Glenn Adiprana Widodo jointly acquired Putera Mulya from P.H. Soegiyono, the founder. Since then, Putera Mulya has worked on the premium market by purchasing several double decker and premium buses.
In November 2018, Putera Mulya only carried 27,856 passengers in its Jakarta-Wonogiri and Jakarta-Yogyakarta routes. A month later, when airfares soared during the Christmas and New Year's holidays, Putera Mulya carried 39,191 passengers. The increase at the end of last year continued until the first quarter of 2019. Putera Mulya was able to carry 90,539 passengers, up by 12 percent compared to the Q1/2018's 80,510 passengers.
The government notice this potential revival of bus transportation. With the airfare rise, Deny Kusdiana said, buses now only have to compete with trains. Once the Trans Java toll road is connected, trains and buses will compete even more since both have similar travel time, whilst the price of an executive bus ticket is relatively cheaper than trains' business ticket.
One potential route is the Jakarta-Surabaya one, taken by the premium Trans Java buses. According to Deny, this bus will have stops in Tegal, Pemalang, Semarang and Solo without leaving the toll road. Autobus companies will provide medium buses that distribute passengers at the stop points, which are planned to be located inside toll roads' rest areas, towards the city center.
The government are now preparing the routes and service standards. Autobus companies with eligible fleet will only need to runs the business. "We are only waiting for an approval from the Public Works Ministry to use the toll reat area as a stop-over hub," Deny said.
The Transportation Ministry has met with a number of autobus companies about working on this premium route, especially executive-class night bus operators. Some companies are enthusiastic, such as Harapan Jaya and Rosalia Indah, each committed to providing 20 buses for the route. "Other (companies) have six or seven buses," Deny remarked.
The last meeting between the Ministry and the bus companies took place on April 8. Kurnia Lesani Adnan was among the attendees, representing Putera Mulya.
According to Sani, before the government's version of the Trans Java bus discourse rolls, the company had actually been exploring it since last February. It even carries the same name. But the Trans Java buses by Putera Mulya only operates from Jakarta to Solo and Yogyakarta.
Land Transportation Director-General Budi Setiyadi has received reports from a number of autobus companies. Many are planning to add new buses and new routes. This is a sign that the telolet bus, referring to the unique tune of the bus' horn, will sound-off again.
KHAIRUL ANAM