Stories Through Weaving
Agustina Kahi Atanau dedicates her life to conserving and promoting Sumba's handwoven textile. She received the Wastra Nusantara Lifetime Achievement Award from the First Lady.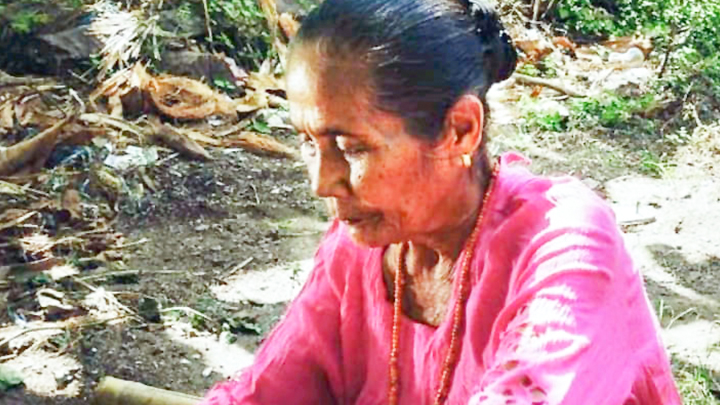 Agustina Kahi Atanau, 65, seemed at ease as she welcomed guests at a meet-and-greet event at the Reading Room in Kemang in early April. At the event, Agustina, who goes by "Mama Dan," intently watched a 10-minute documentary on the complex process of making ikat (handwoven textile).
Mama Dan told the story of how she came to receive the Wastra Nusantara Lifetime Achievement Award from the First Lady of Indonesia, Iriani, the day before. The woman from Lambanapu village in East Sumba, East Nusa Tenggara, indeed deserved the award for her widely regarded efforts to conserve traditional handwoven textiles.
Mama Dan began learning to weave from her parents at the age of 15. "Learning at an early age meant strong hips. (I) had to sit for hours," she said.
Her parents were firm teachers because according to the Sumba tradition, a married woman must be able to weave. In one month, Mama Dan was able to produce two to three ikat cloths, each less than one meter in length, as long as the weather permitted.
Since she began learning to weave, Mama Dan has always used natural dyes. She believes that colors produced using synthetic dyes do not equal those made using natural dyes. Despite troubled times, such as periods of high rainfall or low sales, she has continued to move forward.
Mama Dan's motifs are the most prominent element of her textile. Her patterns tell stories. "How can [I] write? I can only weave," she explained.
One of her creations, for example, portrays the burial ceremony for the king of Sumba, a ritual that she witnessed as a child. The fabric depicts two traditional Sumba houses where people gather, carrying bulls, horses, pigs and fowls. Meanwhile, the king's heir is riding a horse. As the story goes, the heir to the throne must ride a horse in the funeral procession for the dead king toward the burial place until both the rider and the horse collapse. The fabric was not an easy one to make. It took Mama Dan eight months to finish the two-meter cloth.
Another cloth depicts life after death, portrayed with images of sea creatures such as shrimp, turtles and fish. This one took her two years.
Mama Dan wanted to share her skills, and she began with her neighbors. In 2002, she and her neighbors founded the Paluanda Lama Hamu Ikat Weavers Association. "To join hands for a good end," said Mama Dan. In line with the group's mission, she wanted all members to create woven cloths for a more meaningful purpose, not only for commercial reasons.
Now Paluanda Lama Hamu has 30 members between 14 and 60 years of age. The group has even 'birthed' four additional groups, created by Mama Dan's children and nieces/nephews.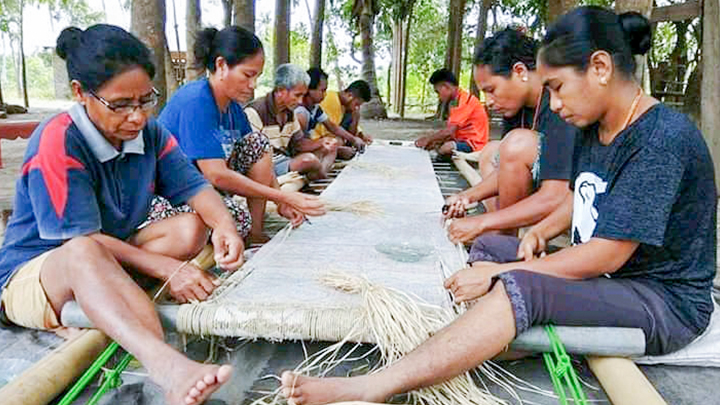 Stories Through Weaving/Photos: courtesy of Daniel Ndamung
At first, Mama Dan had no intention to create a weavers' group. She only wanted to teach her three daughters and three in-laws how to weave because she believed that weaving was an adequate source of income. But later she wanted her neighbors to join, so that their finances would also improve.
Ruth Babang Liau was the first to join the group. "[I] wanted the experience because Mama Dan had been using natural dyes for a long time," said the 54-year-old woman.
At first Mama Ruth only made red woven fabric. After joining the group, she learned various techniques used in other stages of weaving. Now, the only technique that she has not yet mastered is how to draw as well as Mama Dan.
Nevertheless, she says she has gained plenty of experience. "I can now visit other cities because of the group," said the woman, who also tends to her vegetables every day.
Togetherness is the group's key element. Each member would bring a piece of fabric to weave together, while ingredients for dyes are financed by the group. Ten percent of the profit is then saved to be used to fund the next handwoven cloth.
The group's members are assiduous in learning weaving techniques. It is not easy to create ikat. The process begins by spinning thread from cotton. The thread is then tied into knots and submerged in dyes for two days. After that, it is washed with clean water while the knots are detangled, before the thread is spread out. The dying process, using natural dyes, is performed several times to produce the desired color. Candle nut will then be used for the thread, a process that is called mordan or an oiling process using primarily candlenut to adhere the red onto the fabric. For one month, the fabric is aired day and night. Once it is truly dry, the weaving process can begin.
Natural dyes are made from twigs and roots, which are peeled and ground until they turn into liquid to be used for dyeing. Red is derived from the noni fruit (Morinda citrifolia), blue from indigo, and yellow from the roots of the yellow-fruited moonseed (Arcangelisia flava). Members of the weaving group cultivate plants used as primary ingredients for dyes in their own yards, but ingredients for certain colors are difficult to obtain as they come from plants that cannot grow in the Lambanapu village. Some ingredients have to be purchased in other villages.
Around Rp5 million is needed to produce three or four cloths, each sold for Rp1.5 million to tens of millions, depending on the complexity of the motifs, colors and the length of the fabric.
It is impossible to calculate the group's average annual profit, but they made a record Rp800 million during an exhibition at the Bank Mandiri Museum in 2017.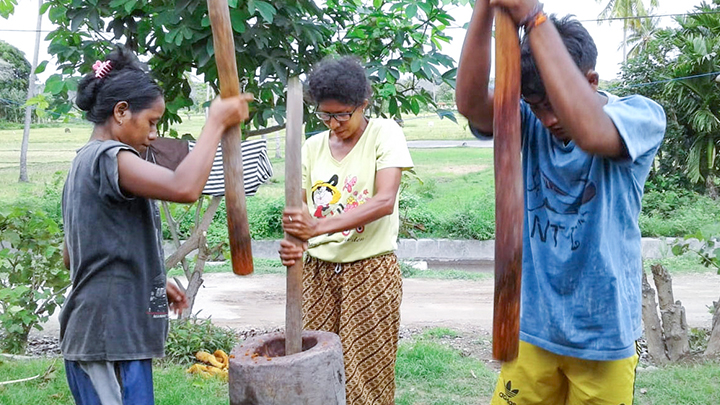 Stories Through Weaving/Photos: courtesy of Daniel Ndamung
Mama Dan does not worry that her group's handwoven fabric would fall behind machine-woven fabric, produced using technologies that reduces costs and speeds production. According to Mama Dan's eldest son, Daniel Ndamung Landu Praing, 49, the group's earnings have indeed declined with the growing popularity of machine-woven fabric. But the decline has not been significant. Mama Dan assigns her sons to the task of managing sales and promotion, while her daughters perform the weaving, a task traditionally done by women in Sumba.
Neither was Mama Dan concerned when her friend from Jakarta told her that the motif that she once used had been recreated by other people on machine-woven fabric. "Actually, we object, but the problem is (we) don't have patents yet. So let it be. They also need money, right?" she said, smiling.
The popularity of Mama Dan and her weaving group has inspired many to learn. Visitors have flocked to Lambanapu. Because of their enthusiasm, Mama Dana and her friends built a guest house at Mama Dan's family estate with the help of the Sekar Kawung Foundation from Bogor, West Java. The guest house also offers tour guides. "There are four people, two men and two women. [Equal] gender representation is also a concern," said Daniel Ndamung Landu. It seems that visitors to Lambanapu village can now have a good time learning how to weave.
DEWI PUSFITASARI