Making Profits In just Three Months
Garuda Indonesia is believed to be inappropriately recording its revenue. Two commissioners refused to sign the state-owned airline's financial report. Their objection letters have sparked a debate.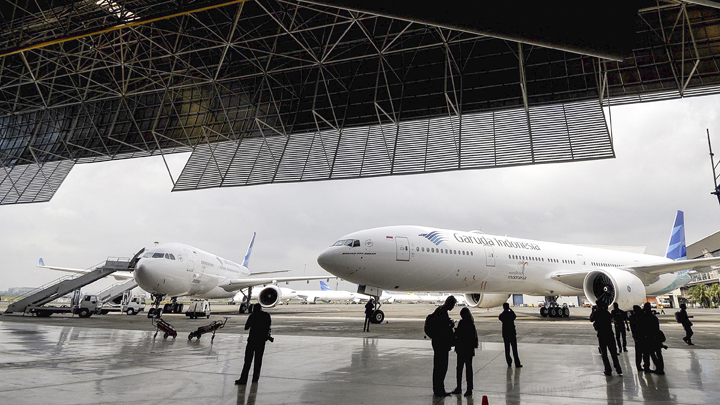 Five Garuda Indonesia commissioners finally met under more amicable circumstances on Monday, April 29. The meeting was held at the Garuda Headquarters in Jalan Kebon Sirih, Jakarta, over a meal of Manadonese food. "The food was so spicy. It gave me a stomachache," said Garuda Indonesia President Commissioner Sahala Lumban Gaol.
Sahala, special staff I to the minister of state-owned enterprises (SOE), had only been Garuda's president commissioner for one week when the problem fell under the spotlight. At Garuda's annual shareholders meeting on Wednesday, April 24, two commissioners representing Trans Airways and Finegold Resources Ltd—both owned by Chairul Tanjung—rejected the company's 2018 financial report, while the remaining five commissioners accepted the report. The two objecting commissioners represented Chairul's companies, which owns 28.08 percent shares in Garuda.
The annual meeting then agreed to cut back on the number of commissioners. Two commissioners representing the government and one representing Chairul, Dony Oskaria, were removed. Only Chairal Tanjung, Chairul's younger brother, was left to represent Trans and Finegold. When the new board of commissioners met for the first time last Monday, Sahala refused to bring up the results of the annual shareholders meeting. "What occurred at the annual meeting was concluded there," he said.
Garuda's annual shareholders meeting on April 24 did not go smoothly. Chairal and Dony objected to the company's 2018 financial report. On April 1, two weeks before the legislative and presidential elections, Garuda had already reported a consolidated profit of US$5.02 million, or equal to Rp72.69 billion at an exchange rate of Rp14,481 to the US dollar. The figure gave Garuda hope after the previous year's poor performance and a loss of US$213 million, or Rp2.88 trillion according to the exchange rate at the time. Three weeks before the end of 2018, Garuda recorded a loss of Rp1.6 billion.
But the company made profit due to another source of revenue outside of its core business, reaching US$278.8 million in 2018. Everything was running as usual until Chairal and Dony rejected the financial report. "Our objection letter was not read because the meeting's chair said it would be sufficient to attach (the letter) to the 2018 annual report," said Chairal at the Pullman Hotel, Jakarta, where the annual shareholders meeting was held on Tuesday, April 24.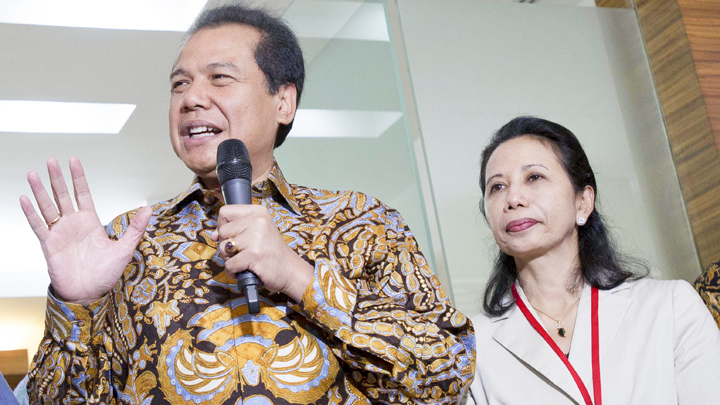 Chairul Tanjung (left) and Rini Soemarno in Jakarta, September 2014./ANTARA/Wahyu Putro A
According to Chairal, who was once an auditor with the Development Finance Comptroller (BPKP), Garuda's performance has actually improved. For example, in the first quarter of 2019, the state-owned company made a consolidated profit of US$19.7 million. But Chairal questions one transaction in the 2018 financial year, which seems to have magically turned the company's loss into profit. "We only object to that one transaction," he said. "We disagree with the accounting approach."
The one transaction involved revenue from compensation for the cooperation between Grup Garuda Indonesia and Mahata Aero Teknologi, a startup founded by Muhammad Fitriansyah, known as Temi. According to major businesspeople in Bangka, Temi once worked for Mitra Stania Prima, a lead mining and smelter company owned by Hashim Djojohadikusumo, Prabowo Subianto's younger brother.
The cooperation involved Mahata installing Internet services at aircraft owned by Citilink—Garuda's low-fare subsidiary—and Sriwijaya Air, Garuda's partner. Mahata will also manage Garuda's entertainment features, such as touch screen monitors for passengers. The Garuda Group claims to receive a compensation of US$239.9 million, or equal to Rp3.47 trillion at an exchange rate of Rp14,481 to the dollar for the 10 to 15-year work agreement.
Garuda pulled the revenue to the front and recorded it in the 2018 balance sheet. Besides being included in the balance, the compensation was recorded as receivables from Mahata. Because of this, Garuda was 'rescued' from a loss of US$244.958 in 2018. Instead, the company recorded a profit of US$5.018 million.
Chairal and Dony had actually expressed their objections prior to the annual shareholders meeting. On February 18, the two sent a letter to the board of directors. The letter mentioned that the financial record did not fall in line with Indonesia's financial accounting standards. Chairal and Dony sent another letter on April 2, three weeks before the shareholders meeting. This time, the letter was addressed to SOEs Minister Rini Soemarno, who represents the state, which owns 60 percent shares in Garuda.
According to Chairal and Dony, revenue that is recorded in advance can only be recognized if there is great possibility that the company will receive compensation or royalty. Meanwhile, the agreement between Mahata and Garuda does not mention a payment period. Neither is there a guarantee of payment pointing to Mahata's capacity as a bonafide company. Instead, it is replaced by a statement of commitment for paying off the compensation. These issues caused Chairal and Dony to object to how the revenue was recorded.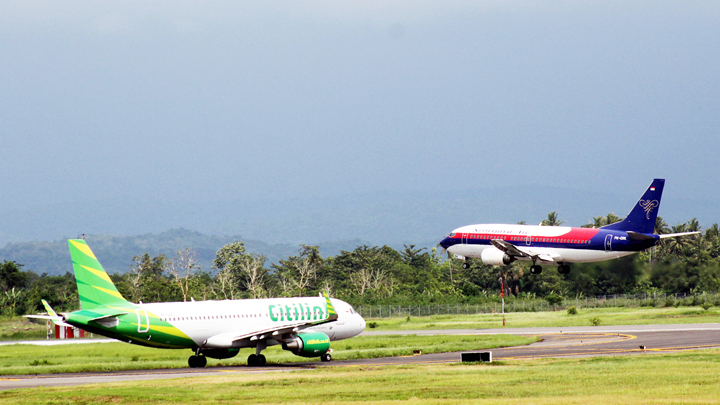 Citilink and Sriwijaya Air aircraft at Sultan Hasanuddin Airport, Makassar, South Sulawesi, December 2014./ TEMPO/STR/Fahmi Ali
But the SOEs ministry still went forward. The ministry's Deputy of Financial, Survey and Consultancy Services Gatot Trihardo said Garuda's 2018 financial report, which covers the transaction with Mahata, has been audited with a unqualified opinion. "Everything has been audited," he said on Wednesday, April 24. The auditor who approved Garuda's financial report was Kasner Sirumapea from the Tanubrata Sutanto Fahmi Bambang and Partners Public Accounting Office, a BDO's partner in Indonesia. BDO is a network of accounting firms based in Brussels, Begium.
Chairal Tanjung and Dony Oskaria's objection letter had a butterfly effect. A government official aware of the process said SOEs Minister Rini Soemarno was upset by the two commissioners' letters. This information was confirmed by the director of a state-owned enterprise. Because of the letter, the SOEs ministry finally decided to cut down the number of Chairul Tanjung's representatives at Garuda's board of commissioners in the annual shareholders meeting.
But Sahala Lumban Gaol denied that Rini removed Chairul's share of commissioners because she was upset. According to Sahala, the removal was proportional. Sahala added that Rini also removed two government commissioners. Now Garuda has a total of only five commissioners, made up of: one government representative, i.e., Sahala; three independent commissioners, namely Herbert Timbo Parluhutan Siahaan, Eddy Purwanto, and Insmerda Lembang; and Chairal Tanjung, who represents Chairul. "This way, there are more (commissioners) carrying public inspiration," said Sahala on Friday, May 3.
Two sources with CT Corp—Chairul Tanjung's business empire—said the SOEs ministry's step to cut back on the number of commissioners also made Chairul upset, especially because he feels that Garuda did not implement good governance in making its financial report. In a Trans Media—CT Corp's media business unit that focuses on lifestyle and entertainment—routine meeting on Tuesday, April 30, Chairul explained the Garuda affair at length.
Chairul has yet to respond to our request for confirmation via telephone last week. One of Chairul's trusted men and Trans Media commissioner, Ishadi S.K., said his superior was in Bali on Friday, May 3. Chairul was to leave for Singapore on next day and would be back in Jakarta on Sunday, May 5. According to Ishadi he did not attend the meeting on Tuesday last week. "That was an internal call to examine Garuda," he said.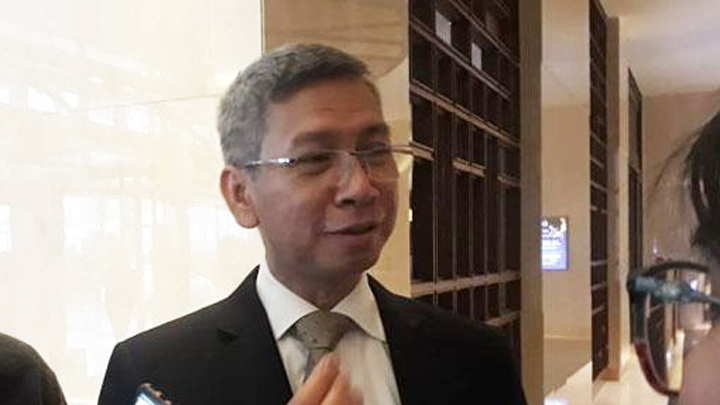 Garuda Indonesia Commissioner, Chairal Tanjung, in Jakarta, April 24./TEMPO/Francisca Christy Rosana
During the meeting on Tuesday, April 30, Chairul also mentioned one name involved in the Garuda affair, namely Muhammad Hadi Bil'id. According to a CT Corp source, Chairul said he was contacted by Bil'id, who claimed to be one of Mahata Aero Teknologi's financiers. Bil'id, who is known as the founder of Valco Corp, an investment company in the energy sector, refused to comment at length. "Apologies, we have agreed that Pak Temi would represent the board of directors and commissioners," said Bil'id, a Mahata commissioner, on Friday, May 3. Temi is short for Muhammad Fitriansyah, Mahata's CEO.
SINCE Garuda's financial report has been discussed by the public, the airline has been busy providing clarification. According to Garuda, there was nothing wrong with recording the revenue in advance in the 2018 financial report, although the partnership contract will be in progress for another 15 years. Garuda Finance Director Fuad Rizal said the record refers to financial accounting standard 23.
According to Fuad, revenues can be recorded in advance if the gain is measurable, the payment is certain, and the contract is sound. After signing the contract, said Fuad, Garuda was certain that the US$239.9 million compensation would be paid although Mahata provided no guarantee. "I have seen the business model," he said on Thursday, May 2.
Fuad said at this time the compensation for the rights given to Mahata Aero Teknologi to install Internet services and manage digital content have been included as Garuda's receivables. The auditor has also requested Mahata to confirm that the compensation has been included in the operator's balance sheet. "Here we claim receivables, there (Mahata) must admit to a debt," said Fuad. "If one of the parties refuses to admit, then it can be called suspicious."
Two persons who are aware of the details of the Garuda and Mahata transaction said the digital company has yet to include the compensation cost in their balance sheet. Furthermore, they added, the company has not drafted its 2018 financial report. Mahata is hesitant to include the compensation payment because it would damage the company's finances. "Should a new company bear the burden of a debt that big?" said one of the sources.
According to both sources, the basis for calculating compensation for Garuda was not for the total of US$239.9 million. To install Wi-Fi connections, Mahata has an obligation to pay US$6,500 per carrier per month for 10 years. The contract with Citilink, said one source, suggests that if all goes well and the installation is timely, the accumulated compensation will amount to US$39 million for 50 Airbus A320 carriers. The contract with Citilink was signed in October 2018.
Later on, said the two sources, Garuda and Sriwijaya requested the same calculation model as Citilink for a new contract on December 14, 2018. The compensation's base tariff would still be US$6,500 per aircraft per month for 10 years. Sriwijaya gave 47 B737 aircraft and three aircraft of the same series that will be sent to Sriwijaya in 2019-2020. All aircraft will have Wi-Fi connection for 10 years. The contract has an accumulated value of US$30 million.
Next, Garuda allowed 103 of its aircraft to have Wi-Fi connection installed for 10 years with an accumulated compensation of US$92.9 million. Mahata will also manage digital content and entertainment equipment of Garuda's aircraft for a compensation of US80 million. All partnership contracts with Garuda will be extended for five years as it is with Citilink and Sriwijaya.
In total, the compensation for Garuda-Citilink-Sriwijaya is US$239.9 million. "But all of this will be paid by Mahata if the equipment is already installed and according to the number of units installed," said the sources. This information contradicts Garuda's claim that the obligation had emerged after the signing of the contract, whose addendum was signed on December 26, 2018.
The contract does not govern the payment deadline. Terms of payment will be discussed when Mahata and Garuda draft the third addendum in the work agreement, and will be adjusted according to the equipment installed in each aircraft.
This information differs from note No. 47 point e in the financial report on inflight connectivity and entertainment services as well as digital content management. According to Ahmad Amin, an accounting lecturer at the Gadjah Mada University and member of the Institute of Indonesia Chartered Accountants (IAI), Garuda mentions in the note that compensation will be paid after signing.
"If Garuda included incorrect information in its financial report, the contract would have a high degree of uncertainty," said Ahmad on Thursday, May 2. With such a high degree of uncertainty, receivables from the partnership should not have been included as revenue in the financial report.
KHAIRUL ANAM, PUTRI ADITYOWATI, RETNO SULISTIYOWATI, FRANCISCA CHRISTY ROSANA