Pioneering Inflight Connectivity
When the company launched its business two years ago, Mahata Aero Teknologi was touted as the first low-cost inflight Internet operator. Recently the company received financing from a Dubai investor.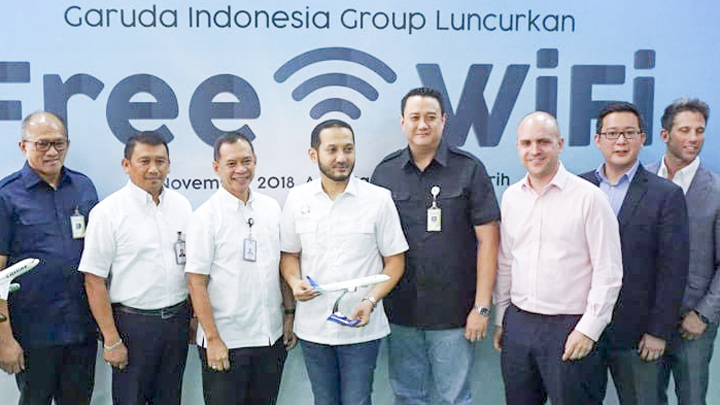 The debate over a contract for Internet installation on Garuda Indonesia Group aircraft has not discouraged the Mahata Aero Teknologi team. Muhamad Fitriansyah, the company's CEO, met with Citilink Indonesia management on the morning of Friday, May 3. Temi—as Fitriansyah is known—attended a meeting with Citilink Indonesia CEO Juliandra Nurtjahjo at Citilink's headquarters in Citicon Tower, West Jakarta. "The meeting was to prepare equipment installation onboard aircraft at the end of this May," Juliandra told us on Friday night.
Our source with the Mahata Group confirmed the meeting's agenda. The discussion surrounding inflight wireless Internet connection on Citilink aircraft continued as initially scheduled. According to Juliandra, Mahata plans to provide Wi-Fi services on eight Citilink aircraft throughout 2019. The company has exclusive rights to installing Internet services and to managing Garuda Grup's digital content, with a value of US$239.9 million. At Garuda's annual shareholders meeting on Wednesday, April 24, the contract was under intense discussion.
As mentioned in the company's deed of establishment, Mahata Aero Teknologi is a subsidiary of Mahata Group, also under Temi. Mahata Aero Teknologi was founded on November 8, 2017, as a company working in information technology, multimedia, software programing, advertising and promotional services. The company had an initial capital of only Rp10.5 billion, invested by four entities: Temi, Hendro Prasetyo, Edward Sidharta Jayasubrata, and Wicell Technologies.
Wicell invested the most at Rp3.5 billion. The telecommunications company placed one of its directors, Yugo Irwan Budiyanto, in Mahata's management. Wicell stopped financing Mahata in August 2018. Mahata's shareholders continued to evolve, and Hatarin Anugrah Utama entered as a majority shareholder on November 16, 2018. Hatarin injected Rp9.45 billion into the company.
There is insufficient information on Hatarin. What is certain is that the company shares an address with Mahata Torin Investama, which was established in August 2018. Mahata Torin gave Mahata Aero Rp525 million.
According to a source who is aware of Mahata Aero's shareholders, Mahata Torin was a company formed specially by Torin Investama to finance the Internet services operator. The company has long worked in investments in various sectors, from culinary, property, technology, to oil and gas. Torin Investama once financed a popular teahouse in South Jakarta, Tea Addict.
Global Synergy, an oil and gas company, also appeared in the lineup of Mahata Aero's shareholders. Global Synergy, with an address at the Plaza Abda Building, South Jakarta, injected Rp525 million to Mahata Aero. Muhammad Hadi Bil'id, boss of the oil and gas company Valco Group, also financed Mahata through Global Synergy, which is why the Valco founder and CEO is a Mahata commissioner.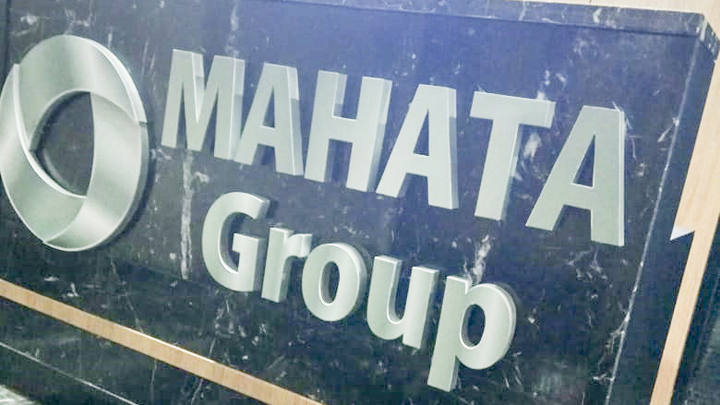 Mahata Group office in SCBD, Jakarta./ Tempo/Yohanes Paskalis Pae Dale
Bil'id was reluctant to speak at length about his involvement in financing Mahata Aero. When we requested confirmation, he asked us to contact Temi directly. "Apologies, we have agreed that Pak Temi would be representing the directors and commissioners," he said. But Temi has not responded to our numerous messages and phone calls.
Temi and Bil'id are both actively involved in the Association of Young Indonesian Businessmen (Hipmi). Temi is currently the chairman of Hipmi Bangka Belitung Honorary Council, while Bil'id joined Hipmi in 2017.
With an initial joint venture capital of Rp10.5 billion, Mahata can be said as a digital startup. One of Mahata's investors said Temi and his colleagues founded Mahata to function as digital content provider in the aviation sector. Mahata could not operate on its own and partnered with Inmarsat Aviation, Lufthansa Technik, and Lufthansa System to provide infrastructure for a high-speed wireless network called GX Aviation.
GX Aviation is claimed to offer high-speed Internet connection and to be the only one in the world, sent through a high-throughput satellite network. Mahata is of course not the one working to provide the connection. Inmarsat is the satellite facilitator working with CBN—a fiber optic network provider for broadband Internet that is already licensed by the ministry of communication and informatics. Lufthansa System prepares the network's software, while Lufthansa Technik will be arranging the hardware for Wi-Fi installation on the aircraft. "The operation is simple. Mahata will be monetizing through e-commerce," said our source in Mahata.
Mahata wants to emulate the partnership scheme between the American airline JetBlue and the e-commerce platform Amazon. JetBlue passengers receive points that can be used to shop on Amazon, and vice versa. In Indonesia, Mahata deliberately offered to partner with a low-fare airline with no inflight entertainment screens on passenger seats. This way, Internet connection using smartphones becomes crucial for video streaming, surfing social media and enjoying other forms of entertainment. Mahatan would also be able to manage revenues from advertisements and digital contents offered to passengers.
Starting January, Wi-Fi services prepared by the Mahata consortium could officially be enjoyed for free by Citilink customers on one aircraft with registration number PK GQR with a Jakarta-Denpasar route. In fact, the partnership agreement between Mahata and Citilink had been discussed since March 2018. Through the cooperation, which was made official in October 2018, Mahata aims for Wi-Fi installation on 50 of Citilink's Airbus 320 aircraft. The contract value with Citilink amounts to US$39 million.
At the end of 2018, Citilink's parent company Garuda Indonesia became interested in Mahata's product. Garuda Indonesia plans to have 103 domestic flights with Wi-Fi connection. In July 2019 the latest, one Garuda domestic flight will have Wi-Fi connection with a speed of 50 megabytes per second. The contract with the Garuda Group will be in effect for 15 years. When all equipment is installed on Garuda's aircraft, Mahata will receive advertisements from content offered through the Internet.
Mahata has looked for financing more diligently to realize the contract. In April, the company was officially given fresh capital in the tune of US$21 million by the Well Vintage Enterprise FZE Dubai. The capital will be used to finance GX Aviation's hardware in stages. "Financing will speed up installation for inflight connectivity on all Garuda Indonesia Group aircraft," said Mahata Aero Teknologi PCEO Muhamad Fitriansyah, as quoted on Dubaiforum.me, on April 8.
Mahata said the investment demonstrates the faith of investors in the growth of the aviation and digital advertising industries, with a market value projected to reach US$400 billion in 2022. Temi is certain that his efforts will help support the government's mission to develop infrastructure, particularly in the aviation sector.
Two Citilink aircraft are scheduled for Wi-Fi installation in May. The installation will be performed by the Garuda Maintenance Facility AeroAsia team. "The installation is in stages to fit flight schedules," said Citilink CEO Juliandra Nurtjahjo.
PUTRI ADITYOWATI, KHAIRUL ANAM