Parliamentary Newcomers
Some prominent legislative candidates failed to get elected. The coattail effect was not seen in the legislative election.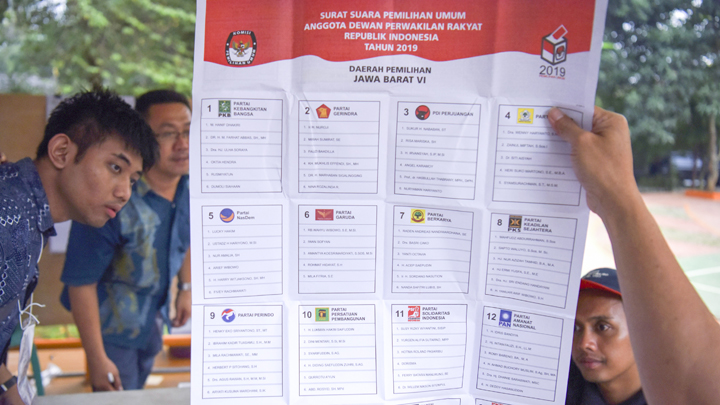 REQUESTS for stickers bearing the face and name of Johan Budi Sapto Pribowo continued to increase during the official campaign period of the 2019 General Election. Public minibus drivers in five regencies in East Java: Pacitan, Trenggalek, Ponorogo, Ngawi, and Magetan, asked stickers promoting that legislative candidate from the Indonesian Democratic Party of Struggle (PDI-P) be put on the front and rear windows of their vehicles.
At the start of the campaign, Johan's team had to get permission from those public bus drivers in order to attach those stickers. After the campaign period ended, Johan received information from this team that those drivers had refused those stickers be removed when officials of the general election supervisors and the public order police (Satpol PP) were taking down campaign materials displayed in public. "Those drivers said that their vehicles were not being stopped for traffic tickets if they had my stickers on them," said the presidential spokesman, on Friday, May 3.
Johan does not have any problem with those drivers. The former spokesman and deputy chairman of the Corruption Eradication Commission (KPK) feels that they helped raise his popularity as a legislative candidate listed on the top of the ballot in the East Java VII constituency. "Many know me as a KPK spokesman, but not many know that I am running for the legislature," said Johan, who said that he campaigned on the weekends.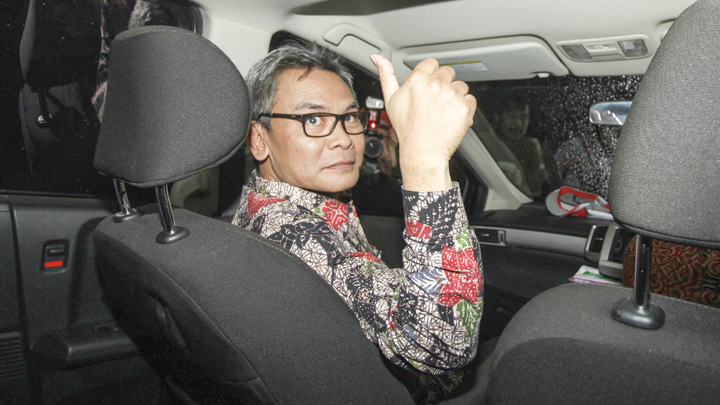 Johan Budi S.P. TEMPO/Eko Siswono Toyudho
While campaigning for the Joko Widodo-Ma'ruf Amin presidential ticket, Johan would always talk about the government's achievements. He was occasionally unable to answer questions posed by voters he met. In these cases, he would immediately contact the minister responsible for the issue being asked about. For instance, in Pacitan and Trenggalek, Johan contacted Minister of Maritime Affairs and Fisheries Susi Pudjiastuti, when fishermen asked him about the boundaries for catching lobster.
When some residents asked him about government village funds, Johan called Minister of Villages, Disadvantaged Regions, and Transmigration Eko Putro Sandjojo. Those two ministers responded immediately. "So my campaign put cabinet minister in touch with voters," said Johan. When asked for a clarification, Minister Susi verified Johan had asked her a question. Eko Putro Sandjojo could not yet be reached for comment.
Saying that he spent some hundreds million on his campaign and refrained from money politics, Johan received over 75,000 votes. He is nearly assured of winning a seat in the national legislature.
Regarding Johan being elected, the Chairman of PDI-P's Election Body, Bambang Dwi Hartono, said that he was not surprised by this result. According to Bambang, their party named Johan as a priority legislative candidate. "Ibu Megawati asked the party structure to help Johan," said Bambang.
In the same electoral district, another PDI-P legislative candidate, Budiman Sudjatmiko, fails to win a seat. Budiman has been elected twice in the Central Java VIII constituency, an area covering the Cilacap and Banyumas Regencies. Budiman, who was third on the ballot, said he initially had no intention of running in the election because he had already held office for two terms. He was reluctant to register when the party began drawing up a list of legislative candidates. "However, the party ordered me to help secure a victory for Jokowi in East Java VII," he said.
This former political activist who had been detained during the period of President Suharto focused on the Jokowi-Ma'ruf presidential campaign. He repeatedly appeared on television to talk about the firehose of falsehood strategy, namely the flood of fake news being directed against Jokowi. He also travelled to the Netherlands, England and Australia to attract Indonesian voters living abroad. He began campaigning in his election district just two weeks before the election.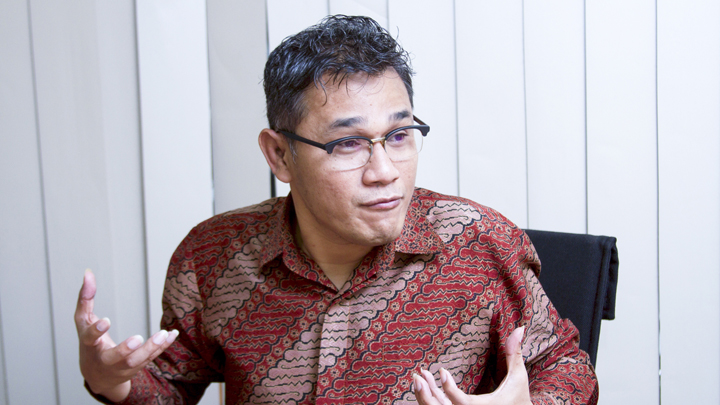 Budiman Sudjatmiko. TEMPO/Nita Dian
Other PDI-P politicians who fails to win seat in the legislature were Eva Kusuma Sundari and Maruarar Sirait. Despite receiving over 86,000 votes, Eva is not elected to in the East Java VI constituency, an area which includes the Tulungagung Regency and the City and regencies of Blitar and Kediri. Eva said it was difficult to campaign being the fifth candidate on her party's ballot. According to Eva, she was initially listed third. "It would have been easier to campaign as the third listed candidate because it matches the party's designated election number," she said.
Maruarar Sirait is still waiting for the final vote count. He has been in the parliament since 2004, from the West Java IX constituency, which covers the regencies of Subang, Sumedang, and Majalengka. In 2019, he moved to the West Java III electoral district, for the City of Bogor and Cianjur Regency, listed ninth on the ballot. Maruarar said he traveled to 32 subdistricts seeking support. "Whatever the result, we must be prepared to win or lose," he said.
It is predicted that Minister of Youth and Sport Affairs Imam Nahrawi does not receive enough votes in this election to be elected to parliament. In 2014, before being chosen by Jokowi to become a cabinet minister, Imam had been elected to the House of Representatives (DPR) from the National Awakening Party's (PKB) East Java I electoral district, covering Surabaya and Sidoarjo. For this election he was moved to the Jakarta I election district. If he is not elected, Imam will be in the same situation as other cabinet ministers in the 2019 legislative election.
Even though the final results are not in, there is not much of a chance for two other ministers from the PKB, Hanif Dhakiri and Eko Putro Sandjojo. It is also believed that Minister of Religious Affairs Lukman Hakim Saifuddin, who ran as a legislative candidate from the United Development Party (PPP), will not win a seat. In 2014, Hanif and Lukman ran in Central Java electoral districts. This time they ran in the West Java VI, covering Depok and the City of Bekasi—two pockets of voter support for the Justice and Prosperity Party (PKS).
Unlike Imam, Hanif, and Lukman, one DPR member who also ran in a new election district, Mardani Ali Sera, meet with success in the East Jakarta election district. In 2014, this PKS politician failed to be elected to office in the West Java VII, which entails the Regencies of Bekasi, Karawang, and Purwakarta. He was later appointed as a replacement interim member in February 2017. In this election, Mardani receives 144,000 votes.
Mardani claims that his popularity skyrocketed when he declared the #2019GantiPresiden (replace the president in 2019) movement in March 2018. That is when he was invited to numerous television interviews. In his opinion, his many television appearances resulted in his rise. "It was enough to smile a lot on TV. It surely resulted in recognition," he said with a laugh. Mardani also endeavored to raise his popularity through three large campaign billboards. One of them was in front of the Kampung Melayu Bus Station.
The PKS deputy secretary-general also asked the Islam Defenders Front (FPI) to help bring in votes, which has representatives in 32 locations in the 65 urban villages of East Jakarta. Mardani entrusted them with putting up signs, paying Rp100,000 for each one put up. He believes that this cooperation with the FPI greatly increased his votes. "My banners in the FPI areas were never taken down," he said.
Novel Chaidir Hasan alias Novel Bamukmin, secretary-general of Jakarta's FPI, verified the news that he had helped campaign for Mardani. In his opinion, his organization was committed to supporting legislative candidates from political parties which support presidential running mates Prabowo Subianto and Sandiaga Salahuddin Uno. Novel said that FPI personnel did not receive any payments to do this. "We help legislative candidates from other parties as well, such as Gerindra and the National Mandate Party (PAN)," he said.
The number of votes cast for Mardani goes up, and his party's vote tally rises as well. The Vote Count Information System, which is managed by the General Election Commission (KPU), on Friday, May 3, indicated that the PKS had received 7.35 percent of the votes from the ongoing vote count, at that point accounting for 28.6 percent of all polling stations. The quick count of the Charta Politika polling institution showed that the PKS received 8.57 percent of the vote, up from their previous result of 6.79 percent.
According to Mardani, their party was initially concerned about the coattail effect, or the benefits which accrue to the party which nominates a presidential ticket. Many survey institutions predicted that the PDI-P and Gerindra would receive many more votes because Jokowi, Prabowo, and Sandiaga were from those two parties. PAN Deputy General Chairman Bara Hasibuan said that the survey results before the election indicated that their party was in critical condition and would have difficulty reaching the parliamentary vote threshold of four percent.
Mardani Ali Sera. TEMPO/Muhammad Hidayat
When the two pairs of presidential running mates registered at the KPU in August 2018, parties other than the PDI-P and Gerindra tried to stem this coattail effect. The PAN and PKS, for instance, asked Sandiaga to leave the Gerindra Party. "So that all the votes would not shift to Gerindra," said Bara Hasibuan. Mardani verified that this request had been made.
Charta Politika's quick count indicated that the PDI-P had received 19.93 percent of the vote, a slight increase over the 18.95 percent of the vote which they received in 2014. It is being estimated that Gerindra will receive 12.75 percent of the total vote, slightly higher than their result five years ago, of 11.83 percent. In other words, there really is a coattail effect.
While the PKS increases their vote numbers, the PAN experiences a decrease. In 2014, the PAN received 7.59 percent of the vote in the legislative election, while the quick count of the KedaiKOPI institution showed that the party had received just 6.19 percent in this election. KedaiKOPI Commissioner Hendri Satrio said that the PKS was able to conduct a campaign which attracted public interest. For instance, they campaigned on a promise to make drivers licenses good for life and eliminating a motorcycle tax. "According to our calculations, 105 million people drive motorcycle in this country," said Mardani.
According to Hendri, the PKS also benefited from the Islamic style of the Prabowo-Sandiaga presidential campaign. He cited that after some ulama (religious leader), such as Abdul Somad, declared their support for the pair, the number of votes for the PKS went up. "In Riau, where Somad is from, it is believed that the PKS won," said Hendri. Rather than vote for Gerindra, conservative Muslims who voted for Prabowo-Sandiaga cast their votes for the PKS.
Mardani said that his party also attempted to appear to be close to Sandiaga, who it was felt could bring in votes. As an example, he asked Sandi to campaign with him at six places in Cakung and Duren Sawit, East Jakarta. "If I campaigned on my own, a hundred people would show up. If Sandi was there, a thousand came," said Mardani.
PRAMONO, HUSSEIN ABRI DONGORAN, RAYMUNDUS RIKANG