Facebook Posting Backlash
Activist Jolovan Wham is clashing again with Singaporean law enforcers. He has been an avid defender of migrant workers' rights.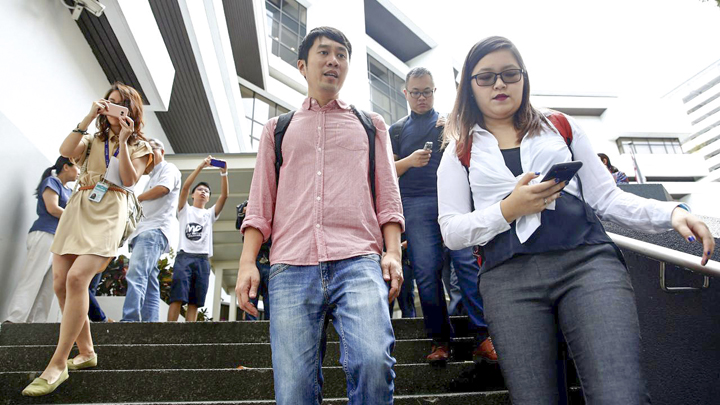 The upload of merely two sentences, with a link to a news report, can still be seen on the Facebook account of Singaporean activist Jolovan Wham. Since he uploaded the comment on April 27, 2018, Wham, 39, has refused to delete the post that has angered law enforcers in the city state.
Wham wrote that the Singaporean court is not as independent as its Malaysian counterpart in handling cases with political implications. He linked his comment to an article from the news site Malaysiakini. It featured a judicial review case against the Anti Hoax Law, saying that the law violated civil rights and freedom of expression, which are guaranteed in the Malaysian Constitution.
Because of this Facebook comment, Wham had to face law enforcers. The Attorney General accused him of insulting the Singaporean court. The prosecutor has slapped him with the law protecting the court's administration. Wham was taken to court and received a guilty verdict on October 9 last year.
Last month, the prosecutor demanded that the court orders Wham to apologize and delete his Facebook posting. However, Wham has refused to do so. Consequently, high court judge Woo Bih Li ordered Wham to pay a fine of S$5,000 on Monday, April 29. The judge deemed that Wham has not shown any remorse regarding his posting, and refused to apologize for it.
Refusing to accept the court's verdict, Wham is taking it higher up. "Appealing against this conviction is important to claim back our dignity and our rights. A society that lives in fear of being critical is one which will not develop and mature," Wham told Tempo in an email on May 8. He believes his verdict should be annulled, and that the government must guarantee freedom of speech for everyone.
W251bGwsIjIwMjEtMDMtMDUgMDg6NTM6MzEiXQ
Wham is not the only one facing a legal punishment. Opposition politician John Tan Liang Joo has also been taken to court for his Facebook comments on May 6, 2018. This Singapore Democratic Party politician wrote that the Attorney General's accusations towards Wham only confirmed the accuracy of the latter's comments. Because of his posting, Tan was also slapped with a S$5,000 fine.
The verdicts for Wham and Tan were actually lower than the prosecutor's demand. Prosecutor had asked for Wham to be fined between S$10,000 and S$15,000 and be jailed for two to three weeks. For Tan, a 15-day jail sentence was demanded. "It may even be said that it is for any person who has political aspirations to ensure that he does not run afoul of the law," Judge Woo said, as quoted by The Straits Times.
Wham steadfastly refuses to delete his Facebook post. "The AG's decision to prosecute me is politically motivated," he said. The pressure for Wham to apologize, he continued, is merely meant to embarrass and intimidate other critics. Apologizing and deleting his personal views on social media, Wham said, would only inflate law enforcers' arrogance. "It is important to resist such bullying."
He explained that he posted his opinion after reading about several cases in Malaysia, when courts in that neighboring country gave verdicts that ran counter to the government's demands or politicians from ruling parties on sensitive political issues. "Such rulings are rare in Singapore," he said. Thus, when Malaysiakini rebuked the anti-hoax law, which had been ratified before Prime Minister Najib Razak lost his position to current Prime Minister Mahathir Mohamad, Wham was curious of the outcome.
Wham is a human rights activist that has been a vocal campaigner of sensitive issues, including banning the death penalty, rights of migrant workers, homosexuals and transgenders. Wham himself is openly gay. He, together with members of other civil organizations, are avidly pushing for freedom of expression and gathering.
After graduating from the National University of Singapore, Wham co-founded the Humanitarian Organisation for Migration Economics (HOME), a group which defends the rights of migrant workers. In the decade since HOME's inception in 2004, he and his friends has assisted thousands of migrants from various countries with a myriad of problems. These problems vary from relationships with employers, agents and the labor ministry, up to domestic workers facing sexual abuse and exploitation.
Wham, for example, stood by a fisherman from Mozambique who had difficulties renewing his passport. Wham struggled for three days with the fisherman to help the latter get home. As Mozambique has no embassy in Singapore, Wham decided to fly to the nearest embassy, which was in Jakarta, to renew the passport.
Stephanie Chok, former member and colleague of Wham's at HOME, recalled how he, after days of dealing with the authorities, fell asleep at her home near Singapore's Changi Airport before taking the earliest flight to Jakarta the following day.
After successfully renewing the fisherman's passport, Wham flew back on the same day. He came just in time for the Mozambiquean to catch his red-eye flight to Johannesburg, a three-hour bus ride to Mozambique.
Bridget Tan, a HOME co-founder, said that Wham had been shaken by a bad encounter in his first year working for the organization. Wham was beaten up by a repatriation company employee when he was assisting a Bangladeshi migrant worker in 2005. The migrant worker was forcibly sent home by the construction company he worked for after he had asked for his wages. "He was really traumatised by that experience," Tan recalled.
Tan had thought that Wham would abandon his efforts after that, but instead he continued to fight for the fate of migrant workers. "I felt like I was placed directly in the position of a migrant worker. If I can feel scared that something like that has happened to me, what more a migrant worker who has to suffer not just the intimidation and assault, but also has to go back to his home country and face his family with a huge debt?" he said at the time.
Wham's concern for the fate of migrant workers stemmed from his childhood. He grew up in a family which was well off and was able to employ a domestic worker. He was only 13 when his mother decided to allow the woman one free day a week. However, that decision was countered by his mother's friends. They reprimanded her, saying that it would set a bad example and a precedent for the other domestic workers to demand similar rights.
This harshness shown by his mother's friends left a deep impact on young Wham. "She lived and worked with us 24/7. I didn't want to go to school every day, right? Why would I expect our live-in domestic worker to want to work for us every day? I don't want to see my teachers every day, but my domestic worker is doing exactly that, she's facing her bosses every day. It was just empathy," Wham said.
Wham's interaction with domestic workers at his home sparked his interest to delve deeper into the lives of migrants, and led him to choose social works studies at university. Before co-founding HOME and becoming its director, Wham worked at a Catholic church which offered social assistance for migrant workers. "Jolovan treats every case seriously," Stephanie Chok said.
Anis Hidayah of Migrant Care has been familiar for years with Wham's efforts in defending the rights of migrant workers. "One of the things he worked on was providing housing for migrant workers, including those from Indonesia," Anis toldTempo on May 9.
With his years of experience, Wham, who is currently a social worker at the Community Action Network, was not surprised when he was countered by law enforcers. He has withstood seven accusations, including vandalism, for organizing a public discussion without a police permit in 2016. The speaker at that time was Hong Kong pro-democracy activist Joshua Wong. In Singapore, such activities are deemed a violation of public order law because Wong, who was speaking through Skype, is a foreigner.
Wham has been undeterred in facing his legal trials. In some cases, he would opt for jail time instead of paying a fine. "The fine is excessive and is an assault to our constitutional right to free speech," Wham said regarding his current case.
MAHARDIKA SATRIA HADI (THE ONLINE CITIZEN,
ASIA ONE, SCMP)