Turning Oil Palm Waste Into Cellphone Screens
Athanasia Amanda Septevani is using empty oil palm tree fruit clusters as material to make screens for electronic devices. It is environmentally friendly and will likely be far less expensive.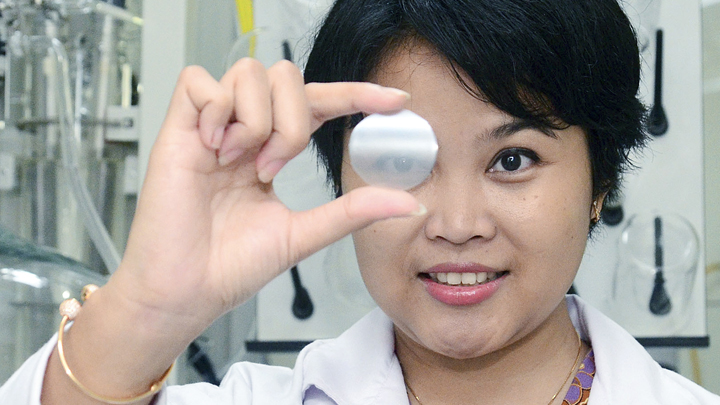 Athanasia Amanda Septevani
Athanasia Amanda Septevani, 34, was dismayed to see that many cellphones belonging to her friends were not being used once their screens had been damaged. They were not being used because her friends were reluctant to have the screens replaced, as the cost was nearly as much as a new smartphone. The researcher from the Indonesian Institute of Sciences (LIPI) wanted to make a breakthrough: how to create inexpensive and durable screens for electronic devices.
She realized that it would not be easy to turn this desire into a reality, as she would have to discover flexible and inexpensive material. Most of the screens on the market are made of glass, which cracked easily. There are also electronic device screens made from polymers. Although this material is more flexible, it is synthetic material which is not renewable. "I want material which is environmentally friendly," she said.
Amanda then considered using nanocellulose. This material is the result of isolating cellulose which is chemically processed. If further processed, nanocellulose can become a thin transparent sheet known as nanopaper. It can be used in screens in electronic devices, whether for a liquid crystal display (LCD) or a light emitting diode (LED).
These screens are not only usable in cellphones, but in televisions and laptops as well. "I believe that this has the potential to be developed, because Indonesians are strong cellphone buyers," said Amanda. Research from Neurosensum last year indicated that the average amount Indonesians spend on smartphones is 21 percent, up 1.2 fold compared to last year.
From the outset, Amanda wanted to use environmentally friendly material. She only considered organic waste or biomass for her nanocellulose. This material can be processed from weeds, leftover liquid from processing tofu, corn husks, or empty oil palm tree fruit clusters. Amanda finally chose the latter, because Indonesia is one of the largest producers of that palm of the genus Elaeis. She found many empty fruit clusters lying around, thrown out after its fruit had been collected.
According to Amanda, there are many positive effects of utilizing waste for renewable energy. One of the benefits is economic. If it is processed into screens for electronic devices, she guarantees that the price will cheap. "I have not yet made detailed calculations. However, if we look at the cost of manufacturing nanopaper in the laboratory, it will not be expensive," she said. For instance, to make 5-6 inch long sheet of nanopaper, Amanda only needs 0.5 percent nanocellulose.
This invention resulted in Amanda being given the L'Oréal-UNESCO award for Women in Science in November 2018. This award from the L'Oréal cosmetic company is given to female researchers with innovative ideas and products. In 2018, Amanda patented her nanocellulose discovery. She registered the patent for nanopaper last month.
Agus Harnowo, Indonesian Institute of Sciences (LIPI) Deputy for Engineering Science, claims that Amanda's finding is very new in her field. To date, said Agus, no producer has been able to utilize biomass in electronic device screens. The prestigious scientific journal Small published Amanda's research in 2018. "Being published in Small is proof that Amanda's research is cutting edge," he said.
Agus also believes that Amanda's ideas will be received well by the market if they are used in making commercial products. "This is in line with the public's awareness in looking for materials which are environmentally friendly," he said.
For Amanda, that award for her scientific endeavors came as a surprise. Since her childhood, this woman born in Semarang, Central Java, never imagined she would become a researcher, not to mention discover a product which could be useful for many people. When she was a child she liked singing. In elementary school she won a singing contest in the City of Semarang. 
She had a dream similar to many other children, namely growing up to be a doctor. There was also an idea to become a television star. However, Amanda joked that this dream fell apart due to her looks. "How could I become an artist? You have to be good looking," she said, laughing. Her hopes to become a doctor were also abandoned. This was because her parents, both high school graduates, did not have enough savings to put her through medical school.
In 2002, Amanda applied and was accepted as a student for chemical engineering at Diponegoro University, Semarang. She chose this major because during high school she loved studying chemistry. According to Amanda, chemistry is very interesting. This kept her focus on her studies. Before graduation ceremony, she had already been accepted by a medical equipment company based in Singapore.
Amanda became a production supervisor at the company's branch office in Batam, Riau. However, after a while she became unhappy working there. She felt that the work was monotonous and not challenging. The large salary was not enough to dispel her distress. "I felt that every day if I was only yelling at operators and making sure production target were reached, that I could lose my chemical engineering knowledge," said this woman who is an avid cinema-goer.
In 2010, Amanda decided to quit her job and return to her hometown. She then decided to become a researcher. Soon afterwards she was accepted at LIPI, joining their polymer chemicals section. Two years later, she received a scholarship from the Australia Awards to earn a master of philosophy degree at The University of Queensland. Her studies continued with a doctoral program after she passed through a tough selection process and had the approval of the Australia Awards, LIPI, and The University of Queensland.
For her dissertation, Amanda researched the benefits of nanocellulose in reducing heat in buildings. However, after completing her doctoral study in mid-2017, she felt that her research could only be applied in extreme climates. This is what drove her to find other beneficial uses of nanocellulose. She eventually considered using it in environmentally friendly smartphone screens.
This was not the first time that Amanda was involved in environmentally-related chemical research. She had been involved in a project to restore the quality of the water in the Citarum River, West Java, which had been contaminated. In that project, Amanda used nanocellulose to absorb heavy metals and textile dyes dumped by factories located around the Citarum River. She also did research on how to utilize wastewater from tofu production to create a wound dressing. Today she is working with a private company to make use of biomass waste in some villages.
Amanda said that utilizing waste in her research and projects is a part of her desire to reduce carbon emissions. "I don't want to add to the Earth's burden, because my principle is to use chemistry to improve the environment," she said.