Indri Badria Adilina: The Magic Spell of Catalysts
Indri Badria Adilina finds raw materials for industrial products processed from local natural resources. Her discovery may be an answer to reducing reliance on imported catalysts.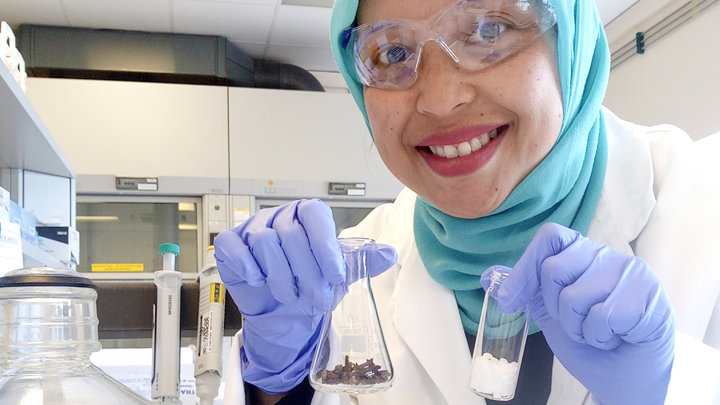 Being an Indonesian Institute of Sciences (LIPI) researcher at a young age of 23 made Indri Badria Adilina quite popular when she entered in 2005. Moreover, according to the LIPI's Chemical Research Center acting chief Raden Arthur Lelono, Indri joined a rare field: catalyst.
Indri, a graduate from Bandung's Padjadjaran University (Unpad) in West Java, was fascinated by catalysts since she enrolled Unpad's Department of Chemistry at the Faculty of Mathematics and Natural Sciences from 2002 to 2005. She finished undergraduate study in just three years, and then she was accepted at LIPI. Now 37, Indri has since delved in catalyst after becoming a researcher. "Catalysts are like magic spells," she said.
Catalysts are substances that accelerate a chemical reaction that produces other substances that are more useful. At LIPI, Indri focuses on the research of vanillin catalysts—a synthetic substance that enhances the taste and aroma of vanilla. She does not use leaves, but clove extract, which has been known only as a base for mixing tobacco in cigarettes and rubbing oil.
Indri took interest in researching cloves because in early 2000 many researchers were busy with biomass and essential oils. Indri began to recognize the characteristics of cloves and their properties by researching them in more detail. Then, she discovered that one of the contents of clove oil content has the potential to be converted into high vanillin from eugenol, 70-95 percent. Eugenol is the main raw material for producing isoeugenol which can be converted to vanillin.
Indri said that, in a nutshell, a catalyst is a substance that speeds up the rate of chemical reactions. "All researches that aim at converting a compound into another chemical requires a catalyst," he said.
W251bGwsIjIwMjEtMDMtMDUgMDg6NTI6NTYiXQ
Her knowledge on catalyst expanded after she became acquainted with a professor from Japan. Apparently, in Japan, solids are more commonly used as catalysts, as opposed to liquids in Indonesia. The disadvantage of a liquid catalyst is that it can only be used once for the catalysis process. While solid catalysts can be used repeatedly, so they are more economical and environmentally friendly.
Her meeting with the Japanese professor also encouraged her to go to post graduate school in Japan. "My dream is rather unrealistic: bringing technology that exists there into our country," she said.
She was accepted at Chiba University, majoring in catalyst studies at the Department of Applied Chemistry and Biotechnology under the supervision of Professor Shogo Shimazu.
During her studies in Japan, Indri learned to concoct solid catalysts using synthetic clay as the "supporting body". In her 2010 thesis, she mobilized cobalt porphyrins in clay minerals and their catalysis. She then conducted aerobic oxidation so that the isoeugenol in the clove oil can be converted to vanillin using molecular oxygen.
Returning to Indonesia, she continued her research on solid catalysts. The material used was clay such as bentonite and zeolite, which have the same characteristics and are abundantly available in Indonesia. She applied the solid catalyst to produce vanillin in clove oil.
Vanillin is widely used by domestic industries. They bought it from abroad, most commonly France. Synthetic vanillin is processed using one of the petroleum content. "We have abundant clove resources, and this is a good natural ingredient for getting vanillin," Indri said.
Indri tried numerous catalysts formulas using materials that are easily found in Indonesia. In 2018, her researches resulted in a patent for the development of clay-based cobalt (Co), ferum (Fe/iron), and manganese (Mn) catalysts to convert clove oil into vanillin.
With this research, Indri hopes that the industries that use vanillin, especially the food sector, will be able to stop importing the fragrant ingredient. Thus, clove farmers can have a new domestic market. According to Indri, many industries consistently need cloves to be extracted into vanillin.
The experience of researching catalysts in Japan opened Indri's eyes to using abundant domestic natural products. "We have plenty of resources, but the technology is not developed. So, these resources are not properly processed," she said. In Japan, the opposite is true: they have technology but lack natural resources.
---
The experience of researching catalysts in Japan opened Indri's eyes to using abundant domestic natural products. "We have plenty of resources, but the technology is not developed. So, these resources are not properly processed," she said. In Japan, the opposite is true: they have technology but lack natural resources.
---
According to Arthur Lelono, Indri's research is a breakthrough in the world of catalysts. Thanks to the research, Indri often represents LIPI and Indonesia in various collaborative research, seminars and catalyst conferences at the international level. Among researchers, the name Indri Badria Adilina is synonymous with catalysts.
In addition to turning the eugenol in clove oil into vanilin, Indri can also produce menthol from lemongrass fragrant. She created a zeolite-based nickel (Ni) catalyst to convert citronella oil extract to isopulegol. This compound is the basis for conversion to menthol, which is commonly used in the food and drug industry.
Aside for the research and production for the food industry, Indri's focus is to process biomass waste into biofuel. Since 2017, thanks to the Newton Fund scholarship, she took along her husband, who is also a physics researcher, and their two-year old son to live in England; to study the conversion of palm oil waste into biofuels. Her mother, who was concerned of her pregnant daughter, also came along.
During the research, Indri turned glycerol—the byproduct of biodiesel—into polymer, which can be used as house roofs and smartphone cases. Glycerol is commonly used for making soap. To it, Indri added carbon dioxide to produce glycerol carbonate which she then turned into ready-made polymer. In addition to producing raw materials, this study at the same time refines other researches on polymer use for absorbing carbon dioxide in the air.
In total, Indri is the holder of seven patents for solid catalysts, including one for the Process of Improving the Quality of Bio-Oil and its Derivative Compounds Using Nickel-Molybdenum Catalysts that are Supported by Polarized Bentonite Clays and Bentonite-Buffered Solid Metal-Porphyrin Catalyst Making Processes.
To make catalysts more popular, Indri plans to revive the Indonesian Catalyst Community. "There are two catalysts that can be sold in Indonesia, the methods and the products that resulted from catalysis," she said. With the results of the ready-to-use research, Indri hopes that industries would no longer need to import expensive catalysts.