Ratih Damayanti: Inspired by Wood Anatomy
Smitten with the anatomy of plants since her college days, Ratih Damayanti invented an automatic wood identification tool. One app to identify hundreds of varieties.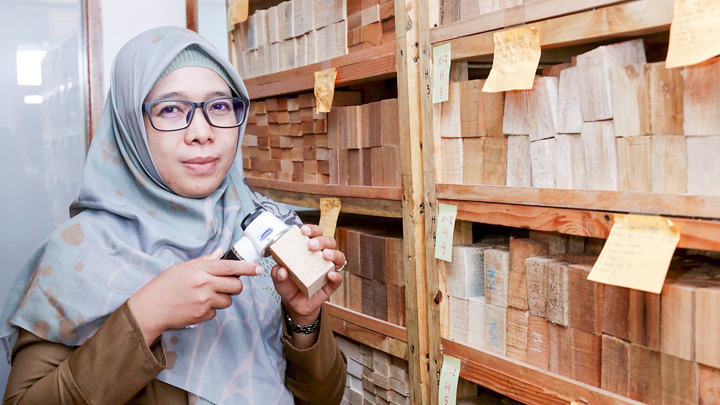 Ratih Damayanti still keeps four exam sheets, bearing a stamp from the Bogor Institute of Agriculture (IPB) and number 97. Those papers from 19 years ago are a memento of when she got the highest score for the wood anatomy course exam. She answered all essay questions given by I Ketut Nuridja Pandit, now a professor of wood anatomy at the same university.
The sheets of paper are full of handwritings and drawings. "It was as if I was inside a wood—not having an exam," she recalled when we met her at the office at the Lignoselulosa Anatomy Laboratory in Bogor, West Java, May 7.
Since then, Ratih spent her days tirelessly learning about woods. She likened it to meeting with new "creatures," especially since Ketut Pandit taught her that woods have a strong relation with the human life. Her love of wood driven her to create the automatic wood identification tool (Alat Identifikasi Kayu Otomatis/AIKO).
Her research came to a brief halt when she had to take her doctorate at the University of Melbourne. Her work on AIKO resumed in 2016 after she returned to Bogor and she obtained support from the Dwi Sudharto, head of forest products' research and development at the Environment and Forestry Ministry's Research and Development Agency.
The research to develop AIKO began in 2017, in collaboration with the forestry ministry and the Indonesian Institute of Sciences (LIPI). Ratih collected data, compiled them, and store them in the database. LIPI's job was to design the app, and the ninistry of research, technology and high education took care of the funding.
W251bGwsIjIwMjEtMDMtMDUgMDc6MzQ6NTYiXQ
Dwi said that the development of AIKO proved that innovations by the ministry's R&D division could have immediate benefits to the community. "The existence of AIKO is highly anticipated by many parties despite it being not completed comprehensively," Dwi said.
Ratih collects image data from the authentic wood collections of the Xylarium Bogoriense wood library in Bogor, with the help of a 60.0 magnifying lens installed on a smartphone. By AIKO, the images are processed to reveal the profiles of each wood variety, including its trade names, specific gravity, potential uses, and origin of wood. The identification process is claimed to only require seconds. However, not all of the wood identification process uses AIKO. That is why there is still an identification process that takes two weeks.
Today, AIKO stores information about 217 types of wood images and will increase to 823 types. President Joko Widodo launched the app on September 28, 2018. According to Dwi, the tool could reduce errors in identifying woods. It also help practitioners in the field work. Accurate identification is crucial in determining which wood species to be used by industries as well as legal bioforensic uses when wood is the evidence. "Identification errors cause financial losses," Dwi said. "Erroneous identification of wood species is intolerable."
From the researches, Ratih bagged two patents; one for the method of identifying wood species using pattern extraction based on texture orientation and pixel intensity combinations, and another for the copyright of "WoodID," the wood identification app that later changed name to AIKO.
The idea of creating this system had been fostered since Ratih became an employee of the environment and forestry ministry in 2006. At first, she was assigned to the Palembang Office at the plant silviculture department. She did not quite like it there, so she moved back to Bogor to be reacquainted with wood anatomy. Her first goal was to work at the Xylarium Bogoriense wooden library. The Xylarium room is located next to Lignocellulose Anatomy Laboratory.
There were not many wood researchers in the country when Ratih returned to Bogor. Xylarium Bogoriense, which was founded in 1915, was used only by a handful of researchers. The stock of specimens used for comparison in the library was limited. The identification results were still in the form of handwriting. And some of the databases were recorded in Dutch.
Before identifying, each officer must see a cross-sectional image of the wood under a magnifying glass, or fiber sample placed under a microscope. The results are then compared to the authentic wood found in Xylarium. Only experienced researchers can determine the type of wood from the identification process. "The results must be accurate and accountable before the law," Ratih said.
The fact is that many institutions need the results of wood identification from the Anatomical Lignocellulose Laboratory for industrial to bioforensic uses. With the limited number of researchers, Ratih tried to make wood fiber imagery with her paper scanner. Hundreds of trapezoidal pieces of wood are scanned one by one. "I ended up breaking the scanner, it can't be used anymore," said Ratih, adding that she also had to pay dearly to be able to access special programs that provide databases.
Ratih then switched to photographing wood fiber cross sections with a magnifying lens mounted on the camera of her Nokia N70 phone. Many colleagues sneered at the breakthrough she made. The project that she worked on in 2010-2012 had cost up to Rp80 million, with zero results.
Despite the challenges, Ratih continued to promote the making of this automatic wood identification tool, in hopes that someday her efforts will reap results. She believes that digital image-based technology helps speed up and simplify wood identification process—no need to wait up to two weeks. "A wood's face is clear. It is only up to the system to recognize which wood species is the most similar," she said. A bright light of hope emerged after she collaborated with LIPI.
Her years of research on AIKO led Ratih to finally gain the trust to become the head of Lignocellulose Anatomy Laboratory. Before that, she was one of the initiators of trade timber grouping in Indonesia, based on license information units. Her review is the basic material for revising the basis of the minister's decree on categorizing wood types as the basis for imposing forestry fees. Ratih is also active in various organizations, such as the International Association of Wood Anatomists and the Indonesian Wood Research Society.
In December 2018, Ratih and a team from the forest products' research and development center of the environment and forestry ministry's research and development agency flew to Katowice, Poland, to introduce their innovations at the 24th Climate Change Conference (COP 24).
Two months later, in mid February 2019, Ratih went to Kyoto, Japan to hold a dissemination about AIKO and the achievement of the Xylarium Bogoriense library. Ratih's efforts to develop wood anatomy research also made the ministry's anatomy laboratory of the forest products research and development Center obtain the status as a superior science and technology center from the research, technology and higher education ministry.
In late last year, the laboratory and library of Xylarium Bogoriense were then suddenly flooded with wood after researches on AIKO were introduced to the public. Ratih received thousands of specimens from East Java, delivered on trucks. "The room became a sea of wood before we sorted them out and started identifying," she recalled.
It was in the room, which is roughly the size of a basketball court, that Ratih and her team sorted, identified and then stored wooden blocks in cupboards and shelves. The blocks are stored in groups based on categories, including types and origins of the trees. Today, Xylarium Bogoriense is the number one xylarium, a collection of well-curated authenticated wood specimens, in the world with more than 195,000 specimens.
With that many assets, Ratih becomes a busier woman. The 39-year-old phone rang numerous times during her interview with Tempo. She had a meeting with her team to schedule a beta development plan for AIKO, which will be launched in August. She is also given the trust to lead the renovation of the xylarium into a large library.
Ratih never stops researching wood. She will continue, as there is one question left unanswered. "There is still a mystery: where is the tree's brain located?" Ratih wondered.