Fish Waste Polluting Lake Toba
Lake Toba is being polluted by organic pollutants mixed with feed pellets used in floating fish net cages. A large company which has been operating for two decades is being implicated.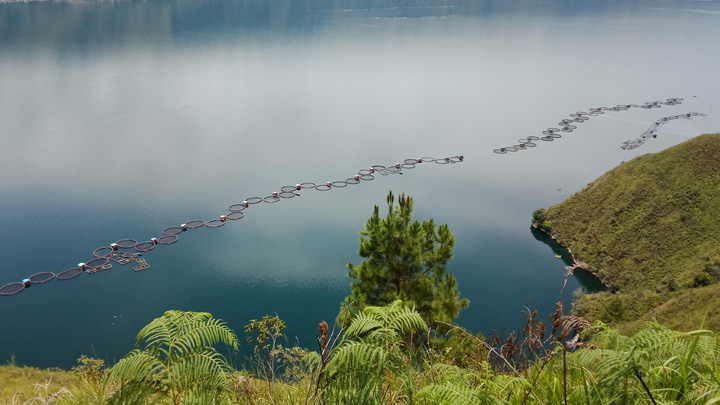 BOARDING a wooden motorboat, Larry Holmes Hutapea went to see an area around the floating fish net cages of Aquafarm Nusantara in Sirungkungon village, Toba Samosir Regency, North Sumatra. Together with three other villagers, this diving coordinator at Aquafarm from 2008-2016 was visiting a location reported to be the site where fish carcasses were dumped on January 20.
Upon arriving at the eastern part of Lake Toba, Holmes, using full scuba gear and bringing along a waterproofed GoPro camera, dove 35 meters to the lakebed. There he saw hundreds of white sacks. Holmes took two of them and brought them to the surface. When he surfaced at the edge of the lake, the sacks immediately emitted a foul odor. The surrounding water became murky. The rotting fish in the sacks had white eyes.
At the base of the lake, as could be seen in footage from Holmes' camera, white sacks containing fish carcasses were strewn about the lakebed. Some of the sacks were covered in algae. Greenish lake water limited how far Holmes could see. "Maximum visibility was four meters," he said. He added that visibility in the clear parts of the lake is 6-10 meters at a depth of 30-50 meters.
Holmes, 39, decided to check the news about fish carcasses at the base of Lake Toba after hearing from villagers that Aquafarm had dumped fish carcasses in the waters of Sirungkungon. "This is proof that Aquafarm can no longer be tolerated at Lake Toba," said Holmes, who left Aquafarm when he felt the company was polluting that largest lake in Indonesia.
This is not the first time that Aquafarm has been accused of polluting Lake Toba with fish waste. In 2018, Arimo Manurung, a resident of Sirungkungon village, circled around a location not far from where Holmes went diving. He found Aquafarm employees dumping fish carcasses in the lake. Sacks of dead fish were being transported there on a motorboat every day at 12pm.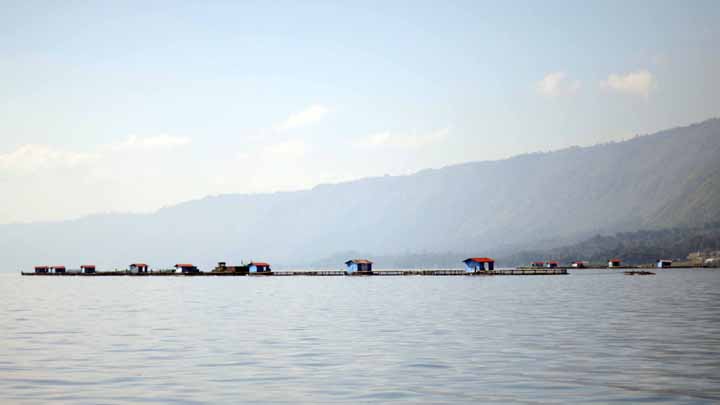 Pontoon houses of Aquafarm Nusantara in Lake Toba. Tribun Medan/Arjun Bakkara
Aquafarm's management have denied the accusation. They claimed that the location where the fish carcasses were found, which is one kilometer from the floating fish pens and 500 meters from their warehouse, is not within the company's working area. "There is no evidence that Aquafarm is responsible for those sacks of (dead) fish," read a statement released by management last February 11.
For residents of Sirungkungon, the stench of dead fish is not the only problem. The lake's water has become murky and is unfit for drinking even after boiling. The skin of children who bathe there becomes irritated. Villagers are now piping in water from the mountain for use in bathing, cleaning, and cooking.
Aquafarm Nusantara, the largest company farming mango fish at Lake Toba, has been in operation since 1998. This company originally from Switzerland produces tens of thousands of tons of fish annually. The fish is processed into fillets, packaged under the Regal Springs Tilapia brand for export through Port Belawan in Medan, and shipped out to markets in Europe and the United States.
This office headquartered in Klaten, Central Java, raises mango fish in hundreds of floating fish net cages located around Panahatan village in the Simalungun Regency; Pangambatan, Lontung, and Silimalombu villages in the Samosir Regency; and Sirungkungon village in the Toba Samosir Regency. In February 2018, Aquafarm moved their fish cages in Panahatan to a farming area in Samosir.
Square and circular fish cages are floating in 100-meter rows on the coast at each village. "There are 300 fish cages in all," said Aquafarm Nusantara President Commissioner Sammy Hamzah, early last March. With a diameter of 18 meters, the cages produce 75 tons of mango fish, which are harvested every seven to eight months.
In November 2018, Tempo observed the daily work of employees as they threw feed pellets into each cage. Starting at 8am, they arrive at pontoon houses, each of which is connected to two floating fish cages, carrying sacks of pellets. They throw in the pellets four times a day, up until the afternoon.
In Silimalombu, workers could be seen carrying 50 sacks—each sack containing 40 kilograms of pellets—one morning in November 2018. They took those sacks from a feed transport ship which routinely passes by 40 pontoon houses. "Every day we put two tons of feed into each (cage) opening. It must all be used up," said Kotek Silalahi, a fish feeder who has been working there since 2016.
Their daily routine is not limited to feeding the fish at 80 units, each of which contains more than 90,000 fish. According to Kotek, every day they must also take out the fully grown fish from each of the fish pens. Working from morning to night, a sorting team picks out the fish which are about 30 centimeters and weigh 1 kilogram each.
According to Larry Holmes, Aquafarm dumps 240 tons of feed into the fish pens each day. He explained that the pellets swell up in the water. "The pellets not eaten by the fish fall to the bottom of the lake," he said. The pellets which sink to the bottom mix with fish feces.
The leftover pellets, feces, and fish carcasses are said to be polluting the lake. Limarta Situmorang, a resident of Lontung who lives 100 meters from Aquafarm's warehouse, said that there are always many dead fish floating in the fish pens every day. Aquafarm employees give the dead fish which have not begun to rot to villagers, which are to be dried or used as livestock feed. The rest is dumped or buried alongside the lake.
In November 2018, Tempo visited locations where fish carcasses are disposed of in Sirungkungon and Lontung. In Sirungkungon, sacks of fish are buried in a 2 x 5 meter hole. It is not far from the cottages of Aquafarm employees, just over a dozen meters from the edge of the lake. Fish waste in Lontung is disposed of in a 6 x 10 meter hole behind Aquafarm's warehouse. These holes are never covered because dead fish are added daily, pressing down on the pile.
A team of researchers from the Limnology Research Center of the Indonesian Institute of Sciences (LIPI) found that fish farming using floating cages has triggered changes to the trophic status of Lake Toba. In the area around the fish pens, the trophic status of the water has declined from oligotrophic, which is clear, to eutrophic or hypertrophic, which contains high levels of nutrients and algae from the fish feed and feces. "The greatest contamination burden is from the fish cages," said team member Arianto Budi Santoso last February.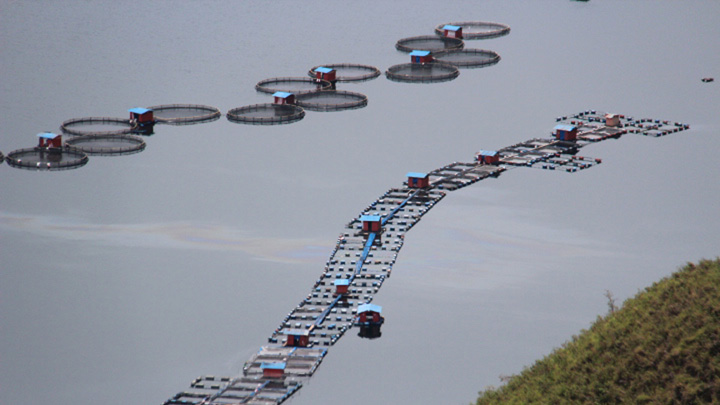 Aquafarm Nusantara's floating fish cages in Lake Toba, Sirungkungon village. Tribun Medan/Arjun Bakkara
LIPI mapped out all of the floating fish cages at Lake Toba with satellite images in 2016, from which they counted 11,416 units in all. "A total of 95 percent of the fish cages belonged to the general public," said Hadiid Agita Rustini, a research team member. Many of the fish pens belonging to local residents are located along the edge of the lake, but most of them were in Haranggaol Bay, Simalungun. There are 6,000 units in Haranggaol, far exceeding the ideal number. According to Arianto, "Nearly 90 percent of the fish cages there must be taken out."
LIPI made a simulated measurement of the organic contamination in the water around the fish pens. The researchers calculated that 1,925 public pens and 730 company pens would be ideal to restore the lake's trophic level. This is in line with Presidential Regulation No. 81/2014 regarding the Zoning Plan for Lake Toba and the Surrounding Area to turn Lake Toba into a world-class tourism destination.
According to Hadiid, the surface coverage of the floating fish net pens is less than 3 percent of the 1,130 square kilometer area of Lake Toba. "However, if (the pens) are located in areas where the water is still, there will be a large eutrophication effect. On top of that, the fish pens are generally located in tourism areas," he said.
LIPI's findings strengthened those of the environmental office of North Sumatra, which stated that the phosphorous level around the fish pens has risen by nearly double of the past four years to 2,124 tons in 2016. This is equivalent to the amount of human waste produced by 2.3 million people. Water quality at 22 test locations has declined over 16 years up to 2012, with increasing concentrations of algae.
Therefore, when the residents of Sirungkungon found more sacks of fish carcasses in the waters around Aquafarm's fish pens, Governor of North Sumatra Edy Rahmayadi took action. He sent a warning letter to Aquafarm, demanding they improve their fish farming methods. He accused the company of violating the provisions on fish farming and waste disposal at Lake Toba.
Governor Edy threatened that if Aquafarm did not deal with the problem he would revoke the company's business license. "We have sent a written sanction," he said, last February. "We are waiting for a six month period."
It would not be easy to halt the fish farming using floating fish pens at Lake Toba. Starting its operation two decades ago, Aquafarm obtained a license directly from the Capital Investment Coordination Agency (BKPM), which is good for 30 years, until September 2029. The expansion license, signed by the Chief of the BKPM on July 16, 2007, mentions that Aquafarm can produce 32,829 tons of mango fish annually in the waters of Samosir and Toba Samosir. However, in 2017 the Governor of North Sumatra limited fish production to just 10,000 tons per year for all of Lake Toba.
Rahman Hidayat, Assistant Deputy for Shipping, Fishing and Tourism Infrastructure at the coordinating ministry for maritime affairs, said that the governor's regulation is meant to halt declining water quality at Lake Toba. The problem is, the regulation does not detail who is to be affected by the limitations on the fish pens. Aquafarm and other big companies operating there produce less than half of the 90,000 tons of fish produced annually at Lake Toba. "This means that a greater share of the fish are from local fish pens," he said.
To deal with the polemic, on January 12 Coordinating Minister of Maritime Affairs Luhut Binsar Pandjaitan presided over a coordination meeting with the regional heads who share territory around Lake Toba in Balige. Seven regents committed to reduce the number of fish pens to the level in the LIPI study in order to restore water quality. In this way, Lake Toba can be declared to be a world-class tourism destination. "If the presence of the floating fish pens does not support that, or even obstructs it, then they must be taken out," said Rahman Hidayat.
MAHARDIKA SATRIA HADI (Jakarta), ARJUNA BAKKARA (SIMALUNGUN)