Tell Us If We Are Not Doing Good
Sammy Hamzah, President Commissioner of Aquafarm Nusantara: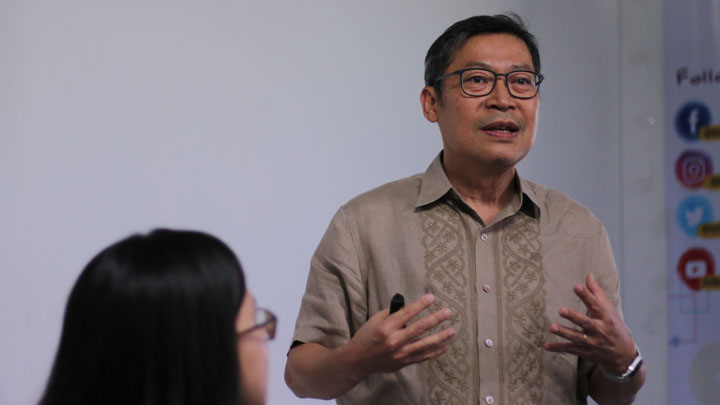 LESS than a month after becoming President Commissioner of Aquafarm Nusantara, Sammy Hamzah had to face multiple problems. Governor of North Sumatra Edy Rahmayadi issued an official warning to his company early last February. It was considered that Aquafarm had violated fish farming management provisions and dumped waste into the waters of Lake Toba.
This written warning came after a discovery of sacks of fish carcasses in Sirungkungon village on January 20, which shocked the public. Local residents accused this company originally from Switzerland of dumping those sacks. However, Sammy was reluctant to speculate. "We have left the matter to the police," he said, referring to the Toba Samosir District Police Department, which is investigating the case.
Although this is his first time running a fish farming company, Sammy acted quickly. This 56-year-old man assigned independent investigators after the discovery of fish carcasses in Sirungkungon. He also must ensure that Aquafarm sets its affairs in order within 180 days, according to the Governor's target. "Such a warning is a normal thing," said Sammy, who has a lot of experience in the mining and oil and gas industries.
Sammy gave an exclusive interview to a reporter from the Tribun Medan, Arjuna Bakkara, early last March. He was there with Cynthia Sugirun from ICON International Communications Indonesia, a consulting agency. For nearly two hours, Sammy clarified the accusation that Aquafarm had polluted Lake Toba.
What was your reply to the letter from Governor Edy Rahmayadi?
It is indeed the government's duty to give a warning. I was in the oil and gas and mining industries a long time. These sorts of warnings happen nearly every day, coming from governors, regents, district heads, and others. That is a common thing. We are rectifying the issues we were warned about.
It is considered that Aquafarm broke regulations on fish farming...
This company is an asset for North Sumatra. That must be kept in mind. It is easy for foreigners to move Aquafarm to Mexiko, Vietnam, or Myanmar. Just imagine, there are 3,600 employees in North Sumatra. In Central Java there are 1,200 more. They operate three basins and their factory there in Semarang. Help me to protect this asset. If we are not doing good, please warn us about it.
What did the internal investigation find?
As a stockholder, I want to reassure others that this incident was not the result of negligence nor was it intentional. If it happened because of someone from the company, we will take action. So the matter is clear. We have assigned an independent investigation team which is currently working. Later they will say what they found.
This is not the first time that fish carcasses have been dumped in the lake. We found a similar incident which occurred last year in front of a Aquafarm post…
We have left the matter to the police. Anything we are saying now is just speculation. Clearly that was not in an area of our floating fish net cage operation. The issue is not only about floating fish pens. If I talk about fish pens, we are not the only ones there. Even though ours has the largest production, the number of our fish pens is nothing compared to the others there. I also see now that this is also an economic issue. I understand why the government wants to turn Lake Toba into a tourist destination. However, the underlying problem must be resolved.
What is Aquafarm's fish production capacity at Lake Toba?
There are 300 floating fish pens, both square and circular with a diameter of about 18 meter. The maximum capacity is 75 tons per floating fish net cage. Fish are harvested after seven to eight months of growth. (According to satellite image analysis done by the Indonesian Institute of Sciences in 2016, Aquafarm had 457 floating fish pens).
Where are Aquafarm's floating fish pens located?
At a depth of 100 meters. This is the zoning for floating fish net cages, according to the license.
We found Aquafarm has floating fish pens in Samosir outside of the zoned area in the three allowed districts...
I am sure that we have not violated Presidential Regulation No. 81/2014. We have definitely set up our floating fish pens in the allowable districts, zones and depths. I guarantee it. If you are talking about other fish pens, that's a different story.