Taking Notes from North Lombok
Regions are sprucing up; aiming to become halal tourism destinations that cater to travelers from Malaysia and Middle Eastern nations.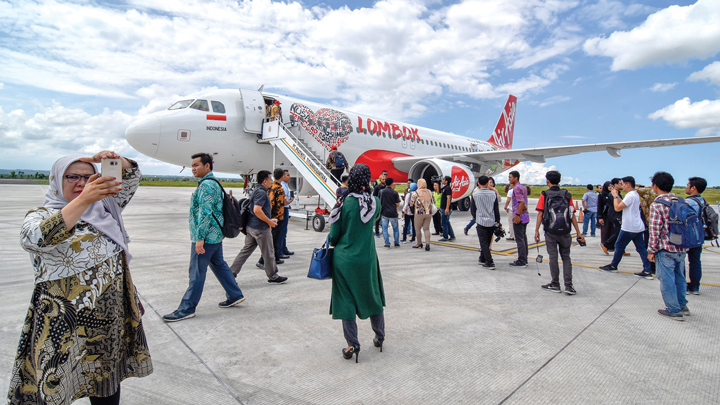 Among three of West Nusa Tenggara's most famous islands, Gili Meno is the only one that is family-friendly. Life at the island in North Lombok Regency seems to stop at 10pm, and there are very few bars, or any other venues, that open after dark. Gili Meno is the opposite of Gili Trawangan and Gili Air, between which the island is located. Gili Trawangan rocks through the night, and Gili Air is almost as lively.
The quietness of Gili Meno was the reason behind the provincial government's decision to turn the island into a pilot for halal tourism. Vidi Eka Kusuma, head of North Lombok Regency culture and tourism office, said Gili Trawangan is a travel haven for non-married couple, while Gili Air is a honeymoon destination. Meanwhile, Gili Meno is a family vacation spot. "The halal (conforming to Islamic law) tourism here is one that is family-friendly," Vidi said in North Lombok, Wednesday, May 15.
Indeed, tourism is the backbone of North Lombok's economy, where 60 percent of its income attributable to the industry. In 2017, tourism revenues totaled at Rp72.6 billion, of which some 80 percent coming from Gili Meno, Gili Air, and Gili Trawangan. And thus, the regency office hopes that the appointment of Gili Meno as a halal tourism destination will jack-up their regional income.
West Nusa Tenggara is a pioneer of halal tourism in Indonesia. Supported by the majority Muslim population of 92 percent, the province automatically becomes a halal tourist destination. The West Nusa Tenggara provincial government promulgated the idea by issuing local regulations on halal tourism on June 21, 2016. "Only West Nusa Tenggara has halal tourism regional regulations," said Anang Sutono, chief of the Halal Tourism Development Acceleration Team in his office at the tourism ministry building in Jakarta, Monday, May 13.
The regional regulation is used as a guide by tourism businesses to provide halal services for Muslim travelers—both domestic and foreign. Most of them are from Malaysia and the Middle East. The guide applies to conventional and halal tourism service providers.
Conventional providers, for example, must provide proper facilities for Muslims, such as the kiblat praying direction in hotel rooms, information on the nearest mosque and halal-haram services, as well as supporting facilities for prayer. The managers of halal tourism venues must also implement sharia (Islamic law)-based businesses and acquire certificates from the Indonesian Ulema Council (MUI).
West Nusa Tenggara defines halal tourism as a service that makes Muslim travelers comfortable; such as for worshiping, getting a massage, and being sure that the food and drinks they consume are halal. "Halal tourism is about the easiness of finding meals and worshiping places for Muslim tourists," head of West Nusa Tenggara Tourism Office Lalu Mohamad Faozal said on Wednesday, May 15.
In addition to issuing regional regulations, West Nusa Tenggara also gave subsidies to small and medium businesses to get obtain the MUI halal certificate. In 2015, the subsidy disbursed was Rp800 million. A year later, the subsidy dropped to Rp600 million. Now, according to MUI's West Nusa Tenggara branch chairman Saiful Muslim, the issuance of MUI's halal certificate is done in collaboration with the West Nusa Tenggara Food and Drug Supervisory Agency—without subsidies. "But there are still those assisted by the ministry," he said.
The local regulations and consistency were rewarded. The province bagged the 'Best Halal Travel Destinations in Indonesia 2019' status from the Indonesian Muslim Travel Index. Lombok outranked Aceh, Riau and Riau Islands, Jakarta, West Sumatra, West Java, Yogyakarta, Central Java, Malang, and South Sulawesi.
Since the government announced their goal to make Indonesia a global champion of halal tourism, numerous regions began to spruce up. West Nusa Tenggara, which issued its own regulations as a guide, became a pioneer. West Sumatra, which is 97.4 percent Muslim, is preparing similar regulations.
The West Sumatra government drafted the regulation in 2017. To the media, the province's Expert Team for Preparing Halal Tourism Regulations chief Sari Lenggogeni said the regulation would be issued this year. The goal, among others, is to remove the bias between halal tourism and religious tourism. "The public are often mistaken; thinking that halal tourism is the same as religious tourism," Sari said in March.
Other provinces are also bitten by the halal tourism bug. Malang in East Java launched a halal tourism program through a bazaar in October 2018, Yogyakarta held a festival in October 2018, and Bandung Regency in West Java declared halal tourism in August 2018.
Jakarta is not far behind. Immediately after being appointed as Deputy Governor, Sandiaga Uno rolled out his plan to issue a governor's regulation on halal tourism. The discussion has reached in-depth reviews involving ministries and community representatives. In March 2018, Sandiaga said the governor's rule would regulate halal tourist destinations, incentives and so on.
Sandiaga's idea was made popular along with his intent on turning Hotel Alexis—one of Jakarta's most popular nightlife centers—into Al-Ikhlas. He uttered the idea during a discussion with the Bang Japar community group, a supporter of the Anies Baswedan-Sandiaga Uno gubernatorial elections campaign back in 2017.
Sandiaga said that Alexis will not be converted into a mosque called Al-Ikhlas, but the goal is to encourage halal tourism. "In Kuala Lumpur, halal tourism has developed. Japan and South Korea too," Sandi said in November 2017.
However, beyond of the efforts of regional governments, a number of tourism industry players had already rolled-out halal tourism campaigns. One of them is Ero Tour, a travel agent from Padang, West Sumatra. Ero Tour focused on domestic travelers, but since 2017, they have been getting plenty of Malaysian customers instead.
Each of Ero Tour's itinerary has prayer times included. "In traveling, prayer time is something we prioritize," Ero Tour owner Ian Hanafiah said.
In 2016, Ero Tour bagged the best tourist travel agency award during the 2016 Ministry of Tourism's National Halal Tourism Competition.
Meanwhile, founder of the Rhadana hotel chain, Rainier Daulay, started working on his halal hotel business by chance. Eighteen years ago he opened The Royal Oasis Beach Benoa in Bali. He provided musala (praying room) and Qur'an in each hotel room. But every month he got reports from the hotel manager that some Qur'ans were missing.
It did not break his spirit. Eight years ago, he opened The Oasis Lagoon Sanur and Rhadana Kuta Hotel. He took halal hotel to another level and, in each room, provides sarongs, prayer mats, kiblat praying direction, prayer times, and a trilingual Qur'an. Rainier does not require guests to show their marriage certificate, but bans sex workers.
The rooms are also equipped with ablution taps in the bathroom. "At that time, people say 'sharia hotels'. The word 'sharia' is kind of intimidating—creating fears of whether or not we could implement it," Rainier told Tempo's Robby Irfany. "The better term would be 'Muslim friendly'."
And so the Rhadana hotel network became a pioneer of halal tourism in Bali, one of the regions that rejects the concept of halal tourism created by the government.
KHAIRUL ANAM, SUPRIANTO KHAFID (LOMBOK)