A New Path for the Famous
Some celebrities are truly embracing their Muslim faith. Although a few have completely left the entertainment industry, more than a handful instead gained fame with their new "pious" look. Social media platforms add fuel to the phenomenon.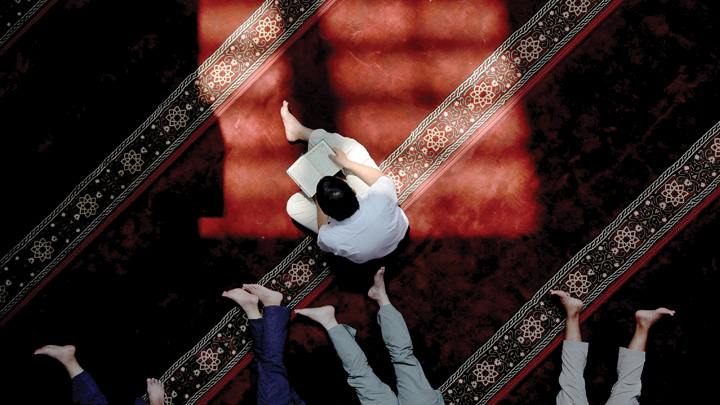 DONNY Supriyadi showed us the knuckles of both his hands. Tattoos of capital letters decorated his fingers. The black ink was already starting to fade after two attempts at removal. "Another two times and they'll disappear," said Donny when we met him at the Al Asy'ari Bandung Islamic University on Thursday afternoon, May 16.
Donny began the process for removing his tattoos after he decided to transform his life and study Islamic teachings in depth. Not all tattoos on his body—from his chest all the way to his fingers—can be removed. But the hurdle has not discouraged Donny from continuing to broaden his knowledge of the religion he has embraced since a young age.
The 44-year-old man came to the Al Asy'ari Mosque to join a special Ramadan (fasting month) lecture delivered by Ustad (cleric) Zulhendra from the At-Tashdiq Indonesia community. The lecture was followed by iftar (a meal to end the day's fasting) and Maghrib (sunset) prayer. After that, Donny performed his Tarawih (evening) prayer there.
Donny's current life starkly contrasts with the one he had three decades ago. The man also known by "Dempak" was the founder of the hardcore punk band Jeruji, which rose into prominence in the 1990s, as well as the band's vocalist. His career with the band lasted 20 years. Donny was also an adept orator during Jeruji's performances.
Being a hardcore punk star did not make Donny feel satisfied. He became bored of his routine of playing music and performing on stage. "There was no change in (my) life. Time was spent hanging out (with friends) more than with family," he said.
Donny's transformation was triggered by an experience in 2012, one that made him decide to leave the music industry that he had immersed himself in for decades. His wife, Hanti Susanti, had tried to wake their eldest son for Fajr (dawn) prayer. She later told Donny that his son refused to get out of bed, giving her an excuse that struck Donny hard. "My son said, 'Why pray when Father doesn't pray.' His words fell on me like a whip," he said.
Since then, Donny was often plagued with guilt for not being a good example to his son. His restlessness motivated him to heed the five pillars of Islam and again study the Qur'an. Donny said what he is now doing is an attempt at hijrah (spiritual revelation), meant to improve his behavior and lifestyle. "I began to change in 2012," said the former musician.
Donny embarked on his journey to a new life by contacting Noor Al Kautsar, known as Ucay. The former vocalist of the band Rocket Rockers had already returned to the teachings of Islam. Donny's intention to live a new life pleased Ucay, who welcomed him with open arms.
Donny's new social life brought him new friends who, like himself, were studying religion for self-improvement. Slowly, he left behind his old lifestyle, including his smoking and drinking habits. Donny now tries to live healthy and spend more time with his family.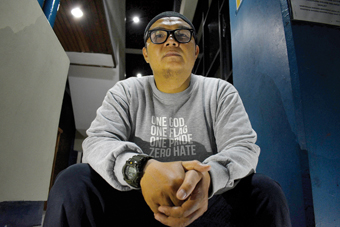 A New Path for the Famous/Tempo
He also frequently participates in religious study sessions and discussions. He listens to Al-Hikam's sermons, guided by Ustad Abdullah Gymnastiar, known as Aa Gym, and has joined the Pemuda Hijrah founded by Ustad Hanan Attaki. To Donny, "spiritual sustenance" was like an addiction. "The craving (for spiritual food) was persistent until it became a routine," he said.
Donny explained that the way he left the music industry triggered controversy among his colleagues and family, especially because his sense of fashion had completely transformed. "My grandfather even asked, 'Where have you joined religious study? Be careful of ISIS (influence),'" said Donny, quoting his grandfather's warning against the militant Islamist group that has managed to bring Syria and Iraq to chaos over the past decade.
Sarcastic comments came from disappointed friends and his name was the topic of gossip on social media. "I was a bit angry when a friend did not seem to like that I decided to change," said Donny, who officially left Jeruji in 2015.
To fulfill his family's needs after stepping off the stage, Donny tried his hand at business several times. His clothing, hat, marchandise and cracker businesses failed. He then opened a meatball eatery in Jalan Ternate, Bandung, West Java. The eatery, called Baso Mastato, which boasts a combination of Japanese ramen and(meatballs, became a hit. "Thank God, it turns out selling metaballs suits (me)."
According to Donny, serving religion requires adequate knowledge, which is why he is learning with the help of religious teachers, such as Zulhendra, Galih Suarsa, and Hanan Attaki. Nowadays, Donny no longer plays music as he believes music is haram (forbidden by Islam). Donny quted a Bukhari's hadith (a collection of traditions containing sayings of the prophet Muhammad), saying that "Musical instruments are at the level of fornication, khamr (forbidden drinks and food), and silk fabric for men." He then added, "But it depends on how our friends see it. Differences are not a problem."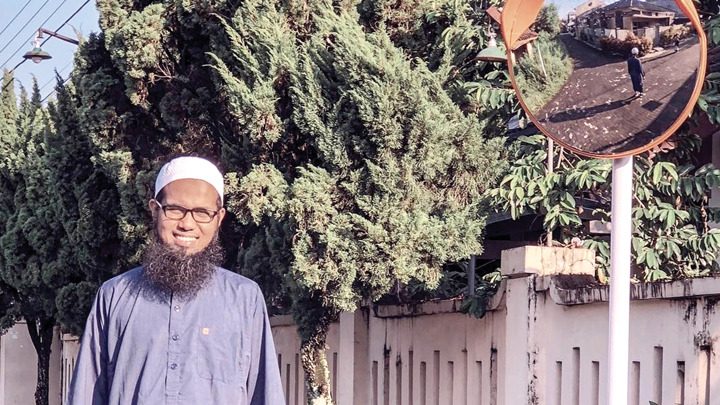 A New Path for the Famous/Tempo
LONG before Donny Supriyadi's sharp turn to religion, Saktia Ari Seno had already chosen to study Islam in depth. The former guitarist of the famous Yogyakarta band, Sheila on 7, decided to leave the band in 2006. He has left his old lifestyle and now focuses on studying his religion, even changing his name to Salman Al Jugjawy. When we interviewed him, he requested that we use his new name.
Salman said he chose the path when Sheila on 7's popularity was at its peak. Because he believed that studying religion could not simply be a pastime amid life as a band member, Salman decided to leave the entertainment industry. Music had already caused him trouble. Because of his band activities, he did not graduate from the Yogyakarta National Heroes Foundation School of Economics. He contemplated his decision to leave the band thoroughly. "I still meet with Sheila on 7 (personnel)," said the Yogyakarta De Britto Catholic High School alumnus.
After joining the Tablighi Jamaat, Salman now spends more of his time participating in religious activities. The 38-year-old man is often invited to speak at various religious study sessions or seminars. On May 18-19, for example, he spoke at such an event at the Jogja City Mall. The event also featured a hijab (headscarf) fashion and makeup show. Furthermore, Salman actively performs khuruj (missionary work) at least three days in a month. He has been to India, Pakistan, Bangladesh, and South Korea.
Salman says although he has left the industry that he grew up in, he stills welcomes the public. Neither does he see music as forbidden. After leaving Sheila on 7, Salman has released two religious albums. "Some ulama (religious leader) allow music on certain conditions," he said.
Apart from all that, Salman makes use of the social media platform Instagram to post passages from the hadith, invitations to religious study gatherings, and statements encouraging "transformation." To support his wife and only child, he sells religious clothing and turkey porridge. "Now my heart feels more stable. And Allah fulfills my financial needs," said Salman, who once studied at the Darussholihin Islamic School in Jalan Magelang.
Recently, many celebrities have followed in Salman's footsteps, among others, soap opera actress Chacha Frederica. The 30-year-old woman said she received great encouragement to wear the hijab when she visited Jerusalem and Medina in 2015. She grew more motivated to learn Islam through various studies and books. "I'm still learning, let's keep reminding each other," said the woman who decided to wear the hijab last year.
Several celebrities have openly invited their colleagues to return to Islam, calling the move hijrah. Former MTV video jockey Arie Untung and his celebrity colleagues at the Kajian Musawarah community frequently upload their religious study activities on Instagram. They have been taught by a number of famous ustads, such as Adi Hidayat and Abdul Somad.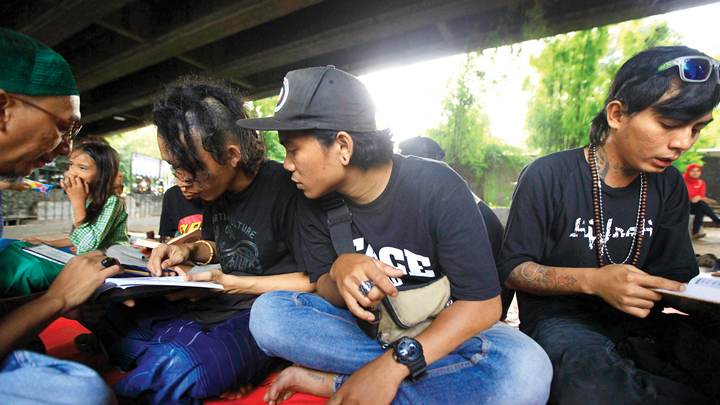 A New Path for the Famous/Tempo
Celebrities that have joined this community are, among others, Ricky Harun, Teuku Wisnu and his wife Shireen Sungkar, as well as the couple Dude Herlino and Alyssa Soebandono. They also invite the public through their social media accounts to "improve" themselves and to donate. Furthermore, these celebrities help Muslim fashion stores market their products.
Arie Untung and his colleagues successfully organized the Hijrah Fest last year, an event to study and discuss Muslim issues, packaged in a paid performance concept. Around 12,000 people, most of whom from the millennial generation, attended the event.
THE effort to self-betterment by studying religion is not a new phenomenon in Indonesia. The beginnings were already seen in the 1970s. Many have grown interested in religion, sending their children to religious schools," said Wahyudi Akmaliyah, researcher at the Indonesian Institute of Sciences Center for Community and Culture.
The Arab Spring involving the Muslim Brotherhood (al-Ikhwan al-Muslimin) in Egypt and the return of Indonesian students from the Middle East helped popularize the "hijrah" phenomenon. The term is often used in da'wah (preaching) circles at universities. "It's unclear who relaunched the trend, but social media growth makes a great influence and has turned hijrah into a new language for the young," said Wahyudi.
Dadi Darmadi, a researcher at the Syarif Hidayatullah Jakarta State Islamic University Center of Islamic and Community Studies, calls the hijrah phenomenon "repentance." A person stops doing something he used to do in the past and believed to be bad, and receives spiritual enlightenment. "Receiving understanding, faith, and new spirit to change," he said on Thursday, May 16.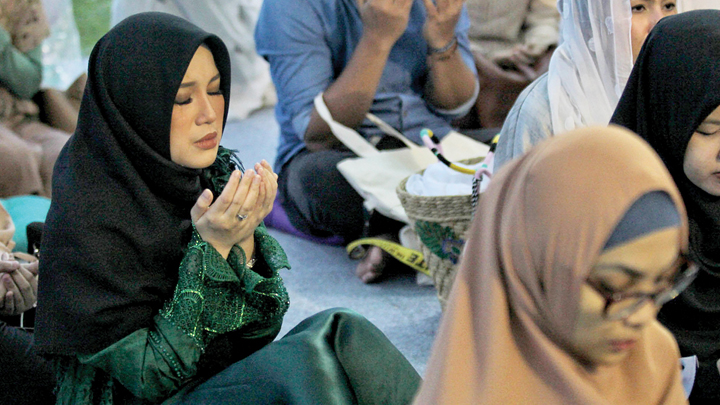 A New Path for the Famous/Tempo
Dadi said several public figures, such as Rhoma Irama, Gito Rollies, and Hari Mukti, became the pioneers of said repentance. He said the fame of Gito, who was known to be closely acquainted with the Tablighi Jamaat, gave great influence to the call to repent in the music industry. "Based on observation, most musicians belong to that group," he said.
According to Dadi, the hijrah-as-repentance concept became popular thanks to the fame of celebrities on social media, especially because they are learning from ustads with significant followings on social media platforms. Dadi calls it digital spirituality, which is different from religious literacy, when someone studies the Qur'an, hadith and other texts at certified institutions from elementary to university-levels.
The digital and social media revolution's great wave, which is used to nourish piety, cannot be fought, said Dadi. Today's period is akin to an incubation period, a time when people are slowly maturing in their religiosity. "Here the roles of the government, Muslim organizations and universities are to encourage intergroup dialogue and contribute in spreading positive messages," he said.
Head of Kali Opak Piyungan Islamic School Islamic and Social Studies Foundation, Jadul Maula, said the hijrah phenomenon is a symptom of the growing use of religious symbols. The phenomenon is still artificial or superficial in nature. "They feel they are enlightened and change their appearance and words to look more pious," said Jadul.
The popular phenomenon is also vulnerable to religious commodification for the sake of business interests, for profit-making, as well as in identity politics. Jadul said, the hijrah concept in Sufism is repentance that involves the complete return to God. "Someone who embarks on a hijrah in the Sufi world appears ordinary in terms of speech and physical appearance," he said.
GABRIEL WAHYU TITIYOGA, AMINUDDIN A.S. (BANDUNG), SHINTA MAHARANI, M. SYAIFULLAH (YOGYAKARTA)