Joanne Liu, President of Médecins sans Frontières: We need Indonesia to speak up
Established in December 22, 1971 in Paris, Médecins Sans Frontières (MSF) or Doctors without Border, a non-governmental medical organization, almost always has its presence in conflict zones as well as countries affected by endemic diseases. Last year, MSF has managed considerably huge aid operations in three countries—South Sudan, Congo and Yemen—which have been struck by deadly conflicts and diseases.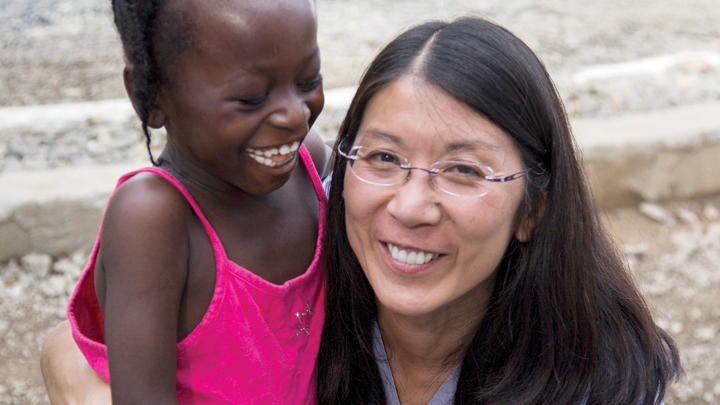 For Joanne Liu, 53, MSF's President, the situation in Yemen especially raises concerns as the war that has ravaged the country since 2015 shows no sign of abating. She said the healthcare system in the country of 29 million population has completely collapsed and about 50 percent of the medical facilities has been paralyzed either because they were bombed or their staff injured in the bombing.
MSF's largest operations in Asia are in Cox's Bazar, Bangladesh, taking care of Rohingya refugees—Myanmar's minorities who were forced to flee persecution. The facility, first established in 1992, now boasts four hospitals and 13 medical facilities equipped with 3,000 personnel. Dr. Liu hopes that Indonesia and other Southeast Asian countries will not pretend that nothing bad is happening in Myanmar. "The reality is that only very few cases of violence have caused such a massive human displacement", Liu said in a special interview with Tempo's Abdul Manan and Angelina Anjar in Jakarta last Thursday.
Working in conflict areas poses great risks to the lives of humanitarian personnel. On October 3, 2015, an airstrike by US' AC-130 plane on the MSF-operated Kundz trauma center in Afghanistan killed 42 medical professionals and patients. Ten years prior to the Kundz incident, the association pulled out of Afghanistan after five of its personnel were killed while on a mission. MSF resumed operations in 2009.
Amid her busy schedule touring MSF's regional operations around the world early this month, the Canadian chief dropped by in Jakarta for a three-day visit. On the first day, Liu met with the ASEAN officials and later Deputy Foreign Minister Abdurrahman Mohammad Fachir. She paid a visit to ASEAN Coordinating Center for Humanitarian Assistance on Disaster Management on the third day of her tour.
Is there any specific mission behind your visit to Indonesia?
Indonesia is a key country for us. First, the ASEAN headquarters is located in Jakarta. I met with the Secretary-General. Moreover, currently Indonesia is the non-permanent member of the UN Security Council and this month it also holds UNSC's presidency. Indonesia is in the position to raises critical issues, such as conflicts in Yemen and Gaza at the UN. So, I'm here to discuss that.
What kind of role can Indonesia take?
Indonesia can take a pivotal role in many sensitive issues. For example, in the Rohingya crisis, Indonesia can help make sure that those who choose to return to Myanmar do so on voluntary basis and that they will have decent living conditions. We have to offer protection to them.
But ASEAN adopts the policy of non-interference in other members' domestic affairs...
To me, it's not interfering but rather reminding about the need for certain standards in doing things. We can't pretend that nothing has happened in Myanmar. The fact is that, anywhere in the world, only very few cases of violence have caused such a massive human displacement—in this case, 600,000 people in less than 3 weeks. The last exodus we saw was in Rwanda caused by genocide. People just don't flee en masse unless they feel their life is in danger. What happened to the Rohingya people are horrifying. Therefore, if we want reconciliation, we have to make sure that they are protected.
Do you see the end of the Rohingya crisis in sight?
It needs a political solution. I'm not a politician. We are medical humanitarians and we can only offer medical and humanitarian assistance to the Rohingya communities living both in the Rakhine state (Myanmar) and Cox'bazar (Bangladesh).
Can you tell me about MSF's operations in Cox's Bazar?
We've worked in Cox's Bazar since 1992. Right now, we have more than 3,000 staff there, a thousand of which are from the Rohingya community. We have four hospitals and 13 medical facilities.
How is the current condition of the refugees?
The condition is very harsh. I've been there. Cox's Bazar is a hilly area so the people are stuck on the hilltop. Actually, we cover all their needs particularly surgical needs. We also run mobile clinics. But the problem is that we haven't been granted access to all the areas that we would like to reach. Political pressure from the world is needed so that international medical humanitarian aid can reach the Rohingya communities.
What is your biggest concern regarding their condition?
Their protection. They are stateless and nameless. That condition deprives them of their rights. Indonesia can take a key role in facilitating increased support to them. They are your brothers. You need to speak up.
What can Indonesia do to overcome the crisis?
You need to put pressure on your government. Your government will do something if you as its constituents' demand. You have a democratic country. If you stage rallies and say 'our brothers are suffering and we want you to do something', believe me, your government will listen.
Why should the Indonesian government act on the Rohingya crisis?
Every country should do something. My government, the Canadian government, is quite involved in this matter. They are pushing the UNSC to issue a resolution on it. Especially Indonesia should have a calling to help them given the proximity, and perhaps also the faith you share. Everyone tells me that Indonesians are extremely vocal supporters of Palestine. Then why are you quiet about the Rohingya people?
What will happen if there is no political solution soon?
Having to live in an extreme hopeless condition will have a dramatic impact on their mental health and how they would project themselves in the future. As we saw elsewhere, hopeless situations can push even children to contemplate suicide. No one should live without hope.
You are often critical about immigration regulations. What actually happened?
What is happening now is we are taking a huge step back on our commitment to people who are fleeing their countries. The 1951 refugee convention clearly says that refugees have the right to protection. We should not judge as to why they leave their countries. They may be fleeing sexual persecution, or economic crisis like in Venezuela or totalitarian regimes. Whatever the reasons, they must be treated with respect. There is no good or bad migrant and nobody leaves his/her country for fun. They are forced to flee.
What sort of disrespectful treatments are refugees subject to?
Everyday, so many refugees cross the Mediterranean Sea on boats and we turn a blind eye. Worse still, the world is now ready to punish and criminalize anyone who tries to help them. It happened to us. This is the first time in my life to see people being criminalized for saving others' lives. Imagine yourself walking by a lake and see a child drowning. Will you ask first, 'Hey, are you an immigrant?' You will immediately try to help.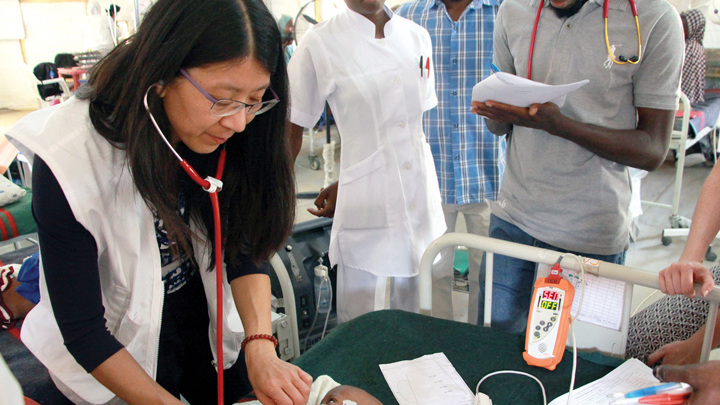 We need Indonesia to speak up/Malik Samuel/MSF
Have you personally met these refugees?
I did in a detention center in Libya.
How was their condition?
They are continuously subject to starvation, beating, torture and even rape. That's why I've always spoken up about it everywhere. The atrocities must stop. When one day if your child asks why a pregnant woman is raped or a child is beaten for fleeing their countries. You will have no answer for them.
MSF also has operations in conflict zones, among others, Gaza and Palestine. What are the challenges?
I was in the Gaza strip at the beginning of this year. Since the start of the Great March of Return in March, 2018, around 31,000 people have been injured. Out of that, more than 6,800 people suffered gunshot wounds mostly to the lower limbs and 50 percent of them have complex and open fractures. Due to the poor living conditions, a lot of the wounds were already infected or were potential to be infected. But in reality, we could only treat 20 percent of these patients.
How do you overcome this problem?
We pleaded to the world leaders via a briefing with the diplomatic community in New York to help boost our capacity to care for the injured people, either by increasing the capacity of case management in Gaza through additional surgeons-plastic, orthopedic and reconstructive surgeons—or by allowing medical evacuation. And we have done 13 medical evacuations to our surgery center in Amman, Jordan. My fear is that if we don't attend to the injuries fast, they can lose their limbs. I don't want to see these young adults amputated. A generation will be lost to permanent disability.
Does Israel's blockade of the Gaza strip hamper MSF's activities?
Certainly. It affects our aid shipment; we have to pass through checkpoints and so on. But we are surviving now although Gaza is an open prison. There's no free movement.
Has any of MSF staff been hurt in the Gaza conflict?
No. Usually people get hurt because they stage protests near the fence and Israeli soldiers fired at them. We don't march there. We remain at the hospitals. And actually, there is no war (in Gaza). The active war is in Yemen. The Saudi-led coalition bombs the infrastructure such as schools, markets or even hospitals everyday.
Have any of MSF's hospitals been affected in the Yemen conflict?
Yes, five of our medical facilities were bombed when the conflict first broke out. We lost patients and colleagues. I just returned from there. A month ago, someone came into the hospital in Aden, picked up a patient and shot and killed him just a few streets away from the hospital. In Yemen, we have more than 2,000 staff in 13 hospitals around the country. Since the start of the conflict, we've treated more than 107,000 trauma patients and done 70,000 surgeries. It's a massive number due to indiscriminate bombing on civilian structures. The country's healthcare system has completely collapsed and about 50 percent of the medical facilities is paralyzed either because they were bombed or their staff injured rendering unable to work. This condition culminated in the cholera epidemic—900,000 cases—in 2017, the biggest outbreak in the modern world. There were also diphtheria and measles outbreaks.
WHO said that at least 2,906 died in the cholera epidemic in Yemen. Why was the casualty so high?
When I was there a few weeks ago, my team in Taiz reported that patients had troubles coming to our facilities because they did not have money or there was no security on the road. So, they could not be treated on time. Over the past year and a half, more than 1,000 patients died before reaching the hospital or within a few hours in the hospital.
What is the biggest challenge for MSF in Yemen?
We've been in Yemen since the conflict started and we don't see any resolution coming soon. We are still in the active military phase of the conflict. The prolonged sense of insecurity caused polarization among the people. At the early stage of the conflict, we only needed to speak with only a few sides. Now there are so many interlocutors. That makes our work tougher. It's also makes it more difficult to get safety and security warranty for our staff.
Do you carry out security assessment of a conflict area before you deploy personnel there?
We do. We have experts who assess the area that we plan to go in using several security parameters, such as, whether we could be attacked or bombed, and so on. We talk to all sides identifying ourselves, giving our GPS coordinates, etc. We are transparent. Then after considerations, we decide whether to proceed or not. If we don't feel certainty for safety then we don't go.
Did the attacks on MSF facilities prompt MSF to change its operations?
If we feel that we no longer have our basic security, we leave. We left Somalia in 2013 because we were repeatedly targeted. We just went back there two years ago. Previously, in 2005, we also pulled out from Afghanistan after five of our colleagues were killed and returned in 2009. We were again hit by a tragedy there in 2015. Our hospital in Kundz was bombed in which 42 people perished. But we returned to Kundz about a year ago.
What keeps MSF going despite being targeted repeatedly?
We will try to do everything to stay (in conflict areas) because if we leave, people will be with no access to healthcare. That's why we need protection.
What kind of protection should be given to humanitarian missions in conflict areas?
Warring parties must respect the rule of war. They cannot bomb or attack civilians or hospitals. Don't drag hospitals into battlefields. In the UNSC's resolution issued in May 2016 clearly stipulates protection for medical and humanitarian missions in war zones. They must not bomb hospitals, ambulances, doctors and patients. Period.
But in reality?
War is war and it's ugly. That's why the governments must be pressured politically, and shamed if necessary. We need countries like Indonesia to speak up. 'Hey guys, they are bombing civilians. Are you doing anything?' Nobody wants to be named and shamed.
---
Joanne Liu
Date and place of birth: November 4, 1965, Quebec, Canada | Education: Bachelor of Medicine, McGill University, US, Fellowship in in Pediatric Emergency Medicine, School of Medicine, New York University, US; International Master's in Health Leadership, McGill University | Career: Médecins Sans Frontières (1996), Program Manager, MSF Paris (1999-2002), President, MSF Canada (2004-2009), International President MSF (2013-now) | Award: Royal College of Physicians and Surgeons of Canada's Teasdale-Corti Humanitarian Award 2013