Siberut Threatened by Industrial Forest
The government issued industrial forest permit in Siberut Island, a biosphere reserve area established by the UNESCO. It threatens the endemic fauna, protected flora, as well as the medicinal plants of Mentawai.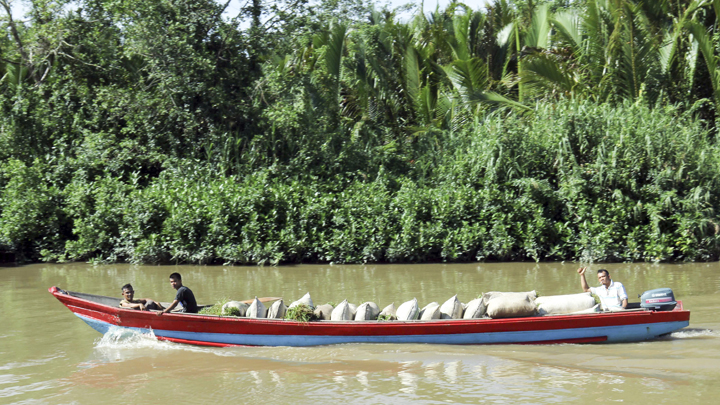 IT was a sunny day during April's bountiful harvest season of cloves and areca nuts in Saibi Samukop village, Siberut Island, Mentawai Islands, West Sumatra. Yet, Melki Sanene's heart was gloomy. The Sanene tribe chief was troubled by the fate of the tribal lands that would be taken over by companies holding industrial forest permit (HTI). "How evil are the HTI companies. Our lands for plant cultivation are all cut down. Those are the livelihood of many being destroyed," said the 60-year-old Melki.
For the people of Mentawai, said Melki, the land and the forest are to be passed down from generation to generation, providing sustenance for each. But on December 24, 2018, the environment and forestry ministry issued the permit for utilization of timber products from industrial forest (IUPHHK-HTI) for Biomass Andalan Energi in Siberut, which includes the grounds belonging to the Sanene tribe, owner of the largest amount of land in Saibi Samukop.
The area of concession given to Biomass measures 19,876.59 hectares and is a former industrial forest of Andalas Mandani Cooperatives of Andalas University, which stopped its operations in 2007. This territory stretches through Central Siberut and Northern Siberut, encompassing Saibi Samukop and five other villages: Cempungan, Sirilogui, Saliguma, Bojakan, and Sotboyak.
Having granted permit by the minister, Biomass moved quickly. The company gathered representatives from the tribes on April 8 to disseminate the compensation for their crop. The compensation offered, according to Melki, is very disadvantageous for the tribes. "I left the meeting because I found many things unacceptable," said the former Saibi Samukop village chief.
Compensation for clove plants is set between Rp150,000 to Rp1.5 million per tree, Rp100,000 to Rp300,000 per rubber tree, Rp150,000 to Rp300,000 per coconut tree, Rp50,000 to Rp200,000 per areca tree, and Rp100,000 to Rp1.5 million per teak tree. Crops such as sweet potato, taro, banana, and pineapple is valued at Rp1.5 million for 1 hectare or Rp3 million if the land measures more than 1 hectare. "We may be swayed by hundreds of millions in cash, but it is a one-off. Afterwards, we would suffer for losing our lands and entire livelihood," said Melki.
W251bGwsIjIwMjEtMDMtMDUgMDg6NDU6MzYiXQ
Protests against the HTI company began to surface. For example, Daudi Satoko, a student from Saibi Samukop who is also the former head of Mentawai Student Forum, has staged several demonstrations in Siberut. "People are confused because the HTI company suddenly came offering compensation and intending to evict their lands," said Daudi.
Whereas, according to Daudi, what is at stake is all livelihood for the people of Saibi. "Areca plants provide Rp2 million per month for every 1 hectare, not including sales of cloves, copra, and manau (rattan)," he said. Moreover, the company also cut down sago trees, a source of staple food in Mentawai.
Biomass Andalan Energi opened the industrial forest in Siberut to produce wood pellets, a renewable energy source used as substitute for coal. Its annual production capacity for wood pellets is 200,000 tons. In order to fulfill the factory's electricity needs, the company plans to build a 10 megawatt biomass power plant (PLTBm) in its second year.
Director of Biomass Andalan Energi Syamsu Rizal said the company invested more than Rp1 trillion in Siberut. Out of the entire HTI concession area according to him, only 9,356 hectares will be planted with calliandra (Calliandra calothyrsus), quickstick (Gliricidia sepium), and white leadtree (Leucaena leucocephala). "The other areas, 2,133 hectares are to be utilized as selective logging and line planting (TPTJ) control system, 4,282 hectares to serve as buffer zone with the Siberut National Park, and the rest for trails and base camps," said Syamsu.
Syamsu affirmed that his company is operating within the industrial forest area. "We have the permit. In case of an impact to the environment, we will deal with it in accordance with the environmental impact analysis," he said, explaining that the industrial forest area will be opened gradually. "The wood may be used to make wood pellets, while some of the timber may be sold, probably to supply the needs of Mentawai Special Economic Zone, which will soon be built in Siberut," said Syamsu.
The entrance of an HTI company to Siberut, a biosphere reserve area established by the United Nations Educational, Scientific and Cultural Organization (UNESCO) in 1981, will threaten the island's biodiversity. Rizaldi, a Mentawai primate expert from the Biology Department of Andalas University, Padang, said that the industrial forest pose a danger toward four endemic primates of Mentawai: kloss' gibbon (Hylobates klossii), siberut macaque (Macaca siberu), pig-tailed langur (Simias concolor), and mentawai langur (Presbytys potenziani). "If the HTI company comes in, there is no hope for those primates, they will all be gone," he said.
Bilou, an endemic primate of Mentawai, in the Siberut Island. Saibi Samukop Villager
These four endemic primates, according to Rizaldi, are highly dependent on tall trees because they never descend onto the forest floor. "They live in the treetops, eating leaves and fruits from various plants, figs in particular," he said.
Siberut Island was named a biosphere reserve due to its vast biodiversity. Biomass' environmental impact analysis document states that there are 27 kinds of tree within the concession area, three of which are protected. They are pelahlar (Dipterocarpus hasselthii), durian (Durio zibethinus Murr), and wild durian (Durio griffithii).
There are also 15 kinds of mammals, nine of which are protected. Then, 27 kinds of birds, five of which are protected, and 16 species of reptiles, seven of which are protected.
Amri Bachtiar, a medicinal plants researcher from Andalas University, is also concerned with Mentawai's diverse collection of plants for medicinal purposes. During a 2012 research with the Center for Research and Development of Medicinal Plants and Traditional Medicine in Sirisurak, Bojakan, and Monganpola hamlets which now fall within the industrial forest area, Amri did not find the 23 kinds of commonly used medicinal plants and the 10 kinds of plants used by sikerei (healer).
Amri said such absence indicates that the plants have become rare. "Large scale forest exploitation like the HTI will make typical medicinal plants disappear," said Amri. "Even more so if they are planting calliandra. It is an expansive tree which will quickly outcompete the native plants."
Citra Mandiri Mentawai Foundation Director Rifai Lubis said the presence of industrial forest increases the risk of flooding in the location because there are three rivers going through the concession area. "Flood has become something of a routine disaster in Siberut Island, including Saibi, because the rivers are overflowed upstream and in water catchment areas which have been exploited by logging," said Rifai. "We urge the environment and forestry minister to revoke Biomass Andalan Energi's IUPHHK-HTI permit," he said.
He demands the government's commitment toward the establishment of Siberut as biosphere reserve. "We also request the Mentawai Island regency administration to assist locals in dealing with the HTI company. Do not let them face the ordeal alone," said Rifai.
Mentawai Deputy Regent Kortanius Sabeleake said Regent Yudas Sabagalet has sent a letter to the environment and forestry minister, requesting re-evaluation toward the directing map of the use of production forest in Siberut as industrial forest. The letter mentions that allocating HTI in Siberut Island goes directly against climate change mitigation efforts. "We still disagree until now, but there is nothing we can do because the HTI concession is within the production forest territory and therefore falls under the authority of the environment and forestry minister," said Kortanius.
FEBRIANTI (SIBERUT)