Shaky Evidence
Prabowo-Sandi's team had scant evidence on inaccurate ballot count. Witness testimonies felt inconsistent.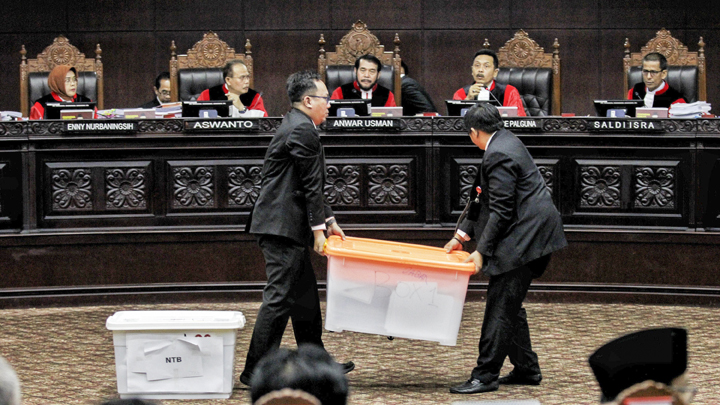 TWO trucks and one minibus entered the Constitutional Court close to Isha (evening) prayer on Tuesday, June 13. The group brought in a pile of evidence from Prabowo Subianto-Sandiaga Salahuddin's legal team. Although the Constitutional Court's services division had closed two hours prior, at 5pm, the Court staff still allowed them in.
Constitutional Court spokesperson Fajar Laksono told Tempo that Prabowo-Sandi's attorney had contacted him, explaining that some trucks would be arriving with documents. "He said he was dispatching 40 people to transport the evidence," said Fajar on Thursday, June 20. As it turned out, only three drivers and one attorney appeared. Constitutional Court staff had to haul the boxes from the truck.
The evidence submitted included, among other things, C1 forms, or ballot recapitulation results at the voting station level, a list of overlapping ID numbers, a CD with video footage, documents, and news clippings. After all the items had been unloaded, still several items of evidence had not been registered. Fajar said the Prabowo-Sandi legal representative present did not know whether the documents in the containers had to be registered with the Constitutional Court. "He didn't even know what the items of evidence were," he said.
Two sources who assisted Prabowo's legal team said the evidence was brought over from an office in MidPlaza, Jalan Jenderal Sudirman, Central Jakarta. All the items of evidence had been photocopied there. A member of the Prabowo-Sandi legal team, Luthfi Yazid, denied that dubious evidence had been taken to the Constitutional Court. "Really? A lawyer doesn't understand evidence?" he said.
A day later, at the preliminary hearing, Constitutional Court chair Anwar Usman said there were still 38 items of evidence not yet received by his court. Head of the Prabowo-Sandi legal team, Bambang Widjojanto, claimed that 12 trucks had left for the Constitutional Court building the evening before. "Because our colleagues at the Constitutional Court said they were tired, the 12 trucks could not enter," said the former Corruption Eradication Commission (KPK) deputy.
Constitutional Court Justice I Dewa Gede Palguna said officers indeed stopped accepting the documents at 7pm for a break, but they then resumed the service. According to Constitutional Court spokesperson Fajar Laksono, that night the Prabowo-Sandi team had said they were sending over one more truck. "Because it was already late, we asked them to send the materials the next morning and that our staff would be on standby at 7am. But they never showed up."
After the General Elections Commission (KPU) announced that Joko Widodo-Ma'ruf Amin had won with 55.5 percent votes against Prabowo-Sandi's 45.5 percent in the 2019 presidential election, Prabowo-Sandi refuted the announced result. In their suit, Bambang Widjojanto said his clients should have grabbed 52 percent and Jokowi-Ma'ruf 48 percent votes. But rather than proving errors in the ballot recapitulation that disadvantaged Prabowo-Sandi, the pair's legal team instead withdrew from court the C1 forms serving as their evidence. Bambang argued that his C1 forms had not been bound. "It's not a big deal because some of the evidence has already been accepted," he said.
Prabowo's legal team selected to focus on their accusation that structured, systematic, and massive fraud had occurred during the 2019 presidential election. "The C1 forms are not our priority to present (in court). To us, the Constitutional Court should not only perform ballot recapitulation but rather maintain honest elections," said member of Prabowo's legal team, Denny Indrayana.
In line with Article 475 section 2 of the Law on General Elections, Constitutional Court hearings are only meant to resolve ballot count disputes impacting a candidate pair's win. But in their suit, the Prabowo-Sandi team included five other points, namely, misuse of state budget and government programs, non-neutral bureaucracy and state-owned enterprises, non-neutral police and intelligence, restriction in freedom of the press, as well as biased law enforcement. Prabowo's team requested the Constitutional Court disqualify Jokowi-Ma'ruf and name Prabowo-Sandi as winner of the 2019 presidential election.
Prabowo's team took issue with the final voter list (DPT) which the team felt was riddled with 'ghost' (non-existent) voters. In a witness cross-examination on Wednesday, June 19, one of the witnesses, Agus Muhammad Maksum, said a voter named Udung had an invalid ID and an unusual ID number. Agus said he checked the name in the field and could not authenticate it.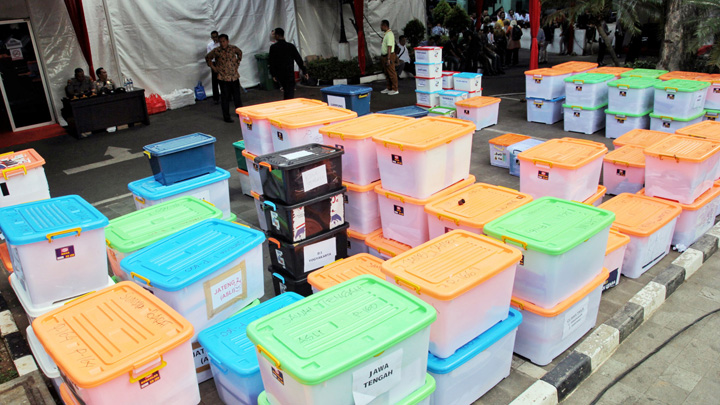 Ther Prabowo-Sandi team's additional evidence at the Constitutional Court, Jakarta, June 18, 2019. TEMPO/Hilman Fathurrahman W
But when justice I Dewa Gede Palguna barraged him with a series of questions, Agus' answers kept changing. For instance, he admitted to not checking in the field. "Before, you said in reality there was no (Udung). Now you're saying you didn't check," queried Palguna. Agus then recapitulated by saying the true information was he did not make the check in the field.
The panel of judges asked the legal team to come up with the evidence that indeed there were 17.5 million 'ghost' voters. Member of the Prabowo legal team Dorel Almir answered that they faced technical challenges. "There is the inadequacy of the photocopy machine," said Dorel. In response, General Elections Commission (KPU) member Hasyim Asy'ari said his institution had already verified the 17.5 million voters said to be fictitious. "They were all legitimate voters."
Other accusations of fraud were also expressed by the legal team, using news clippings. The non-neutrality of the police, for example, was supported by a clipping from a Tempo magazine article about the alleged formation of a buzzer team to support Jokowi-Ma'ruf in the election, among others having to do with the Twitter handle @Opposite6890 that mentioned the alleged use of the app Sambhar to support the plan.
Prabowo's legal team could not present a witness to support their accusation of police non-neutrality. National Police Head of Public Relations, Sr. Comr. Asep Adi Saputra, denied the allegation. "In securing the election we remained independent and did not side with either of the candidates."
KPU member Pramono Ubaid said the various accusations made by the Prabowo camp were unfounded. As an example, the voter list had been revised before election day. Likewise the accusation that members of polling station working committees (KPPS) voted in a number of regions. "Re-voting was already performed according to recommendations by Bawaslu (the election supervisory body). So, this had no impact on the vote," said Pramono.
Although the evidence and witnesses continue to be disproven, Denny Indrayana still believes they can win the dispute. "But we are also realistic in that several witnesses did not appear," he said.
DEVY ERNIS, BUDIARTI UTAMI PUTRI, IRSYAN HASYIM, HUSSEIN ABRI